Property investments can be a complicated affair these days, with various laws and regulations that buyers are unfamiliar with.
These blind spots could cost investors hundreds of thousands of dollars in taxes and financing expenses that could be avoided had they received the necessary advice beforehand.
Discover how to attain financial freedom through a property investment roadmap that tailors to your needs using a methodical process of #PropertyWealthPlanning.
Whether you're a first-time property buyer, a HDB upgrader or an investor looking to acquire additional properties, PM me for greater insights and strategies on how to achieve your objective today!
---
Knowing the supply/demand of new private properties is one of the key criteria when it comes to property investment.
What is the current and future supply? How many HDB flats have completed or will be completing their Minimum Occupation Period (MOP)?
Besides demand/supply, what are the other key criteria? When is the optimal time to commit to a new property for either investment or own stay? Contact me for advanced insights into the property market.
---
Are HDB flats a good source of wealth creation and good store of value? Why do many HDB owners upgrade to a private property after their 5-year Minimum Occupation Period (MOP)?
How does the Monetary Authority of Singapore (MAS) property financing framework affect the capital appreciation potential of HDB flats?
Get a deeper insight into property investment and learn the strategies to achieve financial freedom!
Property Wealth Planning (PWP)™ has helped many property owners like you to enhance their wealth accumulation capabilities and plan for their financial future. PM me for details of a systematic framework and investment plan.
---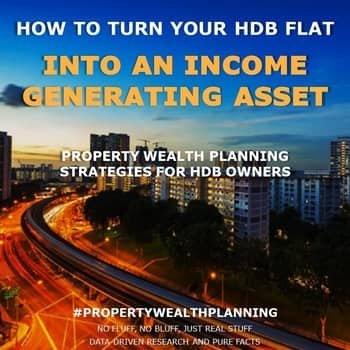 Having more than 1 stream of income is an important factor towards building financial resilience and freedom in our life.
For many Singaporeans and PRs living in a HDB flat, it is possible to learn to how you can turn it into an income generating asset besides just a roof over your head.
WhatsApp Me to receive my e-book on this topic or arrange a meeting to find out how you can make it happen to secure your financial future!
#𝗣𝗿𝗼𝗽𝗲𝗿𝘁𝘆𝗪𝗲𝗮𝗹𝘁𝗵𝗣𝗹𝗮𝗻𝗻𝗶𝗻𝗴 through Data-Driven Research and Pure Facts.
---
Would you like to learn the 7-Step Framework to Identify Low Risk High Investment Potential Properties?
Has it ever occurred to you that the answer to finding good investment properties is more than just "location, location and location"?
If you wish to learn the 7-Step framework in property investment and achieve financial freedom, please contact me to get a copy of our latest e-Book that will help you make better investment decisions!