This is a review of Jervois Mansion, a freehold low-rise condo development by Kimen Realty Pte Ltd and Roxy-Pacific Holdings Ltd. Consisting of six 5-story blocks totalling 130 exclusive units, it is located in the prime residential District 10 near the Malaysia High Commission and the Chatworth Park Good Class Bungalow area.
Currently, this development is fully sold.
Nevertheless, the review seeks to provide an unbiased evaluation of its locational attributes, design features and investment potential. Should you require information on other new property laucnches or the real estate market in Singapore, please drop us a message here. Alternatively, you may WhatsApp Us.
To navigate directly to each section of the review, please click on the links in the Table of Contents below:
Unique Selling Points
Rare Freehold Development in District 10 with 93,182 sq ft of land
Prestigious location within Good Class Bungalow (GCB) neighbourhood
Black & White Bungalow-inspired design
Unique low density living with individualised landscaping
1st BCA Green Mark for super low energy residential building
At the fringe of Orchard Road and Central Business Distric (CBD)
Proximity to the Greater Southern Waterfront a boost to its investment appeal
Convenient public transportation
Close proximity to amenities and good schools
A plethora of dining and entertainment options
Jervois Mansion Location
Jervois Mansion is situated at Jervois Road, just off River Valley Road. Being in an exclusive private residential enclave near developments such as Jervois Regency, Jervois Gardens and Jervois Lodge, the area is prized for its quiet ambience and lush greenery, as well as its prestige amdist Good Class Bungalows. Yet, it is close to a wide range of amenities, with Orchard Road and the Central Business District (CBD) located at its fringe.
The freehold development will occupy quite a sizeable plot of land measuring 8,656.90 sqm (93,182 sqft), a rarity in the prestigious District 10 precinct. Moreover, with only 130 luxury residences spread across six low-rise blocks, exclusivity is assured.
The nearest shopping centre is Valley Point, which is just 4 minutes' walk from Jervois Mansion. Another 11 minutes' walk away is the Great World City Shopping Centre.
Jervois Mansion Unit Mix
The following is the unit mix for Jervois Mansion.
Fact Sheet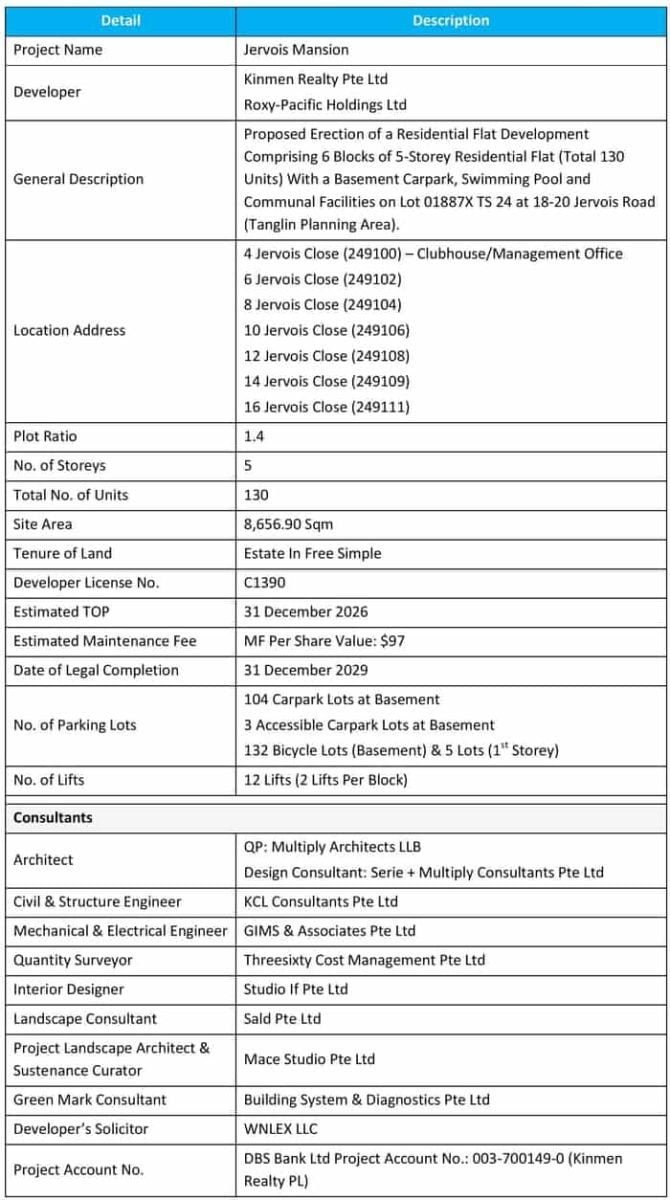 Jervois Mansion's Design Concept
Jervois Mansion's design concept is based on three main themes:
Bungalow-Inspired Living: Taking its cue from the Good Class Bungalows (GCB) and charming Black & White colonial bungalows in the area, Jervois mansion's architectural design seeks to blend with the area's heritage that is characterised by low-rise buildings and embassies.
Living In Nature: Seeking a fine balance between the site's redevelopment potential and ecology, specially curated landscaping will adorn both open and vertical spaces. Through the cultivation of nature with interconnected sky gardens, it creates a "living in nature" experience for all residents of Jervois Mansion to enhance their quality of living.
Fostering Safe Communal Spaces: To cultivate safe social interaction amongst residents of Jervois Mansion amid the current covid-19 pandemic, the six residential blocks are separated by five interconnected courtyards. These open landscaped spaces not only offer good setback distance between the blocks and communal facilities, distinctive landscape features are also designed between them to provide a buffer. Each courtyard will have a one-storey pavilion with seamless architectural characteristics.
Architectural Design
Free-Standing Blocks: Each of Jervois Mansion's 5-storey blocks are positioned loosely on the site, akin to how good class bungalows are built around the neighbourhood. This allows gaps between the blocks, with lush greenery further accentuating their free-standing nature.
A Living Façade: It draws inspiration from the design of veranda in Black & White bungalows, which encapsulates the architectural response to the hot and humid climate of Singapore. At the same time, it brings nature close to living spaces. To revalidate this concept, the living façade will have planters running the entire length of the front and side façade of each block. Balconies are then positioned above them to bring nature close to each home. These white planters and balconies are supported and articulated by fine black frames, modelling after the façade design of 19th century colonial bungalows.
A Sequence of Pavilions: There are seven pavilions erected across five courtyards. Their design cues closely relate to the façade of Black & White Bungalows by adopting the same fine black frames. These one-storey pavilions are all open-concept, except for the clubhouse and gym. They either have a circular or concaved rectangular shape. Together they offer a coherent sequence of forms whilst displaying varied individual qualities based on their utility.
Landscape Design
Jervois Mansion's landscape design seeks to harmonise three elements - Life, Wellness and Happiness. The design concept is underpinned by nature to satisfy the innate human need for an abode that embraces comfort, exudes cheerfulness and foster creation.
The physical landscape is shaped and molded by the following concepts:
Natural Layering: Trees, shrubs and plants of various sizes, creeping groundcovers and lawns, as well as creepers and climbers, are arranged in appropriate layers to facilitate and promote the natural development of flora and fauna habitats.
Natural Habitats: By allowing the natural growth of plant species with minimal maintenance, this will help to shape the aesthetics of the living environment. Ornamentation and manicured landscapes will be downplayed to create a more natural environment to attract fauna such as butterflies, dragonflies and birds.
Biodiversity: A diverse range of plant species will be used to create a natural living environment. These will include spices and edible plants, as well as those with medicinal properties. These plants can be harvested by the resident community for their own use or cooking.
Seamless Landscape: The landscaping will be seamlessly integrated into the whole development from the basement through to the rooftop. This includes a 100m long linear garden in the basement while green buffers between the courtyards and roof gardens help to create a lush, vibrant and aesthetically pleasing living environment at every level.
Jervois Mansion Site Plan & Facilities
Jervois Mansion offers a myriad of facilities catering to all ages. They are organised with different themes in mind such as Harvest Quarter, Social Quarter, Junior Quarter, Wilderness Quarter, Sunrise Quarter and Family Quarter. The list of facilities and their layout are indicated below:
The following are the design aspects of some main areas at Jervois Mansion:
Entrance & Drop-Off Courtyard: The entrance & drop-off courtyard is punctuated by a cluster of a majestic Koompassia excelsa (tualang) and two Tabebuia Rosea trees, which will be covered by a canopy of pink blossoms in April and August during its flowering seasons. This will induce a sense of majesty and celebration amidst the verdant beauty of a tropical setting.
Swimming Pool Courtyard: The swimming pool is positioned in the middle of the courtyard with the clubhouse at one end. The walls of the pool are designed with a combination of straight and curved surfaces, while a small "island" is sited in the middle of the pool. This creates an imaginary stream where residents can swim, sunbathe, relax or engage in water-play. The pool tiles are in dark green tones instead of the usual blue, as it seeks to integrate the water body with the luscious landscape surrounding it. These thoughtful designs seek to foster community interactions and activities within an aquatic setting.
Tembusu and Waterlily Courtyard: It is an elongated courtyard that comprises a linear lawn with a cluster of majestic Fagraea fragrans (Tembusu) trees and two waterlily ponds at one end that will provide an open environment for informal and passive activities. The shading around the ponds' area will allow residents to spend some personal and quiet time, while the regular blooming of waterlilies, flirting of dragonflies and darting of small fishes provide a calming effect.
Event Lawn Courtyard: The event lawn provides a large open space suitable to host activities for all ages. These include having picnics, engaging in informal games, organsing social gatherings or simply letting children run about. Meanwhile, the canopy of the towering and majestic Shorea roxburghii tree will provide some respite from the blazing sun. There will also be two circular, open-sided pavilions set within a bio-pond to offer a sheltered space for events amidst an ecological habitat.
Fitness Courtyard: The fitness courtyard will comprise an indoor gym, a yoga deck and meditation deck framed around a curvaceous reflective pool. With a porous walkway spanning its length, it allows aquatic plants to grow through it, enhancing the natural landscaping that Jervois Mansion seeks to nurture.
Cocoon Garden, Picnic Garden & Discovery Garden: The Cocoon Garden lies on the northern edge boundary connected by a single path. There are three individualised 'cocoons' within a moss and fern garden shaded by towering Dryobalanops aromatica tropical trees. These cocoons in distinctive squarish, triangular and roundish shapes will provide residents a quiet and contemplative environment to spend time by themselves.
The Picnic Garden lies on the eastern edge boundary. With the afternoon sun shaded by the buildings, a series of small lawns distributed across the garden will cater to small group activities. At the centre of it is a large hammock and small bar facility casual interactions.
The Discovery Garden lies at the Southern edge boundary of Jervois Mansion and faces the drainage reserve, which provides an ideal environment for flora and fauna to thrive. A series of small decks showcasing the discovery, life cycles and symbiosis of nature will provide a fascinating learning experience for children.
Basement: A 100m linear garden in the basement along the Western edge will be illuminated by sunlight through openings at the ground level. A series of stairs will link them together while a variety of plants lining the garden radiated by the glorious sunlight provides a strong element of visual pleasure to the functional basement.
Rooftop: The roof terraces of all six blocks in Jervois Mansion will be linked together by a series of trellised bridges. This helps to integrate various community facilities, gardens and open spaces in a seamless manner. The ecology of the rooftop landscape will be different from those on the ground level, capitalising on the greater exposure of sunlight to create new visual and living experiences.
1st BCA Green Mark Super Low Energy Private Residence
Jervois Mansion will offer the best-in-class cost-effective energy savings, clinching the BCA Green Mark (GoldPlus) award. The following are some of the energy-efficient features incorporated into the development:
Low-Emissivity Glass: Low emissivity glass façade to help keep interiors cool while allowing natural light radiated the interiors
High Cross-Ventilation: Computer Fluid Dynamics studies and metal grill unit entry doors to maximise cross-ventilation between units
Passive Cooling: Extensive roof gardens to reduce urban heat island effect and heat gain
Energy Efficiency: Solar power energy and smart energy efficient systems for common facilities
Water Efficiency: WELS tick rating of tap and water fittings for all residences
Environmentally Friendly: Low volatile organic compound paint
Convenient Access to Amenities
The shopping malls closest to Jervois Mansion is Valley Point and Great World City and Tiong Bahru Plaza.
Valley Point: It is just 4 minute's walk away and although not large, is home to two supermarkets - Cold Storage and Fairprice Finest. There is also a Anytime Fitness centre, pet shop, vet clinic and several F&B outlets such as Starbucks, LR Boulangerie and Phat Burger Bro, to name a few.
Great World City Shopping Mall: Slightly further away (about 13 minutes' walk) along the park connector, it is a one-stop retail and lifestyle destination with anchor tenants such as Best Denki, CS Fresh by Cold Storage, Food Junction, GV Grand cineplex, Meidi-Ya Japanese supermarket, Toys"R"Us, True Fitness, Uniqlo and Zara.
It has recently been refurbished with more than 200 tenants. Hence, residents and shoppers can indulge in a delectable array of dining, shopping, entertainment, fashion and lifestyle offerings all in one place. Some of the popular restaurants include the Michelin star Tim Ho Wan, Kuriya Dining and Imperial Treasure Cantonese Cuisine. For more affordable fare, there are fast food outlets such as Mcdonald's and Subway, as well as a food court.
Tiong Bahru Plaza: Just a short bus ride away, it features communal spaces for residents and shoppers to mingle. It has been recently refreshed to capture both the characteristics of the old neighbourhood and the new hip factor, indulging both the young and old.
There is a wide arrary of F&B establishments and shopping options, serving the needs of residents around the vicinity, business executives from Central Plaza offices and students from the neighbouring schools. Some of its anchor tenants include Fairprice Finest, Challenger, Daiso, Golden Village Cinema, DBS and OCBC Bank. There are also a number of tuition and children enrichment centres, as well as a Kopitiam food court.
Jervois Mansion - Minutes to Orchard Road
Jervois Mansion is located at the fringe of Orchard Road, just a 7 minutes' bus ride or 4 minutes' drive away.
Orchard Road is Singapore's upscale retail and dining paradise, with thousands of establishments offering the ultimate lifestyle experience to tourists and locals alike. There are numerous internationally renowned department stores catering to the well-heeled, with famous brands such as Louis Vuitton, Giorgio Armani, Cartier scattered along the 2.4km tree-lined boulevard.
Many international hotels like Hilton Hotel, Marriot Tang Plaza Hotel, Hyatt Hotel and Mandarin Hotel, among many others, are also located at Orchard Road.
Beside shopping, Orchard Road is also a well-known gourmet paradise. There is an amazing variety of restaurants and eateries ranging from affordable fast food outlets and foodcourts to mid- and high-end restaurants serving a mind-boggling array of local and international cuisines.
With so many exciting leisure, entertainment and dining choices within easy access, this adds to the appeal and investment potential of Jervois Mansion.
Rejuvenation of Orchard Road
Despite Orchard Road being Singapore's premier shopping and entertainment district, there are plans to transform the 2.4km stretch into an urban green corridor to reaffirm its reputation as Asia's foremost shopping mecca.
This will be achieved through broadening the focus of Orchard Road from beyond shopping to a lifestyle destination to attract more visitors. The proposed plan will include enhancing the character of the four sub-precincts, namely Tanglin, Orchard, Somerset and Dhoby Ghaut.
Novena Shopping Malls
Slightly further up from Orchard Road in Novena are shopping malls such as United Square, Velocity @ Novena Square and Square 2.
United Square - It is one of Singapore's most family-oriented shopping malls. Besides children specialty stores and learning hubs, there are also mall performances for kids, which make it a popular destination for family outing during the weekends.
The Velocity @ Novena Square - A sports-themed shopping mall that regularly organises sporting events and basketball competitions at its outdoor basketball court. It also regualarly broadcasts football matches on large TV screens at the atrium. Inside the mall are numerous stores selling branded sports merchandise from Adidas, New Balance, Reebok and Asics, etc. There is also a Decathlon outlet selling a wide variety of outdoor sporting equipment and goods.
Square 2 - It is Singapore's first Korean-themed shopping enclave offering a range of goods and services ranging from fashion, beauty products & services, household goods and delightful Korean cuisines. There is also a NTUC Fairprice supermarket, a food court and various eateries and cafes.
Other Places of Interest Near Jevois Mansion
Besides the shopping malls in Orchard Road and Novena, there are also many other places of interest near Jervois Mansion. These include Clarke Quay, Robertson Quay, Fort Canning Park and Singapore Botanic Gardens.
Clark Quay - It is located along the Singapore River, which was the centre of trade and commerce in the 19th century. In the past, Tongkangs" (bumboats) loading and unloading their cargoes from the warehouses along Clarke Quay used to be a common sight.
But today, the shophouses and warehouses have been refurbished and the area transformed into a bustling destination filled with a colourful kaleidoscope of restaurants, wine bars, entertainment spots and retail shops. During the day, visitors can immerse themselves in discovering shops selling curios, souvenirs, art and craft and a variety of merchandise. But once the sun set, Clarke Quay turns into a huge night bazaar where visitors can be lost in a maze of dining and entertainment outlets.
And soon, the riveside promenade will soon be rejuvenated along with the development of Canninghill Piers and Canninghill Square, an integrated development that occupies the former Liang Court site.
Robertson Quay - It used o be one of the three largest wharfs along the Singapore River along with Boat Quay and Clarke Quay. But since the 1990s, the Urban Redevelopment Authority (URA) started to repurpose the area for hotel, commercial and residential developments.
Today, it has been transformed into a vibrant destination filled with restaurants, pubs, cafes, upmarket condominiums, offices and recreational facilities. One of its most distinctive landmarks is the Alkaff Bridge that has been turned into a colourful piece of art.
At night, it is a gem of an entertainment spot by the Singapore River, offering a tranquil ambience for an intimate meal or drink with family or friends. Unsurprisingly, it has attracted a flourishing community of expatriates and locals into the neighbourhood.
Fort Canning Park - An iconic hilltop landmark that was previously home to 14th-century kings' palaces and later served as the Far East Command Centre and British Army Barracks. The decision to surrender Singapore to the Japanese on 15 February 1942 was also made on the hill in the Underground Far East Command Centre commonly known as Battle Box.
But today, Fort Canning Park is home to nine historical gardens - the Pancur Larangan, Artisan's Garden, Sang Nila Utama Garden, Jubilee Park, Raffles Garden, First Botanic Garden, Farquhar Garden, Spice Garden and Armenian Street Park.
More recently, a children playground has been added to the spaces once occupied by the River Valley Swimming Pool, Van Kleef Aquarium and the National Theatre. Known as Jubilee Park Playground, it has multiple swing sets, climbing nets, slides, see-saws, a log scramble for climbing and balancing, a "treehouse" that can be accessed by a rope bridge and a sandpit.
Singapore Botanic Gardens - Established in 1859, it is the oldest garden in Singapore. With an area of 74-hectares, it was inscribed as a UNESCO World Heritage Site on 4 July 2015. Besides being a place for leisure and recreation, its mission is to provide botanical and horticultural support for the Singapore's greening efforts, a centre for plant taxonomic and biodiversity research, as well as an educational attraction.
One of its highlights is The National Orchid Garden. Located on its highest hill, the three hectares of carefully landscaped slopes is home to more than 1,000 species and 2,000 hybrids, with about 600 species and hybrids on display.
Interesting Food Places Near Jervois Mansion
Besides the wide variety of restaurants and eateries in Great World City Shopping Mall, there are several interesting food places near Jervois Mansion.
River Valley Road: Along the shophouses at River Valley Road are several eateries offering an interesting mix of cuisine. These include Boon Tong Kee Chicken Rice, Tsukune Ichigo Japanese Yakitori, Partners in Crime (a western bar & restaurant) and Al Afrose Indian restaurant. It is also home to Culture Spoon, a new co-sharing kitchen concept offering Thai, Western, Indonesian, Filipino food, along with confectionaries at different hours of the day.
Zion Riverside Food Centre: It is a small hawker centre opposite Great World City. Some of the popular hawker stalls frequented by residents and workers from the surrounding areas include Lau Goh Teochew Chye Thow Kway, Zion Road Fried Kway Teow, Noo Cheng Adam Road Prawn Noodle and Mohammad Sultan Road Hot And Cold Cheng Tng.
Tiong Bahru: Just 6 minute's drive from Jervois Mansion, it is one of Singapore's oldest housing estates where many of its post-Second World War apartments have been conserved. Some of these apartments have been converted into an eclectic mix of retail and dining outlets which give the area a unique character. In the past decade, it has been transformed into a trendy enclave where indie shops, small restaurants and hipster cafés have popped up alongside more traditional restaurants. Some of these include Chapter 55, PS Cafe Petit at Tiong Bahru, Caffe Pralet and Tiong Bahru Bakery.
For more affordable local fare, the Tiong Bahru Market and Food Centre offers many interesting choices. Some of the more popular hawker stalls include Tow Kwar Pop, Tiong Bahru Hwa Yuen Porridge, Jian Bo Shui Kueh and Hot Plate Western Food, among many others.
Besides the above, there are two more hawker centres nearby - Beo Crescent and Redhill. Together, they provide more food choices for residents in the surrounding housing estates.
Jervois Mansion - At the Fringe of Central Business District (CBD)
With Jervois Mansion located at the fringe of the Central Business District (CBD) and Singapore's financial centre, which is the world's fourth largest, they offer a strong catchement of existing tenants. As such, it will attract strong rental demand from expatriates and high-earning personnel looking to live near their offices.
This can be seen from newer developments around Jervois Road like Mon Jervois and Principal Garden. Completed in 2016 and 2018 respectively, they are commanding an average rental yield of about 3.2%.
Hence, for a premium development like Jervois Mansion, it is expected to perform equally well, if not better, as many of the properties in the area are rather dated.
Major Transformation - The Greater Southern Waterfront
Jervois Mansion will also benefit from the transformation of the Greater Southern Waterfront (GSW), which is just a short 8 minutes drive away.
First announced by Prime Minister Lee Hsien Loong at the 2013 National Day Rally, the Greater Southern Waterfront will comprise 30km of coastline stretching from Gardens by the Bay East all the way to Pasir Panjang. This will cover a land area of 2,000ha, twice the size of Punggol and six times the size of Marina Bay or approximately 465 Padangs (fields) combined.
The mega transformation will include the following:
Development of more leisure, recreational and entertainment amenities
Development of waterfront promenades and green corridors
Job creation through its live-work-play initiative
When completed, it will bring more buzz and vibrancy not only to the to the GSW, but also its surrounding areas. Hence, this will add to the investment appeal of Jervois Mansion given their close proximity.
Public Transportation
The nearest MRT station will be Great World along the Thomson-East Coast Line (TEL). Set to be completed by this year, it is about 13 minutes walk from Jervois Mansion. From there, the Orchard and Outram stations are just one and two stops away respectively. As the Outram station is an interchange between the East-West (EWL), Northeast (NEL) and Thomson-East Coast (TEL) lines, it will offer added commuting convenience.
For those who deem the Great World MRT station to be a little far, they have the option of taking public buses along River Valley Road just 3 miniutes' walk from Jervois Mansion. Many of these buses will take commuters directly to Orchard Road, Central Business District and other Downtown areas.
Schools Near Jevois Mansion
There is no lack of schools near Jervois Mansion. This is especially important for families with young children registering for Primary 1 admission due to the Ministry of Education's distance-based allocation system. The following primary schools are located within a 1 km and 1-2 km radius:
Within 1 km
With 1-2 km
River Valley Primary School
Zhangde Primary School
Gan Eng Seng Primary School
Queenstown Primary School
There are also several secondary schools in the area. These include the following:
Crescent Girls' School
Gan Eng Seng Secondary School
Outram Secondary School
Bukit Merah Secondary School
International Schools
For those looking for property investment, Jervois Mansion will offer promising potential as it enjoys convenient access to a number of international schools. This will help to attract housing demand from expatriate families, and some of these international schools include:
Dimensions International College, River Valley Road
Avondale Grammar School, Tanglin Road
United World College South East Asia, Dover Road
Dover Court International School, Dover Road
Tanglin Trust, Portsdown Road
Review Conclusion - An Investment Perspective
At the launch of Jervois Mansion on 16 october 2021, units were sold at an average price of $2,346 psf, or between $2,241 psf to $2,898 psf. This is extremely attractive when compared to the Irwell Hill Residences, a 99-year leasehold development just 1 km away at River Valley Road launched in April at an average price of $2,700 psf. Nearby, the 8 St Thomas and Avenir which are freehold developments, are selling at average prices above $3,000 psf at that time.
Although the Great World MRT station is 13 minutes' walk away, which may not be considered the most convenenient for many, this has not deterred buyers as 98% of the units put on sale were snapped up. One mitigating factor is that the bus-stops along River Valley Road are mere minutes away. Moreover, many of the buses will take residents directly to the Central Business District and Orchard Road, as well as most of Singapore's Downtown areas like City Hall and Bugis a short ride away.
Currently, Jervois Mansion is fully sold. If you are interested in other new property launches, or to find out more about property investment, please WhatsApp or Email Us.
---
Besides Jervois Mansion, please check out the following property reviews too. To find more details of new property launches, please refer to project information.