This is a review of Perfect Ten, a luxurious freehold condo development in Bukit Timah. Nested within Singapore's prime District 10, it will occupy the site of the former City Towers that was sold en-bloc in August 2019 to Japura Development, a company linked to Hong Kong tycoon Li Ka-Shing's Cheung Kong empire, which is well-known for developing high-end properties.
Perfect Ten is within walking distance of two MRT stations - Newton and Stevens. Located within an exclusive private residential enclave, it will consist of a 24-storey twin tower with 230 units of 2- and 3--bedrooms. This will cater to those looking for own stay or investment. However, for those looking for bigger units, some at the upper floors from Level 20-24 can be amalgamated.
This review will seek to provide an unbiased analysis of the following to enable you to make an informed decision on whether this is the right property to invest in:
If you need more information about the development or wish to arrange for a show flat viewing, please feel free to Email Us Alternatively, you may WhatsApp Us for an obligation-free information-sharing session and get an update on Singapore's real estate market.
To navigate to each section of the review, please click on the links in the Table of Content below.
What are Perfect Ten's Unique Selling Points?
An ultra luxurious development by well-known Hong Kong conglomerate Cheung Kong Holdings
Competitively priced versus other similar luxe developments
Located in Prime District 10 favoured by well-heeled foreign investors
Amalgamation of units for those looking for more space
Highest ceiling heigh in the market at 3.23m
Generous use of gold accent throughout the development creates a distinctive landmark in the area
Strong rental demand
Excellent transportation network, with 2 MRT stations (Newton and Stevens) within walking distance
Close to a plethora of amenities and eateries
A stone's throw away from major shopping destinations in Orchard Road and Novena
Near reputable schools and educational institutions
Close to many nature parks such as Singapore Botanic Gardens, Bukit Timah Nature Reserve and Rail Corridor
Development of Health City Novena, a world-class integrated medical hub, to boost investment potential
Where is Perfect Ten Condo Located?
The Perfect Ten condo is situated in Bukit Timah Road, one of Singapore's most coveted location. It is predominantly a private residential enclave with many high-end housing developments.
Being close to the main road, it has easy access to public transportation services (buses & MRT). Across the development in Dunearn Road is the Anglo Chinese School (Baker Road).
The area is known to attract the well-heeled due to its close proximity to Orchard Road and the Central Business District (CBD).
Orchard Road is Singapore's upscale shopping, leisure, dining and entertainment destination while the Central Business District (CBD) is home to many Fortune 500 companies, as well as Singapore's financial centre, the fourth largest globally.
Bukit Timah Road is also well-known for its many sought-after schools, in addition to a number of international schools. Hence, its  appeal to many expatriate families with young children.
Despite being in the city centre, many nature attractions are just a short drive from Perfect Ten condo. These include the Singapore Botanic Gardens, Rifle Range Nature Park, Bukit Timah Nature Reserve and Hindhede Nature Park, as well as the Rail Corridor Central.
Perfect Ten's High-End & Exquisite Design Features
Below are some of the design features that have been scrupulously conceptualised to target the high-end segment of the residential property market.
Two Signature 24-storey twin towers with sky bridge
Champagne-gold glass balconey design
Every unit is specially crafted to ensure maximum privacy
80% of units facing Bukit Timah Nature Reserve and 20% facing city
A long boulevard driveway with trees lining both sides to provide a grand sense of arrival
Approximately 100m generous setbacks from the main road.
Full marble grand lobby and reception, equivalent in standard to a 6-Star hotel
First-of-its-kind glass lift
Cantilevered clubhouse above swimming pool
Sky Bridge, Sky Pool, Sky Garden and Observation Terrace with 360 degrees unobstructed views
Perfect Ten Condo Pricing
During the launch on 19 December 2021, prices started from S$2.5 million for 2-bedrooms on low floors to S$2.9 million for those on high floors. For the 3-bedrooms, the indicative price ranges from S$3.9 million on low floors to S$4.4 million on high floors. This translates to about S$3,200 to S$3,700 per square foot (psf).
Below is a summary of the indicative pricing:
Low Zone: $3,200 psf
Mid Zone: $3,500 psf
High Zone: $3,700 psf
2-Bedroom (753-797 sqft) - $2.5 million to $2.9 million
3-Bedroom (1,227-1,281 sqft) - $3.9 million to $4.4 million
Occupying a land area of 9,711.3 sqm (approx. 104,531 sqft) with a plot ratio of 2.1, the new development will have a gross floor area of 20,393.7 sqm (approx. 219,516 sqft). Given Japura Development's winning bid of $401.9 million in the en bloc sale, this works out to be $1,847 psf per plot ratio (ppr). The bid was a 13% premium over the owners' reserve price of $355 million ($1,633 psf ppr), which includes a development charge of about $3.505 million for land use intensification.
For the latest pricing, floor plans and project updates, please WhatsApp Us.
Perfect Ten Unit Mix
The Perfect Ten offers a mix of 2- and 3-bedroom units. The 2-bedrooms range from 753-797 sqft and 3-bedrooms from 1,227-1,281 sqft. Compared to many recent launches, their sizes are larger than average and luxurious materials are offered throughout.
All of them have practical dumbbell layouts to maximise the use of space. With the highest ceiling height of 3.23m in the market, it provides an airy and deluxe feel.
Private lift lobbies are available for all 3-bedroom types and only 2-bedroom A3 / A 3-PH types (786 sqft). Units in Block 321 and 322 have a North-South and Northeast-Southwest orientation respectively.
However, one unique feature of Perfect Ten is the amalgamation of units, which will create up to a 10-bedroom unit. However, these will only be for penthouse units on the top 5 floors (Level 20-24) and they may be reconfigured with the following combinations:
3+2+2+3
3+2+2
    2+2+3
    2+2
For the site and floor plans, as well as list of facilities, please click here.
Virtual Tour
For a virtual tour, please clicked on the links below:
Unit Provisions
As a premium development, Perfect Ten offers branded provisions, fittings and finishes as follows:
Fittings, Floor & Wall Finishes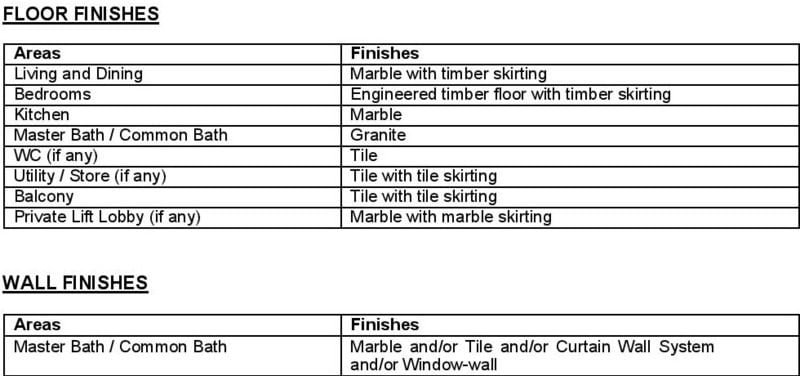 Fact Sheet
Perfect Ten's Smart Home System
Perfect Ten comes with a wireless smart home readiness hub that facilitates the control of various equipment via residents' smart phones:
All air-conditioning fan- coil units
Lighting points (living / dining / kitchen / master bedroom / private lift lobby / main and rear entrance / passage way, where applicable)
Steam Oven
Audio video intercom
Digital lockset
Who is the Developer of Perfect Ten?
The developer of Perfect Ten is Japura Development Pte Ltd, a subsidiary of CK Asset Holdings Limited. CK Asset was previously known as Cheung Kong Property Holdings.
Cheung Kong Ltd is a leading property developer in Hong Kong owned by Li Ka-Shing, the wealthiest man in Hong Kong and the 19th richest person in the world. Founded in 1950, it is one of the oldest property developers in Hong Kong. The company employs more than 240,000 people and operates in more than 50 countries, which include Mainland China, Singapore and the United Kingdom.
It is involved in many types of property developments - hotels, offices, shopping malls, and residential projects. In Singapore, CK Asset has extensive experience in developing residential and commercial projects. Their portfolio includes Costa Del Sol, Cairnhill Crest and Stars of Kovan.
Excellent Transportation Network
The Perfect Ten condo is well-served by public transportation. Beside the many buses plying the Bukit Timah/Dunearn Road, it is also close to two MRT stations – Newton and Stevens – both of which are just 12 minutes' walk from the development.
Moreover, both are MRT interchanges. The Newton station is an interchange for the North-South and Downtown Lines while the Stevens station is an interchange for the Downtown and Thomson-East Coast Lines.
Together, they will provide Perfect Ten residents convenient access to many parts of Singapore. For example, the trains along the North-South and Downtown Lines will take commuters directly into areas such as Marina Bay, City Hall and Raffles Place.
The National University of Singapore (NUS) and Singapore Management University (SMU) can also be easily reached via the train network. NUS is just six stops and SMU three stops from the Stevens and Newton MRT stations respectively.
For those driving, it takes less than 10 minutes to reach Singapore's Central Business District (CBD). The Perfect Ten condo is also served by three major expressways – Central Expressway (CTE), Pan-Island Expressway (PIE) and North-South Corridor (NSC). These expressways will provide quicker access when travelling to other parts of Singapore.
New North South Corridor (NSC) to Improve Transportation Network
The North South Corridor (NSC) will be Singapore's longest Transit Priority Corridor. Spanning 21.5 from the northern region such as Yishun, Sembawang and Woodlands to the city centre and East Coast Parkway, it will also passe through areas such as Ang Mo Kio, Bishan and Toa Payoh. It is expected to be completed by 2026.
The NSC will feature dedicated bus lanes, cycling trunk routes and pedestrian paths to serve public bus commuters, active mobility users and pedestrians.
When completed, it will provide smoother and faster journeys for everyone by providing alternative travelling routes. At the same time, it will help to alleviate the congestion on the Central Expressway (CTE) and major arterial roads such as Newton. Inadvertently, this will reduce traffic congestion in the city, providing a more conducive living environment.
Amenities Near Perfect Ten Condo
Being situated at the city centre, Perfect Ten condo enjoys a wide variety of amenities and services such as shopping centres, cineplexes, restaurants, supermarkets, banks, home repair services and many more. Many of these can be found in Orchard Road and Novena shopping belt, which can be easily reached via a short train ride.
Orchard Road – A Shopping & Lifestyle Haven
With Orchard Road being practically at its doorstep, Perfect Ten residents will have easy access to a plethora of shopping, dining, entertainment and leisure options.
Orchard Road is Singapore's premier shopping belt and it stretches 2.5 km from Grange Road to Dhoby Ghaut. Lined with department stores and boutiques stocking the world's best luxury fashion and lifestyle goods, along with restaurants, bars and hotels, it is a must-visit destination for tourists.
Some of the internationally renowned brands that cater to the well-heeled include Louis Vuitton, Giorgio Armani, Cartier and Hermes. But Orchard Road is not only popular with tourists but locals too due to its wide range of affordable merchandises - fashion accessories, bags, streetwear and footwear, sporting goods and many more.
Novena - Specialty Shopping Malls
There are three popular shopping malls in Novena, namely United Square, Velocity @ Novena Square and Square 2. These malls are very popular with those working in Novena, a well-known medical hub. Besides shopping, there are also many eateries and restaurants, as well as supermarkets such as NTUC FairPrice and Cold Storage that serve residents in the surrounding housing estates.
United Square – It is one of Singapore's most family-oriented malls and a popular destination for those looking for books, children clothing, toys, art & craft materials, etc. It is also a children learning hub due to the many tuition and enrichment centres operating there. These include Smart Science Lab, I Can Read, Hua Language Centre, Kindermusik With Love Studios, The Ballet & Music Company, and more.
Velocity @ Novena Square – Being positioned as a sports-themed mall, it regularly organises sporting events and basketball competitions at the outdoor basketball court. There are also large TV panels screening football matches. Unsurprisingly, it is well stocked with many famous sporting brands such as Adidas, New Balance, Reebok and Asics. Besides sports goods, there are also a few stores that specialise in hiking and rock-climbing equipment. One of its most popular outlets is Decathlon.
Square 2 - Square 2 is part of the Novena Lifestyle and Medical Hub. Comprising 200 specialty shops and food outlets, it is better known as Singapore's first Korean-themed shopping mall. It offers various Korean merchandise and services ranging from fashion, beauty products & wellness, household goods and delightful Korean cuisines.
A Gourmet Paradise Near Perfect Ten Condo
The famous Newton Food Centre is about 14 minutes' walk from the Perfect Ten condo. It is frequented by tourists from all over the world. In the past, it was notorious for over-charging by some unscrupulous hawkers. However, due to the bad press, most have cleaned up their acts.
The food centre is popular for its eclectic mix of cultures and delicious hawker food, especially its chilli crab and barbeque seafood dishes. In 2013, it was chosen to host the SingTel Hawker Heroes Challenge where Michelin-star chef Gordon Ramsay battled three Singapore hawkers in a much-anticipated Singapore versus Ramsay cook-off.
And in 2018, it was featured in the Hollywood blockbuster 'Crazy Rich Asians'. The film is about is about super-wealthy Chinese Singaporeans and their ultra-lavish lifestyles.
Besides the Newton Food Centre, a wide variety of food and cuisines from all over the world can be found in Orchard Road and Novena. Ranging from the affordable to the extravagant, these include fast-food outlets such as McDonald's, Kentucky Fried Chicken and Subway Sandwiches and local food courts to Michelin Star restaurants such as Les Amis (French), Iggy's (European), Summer Palace (Cantonese) and beni (Japanese fusion).
The Grandstand - A Family Lifestyle & Recreation Destination
The Grandstand at Turf City is a family lifestyle and recreational destination in Bukit Timah. It occupies the former site of the Singapore Turf Club where it used to be a horse-racing arena. However, it has since been repurposed as a shopping, dining and recreational destination.
Other than a supermarket, children play-centre, preschools, retail outlets and restaurants, it also offers many recreational and sporting activities. These include football, basketball, karting, archery, horse-riding and paintball combat, among others.
It also houses PasarBella (a gourmet food hall) and Kidzland (an indoor children playground).
PasarBella offers a unique dining experience by serving favourite street food from the region and around the world. At the same time, it seeks to showcase the best of the classics, modern and culinary crossovers for a truly unforgettable dining experience.
Kidzland has been touted as Singapore's largest indoor playground and integrated family entertainment centre. There are different play areas for kids to enjoy and these include the Forest, the Beach, Magic Pen, Block and Sand and several other themes. They also provide customised birthday parties.
Reputable Schools Near Perfect Ten Condo
There are many reputable Singapore schools near Perfect Ten condo, especially along the stretch in Bukit Timah/Dunearn Road.
It is a well-known fact that properties near good schools are in great demand due to the Ministry of Education's distance-based school allocation system for Primary 1 admission. The following primary schools are within a radius of 1 km and 2km of Perfect Ten:
Within 1km
Anglo Chinese School (Primary)
Singapore Chinese Girls' Primary School
Within 1km – 2 km
Anglo Chinese School (Junior)
CHIJ Primary (Toa Payoh)
Saint Joseph's Institution Junior
Besides the above, there are many highly sought-after schools along Bukit Timah/Dunearn Road and nearby. They include the following:
Methodist Girls' School
Saint Margaret's Primary School
Nanyang Girls' High School
School of the Arts (SOTA)
National Junior College
Hwa Chong Institution
Catholic Junior College
International Schools
The Perfect Ten condo is also close to a number of international schools which can be easily reached by public transportation.
This will attract rental demand from expatriate families with children, especially those working in Singapore's Central Business District (CBD) where many global MNCs are located. With the CBD just a 7-minute drive or 3 MRT stations away, it is unsurprising that properties in Bukit Timah have attracted strong housing rental demand.
Some of the international schools are:
Hwa Chong International School (HCI)
Chinese International School
Saint Joseph's Institution International
Global Indian International School Singapore
International School Singapore (ISS)
Hollandse School
Chatworth International School
Singapore Korean International School
Bukit Timah-Rochor Green Corridor
There are plans to develop a 11km Bukit Timah-Rochor Green Corridor, which will run parallel to the Bukit Timah Canal near the Perfect Ten condo. This will provide cyclists and pedestrians a continuous path between Jurong Lake Gardens, the Singapore Botanic Gardens and Gardens by the Bay – Singapore's three main national gardens.
Construction of Phase 1 of the 1.4km elevated linear sky park, which will run above the canal between Bukit Timah and Dunearn Road, will begin this year and is expected to be completed by 2025. It will connect to existing overhead bridges as well as the Rail Corridor near the Bukit Timah Railway Station node.
The Bukit Timah-Rochor Green Corridor, together with other nature developments, will enable Singaporeans to experience and explore the rich heritage and biodiversity of the Rail Corridor. Branching off from this major green artery, it will connect to many other many recreational connections.
Neram and rain trees are among the species that will line the initial 1.4km of the Bukit Timah-Rochor Green Corridor to create a "riverine rainforest experience". They will also provide shade for those traversing the section above the canal. Such exciting developments will surely enhance the attraction of a development like the Perfect Ten condo as it is less than 50m away.
In the future, there are plans to extend it to the Kallang Riverside Park. This will provide a wonderful opportunity for people from the West to access the city centre in a green setting
Nature Attractions – A Short Train Ride from Perfect Ten Condo
Although the Perfect Ten condo is situated in the city that is highly buildup, many nature parks are not far from the development. In fact, 80% of the units will face the Bukit Timah nature Reserve. Some of the nature parks near it include the Singapore Botanic Gardens, Rifle Range Nature Park, Bukit Timah Nature Reserve, Hindhede Nature Park and Dairy Farm Nature Park. These nature parks can be easily reached via a short MRT ride.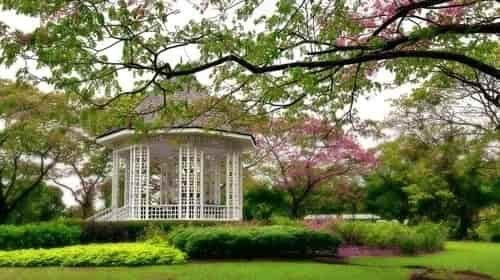 Singapore Botanic Gardens – It is just one stop from the Stevens MRT station. In 2015, it has been inscribed as a UNESCO World Heritage Site – the first and only tropical botanic garden on the UNESCO's World Heritage List. It is also the first in Asia and the third botanic gardens inscribed in the world. The other two are Orto botanico di Padova and the Royal Botanic Gardens, Kew.
The Singapore Botanic Gardens is broadly divided into four sectors – the Tanglin Core, the Central Core, the Bukit Timah Core and the Tyersall-Gallop Core. Collectively, they provide many beautiful spots of nature for children and adults to enjoy, such as having a picnic, a stroll in the park or simply enjoy the lush greenery and a wide variety of flowering plants. Some of the popular spots include:
Swan Lake
Fish Ponds at the Green Pavilion
The Bandstand and Vanda 'Miss Joaquim' Grove
Sundial Garden
Learning Forest
National Orchid Garden
Palm Valley and the Shaw Symphony Stage
Frangipani Collection
Other than the above, an outing to the Jacob Ballas Children's Garden may possibly be the most interesting, especially for families with young children. It is the first garden in Asia dedicated to children and its theme - 'Life on Earth Depends on Plants' – seeks to educate and instill a love for nature in children. The Garden provides a complete nature-learning environment where children can find out more about the ecology of plants in our environment through discovery and experiential learning.
Bukit Timah Nature Reserve - This 163ha Bukit Timah Nature Reserve includes Singapore's highest hill, Bukit Timah Hill, which stands at 163m. It is also one of the few areas of primary rainforest in Singapore boasting a highly diverse ecology with over 500 species of fauna and 800 species of flowering plants. Popular with strollers, joggers, hikers and rock-climbers, Bukit Timah Nature Reserve was officially declared an ASEAN Heritage Park on 18 October 2011.
Rifle Range Nature Park – It is a 67ha park located south of the Bukit Timah Nature Reserve. It acts as a buffer to alleviate the heavy footfall in the other nearby nature reserves, as well as provide an alternative venue for visitors to connect with nature.
A trek through the secondary rainforest, visitors may chance upon its eclectic inhabitants – native fauna species such as the Sunda pangolin and Horsfield's flying squirrel. Along the stream, crabs, frogs, fish and snakes can also be seen.
The Sin Seng Quarry, once Singapore's deepest quarry, has been backfilled and transformed into a freshwater habitat with a lookout point for visitors to appreciate marsh birds.
Hindhede Nature Park – Located next to the Bukit Timah Nature Reserve, its scenic and serene environment provides an excellent spot for bird watching and trekking, or simply to enjoy the best that nature can offer. With easy trails and well-defined footpaths, it provides a great place for a morning or evening strolls. The park is also ideal for families with young children and the elderly to enjoy a fascinating day out.
Dairy Farm Nature Park – Being next to the Bukit Timah Nature Reserve, it's no surprise to find a rich biodiversity of insects, birds and mammals in the nature park. Attractive butterflies like the Chocolate Pansy and Malayan Jester, amazing birds like the Magpie Robin and the Crimson Sunbird, as well as alluring mammals such as the Malayan Colugo and Long-Tailed Macaques are some of the fascinating species that visitors may encounter.
Its secondary vegetation includes fruit trees like rambutan, jackfruit, mango, and other native species such as Leea indica and tiger orchids.
The Rail Corridor - The Rail Corridor was formerly a railway line that stretched from Peninsula Malaysia through the heart of Singapore, ending at Tanjong Pagar. Long disused, it will be redeveloped into a community space for Biodiversity and Greenery, Heritage and Culture and to provide many recreational activities.
Enhancements will begin with Rail Corridor (Central), which is known for its lush natural landscapes and elements of rich heritage. Landmarks such as the truss bridges and Bukit Timah Railway Station have been gazetted for conservation.
The Bukit Timah Railway Station will be revitalised into a distinctive community node that highlights its heritage and will include various spaces for the community to enjoy.
As the Rail Corridor is home to a rich variety of flora and fauna, the habitats along it will be enhanced to create a conducive environment for wildlife to thrive and to strengthen the ecological connection with the adjacent green spaces.
This will provide visitors on an interesting journey through a variety of landscapes, communities and unique experiences.
Health City Novena – A World-Class Integrated Medical Hub
Under the Novena Master Plan, one of its major developments will be the Health City Novena, a world-class integrated medical hub that is expected to be completed by 2030. When completed, it will be the largest single healthcare complex in Singapore.
The integrated development will incorporate 10 buildings that will include the Tan Tock Seng Hospital (TTSH) and 5 new healthcare facilities consisting of a new Ambulatory Centre at TTSH in addition to specialist and intermediate care centres.
Health City Novena is envisaged to be a model for future healthcare in Singapore that combines world-class research, cutting-age treatment and medical care. The congregation of medical specialists will further underpin Singapore as an internationally renowned medical destination.
This will draw medical tourists and business travellers from across the region. And with a growing population of well-heeled city residents in proximity, surrounded by supporting offices, medical facilities, schools, hotels and amenities, a property such as Perfect Ten is expected to further enhance its stature as one of Singapore's most coveted addresses.
Review Conclusion – Perfect Ten's Investment Potential
The Perfect Ten condo, situated in the prime District 10 of Bukit Timah Road, is one of the most coveted addresses in Singapore. Hence, it is pitched at the ultra-luxury segment of the residential property market. Surrounded by mostly high-end apartment buildings and landed homes, it will greatly appeal to the well-heeled, including rich foreign investors that typically favour properties in the Core Central Region (CCR). There are good reasons for this.
Blessed with a wide variety of restaurants, cafes, shopping malls and lifestyle options, as well as the proximity to several nature parks, it will appeal to those looking for a vibrant and dynamic living environment. For families with school-going children, the convenient access to many prestigious schools will be an added appeal.
When it comes to investment, there will be no lack of tenants as the Perfect Ten condo is close to many major employment nodes in the city. These include Singapore's financial district where a large number of global MNCs are headquartered. However, they should be realistic as rental yields in the surrounding developments are fetching mostly below 3.0%, attesting to the competition it will face.
Nevertheless, with Singapore fixed deposit rates below 1%, this is not too bad a return though. For investors who are looking for more attractive rental yields, perhaps they may wish to look at a property like the recently launched One-North Eden. Located in one-north, properties in the precinct are fetching yields above 3%.
However, the lower rental yield is unlikely to deter investors looking for a niche development like Perfect Ten, which is targeted at the well-heeled looking for an upscale lifestyle living. It will also attract those looking for the excitement, dynamism and convenience of city living. As the saying goes - "location creates desirability, desirability creates demand, and demand raises real estate values".
Moreover, its freehold status adds to its attraction.
With Perfect Ten condo priced from $3,200 psf, it compares very favourably vis-a-vis other luxury developments in the core central region (CCR) such as the following:
Les Maisons Nassim (Nassim Road) - $6,600 psf
Park Nova (Tomlinson Road) - $5,294 psf
Eden (Draycott Park) - $5,165 psf
But for those looking for more affordable alternatives, may consider the following (with their average selling prices indicated):
The Hyde @ Balmoral - $2,851 psf
Sloane Residences - $2,758 psf
Pullman Residences - $2,730 psf
Juniper Hill - $2,631 psf
Royalgreen - $2,711 psf
Fyve Derbyshire - $2,313 psf
10 Evelyn - $2,429 psf
Should you require more information about the development or property investment, please drop us a message. Alternatively, you may WhatsApp Us.
---
More Property Reviews
You may also be interested in the following new property launches:
More details on new launches can be found in project information.