This is a condo review of Pasir Ris 8 in Singapore's District 18, the first integrated development in Pasir Ris. Jointly developed by Allgreen Properties and Kerry Properties, it will offer 487 units of 1- to 4-bedroom units. This review will provide an unbiased examination of the exciting developments taking place in Singapore's Eastern Region and how they will benefit those looking for property investment.
For a deeper insight of the development or to visit the show gallery for an information-sharing session, please Email or WhatsApp Us.
To navigate directly to each section of the review, please click on the links in the Table of Contents below:
Key Attributes of Pasir Ris 8
The following are some of the key attributes of Pasir Ris 8 integrated development that will appeal to homeowners and property investors:
An integrated development offers a dynamic and vibrant living environment
An upmarket 3-storey commercial podium larger than Bedok Mall fully owned and managed by the developer, ensuring the development's proper maintenance and value in the long-term
Convenient access to shopping malls and essential amenities
Integrated Transport Hub provides excellent connectivity and enhances commuting experience and shorten travelling time
Close to schools and two established universities - Singapore University of Technology And Design (SUTD) and (SIT) Centralised Campus
Proximity to major economic hubs such as Changi Region, Paya Lebar Airbase and Punggol Digital District offers great employment opportunities, spurring property demand in the process
Close to nature parks and a plethora of recreational facilities and interesting food places
Pasir Ris is the only estate in Singapore that have its town centre located within 500m of the regional park and coastal beach area
Rejuvenation of Pasir Ris under the URA Master Plan and Remaking Our Heartland to further improve quality of living
Pasir Ris 8 is an integrated development by Allgreen Properties and Kerry Properties. Located at Pasir Ris central, it will be linked to the Pasir MRT station, bus interchange and White Sands shopping mall, as well as a new polyclinic and town plaza. Consisting of 487 units of 1- to 4-bedrooms (about 63.8% of which are 1- and 2-bedrooms) together with a 3-story commercial podium, it will offer residents a seamless connection to public transportation services and a wide range of amenities. In addition, it will serve as a community focal point while the Central Greenway will connect the estate to various nature parks.
The commercial component will be larger than Bedok Mall and will be of equivalent standard to the Great World City Mall that has been recently refurbished to cater to the upper-income population around that area. The Great World City Mall, together with two office towers and a serviced apartment block is the flagship development of Allgreen Properties.
The new development is also a short walking distance to the Pasir Ris Town Park and Beach, as well as a myriad of recreational facilities and interesting food places.
Pasir Ris 8 Developer
The developers for Pasir Ris 8 is Phoenix Commercial Pte Ltd and Phoenix Residential Pte Ltd. Both companies are owned by a joint venture between Allgreen Properties and Kerry Properties. They are part of the Kuok Group of Companies controlled by Malaysian tycoon Robert Kuok.
Allgreen Properties is the real estate arm of the Kuok Group. It has established itself as one of the largest and most established property groups in Singapore known for its quality products and track record. It has a diversified portfolio of properties comprising residential, commercial, serviced apartments and hotels.
Kerry Properties is listed in the Stock Exchange of Hong Kong since 1996. Today, it has developed into a world-class property development company with significant property investment and development activities in key cities in Hong Kong (since 1978) and Mainland China. Its focus is on investing in premium quality properties in prime locations, as well as offering professional management and a range of value-added services.
Government Land Sale (GLS) of Pasir Ris 8 Site
During the government land sale (GLS) launched on 27 August 2018 for the Pasir Ris 8 site, it submitted a winning bid of nearly $700 million. This works out to $684.48 per square foot per plot ratio (psf ppr) based on the total gross floor area of 1.02 million sqft.
However, the unit land price based on a lower gross floor area of 832,480 sqft that excludes the public facilities, works out to be quite significantly higher at S$840.86 psf ppr. To breakeven, the developer will have to raise their selling price (refer to calculation below).
For the GLS, the property developers are required to meet HDB's Concept Evaluation Committee's (CEC) criteria of a quality development that "seamlessly integrate amenities with well-designed public spaces". This is part of the government's efforts to rejuvenate Pasir Ris under its "Remaking Our Heartland" plans (more on this below).
The dual envelope concept and price revenue tender consisted of two stages.
For the first stage, the tenderers must substantially satisfy the evaluation criteria set by the Concept Evaluation Committee (CEC). Only if their concepts are shortlisted will they proceed to the second stage of the process.
At the second stage, the price envelopes submitted at the beginning of the tender by the shortlisted tenderers will be opened, with the highest bidder awarded the Pasir Ris 8 White site.
Pasir Ris 8 Unit Mix
The sizes are relatively spacious when compared to many new property launches recently. This is to cater to people who are increasingly working from home amid the current covid-19 pandemic. At the same time, it seeks to appeal to families looking to upgrade from the surrounding housing estates. As can be seen from the unit breakdown below, the 2-bedders and 3-bedders make up 75% of the total units on offer.
Judging from the floor plans, all the units are very well-laid out. For example, the Living/Dining areas are placed side-by-side in a rectangular configuration. This not only helps to maximise the use of space, but also makes it easier for interior decor.
Ceiling height at 2.85m is quite the norm these days. This will sufficiently provide an airy feel although there are some new developments with ceiling height of 3m.
The developer has also provided flexibility in the design of all the units. For instance, the 1-bedders come with flexible wall and retractable dining table while the bigger units have flexible storage spaces. Other thoughtful design includes built-in ironing board, kitchen organiser and multi-purpose table/dresser.
All the Master bedrooms are also of good sizes, with sufficient space for wardrobes and dressers. In fact, the 3-bedders and 4-bedders come with walk-in-cabinets, as well as a yard for hanging wet laundry.
Carpentry And Appliances Provisions
Below is a breakdown of carpentry and appliances provisions for the different unit types.
Sanitary Wares And Fittings
All units come with branded branded sanitary wares and fittings from Duravit, Gerberit and Grohe.
Smart Home System for Pasir Ris 8
Pasir Ris 8 comes with the following smart home system for the security of residents while enhancing their quality of living.
Wifi Camera Doorbel
View and speak to you visitors at your doorstep via the mobile app.
Smart Door
5 ways to lock your door:
Fingerprint
PIN
Mobile app
Mechanical key
Access card
Visitor Invite
Pre-register your visitor and send them a QR code to allow access into Pasir Ris 8
Smart Letter Box
Unlock your letter box with your access card
Smart Aircon
Check the status of your aircon
Adjust fan speed and temperature
Turn your aircon on/off remotely via the mobile app
Smart Community
Receive MCST announcement
Enjoy instant booking of lifestyle services for your family
Delight on discounts and deals on a wide array of lifestyle privileges
Facility Booking
Check availability of facilities and book them conveniently via the mobile app
Smart Parcel Locker
Have your parcel delivered to your locker and collect it when you come home.
Pasir Ris 8 Site Plan
Below is the site plan of Pasir Ris 8 integrated development. Every blocks are aligned in almost a North-South orientation to avoid the direct morning and evening sun. At the same time, most of the blocks are located quite a distance from the Pasir Ris MRT station and all of them will be facing away from it. This is to ensure any noise from the train travelling in/out of the station will be minimised.
Facilities
Pasir Ris 8 offers 48 facilities to cater to the enjoyment of residents of every ages. They are grouped under the following:
Level 3
Arrival Lounge
Bicycle Club
Level 4
Welcome Dune
The Avenue
Mist Trail
Wellness Dune
Yoga Deck
Open Gym
Zen Pavilion
Reading Dune
Study Pavilion
Co-Working Pavilion
Reading Pavilion
Relax Dune
Chillou Corner
Web Seats
Swing Pavilion
Club 8
Clubhouse
Party Room
Gourmet Kitchen
Song Room 1
Song Room 2
The Signature Tree
Co-Working Lounge
Club Lounge
Club Gym
Changing Rooms
Poolside BBQ Pavilion
Terrace BBQ Pavilion
50m Lap Pool
Poolside Deck
Jacuzzi Lounge
Boardwalk
Meandering Stream
Api Api Bio Pond
Garden Dune
The Lawn
Sensory Garden
Reflexology Path
Urban Farm
Greenhouse Pavilion
The Kids' Club
Party Room
Interactive Playroom
Washroom
Fountain Waterplay
Foggy Waterplay
Children's Pool
Pool Deck
Adventure Pool
Children's Play Area
Wall Climb
Toddler Playground
Grill Area
Below are some artist's impressions of the facilities in Pasr Ris 8 condo. For the full list of facilities, floor plans and E-brochure, please contact us.
A Vibrant & Convenient Living Environment
The Pair Ris 8 integrated development will offer residents convenient access to shops, restaurants, recreational facilities and offices all within the same building as their homes. This has helped to transform how people live, work and play and enable some of them the opportunity to work close to where they stay, thus saving on long commutes.
Furthermore, the 3-story commercial podium (which will also include two basement levels) will be larger than the Bedok Mall. For comparison, Bedok Mall offers 220,000 square feet of net lettable area and it houses more than 200 shops across three floors.
Hence, this will make the Pasir Ris 8 mall the largest in the housing estate! Together with the White Sands Shopping Mall beside it, residents will enjoy an even more dynamic and vibrant living environment. As the mall fully owned and managed by the developer, residents will benefit from the proper maintenance of the development which will uphold its value in the long-term.
Moreover, the retail podium will be of the same high standards as the Great World City Mall, the flagship development of Allgreen Properties in Singapore. The Great World City Mall, which lies at the fringe of Orchard Road, has recently been refurbished to cater to the upper-income population residing around the area.
Besides shopping, Pasir Ris 8 residents will also benefit from its close-proximity to the surrounding commercial areas and recreational facilities. With their landscaped green spaces, linkways to nearby nature parks, pedestrian and bicycle-friendly environments, as well as regular activities to strengthen the social interaction within the community, residents can look forward to an even more vibrant living environment.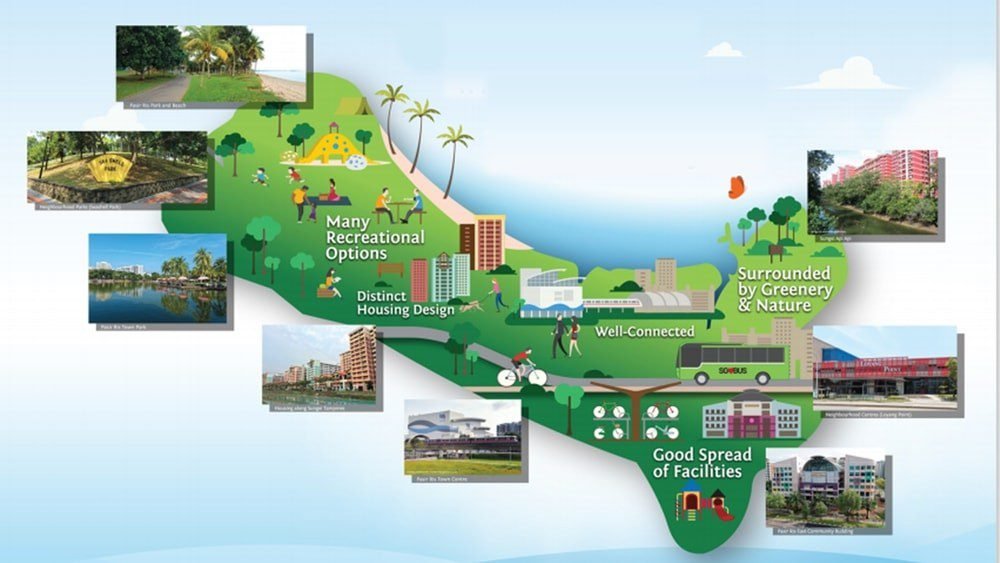 Other Shopping Malls In Pasir Ris And Surrounding Estates
Besides the upcoming Pasir Ris 8 retail mall and White Sands, there are also several neighbourhood malls dotted around the estate. Although not very large, they provide an alternative for a casual outing with friends or family, while enhancing the liveability of Pasir Ris as a whole.
Some of these shopping malls include the following:
Pasir Ris West Plaza
Elias Mall
Loyang Point
Apart from the above, there are also several shopping malls in Tampines, and they are just one MRT station away. They are:
Our Tampines Hub
Tampines Shopping Mall
Tampines One
Century Square
As the above-mentioned malls are located very close to each other, they provide a retail ecosystem where residents can indulge in diverse leisure, recreation and entertainment.
In addition to the above, the Tampines Retail Park is well-known for its three megastores – IKEA, Courts and Giant Megamart. On weekend and public holidays, there is a free shuttle service from the Pasir Ris MRT station. On weekdays, residents can hop onto Bus Service 58 which plies between the Pasir Ris bus interchange and Tampines Retail Park. But comes 2029 when Phase 1 of the Cross Island Line (CRL) is completed, it will get a new station (Tampines North). Being one stop from Pasir Ris, residents will have convenient access to it.
And at Simei located beside the MRT station is the Eastpoint Shopping Mall. It is just two stations from Pasir Ris 8 condo and is home to many educational and enrichment centres and a large pet shop - The Pet Safari.
Four stations from Pasir Ris 8 is the Singapore Expo which is known to hold mega fairs ranging from IT and consumer home products to furniture, wedding and baby fairs.
Near the Singapore Expo is the Changi City Point, a fairly large shopping mall that houses a number of sportswear "factory" outlets. These include Adidas, Asics, New Balance, Nike, Puma and many more. It is also home to many well-known brands such as Skechers, Aldo, QuickSilver, Timberland, Lacoste, Clarks, Kipling, Hush Puppies and Esprit.
Integrated Transport Hub And Links To Major Economic Hubs
Pasir Ris 8 condo will be linked to an Integrated Transport Hub (ITH), which will consist of a fully air-conditioned bus interchange that connects to the Pasir Ris MRT station and adjoining commercial developments and shopping malls. This will allow residents to shop comfortably, run errands or have a meal before continuing with their journey elsewhere.
Currently, the Pasir MRT station is the end-station of the East-West Line. However, it will become an interchange with the Cross Island Line (CRL) when its Phase 1 is completed by 2029. This will provide an alternative connection from Chanqi to Jurong, while future phases will see it extend to the Punggol Digital District.
Phase 1 will comprise 12 stations from Changi Aviation Park to Bright Hill, providing seamless inter-modal transfers and enhance accessibility to many parts of the island and major economic hubs.
Pasir Ris 8 is also one stop from Tampines Central, one of the most established Regional Centres in Singapore. In the future, it will also link to the Tampines North MRT station via the Cross Island Line (CRL), providing easy access to the Tampines Retail Park where the IKEA, Courts and Giant megastores are located.
On the opposite direction, the Cross Island Line (CRL) will extend towards Changi Aviation Park. There are also plans to extend the upcoming Thomson-East Coast Line (TEL) to the future Changi Terminal 5 and Tanah Merah station which lies along the East-West Line and just two stops from Pasir Ris.
These connections are significant as they will seamlessly link Pasir Ris to the Changi Region, a mega economic hub (more on this below).
Cross Island Line - Punggol Extension
Another significant rail network development is the Cross Island Line - Punggol Extension. This is to aid the development of the Punggol Digital District, which was first announced as part of the Urban Redevelopment Authority's Draft Master Plan in 2013.
When operational by 2031, travel time between Pasir Ris and Punggol will be halved, cutting travelling time to 15 minutes from the current 45 minutes by bus.
The 7.3km-long Cross Island Line-Punggol Extension will begin construction in 2022. It will comprise four stations – Punggol, Riviera, Elias and Pasir Ris – with three of the stations serving as interchanges with other lines.
Northeast Line Extension to Punggol Coast
To further improve connectivity to Punggol, the Northeast Line (NEL) will be extended by one station from Punggol to Punggol Coast by 2024.
This is also to aid the development of the Punggol Digital District, as well as improving accessibility to the Singapore Institute of Technology (SIT) Centralised Campus that is expected to be ready by 2023.
SIT will be the second university in the East. The other is the Singapore University of Technology and Design (SUTD) located in Changi Business Park. With the excellent transport network, they are easily accessible to residents of Pasir Ris 8.
Currently, SIT runs its courses in satellite campuses in five polytechnics. By bringing them together in a centralised campus within the Punggol Digital District will help to foster collaboration between the academia and industry.
4 Major Expressways Accessible To Pasir Ris 8 Condo
Besides the excellent MRT connectivity, the Pasir Ris 8 condo is also well-served by four major expressways. They are Tampines Expressway (TPE), Kallang-Paya Lebar Expressway (KPE), Seletar Expressway (SLE) and Pan-Island Expressway (PIE). These expressways provide convenient access to the surrounding major economic zones. For example, it takes only 10 to 15-minutes to drive to the Changi Airport, Changi Business Park and the aircraft logistics and air-freight hubs in the East.
Pasir Ris 8 is also a 10-minute drive to the Paya Lebar Airbase, which will be relocated from 2030 onwards. Five times the size of Toa Payoh town, it will progressively transformed into a highly liveable and sustainable new town that will incorporate residential, commercial and industrial developments.
Development of Major Economic Zones Near Pasir Ris 8
Many exciting developments are taking place in the East of Singapore that will benefit a new development such as Pasir Ris 8. These include the Changi Region, Paya Lebar Airbase and Punggol Digital District. These regions will be seamlessly connected to Pasir Ris via the expanded MRT network, as well as improvements to major roads and expressways.
Currently, the East is home to some of Singapore's major semi-conductor and aviation-related industrial and logistical hubs. These include the following:
Water fabrication parks in Pasir Ris and Tampines
Data centre in Loyang
Changi Business Park, Changi Aviation Park and Changi Airport
Adding to the above will be the Punggol Digital District that will open progressively from 2023. It will be just three MRT stations from Pasir Ris 8.
With the government spending such substantial amount of money on major infrastructure developments, the East will be transformed into an even more attractive place to live, work, study and play. Together with the significant commercial and industrial developments that will follow suit, this will turn the region into a major economic powerhouse for the aviation, high-tech R&D and IT industries. With the increase in employment opportunities, it will naturally lead to a demand for housing, which will provide an excellent opportunity for property investors. And because most of the developments are still at their nascent stage, it will provide property buyers the first-mover advantage.
Below is a highlight of the developments that will be taking place in the Easter region.
Changi Region
The Changi region masterplan capitalises on its strategic location near Changi Airport, and includes key districts such as Changi Business Park, Changi City, Changi East Urban District and Changi Aviation Park.
Changi Business Park - It is at the heart of Changi's vibrant ecosystem. The 71-hectare Changi Business Park is a leading business and research node with an emphasis on freight, aviation technology, as well as machine learning and automation. It also helps to bring companies, research firms and academia together, creating a nexus where large multinational firms can interact with dynamic start-ups and SMEs, fuelling collaborations and allowing both sides to benefit.
Some of the international companies operating in Changi Business Park include DBS, Honeywell, Schneider Electric, Xilinx and FedEx World Service Center.
In addition, the Singapore University of Technology and Design (SUTD) campus is located within the business hub. This provides greater opportunities for collaboration and knowledge exchange between academia and the private sector.
Changi City - Potentially a waterfront district in the future, it will leverage on the Singapore University of Technology and Design (SUTD) and Changi Business Park (CBP) to create an "innovative ecosystem with a live-in community". This is to attract businesses and institutions involved with freight transportation or aviation-related R&D, including artificial intelligence and robotics technology. Taking advantage of its proximity to Changi Airport Terminal 5 that is currently under construction, there are plans to develop new offices, smart work centres, hotels and serviced apartments, as well as inter-modal "fly-ferry" linkages between Changi Terminal 5 and the Tanah Merah Ferry Terminal.
Changi East Urban District - Near Changi City is the up-and-coming Changi East Urban District. Connected to the the future Changi Airport Terminal 5, it will feature smart work centres, conference halls, hotels and serviced apartments.
Changi Aviation Park - It has been developed as a thriving aviation hub to cater to the lucrative aircraft servicing and aviation financing sectors. The existing air cargo cluster will be expanded with the development of Changi East Industrial Zone to cater to new aviation-related sectors and businesses that rely on air connectivity to the world.
However, the Changi Region is much more than just an employment node. It will offer a diverse range of recreation and tourism attractions. From the rich, rustic heritage of Changi Point to the iconic lifestyle and entertainment options within Jewel Changi Airport, a wide range of unique leisure attractions will be connected by the Round Island Route and cycling network.
In the longer-term, the Singapore government is also looking into creating a waterfront district that will offer many exciting new recreational and tourism possibilities. Such exciting developments will further boost the investment potential of Pasir Ris 8.
Redevelopment of Paya Lebar Airbase
The redevelopment of Paya Lebar Airbas was first announced by Prime Minister Lee Hsien Loong during his National Day Rally speech in 2013.
Covering a land size of 800ha or five times the size of Toa Payoh Town, the site and its surrounding industrial estates will be redeveloped into a highly liveable and sustainable new town with amenities, multi-functional community space, parks and play areas for future residents, as well as a major employment node in the area.
This is in line with the Singapore government's long-term plan to have people "live near where they work, and work near where they live".
The transformation will also take into account its distinct identity anchored to its aviation heritage.
Under the URA Master Plan for Paya Lebar Airbase, it will be relocated from 2030 onward. Currently, it is occupied mostly by aeronautics and related industries.
In the future, it is highly likely a new MRT station will be built in the new estate as the Cross Island Line will be passing through it. This will seamlessly connect it to Pasir Ris about 2 stops away. No announcement on such a development though, but this is understandable as the airbase will only be relocated from 2030.
Development of Punggol Digital District
Punggol has been designated as a Strategic National Project for Smart Nation. It will be key in realising Singapore's Smart Nation vision, and will drive adoption of digital and smart urban solutions throughout Singapore.
The Punggol Digital District is set to open progressively from 2023. It will be a vibrant, mixed-use business district housing key growth industries of Singapore's digital economy. Spread over 50 hectares, it will be integrated with the new Singapore Institute of Technology (SIT) campus and feature 350,000 sqm of floor space in a series of interconnected, energy efficient office buildings that aim to nurture cross-fertilisation of ideas and development of key emerging technologies between industry and academia.
It will lead Singapore's drive towards its ambition of becoming a truly Smart Nation by attracting companies at the forefront of AI (Artificial Intelligence), Cybersecurity and IoT (the Internet of Things).
As can be seen from the timeline below, the development of the Punggol Digital District has been meticulously planned for almost a decade, which clearly reveals the Singapore government's ambition for the region.
2013 - Punggol Digital District first announced under the URA Draft Master Plan 2013
2015 - The shifting of the Singapore University of Technology and Design (SUTD) from its temporary campus in Dover to Changi Business Park
2015 - Announcement by Prime Minister Lee Hsien Loong during his National Day Rally speech of a new centralised campus in Punggol for the Singapore Institute of Technology (SIT)
2017 - LTA announcement of the Northeast Line Extension to Punggol Coast
2020 - LTA announcement of the Cross Island Line Extension to Punggol
2020 - The Economic Development Board announcement of a new Tech Pass to attract founders, leaders and technical experts with experience in established or fast-growing tech companies to contribute to the development of Singapore's high-tech ecosystem
Besides being a high-tech hub, the Punggol Digital District is also envisaged to be an inclusive and green lifestyle destination for the surrounding community by incorporating the following:
A community playground and green heart for all residents of Punggol
A car-lite precinct that allows everyone to travel with ease
A vibrant economic and learning hub
A pilot Enterprise District, with shared spaces between industry and academia
With the Singapore government pouring so much resources into the East, the region can become a hotbed for property investment in the mid- to longer-term. Hence, a development like Pasir Ris 8 will offer astute investors the first-mover advantage.
Education Institutions Near Pasir Ris 8 Condo
Besides the Singapore University of Technology and Design (SUTD) and Singapore Institute of Technology (SIT), residents of Pasir Ris 8 condo will have convenient access to many other education institutions. This will greatly benefit families with young children as they will save on commuting time and enjoys a better quality of living.
In addition, a number of primary schools are located within a 1-2km radius of Pasir Ris 8, which will afford them priority admission for the Primary 1 admission exercise (please refer to the list below).
Studies have found that proximity to schools is an important criteria when it comes to property purchase and there is no shortage of them in Pasir Ris. These include the following:
Primary Schools
Elias Park Primary School
Casuarina Primary School
White Sands Primary School
Meridian Primary School
Pasir Ris Primary School
Gongshan Primary School
Tampines North Primary School
Parkview Primary School
Secondary Schools & Junior College
Hai Sing Catholic School
Meridian Secondary School
Pasir Ris Crest Secondary School
Tampines Meridian Junior College
Tertiary Institutions
Singapore University of Technology and Design
Singapore Institute of Technology
Temasek Polytechnic
ITE College East
International Schools To Attract Expatriate Housing Demand
Given Pasir Ris 8 condo's close proximity to several international schools, it will appeal to expatriate families working in the surrounding economic hubs. Such conveniences will add to its investment appeal. Below is a list of them that can be reached within a 12-minutes drive.
Overseas Family School, Pasir Ris
United World College East Campus, Pasir Ris
Changi Japanese School, Changi North
Middleton International School, Tampines
Global Indian International School, Punggol
Nature Parks near Pasir Ris 8 Condo
Perhaps one of the most appealing features of Pasir Ris is its abundance of greenery and nature parks. In fact, it is probably the greenest housing estate in Singapore. It has also two rivers running almost parallel through the estate - Sungei Api Api and Sungei Tampines. These nature parks provide residents many fun and interesting activities, which help to enhance their quality of living, and the appeal of Pasir Ris 8 condo.
Just a 10-minute walk from Pasir Ris 8 condo, its tranquil surrounding provides residents with many interesting outdoor activities. For example, they can take part in pony rides, water sports, cycling and inline skating. There are also barbeque pits that can be rented for for gathering with friends or family while children can have fun at the playground, one of the largest in Singapore. There is also a Maze Garden which will surely thrill children and adults alike.
Within the the Pasir Ris Beach Park is a six-hectare mangrove forest. There are multiple trails and a Mangrove Boardwalk where visitors can explore its rich flora and fauna. There is also a three-storey Bird Watching Tower where visitors can observe the various species of birds in their natural surroundings, which include the Spotted Wood Owl, Buffy Fish Owl, Sunda Scops Owl, Oriental Pied Hornbill, Stork-billed Kingfisher, Black-crowned Night Heron, Malaysian Pied Fantail and Grey Heron.
The park is also home to the Gallop Stables, PAssion WaVe @ Pasir Ris and Kitchen Garden.
Gallop Stables - Operating since 2003, it offers a variety of horse-related activities such as riding lessons, pony rides and feeding, trail rides and riding camps. Most of its resident horses are ex-racehorses that are given a second chance at life after being retired from horse-racing.
PAssion WaVe @ Pasir Ris - Operating under the People's Association, it seeks to bond people and bridges the communities through adventure and sporting activities. These include various water sports such as dinghy sailing, kayaking and abseiling. Due to the relatively calm waters between Pasir Ris and Pulau Ubin, it is a very popular place for beginners to learn water-sports.
Kitchen Garden - A fascinating place to get up close and personal with the herbs and plants we consume in our daily lives. There are herbs, flowers and plants that have aesthetic, medical and culinary uses and these include lemongrass, mint, guava plant, tapioca plant and many more. The garden is cared for by dedicated volunteers for the benefit of educating the public.
Sungei Api Api And Sungei Tampines Parks
Sungei Api Api and Sungei Tampines are two rivers that flow through Pasir Ris Town and into the Strait of Johor, flanking either side of Pasir Ris 8 condo. The rivers take their names from the Api Api (Avicennia) family of mangroves and the Tempinis (Streblus elongatus) tree, both of which were previously widespread in the area.
The Sungei Api Api Park consists of narrow strips of land on either side of the Api Api river. Stretching from Pasir Ris Drive 1 to Elias Road, there are playgrounds, fitness stations, park benches and walking paths, as well as a viewing boardwalk for residents to enjoy the flora and fauna amidst the tranquil surroundings.
The Sungei Tampines runs almost parallel to Sungei Api Api. It also stretches through the Pasir Ris Park and this allows visitors to enjoy the lush greeneries as well as to explore the mangrove along the boardwalks. Extending further inland, it will lead to the Tampines Eco Green, an eco-friendly park that offers a sanctuary rich in flora and fauna, as well as nature recreation such as bird-watching or just watch the various species of butterflies flitting around.
Recreational Activities Near Pasir Ris 8 Condo
There are many interesting recreational activities near Pasir Ris 8 condo. One of the most popular destination is Downtown East where it offers many fun activities for the whole family. It is just a 7-minute walk away.
Some of the activities it offers include children train rides (Smiley World Train), wall-climbing (Upwall Climbing), an elevated playground suspended at the atrium by net (Airzone), LAN gaming (Colosseum), indoor skating (Hi Roller), a massive 10,000-square-feet Korean-themed indoor playground (Tayo Station). and more.
Perhaps, the most exciting of it all is Wild Wild Wet.
Wild Wild Wet
It is one of Singapore's largest water parks that promises a day of thrills and spills for the whole family. Opened in 2004, it has been hailed as one of the top 10 water parks in Asia. It provides a variety of rides, from adrenalin-pumping to relaxing ones to cater to different ages.
It has been expanded in 2017. In addition to its original nine slides and rides, there are seven new attractions. These include the Royal Flush, Asia's first hybrid ride, and the Kraken Racers, Singapore's first four-lane mat racer slide.
The more adventurous can try the Torpedo or Free Fall for a mind-blowing experience. For the little ones, the Kidz Zone will ensure they will not be left out.
Pasir Ris Sport Centre
The Pasir Ris Sport Centre is just a 3-minute walk from Pasir Ris 8 condo. Formerly known as Paris Ris Sport and Recreation Centre, it is equipped with many sports facilities such as a air-conditioned sports hall, 5- A-side soccer court, gymnasium, swimming complex and numerous retail outlets.
The swimming pool has multiple slides that will keep children entertained for hours. Residents can also sign up for courses such as yoga, aerobics and kickboxing at the sport centre.
Within the sports centre are also several eateries such as McDonald's, Pastmania, Club July (a Thai-Chinese restaurant) and a Cheers convenient store.
Interesting Food Places Near Pasir Ris 8 Condo
Residents of Pasir Ris 8 condo will be spoilt for choice when it comes to food. Many of these are within a short walking distance while more will be added when its own retail podium is completed in a few years time. The following are just some of what can be found in the vicinity currently.
White Sands - Besides offering a plethora of retail therapy for residents in Pasir Ris, it is also a convenient place for young National Service recruits to grab a nice meal before catching their shuttle buses nearby enroute to Pulau Tekong for their army training.
Although a medium-size mall, there is quite a good variety of food choices to suit different budgets. For example, there is a food court (known as Cookhouse) operated by Koufu, as well as fast-food chains like Kentucky Fried Chicken (KFC), MacDonald's, MOS Burger and Subway Sandwiches.
For restaurant food, some of the popular outlets include Gao Peng Cuisine, Penang Culture, Central Thai Kitchen, Upot and quite a few others.
Downtown East - Market Square is the dining and entertainment haven in Downtown East. It boasts a multitude of delectable eateries and retail spaces in both E!Hub and E!Avenue. Foodies can enjoy various cuisines from around the world such as Korean army stew, Taiwanese street food and Japanese pastries. Some of the interesting food choices it offers include:
Mukshidonna - A famous restaurant chain in South Korea known for its rice cake (Tteokbokki)
Yam's Kitchen - A "Zhi Char" Chinese restaurant

h

elmed by award-winning Chef Kelvin Yam
Basil Inn - A value-for-money restaurant serving authentic Thai dishes
Watami Japanese Dining - A casual Japanese restaurant that offers a good variety of dishes at reasonable prices
Mr Chicken Rice - Opened by former Chatterbox sous chef Steven Low, he serves up the famous Mandarin Hotel Chicken Rice at a fraction of its price
Yumen Hut - It serves a variety of noodle dishes such as Fried Fish Yee Mee, Fried Fish Thick Beehoon, Tom Yam Japanese Ramen, Crispy Egg Noodles, Dumpling Spinach Noodles, Laksa Paprika Noodles and many more
Andes By Astons - A cowboy-themed restaurant serving Western meals such as steaks, chicken, fish, Burgers, etc
Eighteen Chefs - A Halal restaurant chain offering casual and affordable dining. It is well-known for their cheese-baked rice and a variety of western cuisines
Gaku Sushi Bar - A modern Japanese Fusion restaurant with an extensive menu that includes Donburi, Sushi, Sashimi. It also has a full bar serving a fine selection of wine and sake
Pasir Ris Central Hawker Centre
The Pasir Ris Central Hawker Centre was developed as part of the Pasir Ris Master Plan to provide residents convenient access to affordable food. Started in 2018, it offers a "dual dining concept" serving traditional and hipster cuisines. Patrons can also attend events at the hawker centre which features art & craft fairs and music gigs.
It is just a short walk from Pasir Ris 8 condo.
Consisting of 770 seats with 42 stalls on two floors overlooking the Pasir Ris Park. 20 of the stalls on the ground floor sell popular local food such as chicken rice, bak chor mee, ayam penyet and fish soup. On the second floor is Fareground selling "hipster" dishes such as rice bowls with wagyu beef, Thai boat noodles, kebabs, beef bourguignon, fish & chip, burgers, pastas and many more. Many of these stalls are operated by a new generation of hawkers who cook up an imaginative storm.
Restaurants In Pasir Ris Park
There are also a number of restaurants in Pasir Ris Park. With its lush greenery, sea breeze and idyllic setting, it is an ideal place to have a nice meal or drinks with friends or family. Some of the restaurants operating in the park are:
Ohana Beach House @ Pasir Ris - Besides offering various watersports adventure such as Stand Up Paddle Boarding and Kayaking, it also runs a seaside bar with a menu consisting of various beers, coffees, salads, all-day brekkie and nibbles such as chicken wings and sandwiches. Patrons can also participate in a game of darts, pool and table football.
Georges @ The Cove - An unassuming eatery that serves local and Western food by the sea. Although there is no air-conditioning, the cool sea breeze provides for a relaxing destination to have a meal. It has quite an extensive menu, which include soups, burgers and steaks to Asian fare such as Mee Goreng, Hor Fun and Seafood Fried Rice.
Bistro Neigh - It is a family-owned bar and bistro that serves quality Western and local dishes, in addition to a wide variety of beers and liquor. The place is both family and pet-friendly, providing the perfect place for casual gatherings and some much-needed relaxation. Besides not levying service charge or GST, it also serves generous portion of food.
Bistro @ The Park - It offers quite a good variety of Western and Asian delicacies with no service charge. Included in the Western menu are their signature grilled pork chop, bread crumbled haddock, bacon carbonara, and more. As for their Asian menu, they offer popular seafood such as chilli crab, sambal sotong, salted egg prawn and many other 'zi char' dishes.
Remaking of Pasir Ris
Pasir Ris is a popular destination for a relaxing day out or short vacation due to it idyllic coastal parks, beaches and resorts. Envisioned to be an Urban Sanctuary, the remaking of Pasir Ris comes under two plans which have some overlapping features. They are the Remaking Our Heartland (ROH) and URA Master Plan, contributing to the investment potential of Pasir Ris 8 condo.
Under the Remaking Our Heartland (ROH), it focuses on four key areas:
Giving a new lease of life to the Town Centre
Rejuvenating park spaces and creating homes close to parks
Activating new spaces for the community
Enhancing the walking and cycling experience within the town
The development of the Pasir Ris 8 integrated development is part of the wider efforts to enliven the Town Centre and make it a community focal point. A Town Plaza with a Heritage Garden will also be built to act as a key community space where activities or events will be held for residents to gather and interact. The Heritage Garden will comprise heritage panels to showcase the history of Pasir Ris.
---
There will also be a seamless and direct connection to Pasir Ris Park via the Central Greenway, as well as thematic landscaping to enhance the walking and cycling experience. The existing cycling network around the Town Centre will be enhanced with an additional new cycling path along Pasir Ris Central while new bicycle crossings will be provided to improve the safety of cyclists and pedestrians.
And under the LTA's Walk2Ride scheme, covered walkways and shelters will also be erected for an enjoyable cycling and walking experience.
Besides the above, the Remaking Our Heartland will also include the following:
Pasir Ris Beach will be enhanced with more sand play areas to encourage family and community bonding. More recreational facilities will also be added to Pasir Ris Park for residents to enjoy
Linear parks and green corridors will be introduced to connect with the surrounding greenery and water bodies
Sungei Api Api and Sungei Tampines will be enlivened with the introduction of new facilities and landscaping
White estuarine-themed landscaping to be planted along vehicular gateways to provide a strong sense of identity and arrival into Pasir Ris Town
New housing developments that will be sensitively designed to relate to the surroundings
Enhancement of Neighbourhood Centres and Parks with new facilities and landscaping. In addition, an outdoor community space (ie, Discovery Point) will be introduced to the Neighbourhood Centres
As for the URA Master Plan for Pasir Ris, there are four areas of focus:
Housing: Better living environment for Singaporeans
Leisure: New reasons to be outdoors
Transport: Smoother, shorter journeys
Economy: More jobs near home
Housing: Better Living Environment For Singaporeans
Pasir Ris has developed into a desirable and self-contained town to live in. However, to further improve the quality of living, more facilities will be added and existing amenities upgraded. These include the following:
Redevelopment of the town centre with new commercial facilities built (in the process with the development of Pasir Ris 8 Integrated Development)
Meanwhile, the following have been completed:
A new hawker centre within Pasir Ris Town Park
Revamp of the Downtown East leisure hub
Leisure: New Reasons To Be Outdoors
The appeal of Pasir Ris can be attributed to the many parks and waterbodies that are within easy reach of the residents. These include Pasir Ris Park, Pasir Ris Beach, Pasir Ris Town Park, the nature area next to Sungei Api Api, Sungei Tampines and Lorong Halus Wetland. In the coming years, several initiatives will be implemented to bring most homes in Pasir Ris within 400m of parks or park connectors, namely:
Setting aside more land for Lorong Halus Wetland
New neighbourhood parks
Connecting the Eastern Coastal and North Eastern Park Connector Loops along the Round-Island-Route
Other developments that will further support and promote outdoor activities include:
Enhancements at Sungei Api Api and Sungei Tampines under Active, Beautiful and Clean (ABC) Waters projects by PUB, including the landscaping of river banks, new lookout decks, shelters and seating
Building a kayak launch pontoon on the east bank of Sungei Api Api
Transport: Smoother, Shorter Journeys
Travelling within Pasir Ris and outside of the estate will be faster and more convenient with the improvement of roads and public transport services. These include:
Building new roads and connections
Enhance the expressways
Building the 50km-long Cross Island Line to serve Pasir Ris, providing an alternative to the east-west MRT connection from Changi to Jurong
Expanding the cycling network
A new Integrated Transport Hub at Pasir Ris Central
Economy: More Jobs Near Home
Creating jobs near homes is a major initiative by the Singapore government. Besides the advanced wafer fabrication parks in Pasir Ris and Tampines, as well as data centres in Loyang, more jobs will be coming to the East with the development of the Changi Region, Paya Lebar Airbase and Punggol Digital District that have been highlighted earlier.
Review Conclusion - An Investment Perspective of Pasir Ris 8
Pasir Ris 8 has certainly a lot to offer, whether for own stay or investment. As an integrated development, it will provide residents with great conveniences at their doorstep - from a host of amenities to an excellent transport network.
In addition, it is close to several nature parks and water bodies where residents can engage in many outdoor activities and sea sports, which greatly enhance the quality of living. Hence, it is unsurprising that property prices in Pasir Ris are able to command higher prices compared to neighbouring estates like Tampines and Bedok. This can be seen from the sample of HDB resale flat prices below:
Pasir Ris 5-Room flat - $786,888.00 (Lease commencing date 2015)
Tampines 5-Room flat - $733,000.00 (Lease commencing date 2015)
Chai Chee 5-Room flat - $745,000.00 (Lease commencing date 2016)
The appeal of Pasir Ris properties will further be enhanced by the exciting economic developments taking place in Changi, Punggol and Paya Lebar. These mega-economic zones will be easily accessible from Pasir Ris due to the government's plan to expand the MRT network to provide a seamless connection between them.
Nevertheless, as many of these developments are still at a nascent stage, with most coming on stream in the next 5-10 years at the earliest, property investors need to be patient. But there is undeniably great investment potential if they are willing to wait or take a longer-term view.
That said, the most likely investors would probably be those who live or work in the Eastern part of Singapore. This is because most Singaporeans have a preference to reside at a place they have grown up in or are familiar with.  For example, those who live near the city would probably consider Pasir Ris 8 to be "ulu" (meaning remote).
But with the Singapore government decentralising many of its economic activities to regional centres and away from the city, perhaps it's time for a change in mindset. This is especially so with the improvements in the MRT network that brings each region of Singapore closer together than never before.
Furthermore, with Pasir Ris 8 pricing starting from $1,4xx psf, it will be one of the most competitively priced integrated development to be launched in recent times. With such an attractive entry price, it will offer a good investment proposition, whether buying for own stay or for rental.
Meanwhile, you may also wish to consider two other upcoming developments in the east - Sceneca Residence and Sky Eden @ Bedok.
Should you require more information on property investment, please drop us a message. Alternatively, you may WhatsApp Us.
---
Besides Pasir Ris 8, please check out the following property reviews. More property details can be found in project information.