The following is a review of Provence Residence, a French-themed executive condo (EC) located at Canberra Crescent. This is within the emerging Sembawang planning area in Singapore's District 27. Developed by MCC Land, it is just a 6-minute walk to the Canberra MRT station and Canberra Plaza. In this condo review, we will provide an unbiased examination of its locational attributes, design and investment potential.
For a deeper insight of the development or to visit the show gallery for an information-sharing session, please contact the developer sales representative. Alternatively, you may WhatsApp Us.
To navigate directly to each section, please click on the links in the Table of Contents below.
The Provence Residences occupies a land size of 16,690 sqm, or 179,651 sqft. With a plot ratio of 2.3 and gross floor area of 41,457.96 sqm or 446,252 sqft, it will offer 413 of 3-Bedroom and 4-Bedroom units over five 13-storey and four 11-storey blocks.
MCC Land secured the site with a top bid of$233.89 million, which works out to $566 per square foot per plot ratio (psf ppr). With its estimated breakeven price of $950, the average selling price is expected to be around $1,100 psf. This is close to recent new executive condo launches such as Parc Canberra beside it and most recently, the Parc Central Residences at Tampines.
Who is the Developer of Provence Residence?
The developer for Provence Residence executive condo is MCC Land, which is part of the MCC Group.
MCC, or Metallurgical Corporation of China Ltd Group is China's largest manufacturer of steel structures. With an operation spanning over 90 countries, it is one of the largest metallurgical contacting companies in the world as well.
MCC Land (Singapore) Ltd has been active in Singapore's property market since its incorporation in 2010. Some of the projects under its belt include Queen's Peak at Queenstown MRT station, the Poiz Residences at Potong Pasir MRT station, Canberra Residences and The Nautical in Sembawang.
Besides private residential properties, it has also developed several executive condos such as Northwave and Forestville in Woodlands, Sea Horizon in Pasir Ris and One Canberra and Canopy in Sembawang.
With its excellent track record, it has been ranked among Singapore's top 10 real estate developers for three consecutive years, as well as recognised as one of "Asia's Top Influential Brands".
What is the Price of Provence Residence?
During the launch from 13-15 May 2012, 53% of all units at Provence Residence were sold at an average price of $1,142 psf. This was in between the average selling price of $1,085 psf for Parc Canberra and $1,177 psf for Parc Central Residences. Given that the property market has been on a strong uptrend since the beginning of 2020 despite the covid-19 pandemic, this still represents a very attractive entry price.
For the latest price list, please drop us a message. Alternatively, you may WhatsApp Us.
Below is a comparison of the breakeven price between Provence Residence and two other recent executive condo launches.
Parc Canberra (beside Provence Residence):
Land Price - $558 ppr psf
Estimated Breakeven Price - $809 psf
Average Launch Price - $1,085 psf (34% above Breakeven Price)
Parc Central Residences (at Tampines Avenue 10):
Land Price - $578 ppr psf
Estimated Breakeven Price - $838 psf
Average Launch Price - $1,177 psf (40% above Breakeven Price)
Provence Residence:
Land Price - $566 ppr psf
Estimated Breakeven Price - $821 psf
Average Launch Price - $1,100 - $1,149 psf (based on 34% & 40% above the Breakeven Price of Parc Canberra & Parc Central Residences respectively)
Where is Provence Residence Located?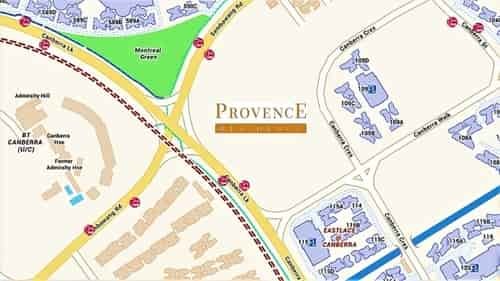 The Provence Residence is located off Canberra Crescent, bounded by Canberra Link and Sembawang Road and lies within the Sembawang Planning District. The area consists of a mixture of HDB and private housing.
For direction, please click here.
It is about 6 and 7-minute walk to the Canberra MRT station and Canberra Plaza respectively. Diagonally across it is the newly opened Bukit Canberra, an integrated community hub.
To its south-east and south-west are other executive condos such as Parc Canberra, The Visionaire and Brownstone. Opposite it across Canberra Link is Bukit Canberra, an upcoming sports and community hub.
Unique Selling Point
Beautifully conceptualised French-themed development
Good range of facilities
Competitively priced
Good unit size ideal for family living
Near essential amenities and schools
Exciting development of Bukit Canberra and redevelopment of Sembawang shipyard to enhance standards of living
Excellent transport connectivity
Transformation of North Region provides promising investment potential
Provence Residence Design Features
The design of Provence Residence is inspired by the admiration of French design that exudes effortless chic while embracing elegance and simplicity.
It aspires to be distinctive in forging a strong presence and contemporary lifestyle, all set within a repose built environment. The design is organized as a series of spaces that are carefully orchestrated as intimate courts and promenades. There are a variety of terraced courts, gardens where residents can stroll about at their leisure, and areas where water activities are in abundance.
The architecture of the residential blocks adopts the contemporary French silhouette. It is a collection of clean lines, measured material selections, and details developed with a touch of a vintage motif, in the form of Breton stripes. In all its effortless elegance, the archetypal French silhouette is limited to a palette of black, white, grey and scarce accent colours.
Landscape Concept
Adapted from French courtyard design aligned with modernism, it will provide a place of serenity and romance. With a modern contemporary landscape, symmetrical walkways accompanied with short to tall hedges, beautiful flowers and scents, it provides a highly acclaimed and sought after lifestyle experience that combines fantasy and luxury that is rich in stimulating comfort while offering an air of warmth and opulence.
Spaces are set aside for intimate engagement, making romance the underlying tone of the design. The landscape spaces, formed by interlocking courtyards seeks to create outdoor pockets that are romantic, intimate and private.
It consists of 2 Main zones, the Royal French Court and Country Side Gardens.
The Royal French Court is the central core of the development's facilities. It is filled with symmetrical and geometrical landscape design while hedges of different horizontal and vertical layers give users a sense of comfort and elegance. It encompasses areas of "Bonjour" (Welcome), "Jardin d'eau" (Water Garden) and the 2nd level "Living up".
The Countryside Gardens will consist of Sanctuaire du Jardin (Garden Sanctuary), Jardine du Pavillon (Pavilion Garden) and La Sante (Health & Fitness). This zone seeks to provide different beautiful, secluded and pensive places that are decorated with different types of flowers and plants, giving residents personal spaces outside of their homes.
The secluded semi-private gardens away from the Royal French Court will also provide private spaces to enjoy, rest and relax.
At the "Living Up" zone on the second level above the function room, residents will have a space to celebrate, gather or have small events that lets them interact with one another while being in the open.
Provence Residence Facilities
Provence Residence provide a very good range of facilities that caters to both children and adults – 50 to be exact! They are separated into two distinct zones – Royal French Court, Countryside Gardens and Living Up.
Besides the swimming pools and gym, some of the more interesting ones include Romance Square, Romance Court and various themed gardens – Flower Garden, Boutique Lawn Garden, Green Checker Garden, Serenity Garden and Fragrance Garden. These features clearly seek to inject some French romanticism in an attempt to differential Provence Residence from the other executive condo.
The following is a short description of some of the facilities in Provence Residence:
Arrival Courtyard - Two water features will adorn the entrance of Provence Residence, leading to the Jardin D'Eau.
Celebration Pavilion - Located alongside the pool lined by shrubs and trees, the Celebration Pavilion provides a place for an informal gathering and relaxation.
Dining Pavilion - It provides an open, yet cosy place to host events and special occasions in romantic surrounding.
50m Lap Pool - It runs between two blocks like a flowing stream with trees lining both sides.
Sky Lounge - Overlooking the 50m lap pool that is lined with sun decks and floating decks, it provides an intimate place for gathering with friends and family.
Function Room – With a distinctive Breton Striped Canopy situated at one end of the 50m lap pool, it provides an ideal place for a pool party.
Living Up - Located on the second level, it consists of the Sky Dining, Sky Lounge and Sky Lawn where residents can gather and hold events or parties.
BONJOUR (Welcome)
1
Entryway
2
Arrival Court
3
Arrival Court
4
Arrival Drop Off
5
Arrival Waiting Area
6
Cascading Water Feature
JARDIN D'EAU (Water Garden)
7
Arrival Spring
8
Family Pool
9
Kid's Pool
10
Jet Pool
11
Family Deck
12
Family Deck
13
Family Deck
14
Changing Room
15
Stream Room
16
Reflective Water Feature
17
Learning Zone
18
Entertainment Zone
19
Function Room
20
Lounge Deck
21
Sun Lounge
22
50m Lap Pool
23
Topiary Walk
24
Romance Square
25
Romance Court
26
Relaxing Deck
27
Celebration Pavilion
28
Celebration Lawn
29
Garden Walk
30
Secret Court
31
Infinity Edge Walk
SANCTUAIRE DU JARDIN (Garden Sanctuary)
32
Flower Garden
33
Boutique Lawn Garden
34
Leisure Deck
35
Green Checker Garden
36
Serenity Garden
37
Fragrance Garden
38
Green Lounge
39
Botany Walk
JARDIN DU PAVILLON (Pavilion Garden)
40
Dining Pavilion
41
Alfresco Dining
42
Chill Out Lawn
43
Party BBQ Pavilion
44
Party Alfresco Dining
45
Pastry Lawn
LA SANTE (Health & Fitness)
46
Half Basketball Court
47
Jogging Track (30m)
48
Children's Playground
49
Fitness Corner
LIVING UP
50
Sky Dining
51
Sky Lounge
52
Sky Lawn
53
Roof Terrace
Provence Residence Unit Mix
The Provence Residence only offers 3-Bedroom and 4-Bedroom units, which is unsurprising for an executive condo as they are primarily targeted at families buying for their own stay. Hence, unit sizes are relatively spacious by today's standard, with the smallest starting at 883 sqft (82 sqm). However, this does not mean there is no investment potential, which will be elaborated later.
Of the 413 units offered, 389 (94%) are 3-bedders and 24 (6%) are 4-bedders. Hence, it is quite obvious the main target segment is HDB upgraders. For the 3-bedders, there are 23 layouts to choose from, while the 4-bedders have four.
Buyers will also have a choice of a dumbbell or L-shape design for the living/dining area.
For the 3-bedders, some units have their Master Bedroom placed on one side of the living/dining room and the other two bedrooms on the opposite side. The other layouts have all the bedrooms lined up along a passageway on one side.
The former will provide more privacy and would be ideal for those looking to rent out rooms, while the latter will be ideal for families who prefer to be closer to their young children at night when they sleep.
As for the 4-bedders, all the bedrooms are located on one side. Besides the Master Bedroom, they also come with a Junior Master Bedroom. Some will have dry and wet kitchen.
For the 3-bedders, all come with a standard kitchen while some of the 4-bedders come with a dry and wet kitchen. However, all come with a yard, which is a very useful feature to have when it comes to airing laundry.
Unit Type
Bedroom Type
Sqm
Sqft
No. of Units
% by units
Share Value
Est. Maintenance Fund (Excl. GST)
C1 / C1-P / C1a / C1b / C1b-P
3 BR
82
883
127
30.7%
6
$300
C2 / C2-P / C2a / C2a-P
3 BR
86
926
71
17.2%
6
$300
C3 / C3-P
3 BR
97
1,044
69
16.7%
6
$300
C4 / C4-P / C4a / C4a-P
3 BR
97
1,044
34
8.2%
6
$300
C5 / C5a / C5a-P
3 BR
99
1,066
43
10.4%
6
$300
C6 / C6-P / C6a / C6a-P (Premium)
3 BR
116
1,249
34
8.2%
7
$350
C7 (Premium)
3 BR
112
1,206
11
2.7%
7
$350
D1 / D1-P
4 BR
130
1,399
11
2.7%
7
$350
D2 / D2-P
4 BR
130
1,399
13
3.2%
7
$350
TOTAL
413
100%
Please click on Provence Residence Floor Plans to view the full list.
Fact Sheet
Item
Details
Developer
MCC Land (Canberra) Pte. Ltd
Location - address
23 Canberra Crescent Singapore 757078
25 Canberra Crescent Singapore 757079
27 Canberra Crescent Singapore 757080
29 Canberra Crescent Singapore 757081
31 Canberra Crescent Singapore 756929
33 Canberra Crescent Singapore 756930
35 Canberra Crescent Singapore 756931
37 Canberra Crescent Singapore 756932
39 Canberra Crescent Singapore 756933
Tenure
99 Years
Site Area
16,690 sqm / 179,651 sqft
Total GFA
41,457.96 sqm
Plot Ratio
2.3
Lot Number
MK19-04057W
Developer's Licence No.
C1387
Expected Vacant Possession Date
10 Apr 2026
Payment Scheme
Normal Payment Scheme / Deferred Payment Scheme
No. of Units
413
No. of Storeys
5 blocks of 13 storeys, 4 blocks of 11 storeys
Description
Proposed Executive Condominium housing development comprising 5 Blocks of 13 Storeys and 4 Blocks of 11 Storeys residential units (Total 413 Units) with communal landscape, basement carpark, swimming pool and communalfFacilities on Lot 04057w Mk 19 at Canberra Link (Sembawang Planning Area)
No. of Parking Lots
418 car park lots including 5 handicap lots, and 70 bicycle lots
Consultants
Architect
AGA Architects Pte Ltd
Landscape Architect
Surbana Jurong Consultants Pte Ltd
M&E Consultants
United Project Consultants Pte Ltd
Main Contractor
China Jingye Construction Engineering (S) Pte Ltd
Showflat Interior Design
Su Misura & Ensemble Pte Ltd
C&S Consultant
Emerald Asia Consulting Pte Ltd
Project Account & TT Details
Payee's Name
China Construction Bank Corporation Singapore Branch for
project A/C 672000001632 of MCC Land (Canberra) Pte Ltd
Account Name
MCC Land (Canberra) Pte Ltd
Account Number
672000001632
Bank Name
China Construction Bank Corporation Singapore Branch
Swift Code
PCBCSGSG
Solicitor Details
Solicitor
LEE & LEE Advocates & Solicitors
Address
50 Raffles Place #06-00 Singapore Land Tower Singapore 048623
Provence Residence Price
During the launch from 13-15 May 2012, 53% of all units at Provence Residence was sold at an average price of $1,142 psf. This was in between the average selling price of $1,085 psf for Parc Canberra and $1,177 psf for Parc Central Residences. Given that the property market has been on a strong uptrend since the beginning of 2020 despite the covid-19 pandemic, this still represents a very attractive entry price.
For the latest update, please drop us a message. Alternatively, you may WhatsApp Us.
Below is a comparison of the breakeven price between Provence Residence and two other recent executive condo launches.
Parc Canberra (beside Provence Residence):
Land Price - $558 ppr psf
Estimated Breakeven Price - $809 psf
Average Launch Price - $1,085 psf (34% above Breakeven Price)
Parc Central Residences (at Tampines Avenue 10):
Land Price - $578 ppr psf
Estimated Breakeven Price - $838 psf
Average Launch Price - $1,177 psf (40% above Breakeven Price)
Provence Residence:
Land Price - $566 ppr psf
Estimated Breakeven Price - $821 psf
Average Launch Price - $1,100 - $1,149 psf (based on 34% & 40% above the Breakeven Price of Parc Canberra & Parc Central Residences respectively)
Amenities Near Provence Residence Executive Condo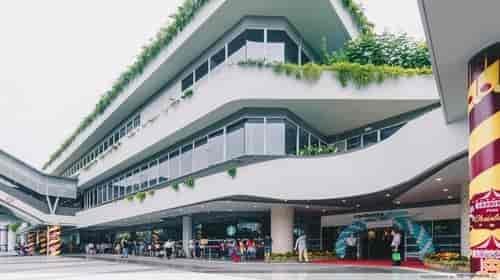 The Canberra Plaza was completed in 2020 and it is part of the URA Master Plan to improve the quality living in Singapore's North Region. It is connected to the Canberra MRT station, which is just a 7-minute walk from Provence Residence executive condo.
Besides shopping and dining, it is inlaid with pockets of gardens, trails and a water play park offering intimate spaces for community interaction and an array of exciting activities for all generations.
Constructed by the Housing and Development Board (HDB), it seeks to provide a complete live-work-play-learn environment for residents and signifies Singapore's public housing concept for the future.
Canberra Plaza offers a wide range of leisure, retail, F&B, beauty & wellness and children's enrichment centres, among many others.
When it comes to F&B, notable tenants include Ya Kun, Pho Street, BreadTalk, and Starbucks, as well as fast-food outlets like McDonald's and KFC. Perhaps, one of the more interesting tenants is A&W, famous for its root beer float and coney dog bun. This is its third outlet in Singapore following the opening of its Jewel Changi Airport and Ang Mo Kio Centre outlets.
There is also a NTUC FairPrice supermarket at the basement, where residents can conveniently shop for groceries and everyday necessities.
Canberra Plaza is also children-friendly. Besides a number of learning centres such as Shichida Method, CMA Arithmetic and The Eton Academy, there is also a water play park which will keep children sufficiently entertained.
Other Shopping Centres Near Provence Residence
Besides Canberra Plaza, the Sembawang Shopping Centre and Sun Plaza will offer residents more leisure, retail and dining choices. It is about a 13-minute walk from Provence Residence executive condo.
The Sembawang Shopping Centre is a four-storey commercial development located in Sembawang Spring Estate. First opened in 1986, it underwent a refurbishment in 2007 and reopened in late 2008. Other than shopping, children under 12 years old can visit Splash Park for some great fun.
Sun Plaza is located near the Sembawang MRT station, just one station from Provence Residence. It is a mixed-use residential and commercial development completed in 2000 and has undergone a refurbishment in November 2013 and reopened in August 2015. Although not large, it houses an NTUC FairPrice supermarket, a food court and a public library.
Besides these two, there is Northpoint City Shopping Mall in Yishun and Causeway Point in Woodlands. Hence, there is no lack of amenities that can be easily reached from Provence Residence.
Bukit Canberra, An Integrated Community Hub
Bukit Canberra
is located just opposite Provence Residence and is expected to be fully opened this year. Bukit Canberra will offer residents easy access to a range of amenities set within a verdant park-like setting. These will include the following:
The largest ActiveSG gym in Singapore at 1,500 square metres
Public indoor and outdoor swimming pools
An indoor sports hall with 500 seats
Three kilometres of outdoor running trails — with varying levels of difficulty — set on natural terrain
A "food forest" and "fruit orchard", featuring edible crops such as the cocoa tree and roselle plant
A community garden
A hawker centre
A polyclinic
A senior care centre
A conserved historical building — Former Admiralty House — for educational purposes
To help residents and visitors learn more about the area's past, heritage story boards will be set up detailing the area as a former naval base. The historic former Admiralty House that used to accommodate key military commanders based in Singapore will be conserved.
The development and landscaping of Bukit Canberra is shaped around the existing terrain to retain its hilly characteristics and lush vegetation. More trees and shrubs will be planted throughout the entire site and be integrated with the various facilities to enhance the existing greenery and biodiversity, thereby allowing users to enjoy the hub's features in a natural setting while at the same time bringing them closer to flora and fauna.
Sembawang Hot Springs Park
The Sembawang Hot Springs Park situated at Gambas Avenue is a very popular destination. Opened in early 2020, it is about a 4-minute drive from Provence Residence.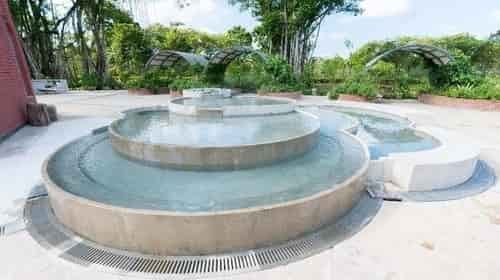 The hot springs was discovered in 1909 and its water was bottled for sale before being turned into a Japanese bathhouse during the Japanese occupation. The hot springs were nearly closed when the government planned to expand the neighbouring Sembawang Air Base, but it was subsequently retained after calls by the public to leave it alone.
The geothermally heated water is quite hot at 70 degrees Celsius. Many people visit the hot springs as they believe the water have curative and medicinal qualities that can help to cure ailments like rheumatism, arthritis and even skin problems like acne.
Hence, unsurprisingly the Cascading Foot Bath Pool has become one of its main attractions. It is a communal foot bath where people sit around it to soak their feet.
Some people also bring eggs to cook in the hot spring water. Lush greenery surrounds the park, which makes for an interesting day out for the whole family. There is also a cafe where visitors can grab a bite or have a drink while taking a respite from the hot sun.
Other Parks Near Provence Residence
Besides the Sembawang Hot Springs Park, Sembawang is blessed with many other parks. With its lush greenery and laid-back nature, they will provide residents of Provence Residence a retreat from the hectic modern lifestyle.
Canberra Park – It is just a 6-minute drive from Provence Residence. It has a large playground with swings that cater to different age groups and abilities, such as toddlers and children with disabilities.
Beside the playground, there is also an amphitheatre, BBQ pits, bicycle and fitness stations and cycling and jogging paths.
Montreal Green Park – Recently revamped, the park features a Heritage Corner to educate visitors about the history of Sembawang. There is also Interactive Playgrounds that stimulate children's senses, a Sculptured Garden and Butterfly Garden, as well as Fitness Corners with various equipment for residents to exercise.
Sembawang Beach Park – Located at the end of Sembawang Road, it is one of the last few natural beaches in Singapore. Many visitors go there for fishing, bird-watching and to participate in water sports. It is also a popular place for camping, and the large children playground modelled after a battleship that features adventure play equipment provides families with young children a fun day out. The playground includes a rock climber, tunnels, suspension bridge and caged tower that leads to a spiral tube slide. There are also a fitness area, petanque court and an extended beachfront promenade.
Sembawang Park Connectors – These park connectors further enhance the green living environment in Sembawang. These green corridors help resident to explore the neighbourhood and its flora and fauna and they include the 1.6km Canberra Link-Sembawang Park Connector and Simpang Kiri Park Connector.
Along the Simpang Kiri Park Connector is Sungei Simpang Kiri. It is rich in natural vegetation on either side of its riverbank, providing a scenic and tranquil environment for residents in the surrounding estates to enjoy. It is also popular with bird-watchers where water birds like the Kingfisher, Egrets and Water Hens to seasonal migratory birds such as sandpipers can be seen.
Mandai - A New Integrated Bird And Wildlife Park
The current Mandai Zoo will be transformed into a new 126 ha eco-tourism park by 2023.
It will be an integration of five wildlife parks – Singapore Zoo, Night Safari, River Safari, Rainforest Park and Bird Park (which will be relocated from Jurong).
When completed, visitors will be able to enjoy many activities such as guided nature walks, interaction with animals, and learn how the zoo operates.
In addition, there will nature-themed indoor attractions, green public areas and a boardwalk along the edge of the Upper Seletar Reservoir to provide visitors a multi-park experience for visitors.
Theses parks, together with a new 338-room eco-friendly resort developed by luxury hotel chain Banyan Tree Hotels and Resorts, will seek to create an eco-tourism hub in Singapore which aims to attract millions of visitors a year.
Designed by WOW Architects, the resort will provide guests an immersive stay close to nature while promoting environmental awareness, sustainable best practices and the conservation of biodiversity.
Given such an ambitious project, these new attractions in Mandai will further enhance the desirability the North Region. In the process, they will further boost property values.
Reimagining Sembawang Shipyard
Once Sem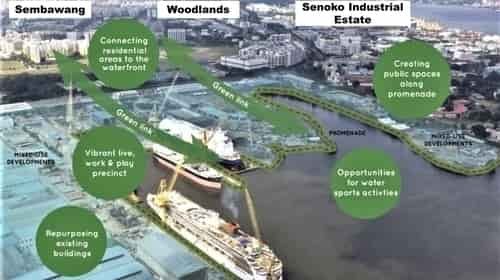 bawang Shipyard's operations cease and moved out to Tuas by 2024, the site has the potential to be redeveloped into a mixed-use waterfront lifestyle precinct while taking into consideration its rich maritime history. The shipyard's unique coastal profile presents opportunities for new waterfront public spaces. Selected buildings can also be re-purposed to introduce suitable uses that will bring new life into the area. Land will also be set aside for business activities.
Schools Near Provence Residence
For families with young children, there is quite a good choice of primary schools to choose from. The following are schools within a 1-2 km of Provence Residence, which will enjoy priority Primary 1 admission based on the Ministry of Education enrolment policy.
Within 1 km
Sembawang Primary School
Wellington Primary School
Within 1-2 km
Ahmad Ibrahim Primary School
Canberra Primary School
Chongfu School
Endeavour Primary School
Northoaks Primary School
Xishan Primary School
Yishun Primary School
Excellent Transport Connectivity
Sembawang may seem like an "ulu" (remote) estate in Singapore. But given the extensive MRT network that the Singapore government has developed, no place is too far nowadays. For those driving, the North-South Corridor will offer an alternative route to the city and East Coast Parkway while cutting down travelling time.
For those travelling by train, it takes about 27 minutes to reach Downtown Singapore from Canberra MRT station via the North-South Line (NSL). For those heading down to Orchard Road, it only takes about 30 minutes.
For perspective, it takes 28 minutes and 40 minutes respectively to travel from Jurong East MRT station to Raffles Place and Orchard Road.
By 2024, when the Thomson-East Coast Line (TEL) is fully operational, it will further improve connectivity between the North Region and the rest of Singapore. The Woodlands station, which is just three stops from Canberra, is an interchange for the Thomson-East Coast and North-South Line.
In addition, Provence Residence is close to three Bus/MRT interchanges – Sembawang, Yishun and Woodlands. The Sembawang and Yishun stations are just one stop on either direction of the Canberra station, while Woodlands is 3 stops away.
For those who drive, Provence Residence is conveniently connected to the Tampines Expressway (TPE), Seletar Expressway (SLE) and the Central Expressway (CTE). And by 2026 when the North-South Corridor is completed, it will directly connect the Northern region to the city and East Coast Parkway, substantially cutting down travelling time and at the same time, helps to reduce the congestion on the Central Expressway (CTE).
Transformation of North Region to Boost Housing Demand
The development of Bukit Canberra, Canberra Plaza, and Woodlands Health Campus is part of the broader transformation of the North Region. With these developments, residents in the North will have a variety of new live, work and play options. New amenities and housing developments will be planned around them, which include Provence Residence.
Canberra Plaza and Bukit Canberra have already been elaborated earlier. As for the Woodlands Health Campus, it will comprise both acute and community hospitals, a nursing home, and specialist clinics. This is to bring quality healthcare to residents and will be opened progressively from 2022.
URA Master Plan – Woodlands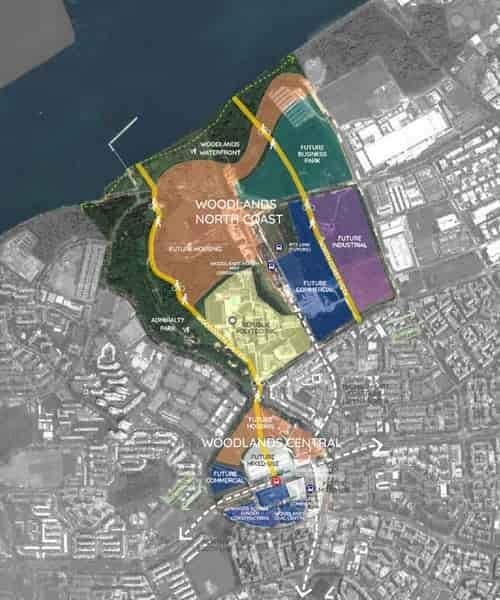 The Singapore government has drawn up an ambitious plan for the North, which will make it the largest employment hub. This will include the development of the Woodlands Regional Centre, North Coast Innovation Corridor and Woodlands North Coast.
The North Coast Innovation Corridor (NCIC) is slated to be a new economic corridor in the North. It will stretch from the Woodlands Regional Centre, Sembawang (including the redeveloped Sembawang Shipyard), the future Seletar Regional Centre to the learning corridor and creative cluster at Punggol.
The Woodlands North Coast is a business cluster within the Woodlands Regional Centre in the NCIC, which is slated to be a major employment hub in the North Region.
To improve accessibility to the region, it will be served by the upcoming Thomson-East Coast Line (TEL) as well as the 21.5 km North-South Corridor, which will provide improved linkages between Woodlands and City, as well as to the rest of Singapore.
According to the Urban Redevelopment Authority (URA), the developments have the potential to provide up to 100,000 jobs. Given Provence Residence's proximity to Woodlands, which is just three MRT stations away, this is expected to fuel rising demand for housing.
Over the next decade and beyond, new spaces for business, industry, research & development, and learning & innovation will be introduced. Nestled within a vibrant, green landscape, yet seamlessly connected with key locations in Singapore and Johor Bahru, it is envisioned to serve as the strategic centre for the Northern Agri-Tech and Food Corridor.
This Corridor will integrate the future Agri-Food Innovation Park and Woodlands Regional Centre with synergistic elements of the ecosystem in the North (such as farms, Republic Polytechnic and the Senoko Food Zone).
With these developments, the Woodlands Regional Centre will benefit from a diverse palette of office, retail, business park and industrial spaces planned across the two precincts - Woodlands North Coast (WNC) and Woodlands Central. Along with its proximity to established industrial estates in Woodlands, Senoko and Sungei Kadut, this will position it as the key commercial centre supporting the Northern Gateway and Agri-tech and Food Corridor, bringing a broad range of good jobs closer to residents of the North.
When it comes to living, the following are some of the exciting plans for Woodlands:
Town Plaza - To be built next to the Woodlands MRT station, it will offer a convenient and vibrant community node for residents to come together to participate in community events.
Woodlands Waterfront – A popular recreation spot in the northern tip, it will be transformed into a new rustic park, with trails and a nature promenade that will enable residents to enjoy abundant greenery even as they unwind by the waterfront.
WoodsVista Gallery - A 1.9-kilometre-long community link with dedicated cycling and pedestrian paths, residents will be able to walk, jog or cycle seamlessly from the Woodlands MRT station to the waterfront; or simply relax and take in scenic views of the town at strategically located rest points and activity nodes.
Discovery Playground - The Woodlands Town Garden located at Marsiling will be upgraded and expanded into a new "Discovery Playground", where residents can enjoy the garden anew and learn about the history of the town. It will feature a new boardwalk, children's playground, a heritage corner and a learning lane with storyboards to showcase the heritage of the town.
Social Corridor - The existing park connector that runs from the east to the west of Woodlands will be transformed into a 'Social Corridor', with lush greenery, community gardens and 3-Generation facilities along the park connector and MRT viaduct.
Community Nexus- Located on the eastern side of Woodlands and right next to the Admiralty MRT station, it will comprise of Kampung Admiralty, an integrated development that will house a range of facilities such as a medical centre, eldercare and childcare centres, a hawker centre, dining and retail outlets.
Singapore-Johor Rapid Transit System (RTS)
The Singapore-Johor Rapid Transit System (RTS) will improve the linkage between Singapore and Malaysia. When operational by end-2026, it will further anchored Woodlands as a key economic and employment hub supported by new housing and amenities.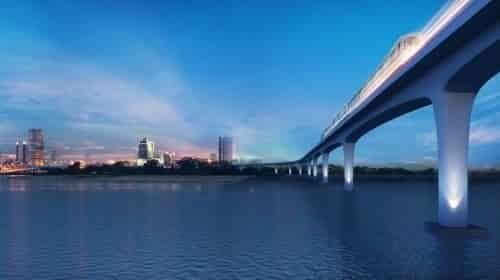 Commuters crossing the border to Johor Baru via the RTS will be served by a terminus station and an immigration complex in Woodlands North about 10 times the size of a typical MRT station.
Built underground, the Woodlands North RTS station will have three storeys, including two basement levels and an underground linkway to the Customs, Immigration and Quarantine (CIQ) building, and will be connected to the Thomson-East Coast Line (TEL) station via an underground concourse.
The rail link's tunnels will be connected to a 25m-tall viaduct spanning the Strait of Johor. When completed, it will take about five minutes for commuters to reach Bukit Chagar station in Johor Baru, and the rail service can carry up to 10,000 passengers per hour in each direction.
With the RTS Link stations integrated with local transport networks in Woodlands, there will eventually be a transport hub connected to the RTS Link and TEL stations, according to Transport Minister Ong Ye Kung.
"Taken together, these transport connections will support and enhance the larger development plans to transform Woodlands into a key growth hub and thriving employment gateway for the North Region, just like Jurong and Tampines", added Mr Ong.
Review Conclusion – Provence Residence's Investment Perspective
Sembawang's prospects are positive, unsurprising for an estate that offers nature in abundance (in the form of a park, a beach and plenty of flora and fauna) and homes that are close to many modern conveniences like schools, shopping malls, MRT stations and a bus interchanges.
Residents can also look forward to the completion of the North-South Corridor that will cut travelling time by car to the city by about 30%. Furthermore, the development of the North Coast Innovation Corridor, which includes the Woodlands Regional Centre, will no doubt bode well for property prices in the area in time to come.
Given the relatively lower property prices compared to mature estates, Provence Residence would provide promising upside potential as the estate continues to evolve as the exciting developments under the URA Master Plan for the North Region take shape.
Moreover, buyers may receive up to $30,000 housing grant from the government, and coupled with the lower entry price vis-a-vis mass market private condos, buyers will enjoy quite a significant price advantage right from the outset. The housing grant will also provide buyers a 'built-in' buffer against any unexpected price drop.
Although the purchase of Provence Residence executive condo (EC), with its accompanying restrictions (fulfilment of 5-year Minimum Occupation Period and 10 years to become fully privatised), may put some investors off, those willing to take a longer-term position will stand to benefit. This is because many of the developments under the URA Master Plan are only expected to come on stream in the next 5-10 years. By then, the North Region would have become more developed and dynamic while the restrictions to sell would have lapsed.
In terms of quality of living, executive condos cater mainly to families. Hence, it is unsurprising that their unit sizes are bigger than many new private condos which comprise a disproportionately large number of small 1- and 2-bedroom units. As a result, EC owners who decide to sell in the future would face less competition. Moreover, due to covid-19, there has been an increase in demand for bigger units as more people work from home.
With a lower entry price and being indistinguishable from mass market private condos, executive condos such as Provence Residence will provide a very attractive investment opportunity, especially for Singaporeans looking for asset progression. Moreover, once it reaches the 5-year Minimum Occupation period (MOP) where it can be resold to Singaporeans and permanent residents, property loan financing will be based on the Total Debt Servicing Ratio (TDSR) instead of the Mortgage Servicing Ratio (MSR) imposed on new executive condo buyers.
With the higher loan quantum allowed in TDSR (60% of household income) versus MSR (30%), this would potentially help to raise the affordability level of more homebuyers looking at this asset class.
Nevertheless, there are still many who may find Sembawang "ulu" (remote) despite the exciting transformation taking place around it, which would be a pity.
As mentioned, Provence Residence is just a 6-minute walk to the Canberra MRT station and a train ride into Downtown Singapore takes less than half-an-hour. Given the expanded and well-connected MRT network, no place in Singapore is inaccessible anymore. Perhaps, those who still consider Sembawang "ulu" may wish to reconsider their investment decisions.
Showflat Viewing / E-Application
Due to covid-19, showflat viewing is strictly by appointment only. Please contact us below to arrange a suitable slot.
If you have further queries about the development, please WhatsApp Us and we will be in touch with you shortly.
Provence Residence Executive Condo (EC) Eligibility Criteria
To be eligible for the purchase of Provence Residence Executive Condo (EC), applicants must qualify under one of the following HDB's eligibility schemes.
Public Scheme
Fiancé/Fiancée Scheme
Orphans Scheme
Joint Singles Scheme
All applicants must be at least 21 years old and must consist of a Singapore citizen and at least one other Singapore citizen or Singapore Permanent Resident. For singles, they must be 35 years old applying under the Joint Singles Scheme, and all of singles must be Singapore citizens.
Executive condo applicants must also have a combined gross monthly household income not exceeding $16,000.
Other Property Ownership Restrictions
Applicants must not own other property overseas or locally, or have not disposed of any within the last 30 months.
In addition, they must not have bought a new HDB/ DBSS flat or EC, or received a CPF Housing Grant before; or, have only bought 1 of these properties / received 1 CPF Housing Grant thus far
HDB owners can only apply for an executive condo (EC) after the 5-year MOP while existing EC owners must dispose of their property and wait out 30 months before they are eligible to apply for a new EC.
For divorcees, they are able to purchase an EC under the "public scheme" with child(ren) under their legal custody. However, if the care and control of your child(ren) under the age of 21 is shared with your ex-spouse, you must obtain his/her written agreement before you can list your child(ren) in a flat application.
To assess your eligibility to apply for Provence Residence, please feel free to contact us. Alternatively, you may also WhatsApp us. To learn more about executive condo ownership, check out our EC FAQ.
For more information, you may also refer to: Executive Condo Review - Is It A Good Investment Property
Other than Provence Residence, you may also wish to check out the following property reviews. More property details can be found in project information.