This is a review of Bartley Vue, a new condo development located at Jalan Buga Rampai in Singapore's District 13 comprising two 16-story blocks with 115 apartments. It is about 4 minutes' walk from the Bartley MRT station and will be developed by Wee Hur Holdings Ltd. For direction, please click here.
The review will seek to provide an unbiased evaluation of its design features and locational attributes, as well as its investment potential by analysing how similar properties in the area have performed.
For a deeper insight of the development or to visit the show gallery for an information-sharing session, please Email or WhatsApp Us.
To navigate directly to each section of the review, please click on the links in the Table of Contents below:
Bartley Vue Price
Starting from $1,7xx pst, below are the indicative prices of Bartley Vue:
2-Bedroom: From $1.2xx million
3-Bedroom: From $1.6xx million
4-Bedroom: From $2.3xx million
Considering the high land prices witnessed in the recent government land sales (GLS) for the Ang Mo Kio and Lentor Central sites, as well as the strong demand for Pasir Ris 8 in July in which some units were sold as high as $2,000 psf (all of which are in OCR), Bartley Vue's pricing can be deemed attractive for a RCR development.
The Ang Mo Kio site was sold at $1,188 ppr/psf and Lentor Central site at $1,204 psf/ppr. When these two projects are launched, they are likely to be priced near the $2,000 psf level.
Key Attributes of Bartley Vue Condo
A medium-size development that offers more exclusivity
Unblocked views of nearby low-rise developments and Bunga Rampai Park
Good transport connectivity - just 400m with sheltered walkway from the Bartley MRT station
Located at city fringe and accessible to a wide range of amenities such as shopping centres and eateries
Easy access to the Central Business District (CBD) and Downtown Singapore
Near many popular local schools, with Maris Stella High just 600m away
Convenient access to international schools to attract expatriate rental demand
Proximity to employment nodes provides good catchment of tenants and hence, provides strong rental potential
Mega transformation of Paya Lebar Airbase and Punggol Digital District provide exciting investment potential
About Bartley Vue Condo Location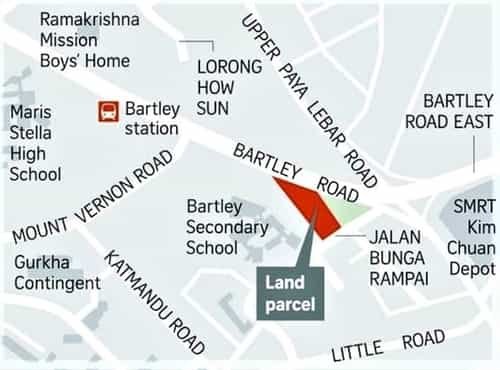 Bartley Vue condo will occupy a medium land size of approximately 50,231 sqft. With the site being trapezoid-shaped, it will allow the developer to maximise land use.
Offering a decent mix of 2- to 4-bedders totalling 115 units, it is designed to appeal to a wide range of investors and those looking for own stay. It will also appeal to those looking for a certain level exclusivity vis-a-vis many larger developments in the vicinity.
Located near the junction of Bartley Road and Upper Paya Lebar Road, and at the city fringe, the area is predominantly a private residential enclave. It is also within a 15-minute walk to the new Bidadari Park that will provide residents a "green lung" and an array of family-friendly outdoor activities.
The nearest schools are Bartley Secondary and Maris Stella High and they are just 200m and 600m respectively from the development.
The Bartley MRT station (Circle Line) is just 400m away and one stop from the Serangoon station, an interchange for the Circle (CCL) and North-East Line (NEL). The Serangoon station is also an integrated transport hub (ITH) connected to the 7-story NEX shopping mall, the largest in Singapore's North-East region.
ITHs are fully air-conditioned interchanges that are seamlessly linked to MRT stations and adjoining retail & commercial developments. They allow commuters to run errands and shop conveniently before continuing with their journey elsewhere.
Bartley Vue Site Plan
As can be seen from the site plan below, all the units will either face the Bartley viaduct or the landed housing estate on the opposite side. There may be some concerns that units facing the viaduct will be subjected to quite a bit of traffic noise. Hence, these units are likely to be priced more sensitively than those overlooking the landed housing estate.
To mitigate such concerns, the developer will be installing double-glazed glass panes for better noise insulation.
Unit Mix
Bartley Vue offers a good choice of unit mix, ranging from 2- to 4-bedrooms. For the 2- and 3-bedder, there are six different choices each, while the 4-bedder has two. This will cater to the needs of different buyers or families.
The 2-bedders have a choice of one or two bathrooms, all 3-bedders come with two bathrooms while the 4-bedders have three bathrooms.
The smallest 2-bedder (Type 2a) is 61 sqm (657 sqft), which can be considered pretty spacious by today's standards.
The largest unit type is the 4-bedder+Study Penthouse (Type 4a-P) with a built-in area of 143 sqm (1,539 sqft). It comes with a Junior Master bedroom, study and yard, as well as a dry and wet kitchen.
All the units are practically designed and have a dumbbell layout to maximise the use of space. Ceiling height is a generous 2.9m, with the exception of the penthouses where the ceiling height for their living/dining area is 4.5m. For a better appreciation of the different layouts, please refer to the floor plans. Meanwhile, below is a breakdown of all unit types.
| | | | |
| --- | --- | --- | --- |
| Description | Unit Type | No. of Units | Size (Sqm) / (Sqft) |
| 2-Bedroom | 2a | 13 | 61 / 657 |
| 2-Bedroom Penthouse | 2a-P | 1 | 74 / 797 |
| 2-Bedroom Premium | 2b | 27 | 68 / 732 |
| 2-Bedroom Premium Penthouse | 2b-P | 2 | 80 / 861 |
| 2-Bedroom Premium a | 2c | 13 | 68 / 732 |
| 2-Bedroom Premium a Penthouse | 2c-P | 1 | 79 / 850 |
| 3-Bedroom | 3a | 13 | 88 / 947 |
| 3-Bedroom Penthouse | 3a-P | 1 | 101 / 1,087 |
| 3-Bedroom Premium 1 | 3b | 13 | 97 / 1,044 |
| 3-Bedroom Premium 1 Penthouse | 3b-P | 1 | 117 / 1,259 |
| 3-Bedroom Premium 2 | 3c | 14 | 99 / 1,066 |
| 3-Bedroom Premium 2 Penthouse | 3c-P | 1 | 118 / 1,270 |
| 4-Bedroom+Study | 4a | 14 | 126 / 1,356 |
| 4-Bedroom+Study Penthouse | 4a-P | 1 | 143 / 1,539 |
Bartley Vue Virtual Show Gallery
For a virtual tour of Bartley Vue's show gallery, please click on the links below:
Unit Provisions
All units will be provided with smart home system like digital lockset. They will also come with branded provisions such as Franke kitchen sink and tap, Grohe sanitary wares, Duravit water closet, Samsung fridge, Bosch kitchen appliances and Mitsubishi air conditioners.
All the 2-bedroom units come with a washer cum dryer while the rest will have a separate washer and dryer. For the 4-bedrooms, they will get an extra Vintec wine chiller. Please refer below for the full details:
| | | |
| --- | --- | --- |
| Unit Types | Appliances | Brand |
| All Unit Types | Sink | Franke |
| All Unit Types | Sink Mixer | Grohe |
| All Unit Types | Fridge | Samsung |
| All Unit Types | Cooker Hood | Bosch |
| All Unit Types | Gas Cooker Hob | Bosch |
| All Unit Types | Oven | Bosch |
| 2a, 2b, 2c | Washer Cum Dryer | Bosch |
| All Unit Types Except 2a, 2b, 2c | Washer Cum Dryer | Bosch |
| 4a & 4a-P | Wine Chiller | Vintec |
Facilities
Despite its modest size, Bartley Vue offers a good array of facilities that caters to both children and adults.
For example, the young ones can spend a jolly good time at the children's pool and playground while the adults work out a sweat at the 30m lap pool, gym or fitness corner.
Looking to host a birthday party, family gathering or function with friends? The function room, BBQ Pavilion and Entertainment Court will ensure their needs will be adequately met.
Given that there will only be 115 units, residents will have more exlcusive use of the facilities and enjoy more quality time either by themselves or with family members.
| | |
| --- | --- |
| | Description |
| 1 | Arrival Court |
| 2 | Concierge |
| 3 | Playground Oasis |
| 4 | Children's Pool |
| 5 | Gym |
| 6 | Fitness Corner |
| 7 | Playground Haven |
| 8 | Function Room |
| 9 | Rejuvenation Pavilion |
| 10 | Entertainment Court |
| 11 | 30m Lap Pool |
| 12 | BBQ Pavilion |
| 13 | Guardhouse |
| 14 | Management Office |
| 15 | Vehicular Entrance |
| 16 | Pedestrian Entrance |
| 17 | Site Gate |
| 18 | Service Gate |
Bartley Vue Condo Factsheet
Item
Details
Name
Bartley Vue
Developer
Wee Hur (Bartley) Pte. Ltd
Description
Proposed residential flat development comprising 2 blocks of 16-storey building (total 115 units) with 2 levels of basement carparks, swimming pool and communal facilities with integrated drainage reserve on Lot 10613W MK 24 at Jalan Bunga Rampai (Toa Payoh Planning Area)
Address
16 Jalan Bunga Rampai, Singapore 538310
8 Jalan Bunga Rampai, Singapore 538311
District
13
Plot Ratio
2.1
No. of Storeys
16
Total No. of Units
115
Site Area
4,666.6 sqm
Lease
99 years lease commencing from 13 April 2020
Developer's Licence No.
C1397
Estimated TOP
13 January 2026
Estimated Legal Date of Completion
13 January 2029
No. of Parking Lots
95
No, of Lifts
5
Consultants
Architect
P & T Consultants Pte Ltd
Civil & Structural Engineer
LSW Consulting Engineers Pte Ltd
Mechanical & Electrical Engineer
Tritont Consulting LLP
Main Contractor
Wee Hur Construction Pte Ltd
Landscape Consultant
Ecoplan Asia Pte Ltd
Interior Designer (Show Flat)
Sujonohun Pte Ltd
Interior Designer (Development)
P & T Consultants Pte Ltd
Developer of Bartley Vue - Wee Hur Holdings Ltd
The developer for Bartley Vue condo is Wee Hur Holdings.
The history of the Group dates back to 1980 when Mr Goh Yeow Lian, its Executive Chairman and managing Director established 'Wee Hur Construction Co' with his brothers and brothers-in law. The partnership was subsequently incorporated as Wee Hur Construction Ltd ("WHC") in 1988 as its business expanded.
Through the years, WHC has undergone strong growth, handling construction projects of higher values and greater diversity and complexity. Completed projects include residential, institutional, industrial, office, hotel, shopping mall, religious, heritage and conservation buildings.
WHC is a Building and Construction Authority (BCA) registered contractor with A1 financial status. This allows it to tender for building projects of unlimited value from both the public and private sectors.
In mid-January 2008, the company underwent a restructuring exercise where Wee Hur Construction Pte Ltd became a wholly owned subsidiary of Wee Hur Holdings Ltd. It was subsequently listed on the Singapore Exchange on 30 January 2008.
Some of the developments under its belt include Parc Botannia, Parc Centros and MacPherson Blossom, just to name a few.
Bidadari Park - A Short Stroll From Bartley Vue Condo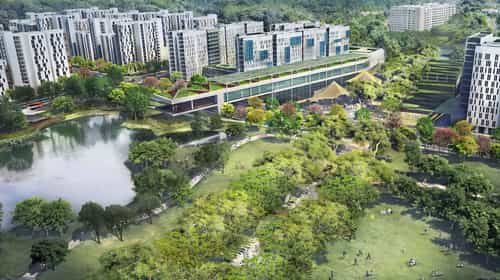 The new Bidadari Park is a mere 13-minute stroll from Bartley. It is being developed as part of the new Bidadari housing estate, which is envisioned as a "tranquil urban oasis", along with an abundance of amenities.
According to the government's plan, the 10 hectare park will be a "green lung" featuring a lake, a children play and exploration area, as well as a heritage walk that will cater to residents in the surrounding housing estates.
Another distinctive feature of the estate is the Bidadari Greenway, a 1.6km "green spine" co-developed with the National Parks Board. It will feature rest spots, fitness corners, social communal facilities along with pedestrian and cycling paths. The park will also be connected to the upcoming Woodleigh shopping mall and MRT station.
Excellent Transport Connectivity
One of the main attractions of Bartley Vue condo is obviously its close proximity to the Bartley MRT station just 400m away. Furthermore, it is just 1-3 stops from several MRT interchanges which will provide convenient access to many parts of Singapore, be it for work, study or leisure. For example, it only takes a 18-19 minutes ride to Dhoby Ghaut and the Raffle Place financial district. These MRT interchanges are:
Serangoon – 1 stop away, it is an interchange between the Circle (CCL) and North-East Line (NEL). It is also an integrated transport hub.
Bishan – 2 stops away, it is an interchange between the Circle (CCL) and North-South Line (NSL) and connected to the Junction 8 shopping mall.
Macpherson - 2 stops away, it is an interchange between the Circle (CCL) and Downtown Line (DTL).
Paya Lebar - 3 stops away, it is an interchange between the Circle (CCL) and East-West Line (EWL). Beside it is the Paya Lebar Square and Paya Lebar Quarter (PLQ).
For those who drive, Bartley Vue condo enjoys easy access to many major roads and expressways. They include Bartley Road East viaduct, Central Expressway (CTE), Kallang-Paya Lebar Expressway (KPE) and Pan-Island Expressway (PIE).
These expressways will help to reduce travelling time considerably to Downtown Singapore, as well as major regional centres such as Tampines, Changi and the upcoming Punggol Digital District which are important catalysts of Singapore's present and future economic growth.
Bartley Vue Enjoys Convenient Access Many Amenities
Residents of Bartley Vue condo will enjoy convenient access to a plethora of amenities. Although there aren't any shopping malls within its immediately vicinity, many of them that can be reached via a short train ride. These include the following:
Nex at the Serangoon MRT station (1 stop)
Junction 8 beside Bishan MRT station (3 stops)
Paya Lebar Square and Paya Lebar Quarter beside Paya Lebar MRT station (3 stops)
City Plaza and Kinex shopping mall a short walk from Paya Lebar MRT station (3 stops)
Leisure Park Kallang beside Stadium MRT station (6 stops)
Woodleigh Mall at the Woodleigh MRT station (2 stops)
For those who prefer to shop at Downtown Singapore such as Bugis or Orchard Road, they can be reached within a 20-minute train ride.
The easy access to these shopping malls and essential daily amenities will ensure a family-friendly living environment. For example, families who prefer home-cooked meals can easily buy fresh produce without having to stock up.
On the other hand, those who have no time to cook can easily grab a meal on their way home from work or "ta-pau" (take-away) back for their family given the wide choices of food available.
Interesting Food Places Near Bartley Vue Condo
Besides the shopping malls, there many other interesting food places around Bartley Vue condo. For example, along the stretch of shophouses along Upper Paya Lebar Road, you can find the famous Kay Lee Roast Meat, Old Street Bak Kut Teh, Domino's Pizza and several other outlets selling Chinese, Malay and Indian food.
There are also quite a number of good restaurants in Macpherson. Some of these are Wo Peng Cuisine Cantonese Restaurant, The Grumpy Bear which serves Italian, European and Western casual cuisines while the Yi Jia South Village Seafood Restaurant specialises in zi char dishes, just to name a few.
Perhaps surprising to some, there are quite a good number of food outlets in the surrounding industrial estates. For example in Tai Sing, there is a nice juxtaposition of old and new food establishments ranging from hip cafes to traditional eateries. Some of the interesting finds include Tim Ho Wan (HK Tim Sum), The Good Boys (smoothie bowls and artisanal coffee), Flame Café (halal Western fusion cuisine), Took La De (Thai food), The Boneless Kitchen (Korean vegetarian) and many more.
Schools Near Bartley Vue Condo
Proximity to schools is one of the major factors for Singapore families when it comes to buying a property. This is especially so due to the Ministry of Education's distance-based priority admission for Primary 1.
For residents of Bartley Vue condo with young children, they would be glad to know that two primary schools are within a 1 km radius – Maris Stella High and Cedar Primary School. Three more are with a 1-2 km radius – Canossa Catholic Primary School, Paya Lebar Methodist Girls' School and Yangzheng Primary School.
When it comes to secondary schools, there are quite a good selection and these include the following:
Bartley Secondary School
Maris Stella High School (Secondary)
Paya Lebar Methodist Girls' School (Secondary)
Saint Gabriel's Secondary School
Cedar Girls' Secondary School
Macpherson Secondary School
Zhonghua Secondary School
Yuying Secondary School
For post-secondary education, Nanyang Junior College is just two stations away at Lorong Chuan.
However, when it comes to tertiary institutions, there aren't any within Bartley Vue condo's immediate vicinity. But, the National University of Singapore (NUS) can be directly reached via the Circle Line, with the Kent Ridge station 12 stops away. Travelling time is approximately 40-minute.
Come 2023, the Singapore Institute of Technology (SIT) Centralised Campus at Punggol Digital District is expected to be ready. Currently, SIT runs its courses in satellite campuses in 5 polytechnics. The new SIT campus will be just 6 stops away from Bartley Vue.
2 International Schools Near Bartley Vue Condo
There are two international schools near Bartley Vue condo and this will help to attract housing demand from expatriate families with school-going children. They are:
Stamford American International School – Located bear Woodleigh MRT station, it is just 2 stops from Bartley Vue.
DPS International School – Located at Aroozoo Avenue (near Kovan), it can be reached via a 10-minute drive.
Childcare Centres & Preschools
For families with young children, there is no lack of childcare centres and preschools near Bartley Vue. Some of these are within a short walk or drive away and they include the following:
Brain Explorers Schoolhouse
Ramakrishna Mission Sarada Kindergarten
Bethany Presbyterian Child Development Centre
Blossom Aspiration Centre
The Moral Childcare Centre
Bethel Preschool
Learning Kidz Child Development Centre
Masterpiece Child Education
Employment Nodes Near Bartley Vue Condo
As part of the URA's Master Plan to bring more jobs and amenities closer to homes, Bartley Vue condo already enjoys close proximity to several industrial and commercial nodes in Paya Lebar, Tai Seng, Macpherson, Aljunied, Ubi and Eunos. Hence, housing demand can be expected from those working in these areas. Some of the notable industrial and commercial developments are:
iPark, a 15ha industrial park near Tai Seng MRT station
Paya Lebar Central, a commercial centre that includes the Singapore Post Centre, Paya Lebar Square, Paya Lebar Quarter, the Lifelong Learning Institute and One KM
Oxley BizHub, a hi-tech, clean and light industrial development along Paya Lebar Road
Ubi Techpark and Paya Ubi Industrial Park
Transformation of Paya Lebar Airbase
The redevelopment of Paya Lebar Airbase was first announced by Prime Minister Lee Hsien Loong during his National Day Rally speech in 2013.
With a land size of 800ha or five times the size of Toa Payoh Town, the site and its surrounding industrial estates will gradually be transformed into a highly liveable and sustainable new town with amenities, multi-functional community space, parks and play areas for future residents. It will also become a major employment node when fully developed.
The transformation of Paya Lebar Airbase will take into account its distinct identity anchored to its aviation heritage to become a distinctive new business district with mixed-use neighbourhoods. Currently, it is occupied mostly by aeronautic and related industries and they will be relocated from 2030 onward.
In line with the Singapore government's long-term plan to have people "live near where they work, and work near where they live", this will be a boost to Bartley Vue condo's investment potential given its close proximity. In fact, it is just a 5-minute drive away.
Development of Punggol Digital District
The Punggol Digital District is just 6 MRT stations from Bartley Vue condo. When completed, it will become a key economic hub that will help Singapore to realise its Smart Nation vision. It was first announced under the URA Draft Master Plan 2013.
Set to open progressively from 2023, it will be a vibrant, mixed-use business district housing key growth industries of Singapore's digital economy. Occupying an area of more than 50 hectares, it will be integrated with the new Singapore Institute of Technology (SIT) campus and feature 350,000 sqm of floor space in a series of interconnected, energy efficient office buildings that aim to nurture cross-fertilisation of ideas and development of key emerging technologies between industry and academia.
The development of the Punggol Digital District is envisioned to drive Singapore's ambition of becoming a truly Smart Nation by attracting companies at the forefront of AI (Artificial Intelligence), Cybersecurity and IoT (the Internet of Things).
Bartley Vue Condo Price (PSF)
The sites at Jalan Bunga Rampai was launched for tender on 29 August 2019. It attracted nine bids, with Wee Hur Development placing the highest bid of $93.39 million or $885 psf ppr, which is slightly lower than the $900 to $950 psf ppr expected.
After taking into account construction cost and profit margin, the likely (estimated) launch price should be around $1,600 to $1650 psf. However, with competition from several 99-year leasehold properties nearby, there may be pressure on the developer to price the development more sensitivity. Some of these developments include the following:
Botanique At Bartley – Launched in 2015 at an average price of $1,280 psf. The average transacted price this year is $1,534 psf (January-April).
Bartley Ridge – Launched in 2013 at an average price of $1,276. The average transacted price this year is $1,398 psf (January-April).
Bartley Residences – Launched in 2012 at an average price of $1,240. The average transacted price this year is $1,329 psf (January-April).
Bartley View Condo - Review Conclusion
The site offers unblocked views of the nearby low-rise housing while its proximity to Upper Paya Lebar Road put it within walking distance of various eateries along the stretches of shophouses. It is also close to the new 10 hectare Bidadari Park which will provide residents with nature recreation and a plethora of interesting outdoor activities.
Besides being just 400m away from the Bartley MRT station, its close proximity to a number of commercial and industrial nodes in Paya Lebar, Tai Seng, Macpherson, Aljunied, Ubi and Eunos, as well as the transformation of Paya Lebar Airbase into a new business district, the investment potential looks promising.
However, as mentioned earlier, the transformation of the Paya Lebar Airbase will only take pace gradually from 2030 onwards. Hence, property investors would need to be patient.
Nevertheless, properties in the area have not done too badly in terms of capital appreciation, albeit unevenly. With reference to the price performances of Botanique At Bartley, Bartley Ridge and Bartley Residences since their launch (all being 99-year leasehold condos), the latter has underperformed (refer to charts below).
As can be seen, the average price of the Botanique At Bartley peaked about 6 years after its launch. To-date, it has appreciated by around 19.8%.
For Bartley Ridge, its average price also peaked about 6 years after launch. To-date, it has appreciated by around 9.6%.
However, for Bartley Residences, its average price only appreciated by 7.2% since the launch in 2012. Its price appreciation has also been much more gradual than the other two developments.
Despite the uneven price performances of the three properties mentioned, all of them have appreciated in value. Although they would provide a glimpse of Bartley Vue condo's likely investment potential, lets delve a little deeper.
In terms of size, the Botanique At Bartley, Bartley Ridge and Bartley Residences are quite substantial developments with 797, 868 and 702 units respectively. Whereas for Bartley Vue, there are only 115 units. This will accord it with more exclusivity and hence, the potential to command higher prices when owners decide to sell in the future due to the limited supply. One downside is the higher maintenance fees borne by owners in smaller developments.
Being a newer development with T.O.P. likely in 2026 also means the runway towards the mega redevelopment of Paya Lebar Airbase will be shorter, reaping the benefit when it gradually comes on stream. But due to the delay in the construction of projects amid the covid-19 pandemic, one needs to be congnizant of lease decay. Therefore, enacting an exit strategy to enjoy the first-mover advantage would be necessary and prudent.
Another concern about Bartley Vue condo is its site location. Being situated near the junction of Upper Paya Lebar Road and Bartley Road East, which are quite busy roads, traffic noise may be an issue to some. Hence, units facing these roads will likely be priced more sensitively although the developer will install double-glazed glass panes for better noise insulation.
If this is not too much of an issue, there are clearly investment potential following the transformation of the area within the last decade, such as the development of Paya Lebar Square and Paya Lebar Quarter, which turned it into a major commercial zone. Their developments are part of the URA masterplan to regenerate Paya Lebar into a bustling, pedestrian-friendly, new city precinct and a dynamic sub-regional business hub with a distinctive sense of place and cultural identity.
This is on top of the existing industrial estates in Tai Seng, Macpherson, Aljunied, Ubi and Eunos which are major centres of employment. Together with another mega transformation in the Changi Region, which is just a 15-minute drive away, the future of the area looks promising and will benefit a development like Bartley Vue.
In addition, being at the city fringe will provide a more affordable option for those who prefer living near the city, whether as owners or tenants. Hence, it is unsurprising to see properties in Bartley commanding relatively attractive rental yields of 3.0-3.2%.
For the latest update of the development, or to explore other property investment options, please Email or WhatsApp Us.
---
Besides Bartley Vue, you may also wish to check out the following property reviews. Additional project information can be found here.