The Tampines Regional Centre started was the first to be developed in Singapore in 1992. After three decades, it has become one of the most established and vibrant regional centres with a wide range of amenities catering to both residents and workers that are employed in the eastern region of Singapore.
These include nature parks and a number of shopping malls.
In fact, Tampines Central alone is home to four popular shopping malls which have turned it into a vibrant place for leisure, entertainment and recreation. Hence, unsurprisingly, the Tampines Regional Centre has become a sought-after place to live, work, study and play.
Other than shopping malls, there are also an abundance of essential amenities such as schools and tertiary institutions, leisure and lifestyle facilities, supermarkets, health centres and many more. The surrounding nature parks have also provided residents a green living environment.
This has resulted in strong demand for properties in Tampines, especially from those working in the Changi Business Park, Changi Airport and SUTD (Singapore University of Technology and Design).
With mega developments taking place in the Changi Region and Paya Lebar Airbase, plus those in Tampines North and Tampines South, the increased job opportunities in these areas is expected to underpin property prices. As can be seen in the chart below, even without these upcoming developments, condo prices in Tampines have risen significantly over the last 10 years.
Tampines Shopping Malls
As mentioned, there are four popular Tampines shopping malls that provide residents with different lifestyle experiences and everyday conveniences. These shopping malls have helped to create a retail ecosystem where shoppers can indulge in its diverse offerings. They are all within a short walking distance from the Tampines MRT station and bus interchange. These four shopping malls which are located in Tampines Central are:
Tampines Mall
Tampines 1
Century Square
Our Tampines Hub (OTH)
For those who think that such neigbourhood shopping malls are boring, think again! The area is full of buzz on both weekdays and weekend. This is because Tampines is also a commercial hub where many international banks have set up branches. These include OCBC, DBS, UOB, Citibank and Standard Chartered. No wonder it has been dubbed the CBD of the East. Beside banks, you will also find many major corporations operating there, such as AIA, NTUC Income and the CPF Board.
Tampines Mall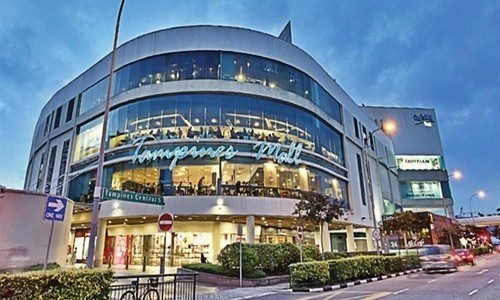 Tampines Mall first started operation in 1995 and consists of 314,669 square feet of retail floor space. Located only about 180m walk from Tampines MRT station, it provides a varied mix of shopping, dining and entertainment options to meet the needs of mostly middle-income consumers living and working around the bustling estate.
Besides fashion, beauty products, sportwear, home essentials, there is also a food court and NTUC Fairprice supermarket. Other than groceries and fresh produce, the supermarket also sells health & personal care, cosmetics & fragrances, homeware and appliances, baby essentials and many other products.
For those looking to fill up their tummy, the food court sells a wide variety of cuisines ranging from Chinese, Malay, Korean, Japanese, Vietnamese to Western. There are also several fast-food outlets such as McDonald's and Pizza Hut catering to people looking for a quit bite.
Tampines Mall is also family-friendly, where nursing room, complimentary loan of baby stroller and wheelchair are provided.
Tampines 1
Tampines 1 is a haven for fashionistas and foodies due to its dazzling array of renowned international fashion brands and trendy dining concepts. With 179 retail and dining outlets, shoppers can find a variety of carefully curated stable of lifestyle, beauty and fashion brands. These include Daniel Wellington, The Editor's Market, MUJI, Under Armour, VANS, Sephora, Watsons and household names such as Cold Storage and Daiso.
Just like Tampines Mall, it offers a myriad of dining offerings to tempt even the most discerning palates. There are many Asian and international delights to choose from. The mall also boasts of a wildlife-themed children playground on the roof-top which will provide families with young children many hours of fun.
Century Square
Another popular Tampines shopping mall is Century square. A 6-storey shopping mall which started operation in 1995, it underwent an expansion in 2005 and renovations in 2018. Now, the new Century Square showcases curated offers, new-to-market concepts, and many exciting brands to differentiate it from the other competing malls nearby.
Cladded in a modern new façade, it offers entertainment and F&B options for the discerning shoppers. Some to the popular food outlets include Haidilao Hotpot, Ichiban Baoshi, Nakhon Kitchen and many more. Shoppers to the mall will also get to enjoy a wide variety of family-friendly services and activity spaces such as large nursing rooms, family car park lots, roof deck with communal spaces, 24-hour gymnasium and the National Library Board's first-of-its-kind virtual library on Level 4.
Our Tampines Hub (OTH)
Our Tampines Hub (OTH) is Singapore's largest integrated community and lifestyle hub, bringing together multiple agencies and offering a comprehensive range of services and facilities. These include sports facilities, a regional library, community club, hawker centre, retail shops and facilities for various programmes such as swimming and art and craft.
Some of the sports facilities that can be found in Our Tampines Hub are:
A high-tech bowling centre
Futsal courts
In-line hockey court
Tennis courts
 A 1,800 seat Team Sports Hall can host matches for floorball, handball, volleyball, basketball and sepak takraw
For families with young children, there are various children areas such as the Kids' Play Zone & Chill Zone on Level 4. The Kids' Play Zone features a bouncy castle and a LED screen showcasing the latest animated movies. There are also comfortable seats for parents to rest and relax while watching their children play.
The Chill Zone is a popular hangout among students for studying, as well as those who wish to take a short break to enjoy some bonding time with friends. There are board games that can be borrowed from the Information Counter to play within these zones and they also have access to complimentary Wi-Fi.
Tampines Retail Park
Beside the shopping malls, the Tampines Retail Park is another popular shopping destination and is well known for its three megastores, namely IKEA Tampines, Giant Hypermarket and Courts Megastore. It is frequented not only for residents in Tampines, but also those living in neighbouring estates such as Pasir Ris, Bedok, Sengkang and Punggol.
There are 4 different shuttle bus services originating from Pasir Ris, Tampines, Bedok and Sengkang MRT stations that ferry shoppers to and from Tampines Retail Park. The shuttle services to Tampines and Bedok runs on a daily basis, while the Pasir Ris and Sengkang shuttle services only run on Weekends and Public Holidays.
Tampines Regional Centre - Promising Investment Prospect
Given the galore of amenities within the Tampines Regional Centre, it has become a self-sufficient housing estate. There is really no need for residents to travel all the way to town for their retail therapy despite being conveniently served by the excellent MRT network. Hence, it is no surprise that it is a popular place to live, work, play and study among many Singaporeans and expatriates.
And given its close proximity to new economic growth corridors in Paya Lebar Airbase and the Changi Region, it is well-placed to take advantage of Singapore's future developments. This is expected to further fuel demand for homes in the Tampines Regional Centre. Hence, it is unsurprising that new developments such as the Parc Central Residences and Pasir Ris 8 have met with strong demand as they offer astute property investors the first-mover advantage.
If you have missed out on these two new launches, you may wish to check out the upcoming Sky Eden @ Bedok and Sceneca Residence at Tanah Merah, and Tenet executive condo at Tampines North.  To receive the latest information, please feel free to WhatsApp or Email us.
Besides the Tampines Regional Centre, you may also be interested in the following property hotspots: Greater Southern Waterfront, Jurong Lake District, Novena, and Tampines North.
---
Other Resources