This is a review of Tenet EC, an executive condo located at Tampines Street 62 in Singapore's District 18. The 99-year leasehold development by TQS Development Pte Ltd, a joint venture between by Qingjian Realty, Santarli Realty and Heeton Holdings Pte Ltd, will offer 618 units of 3- to 5-bedrooms.
This property review of Tenet seeks to provide an unbiased evaluation of the following to help you make an informed decision on whether this is the right property to invest in:
To receive the latest updates or to book a showflat preview, please WhatsApp Me. To learn more about Tenet EC, please click on the links in the Table of Key Information below.
Tenet EC Unique Selling Points
An extension of the vibrant Tampines Regional Centre
A green, sustainable, car-lite and self-sufficient housing estate
4 minutes' walk to the upcoming Tampines North integrated transport hub (MRT + Bus Interchange)
A short drive to the Tampines Retail Park and Tampines Central
Convenient access to a plethora of shopping malls
Close to several nature parks
Near good schools and Unite World College of Southeast Asia (East Campus), an international school
Proximity to major employment hubs offers promising investment potential
Where is Tenet EC Located?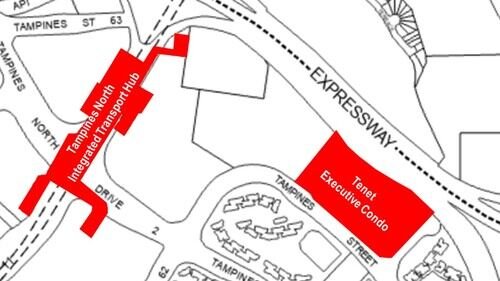 Tenet executive EC will be located at Tampines Street 62, next to the Tampines Expressway (TPE), and near the future Tampines North integrated transport hub (ITH).
Close to it are several HDB BTO developments, namely Tampines GreenDew, Tampines GreenFoliage, Tampines GreenVines, and Tampines GreenCourt.
It is also near the Tampines Retail Park, which is about 5 minutes' drive away. The Tampines Retail Park is well-known for its three megastores – Ikea, Giant Hypermart, and Courts Megastore.
And about 4 minutes' drive away is Tampines Central, where several shopping malls such as Tampines Mall, Tampines One, Century Square and Our Tampines Hub are located. In the future after Phase 1 of the Cross Island Line (CRL) is completed in 2029, it will be just two MRT stations away.
What are Tenet Executive Condo Prices?
The following are the indicative prices for Tenet executive condo, starting from:
3-Bedroom Deluxe + Study (893sf) - From $1.098 million or $1,230 psf
3-Bedroom Premium + Study (980sf) - From $1.268 million of $1,294 psf
4-Bedroom Deluxe (1,098sf) - From $1.438 million or $1,310 psf
5-Bedroom Premium + Study (1,561sf) - From $2.078 million or $1,331 psf
During its sales on 3 December 2022, 447 out of a total of 618 units, or 72%, were sold at an average price of about $1,360 per sq ft (psf).
This attests to the strong underlying demand despite rising mortgage rates and an uncertain economic outlook.
The joint venture of Qingjian Realty and Santarli Construction clinched the 23,799.2 sq m (256,172 sq ft) site with a plot ratio of 2.5 by submitting a top bid of $422 million. They beat eight other contenders in a hotly contested government land tender.
This works out to a land rate of $659 per sq ft per plot ratio (psf ppr), a record for an executive condo site.
Please WhatsApp me for the latest updates and pricing.
Who is the Developer of Tenet EC?
The developer for Tenet EC is TQS Development Pte Ltd, a joint venture between by Qingjian Realty, Santarli Realty and Heeton Holdings Pte Ltd.
Qingjian Realty - The Southeast Asian regional headquarters for Qingjian Group's real estate development arm. Its primary focus is on residential, commercial, and industrial developments.
Its commitment to building quality homes in Singapore is widely recognised, as can be seen from it being awarded the BCI Asia Top Ten Award (2013, 2015 to 2018), Southeast Asia Property Awards and FIABCI Singapore Property Awards.
Qingjian Realty has also been recognised for its BCA Green Mark building Awards for its sustainability efforts.  Some of its residential developments in Singapore include Jadescape, Forrett At Bukit Timah, Le Quest, and iNz Residence.
Santarli Construction - Established in 1983, it has evolved from a bricks and mortar general contractor to a world-class builder that undertakes complex engineering works in both the private and public sectors. It was an early adoptor of precast technology in many projects, including the largest civil and infrastructure land reclamation project in 2015, with a value exceeding S$1 billion.
Tenet EC Unit Mix
Tenet EC offers a good mix of units, ranging from 3- to 5-bedrooms to meet different family sizes and tastes, which will include penthouse units.
The 3-bedroom units make up the majority (58.73%), making them affordable to more HDB upgraders. This is followed by the 4-bedrooms (33.98%) and 5-bedrooms (7.28%), which will cater for bigger or multi-generational families.
Please click on the link to see the floor plans and the comparison between different units.
Tenet Unit Type
Area (sq ft)
No. of
Share
Value
No. of Units
Estimated
Maintenance Fee
($53 Per Share Value Excl. GST)
PES Units
Typical Units
PH Units
(incl. Void)
C1a(p)
C1a
C1a(PH)
3 Bedroom Deluxe + Study
947
893
1033
6
140
$318
C2a(p)
C2a
C2a(PH)
3 Bedroom Deluxe + Study
980
926
1098
6
$318
C1b(p)
C1b
C1b(PH)
3 Bedroom Premium + Study
947
947
1076
6
223
$318
C2b(p)
C2b
C2b(PH)
3 Bedroom Premium + Study
980
980
1152
6
$318
C3(p)
C3
C3(PH)
3 Bedroom Premium + Study
958
958
1076
6
$318
D1(p)
D1
D1(PH)
4 Bedroom Deluxe
1098
1098
1270
7
150
$371
D2(p)
D2
D2(PH)
4 Bedroom Deluxe
1109
1109
1259
7
$371
D3(p)
D3
D3(PH)
4 Bedroom Premium + Study
1367
1367
1518
7
60
$371
E1a(p)
E1a
E1a(PH)
5 Bedroom Premium + Study
1561
1561
1711
7
45
$371
E1b(p)
E1b
E1b(PH)
5 Bedroom Premium + Study
1572
1572
1722
7
$371
Smart And Inspired Living Features
Smart Gateway - Central control for smart living
Virtual Doorman - Unlock doors remotely
Pre-Arrival Cooling - Cool you home in advance before arriving
24/7 Facility Booking - Select and book your desired facilities whenever, wherever
App Payment - Pay your maintenance fees via app
Hassle-free Home Help - Choose from a curated list of home services such as house cleaning, plumbing, air-con servicing, etc at your finger tips
Unlimited Privileges - Enjoy exclusive deals and promotions
Keep Fit, Stay Active - Participate in zumba, yoga, pilate or dance classes to keep fit and healthy
Learn New Skills - Learn to swim, play tennis from certified and experienced coaches and instructors
Tenet EC Property Fact Sheet
| | |
| --- | --- |
| Subject | Description |
| Project Name | Tenet |
| Development | 11 blocks of 15-storey executive condominium development |
| Address | 650 Tampines Street 62 |
| District | 18 |
| Site Area | 23,799.2 sq m / 256,172.5 sq ft |
| Plot Ratio | 2.5 |
| T.O.P. | 1Q 2026 (estimated) |
| Expected Date of Vacant Possession | 2027 (estimated) |
| Tenure of Land | 99-year leasehold from 1 November 2021 |
| No. of Blocks | 11 |
| No. of Storeys | 15 |
| No. of Units | 618 |
| Developer | TQS Development Pte Ltd (A joint venure between Qingjian Realty (South Pacific) Pte Ltd, Santarli Realty Pte Ltd & Heeton Holdings Pte Ltd |
| Carpark Lots | 618 carpark lots (inclusive of 6 elecric charging lots), 5 accessible lots, and 104 bicycle lots |
| Project Architect | ADDP Architects LLP |
| Landscape Consultant | Ecoplan Asia Pte Ltd |
| Interior Designer | East 9 Architects & Planner Pte Ltd |
| Main Contractor | Santaril - Grandtech JV |
| C&S Engineer | P&T Consultants Pte Ltd |
| M&E Engineer | United Project Consultants Pte Ltd |
| Payment Scheme | Normal Payment Scheme/ Deferred Payment Scheme |
| Project Account | UOB Ltd for Project Account No. 451-313-106-7 of TQS Development Pte Ltd |
Shopping Malls Near Tenet Executive Condo
As Tenet executive condo (EC) will be just 4 minutes' walk to the future Tampines North integrated transport hub (ITH), residents will have convenient access to a plethora of amenities.
ITHs are fully air-conditioned bus interchanges that are linked to MRT stations and adjoining commercial developments such as shopping malls.
Residents will also have easy access to many other shopping malls in the surrounding areas. These include the following:
Tampines Retail Park - It is the home to three megastores, namely Giant Hypermarket, IKEA Tampines and Courts Megastore. Together, they offer a wide range of essential daily necessities such as groceries, snacks, and food, as well as furniture and household appliances. They are merely 2 minutes' drive from Tenet EC.
Tampines Central – A bustling housing estate with several popular shopping malls and just 5 minutes' drive or 2 MRT stations (when completed) from Tenet EC. The shopping malls are Tampines Mall, Tampines One, Century Square and Our Tampines Hub.
Pasir Ris – Just one stop from the future Tampines North MRT station are the White Sands shopping mall and the upcoming Pasir Ris 8 integrated development. Both are located just beside the Pasir Ris MRT station.
Simei – Three stops from the future Tampines North MRT station, the Eastpoint Mall is located next to the Simei MRT station.
Tenet EC Excellent Transport Connectivity
Residents of tenet EC will have to bear with some inconveniences initially as the Tampines integrated transport hub, which include the Tampines North MRT station on the Cross Island Line (Phase 1), will only be completed in 2029.
In the meantime, they will be served by a temporary bus interchange nearby at Tampines North Drive 2 located about 5 minutes' walk away.
Phase 1 of the Cross Island Line (CRL) will comprise 12 stations stretching from Changi Aviation Park to Bright Hill. It will help to provide seamless inter-modal transfers and enhance accessibility to many parts of Singapore and major economic hubs. These include Changi Airport, Punggol Digital District, and the Paya Lebar Airbase that will be relocated from 2030 to create a major township five times the size of Toa Payoh.
All of them can be reached within six stops from the Tampines North MRT station.
The entire Cross Island Line (CRL) is expected to be completed from 2035. When fully operational, it will straddle the entire width of Singapore from Changi to Tuas.
Major Expressways Near Tenet Executive Condo
Tenet EC is well-served by several major expressways, with the Tampines Expressway (TPE) just next to it. The other are the Pan Island Expressway (PIE) and Kallang-Paya Lebar Expressway (KPE).
Together, they provide faster and more pleasant journeys. For example, the Punggol Digital District, Paya Lebar Airbase, and Changi Airport, which will be major employment hubs, are only a 12-19 minutes' drive away.
Proximity to Nature Parks Adds to Tenet EC's Appeal
A substantial amount of land will be set aside for parks in Tampines North, envisioned as the "green shoot" and an extension of the Tampines housing estate. Two new parks have been planned, adding to the abundance of nature parks already present.
Quarry Park – It will feature a quarry pond, inspired by Tampines' history as a sand quarry site.
Boulevard Park - It will feature streets lined with seasonal flowering trees running through the estate, providing residents with a seamless connection from Sun Plaza Park to Sungei Api Api.
Community spaces and facilities such as childcare centres will be located along the park. In addition, children can explore and develop their sense of discovery at the Nature Playground, while those wanting to keep fit can use the fitness equipment in a park setting and ambience.
Apart from these two major parks, there will also be smaller ones scattered across the estate. They will be linked to one another by a network of pedestrian and cycling paths, as well as park connectors, that will weave through the entire housing districts.
This is part of the plan to develop Tampines North into a car-lite housing estate.
Other Nature Parks Nearby
Meanwhile, there are already several nature parks in Tampines and there are plans to build park connectors and cycling paths to link them together. These include the following:
Tampines Central Park – Located at Tampines Central, it is a a green lung with many children playground where families can bring their young children to enjoy the outdoors. Notable for its two iconic playgrounds – the Watermelon and the Mangosteen playgrounds – they are inspired by the fruit farms that were once found in Tampines.
Tampines Eco Green – Located about 500m from Tenet EC, it is an eco-friendly park that offers a sanctuary rich in flora and fauna. Comprising several natural habitats such as open grasslands, freshwater wetlands and a secondary rainforest, it is very popular with nature lovers and birdwatchers.
Sun Plaza Park – Located next to the Tampines bus interchange, it is a popular place for residents due to its unique features such as textured walls, talking tubes, chimes, and organic texture walk. The park is also a very popular place for social and cultural interactions and regularly holds outdoor concerts, exhibitions and band performances at its amphitheatre.
Tampines Quarry Park – Located along Tampines Avenue 10, it is an old disused sand quarry that has been transformed into a lake over the years from the collection of rain water. Many visit the park for radio control (RC) boat racing, fishing, jogging or just enjoy its tranquil natural surroundings.
Bedok Reservoir Park – Located about 8 minutes' drive from Tenet EC, the 99ha park was once a quarry. With its 4.3km track, it is very popular destination for fitness enthusiasts. It calm waters also offers a variety of water sports like dragon-boat racing, kayaking, wakeboarding and fishing.
Popular Schools Near Tenet Executive Condo
Living near popular schools has always been one of the main considerations when buying a property. Hence, it is no surprise that a property near popular schools could command a premium as high as 20%.
In this regard, Tenet executive condo is located within a 2km radius of several popular schools. These include:
Poi Ching School
St Hilda's Primary School
Gongshang Primary School
As such, children registering for Primary 1 admission will be accorded priority.
There is also a number of secondary schools near Tenet executive condo. Some of them are:
Anglican High School
Hai Sing Catholic School
Holy Innocent's High School
When it comes to post-secondary and tertiary education, the Tampines-Meridien Junior College, Temasek Polytechnic, Singapore University of Technology & Design, and Singapore Institute of Technology are just 6-13 minutes' drive away.
International Schools
The United World College of South-East Asia (East Campus) is just 4 minutes' drive from Tenet EC.
Due to its proximity, it could potentially attract a good catchment of expatriate tenants with school-going children. For those looking for investment, this will be an added appeal.
However, do note that executive condos will need to complete their 5-year Minimum Occupancy Period before they can be rented out or sold.
Major Employment Hubs to Boost Tenet EC's Investment Potential
Tenet EC will enjoy convenient access to several major employment hubs in the East due to its excellent public transport network. Being a short walk to the upcoming Tampines North integrated transport hub, many of them are just a short train ride away. These include the following:
Tampines Regional Centre – It is not just home to several big shopping malls, it is also a vibrant commercial centre where many international banks have set up operations. These include OCBC, DBS, UOB, Citibank and Standard Chartered. Beside banks, there are also many major corporations that have set up their business there. These include AIA, NTUC Income and the CPF Board. No wonder it has been dubbed the CBD of the East.
Changi Region – The Changi region masterplan will capitalise on its strategic location near Changi Airport to create a vibrant and thriving economic hub. It will include key districts such the Changi Business Park, Changi City, Changi East Urban District and Changi Aviation Park. Together, they will support the development of freight transportation, aircraft servicing, aviation research & development, and other related industries.
Punggol Digital District – Designated as a Strategic National Project for Smart Nation, it will drive the adoption of digital and smart urban solutions throughout Singapore. A vibrant, mixed-use business district housing key growth industries of Singapore's digital economy, it will be integrated with the new Singapore Institute of Technology.
Paya Lebar Airbase – Five times the size of Toa Payoh Town and to be relocated from 2030 onwards, it will be redeveloped into a highly liveable and sustainable new town with amenities, multi-functional community space, parks and play areas for future residents.
Other than the above, Tenet executive condo is also located close to advanced wafer fabrication parks in Pasir Ris and Tampines, as well as data centres in Loyang.
Review Conclusion
With the Parc Central Residences EC in Tampines Avenue 10 fully sold since its launch in January 2021, this attests to the attractiveness of Tampines as a place to live, study, work, and play.
Moreover, Tenet EC has the added benefit of being just 4 minutes' walk to the Tampines North integrated transport hub (bus interchange + MRT station), which adds to its attractiveness.
In addition, Pasir Ris 8 located next to the Pasir Ris MRT station was almost fully sold when it was launched in July 2021. Do note that Pasir Ris 8 is an integrated development and not an executive condo.
Nevertheless, this only shows the investment potential of properties in the East Region, regardless of whether they are ECs or private condos. As mentioned earlier, with the development of major employment hubs, the demand for housing will increase. In turn, this will help to drive up property prices.
And since many of these mega developments have yet to be completed or are in the planning stages, this will offer investors of Tenet EC the first-mover advantage.
Tenet EC - An Investment Perspective
Lastly, let's examine how three executive condos in Tampines have performed since their launch - Arc @ Tampines, Tampines Trilliant, and CityLife @ Tampines. They were launched in September 2011, February 2012, and December 2012 respectively.
As can be seen from the above chart, their average prices have risen significantly since their launch:
Arc @ Tampines EC: +45.5%
Tampines Trilliant EC: +67.1%
CityLife @ Tampines EC: +50.9%
Meanwhile, let's compare their distances to the nearest MRT station. The Arc @ Tampines is 18 minutes' while both the Tampines Trilliant and CityLife @ Tampines are 10 minutes' walk away, respectively.
Compared to Tenet EC, it will only be about 4 minutes' walk to the upcoming Tampines North MRT station. Moreover, it will be an integrated transport hub that will be linked to commercial developments like shopping malls. Hence, this will surely add to its appeal.
Lastly, whether ECs make good investment properties compared to private condos, check out this case study.
Please WhatsApp or Email✉️ us for pricing, latest project updates, or to book a showflat preview. To learn about the rules governing executive condos, check out our EC FAQ.
---
You may also be interested in the following review of new launches:
To check details of new launches, please refer to project information.