This is a review of Sceneca Residence, a 99-year leasehold mixed-use development in Singapore's District 16. The condominium will comprise 268 residential units of 1- to 4-bedroom types along with 2,000 sq m (21,530 sq ft) Sceneca Square retail mall on the ground floor.
Located at Tanah Merah Kechil Link and next to the Tanah Merah MRT station on the East-West Line, the development has a site area of 8,880 sqm (95,583 sqft) and plot ratio of 2.8, equating to a gross floor area (GFA) of 267,644 sqft . It will be jointly developed by MCC Land (Singapore), The Place Holdings, and Ekovest Development (S).
This property review of Sceneca Residence seeks to provide an unbiased evaluation of the following to help you make an informed decision on whether this is the right property to invest in:
Nevertheless, please feel free to WhatsApp or Email Me if you wish to:
Receive the latest updates about the development.
Visit the showflat to learn more about the development.
Gain a deeper insight into its investment potential and get an update on Singapore's property market.
To learn more about Sceneca Residence, please click on the links in the Table of Contents below.
Sceneca Residence Unique Selling Points
Nestled within a private residential enclave
Excellent transport connectivity with direct links to Changi Airport and Singapore's financial district
Near popular shopping destinations and interesting food places
Enjoys close proximity to good schools and tertiary institutions
A short drive to Bedok Reservoir Park and East Coast Park
Near major employment hubs such as Expo, Changi Business Park and Changi Airport, as well as the Tampines Regional Centre and Paya Lebar Sub-Regional Centre, providing a good catchment of tenants
Sceneca Residence Condo Fact Sheet
Title
Description
Name of Development
Sceneca Residence
Development Type
Proposed residential flats development comprising 2 blocks of 14/15-storey apartments (total 268 units) with carpark and communal facilities and commercial at 1st storey with basement on Lot 11220N MK27 at Tanah Merah Kechil Link
Developer
 MCC Land (TMK) Pte Ltd
Developer's Licence No.
C1432
Status
No restrictions on foreigner purchase
Location
Tanah Merah Kechil Link
District
16
Site Area
8,880 sqm (95,583 sqft)
Plot Ratio
3.0
Gross flor Area (Residential)
24,693.12 sqm (265,794.53 sqft)
Proposed Gross Floor Area ( Retail)
Approx. 2,000 sqm (21,527.82 sq ft) -  1,000 sqm (10763.9 sqft)  supermarket + 1,000 sqm (10763.9 sqft) retail & F&B
No. of Units
268 residential units (1- to 4-Bedrooms & Penthouses)
No. of Storeys
14 & 15 storeys (2 Towers)
Tenure
99-year leasehold w.e.f. November 2020
Expected Vacant Possession Date
31 May 2027
No. of Carpark Lots
Residential: 214 carpark lots (4 Readiness provision for EV Charging Stations) + 3 accessible lots

Commercial: 14 carpark lots (2 Readiness provision for EV Charging Stations) + 1 accessible lot + 2 motorcycle Lots

No. of Bicycle Lots
68 Bicycle Lots (Residential); 164 Bicycle Lots (Commercial)
 
Consultants
Architect
ADDP Architects LLP
Landscape Consultant
Ecoplan Asia Pte. Ltd
Main Contractor
China Jingye Construction Engineering (S) Pte Ltd
Structural
KCL Consultants Pte Ltd
M & E
Meinhardt (Singapore) Pte Ltd
Land Surveyor
How Huai Hoon Surveyors
 
Project Account

Account No.
650090012055755
Payee's Name
Bank of China Singapore Branch for Project A/C 650090012055755 of MCC Land (TMK) Pte Ltd
 
Solicitor Details

Solicitor:
LEE & LEE Advocates & Solicitors
Address:
25 North Bridge Road, Level 7, Singapore 179104
Who is the Developer of Sceneca Residence?
The developer for Sceneca Residence is MCC Land (Singapore), a wholly owned subsidiary of China Metallurgical Group Corporation (MCC Group). It represents the Group's regional business activities in Singapore, with a focus on urban planning, property development, project planning and management, as well as undertaking major engineering and construction work.
Through the years, it has received many industry accolades such as Green and Gracious Builders Award, Construction Productivity Gold Award, Green Mark Platinum and GoldPlus Awards, among others.
In Singapore, its portfolio of residential developments includes One Bernam, The Poiz Residences, The Landmark, Provence Residences and One Canberra.
What are the Prices for Sceneca Residence?
During the launch on 14 January 2023, Sceneca Residence sold 60% of its 268 units at an average price of $2,072 psf. All the 1- and 2-bedders were snapped up, with prices starting from $958,000 ($2,069 psf) and $1.33 million ($1,962 psf) respectively.
The project's largest unit, a 2,756 sq ft 4-bedroom penthouse, was among the units sold. Singaporeans make up about 88.5% of total buyers, with permanent residents and foreigners accounting for the remaining 11.5%.
At the government land tender that closed on 29 Oct 2020, MCC Land clinched the 99-year leasehold site with a top bid of $248.99 million for the 8,880 sqm (95,583 sqft) site. This translates to a land price of $930 psf per plot ratio.
To receive the latest pricing, please Email or WhatsApp Me.
Where is Sceneca Residence Condo Located?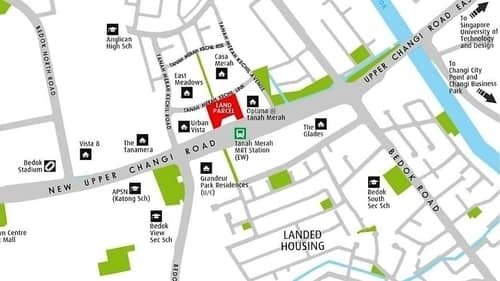 Sceneca Residence Condo is situated between New Upper Changi Road and Tanah Merah Kechil Link, and next to the Tanah Merah MRT station on the East-West Line.
Its commercial podium on the ground floor will have direct access to the MRT station through an underground linkway, providing residents sheltered passage to public transportation.
One stop on either side of the Tanah Merah MRT station is the Bedok Mall and Expo. Therefore, residents will enjoy a plethora of shopping, dining, leisure, and entertainment options.
Sceneca Residence Unit Mix
Sceneca Residence is designed by award-winning ADDP Architects. It will have a terracotta façade with modern steel details, which is poised to become an iconic landmark in Tanah Merah, as well as a communal focal point in the precinct.
Residential units start from the third storey, above the retail mall and street level. The single-storey Sceneca Square will feature a curated mix of cafes, restaurants, shops and a 10,000 sq ft new-to-market supermarket. Fronting the mall is an event plaza which can host pop-up stalls, bazaars and events.
A good mix of unit types will be on offer, ranging from 1-bedroom to 4-bedroom and penthouse units. This will appeal to a wide range of buyers. As can be seen, the 3-bedroom types make up the majority, which will cater to families living in Bedok and the surrounding areas looking to upgrade from their HDB flats.
The breakedown of the different unit types is as follows:
1-Bedroom - 18%
2-Bedroom - 26%
3-Bedroom - 45%
4-Bedroom - 9%
Penthouse - 2%
All units come with a dumbbell layout to maximise space use. Below is a short summary of features for the different unit types:
1-Bedroom Types – 1 Bathroom
2-Bedroom Types – 2 Bathrooms
3-Bedroom Types – 2 Bathrooms, Home Shelter (for Type C2, C3 & C4 only)
4-Bedroom Luxury Types – 3 Bathrooms, Junior Master Bedroom, Home Shelter
4-Bedroom Penthouse Types – 4 Bathrooms (Type PH1), 3 Bathrooms (Type PH2), Junior Master Bedroom, Walk-in Wardrobe, Wet/Dry Kitchen, Home Shelter, Entertainment Room (Type PH2), Powder Room (Type PH2)
For more details, please refer to Sceneca Residence floor plans.
Bedroom
Unit Type
No. of Units
% By Units
Sq m
Sq ft
Share Value
Est. Monthly
Maintenance Fund (Excl. GST)
1-Bedroom:
Type A1/A1-E/A1-G/A1a-E/A1a/A1a-G
25
9%
43/53
463/570
217
2,400/2,756
1-Bedroom + Study:
Type A2S/A2S-G
23
9%
50
538
217
2-Bedroom:
Type B1/B1-E/B1-P/B1a/B1a-E/B1a-P
25
9%
63/74
678/797
260
$356 - 375
2-Bedroom + Study:
Type B2S/B2-E/ B2-P/ B2Sa/B2Sa-E/ B2Sa-P
25
9%
70/80
753/861
260
Type B3S/B3S-E/ B3S-P
22
8%
70/80
764/883
260
3-Bedroom Classic:
Type C1/C1-E/C1-P/C1a/C1a-E/C1a-P
37
14%
84/98
904/1,055
260
$356 - $375
3-Bedroom Deluxe:
Type C2/C2-P
23
9%
97
1,044
260
3-Bedroom Grande:
Type C3/C3-E/C3-P
25
9%
104/120
1,119/1,292
303
$415 - $436
3-Bedroom Premium:
Type C4/C4-P/C4a/ C4a-E/C4a-P
36
13%
108/127
1,163/1,367
303
4-Bedroom Luxury:
Type D1/D1-P
23
9%
141
1,518
303
$415 - $436
Penthouse:
Type PH1/PH2
4
2%
223/256
2,400/2,756
347/390
PH1: $475 - $499
PH2: $534 - $560
Total:
268
100%
Sceneca Residence Interior
All residential units will be equipped with bathroom fixtures from Swiss brand Geberit and Italian brand Newform, as well as Swiss brand Franke kitchen sinks and Italian brand Smeg kitchen appliances.
In addition, they will come with a multi-access Häfele digital lockset and smart home system by Fermax.
Excellent Public Transport Network
One MRT station towards the west of Sceneca Residence condo is the Bedok Mall, which is linked to the Bedok integrated transport hub (ITH) on the East-West Line. ITHs are fully air-conditioned bus interchanges that are seamlessly linked to MRT stations and adjoining commercial developments.
There is a total of 11 ITHs in Singapore, with Woodlands being the latest addition.
Four stops from Sceneca Residence in the same direction is the Paya Lebar MRT station, an interchange for the East-West and Circle Lines. In recent years, Paya Lebar has been transformed into a vibrant commercial centre with office, retail, and hotel developments.
Further westward on the East-West Line, commuters will head straight into the city centre and Singapore's financial district, which is the world's fourth largest.
On the opposite direction towards the east of Sceneca Residence condo and one train stop away is the Expo station. The Expo station is an interchange with the Downtown Line and it helps to provide convenient access to many places in Singapore.
Currently, the Tanah Merah station branches to Changi Airport. However, the existing Changi Airport Branch of the East-West Line (Tanah Merah-Expo-Changi Airport) will be converted to become part of the Thomson-East Coast Line by 2040. When completed, this will provide seamless connectivity to the northern part of Singapore and the Marina Bay area.
The Tanah Merah station also brings commuters directly to Simei, Tampines and Pasir Ris. Besides being major housing estates in Singapore, they are also important employment hubs.
For car owners, the Pan Island Expressway (PIE) and East Coast Parkway (ECP) are only a short drive away.
Popular Shopping and Dining Destinations
Sceneca Residence condo is blessed with a wide range of shopping, leisure, and dining choices. Being a mixed-use development with commercial outlets on the first floor, residents will enjoy convenient access to a variety of retail and F&B offerings at their doorsteps.
But beyond that, there are plenty of other retail options nearby. These include the Bedok Mall, Singapore Expo, Changi City Point, Jewel Changi Airport, East Point, and Tampines Mall, just to name a few. All of them can be easily reached via a short train ride.
More shopping malls such as PLQ Mall, Katong Shopping Centre, and Parkway Parade can be found at Paya Lebar, Katong and Marine Parade respectively.
Together, they provide residents in the surrounding housing estates a vibrant retail eco-system, saving them the trouble of travelling all the way down to the city for their retail therapy.
Interesting Food Places Near Sceneca Residence
Besides the many food choices offered in shopping malls, many other interesting food places can be found around Sceneca Residence condo. Some of these include the Bedok Interchange Food Centre, Bedok South Market and Food Centre, Simpang Bedok, and Fengshan Market & Food Centre. Together they offer residents a plethora of local favourites and more.
Foodie havens can also be found at Siglap Village, Katong and Joo Chiat where an intriguing mix of hipster cafes, bars and traditional eateries operate alongside each other. As some of these eateries open till late at night, they are favourite haunts for those looking for a supper fix.
Favourite Leisure Destinations Near Sceneca Residence
Two popular leisure destinations near Sceneca Residence are Bedok Reservoir Park and East Coast Park. They are a mere 5-6 minutes' drive away.
Bedok Reservoir Park
Bedok Reservoir Park is a very popular destination for people of all ages. It was a former quarry that has been converted into an 88-hectare reservoir. It is just 7 minutes' drive from Sceneca Residence condo.
People from all over Singapore often visit the park for various activities such as fishing, birdwatching, and water sports.
With a tranquil 4.3km track and fitness corners surrounding the reservoir, it is a magnet for joggers, leisure strollers, and fitness enthusiasts. For families with young children, there are play areas that will provide them with countless hours of fun activities.
Alternatively, visitors can just laze around to enjoy the great scenery, especially during sunrise and sunset. They can also explore the park's diverse mix of flora and fauna or go birdwatching where little herons and kingfishers diving for their meals can regularly be spotted.
For water sports and outdoor adventure seekers, they can head to the PA Water-Venture and Forest Adventure that operate within Bedok Reservoir Park.
PA Water-Venture: Operated by the People's Association, it offers various water sports courses such as dragon-boating, kayaking, and wakeboarding. They also provide equipment for rental.
Forest Adventure: It offers obstacle courses and unforgettable outdoor adventure for children of all ages. These include wobbly bridges, trapezes and tarzan swings. However, the highlight is the Big Zip where adventurers glide 300m over the Bedok Reservoir.
East Coast Park
East Coast Park is one of Singapore's most beloved urban retreats that offers a wide range of recreational, sporting, and dining options. It is just 8 minutes' drive from Sceneca Residence condo.
It is also a popular place for picnics and camping by the seaside. Families looking for fun activities can head to the park's play towers, water play area, nature play-gardens, and swings. For sporting activities, they have a choice of beach volleyball, cycling, cable skiing, and various water sports. Those looking for an adrenaline rush can try the Xtreme SkatePark.
Feeling hungry? Fret not! There are many food places to choose from, which include the popular East Coast Lagoon Food Village and East Coast Seafood Centre.
Schools Near Sceneca Residence
For families with toddlers or school-going children, many childcare centres, kindergarten, primary and secondary schools, as well as post-secondary institutions are located near Sceneca Residence.
Buying a property near schools has always been an important consideration for homebuyers and property investors. This is because a shorter commute will translate to more resting and quality time for everyone in the family.
For primary schools, there are quite a number of them within a 2km radius. They include the following:
Within 1km of Sceneca Residence
Bedok Green Primary and Secondary
St. Anthony's Canossian Primary School
Temasek Primary School
Between 1-2km of Sceneca Residence
Changkat Secondary School
Fengshan Primary School
Red Swastika School
Yu Neng Primary School
Secondary Schools
Some of the nearby secondary school are:
Bedok South Secondary School
Bedok Green Secondary School
Bedok View Secondary
Changkat Changi Secondary
Anglican High School
St. Anthony's Canossian Secondary School
Temasek Secondary School
Post-Secondary And Tertiary Education Institutions
Temasek Junior Colleg
Singapore University of Technology and Design (SUTD)
Both of them are just 4-5 minutes' drive from Sceneca Residence.
International Schools
For those buying for property investment, Sceneca Residence could potentially attract a pool of expatriate tenants with school-going children as there are three international schools located within a 12 to 17 minutes' drive of the development.
They are:
United World College South East Asia (East Campus) at Tampines
Nexus International School at Aljunied
Stamford American International School at Woodleigh.
Changi Region Masterplan
In the future, residents of Sceneca Residence condo are expected to benefit from the Changi Region Master Plan. Under the URA's Master Plan 2019, the Changi Region will be transformed into a thriving economic hub with the development of the Changi Terminal 5, Changi East Industrial Zone, Changi East Urban District, and Changi Aviation Park.
The Changi Terminal 5, which is the size of Terminal 1,2 and 3 combined, was originally scheduled to be completed by 2030. However, it has been delayed by to the covid-19 pandemic and is now expected to be completed by mid-2030.
These major hubs in the Changi Region are envisaged to boost Singapore's aviation and freight transportation industries. At the same time, they will create an innovative ecosystem with a live-in community involved in R&D to support them.
Given these exciting developments, it is little wonder why the site for Sceneca Residence witnessed such intense bidding by 15 real estate developers when it was put up for tender.
Major Employment Hubs Near Sceneca Residence
Besides the Changi Region, Sceneca Residence is also near major employment hubs in the Eastern part of Singapore. They include the Tampines Regional Centre, Pasir Ris Wafer Fabrication Park, and Loyang Data Centre.
As these places can easily be reached by MRT and buses, they could potentially provide a good catchment of tenants.
Conclusion - An Investment Perspective of Sceneca Residence
Since MCC Land clinched the Sceneca Residence condo site in October 2020 by paying $248.99 million for the 95,583 sq ft land parcel, translating to a land rate of $930 psf ppr, land prices have risen further.
In July 2021, another mixed-use site at Lentor Central linked to the Lentor MRT station was sold to GuocoLand at a land rate $1,204 psf ppr. And in January this year, an adjacent condo plot was awarded to a consortium made up of Hong Leong Holdings, GuocoLand and TID at $1,060 psf ppr.
In the latest land tender for the Dairy Farm Walk condo site, which is about 8 minutes' walk to the Hillview MRT station, Sim Lian emerged the winner with a bid of $347 million, which works out to $980 psf ppr.
Hence, Sceneca Residence condo's lower land rate will offer a relatively attractive option, especially with it being right beside the Tanah Merah MRT station. It also has a more favourable location due to its close proximity to major employment hubs such as the Paya Lebar sub-regional hub, Tampines Regional Centre, and Changi Airport.
In addition, it is located in an established residential area that has a lack of vacant land near the Tanah Merah MRT station for future development.
Hence, it was no surprise that two residential developments close to it – the 297-unit Optima @ Tanah Merah launched in August 2009, and 720-unit Grandeur Park Residences launched in March 2017, had witnessed very strong demand.
In terms of capital appreciation, both have done well since their launches, achieving an average price growth of 49.0% and 18.3% respectively (refer to chart below). This attests to the desirability of the area and their investment potential.
Currently, the Optima @ Tanah Merah and Grandeur Park Residences are transacting at an average price around $1,250 psf and $1,630 psf respectively.
But with Sceneca Residence condo likely to be launched at $1,8xx psf or higher, it will certainly face some competition. This will likely fuel the perennial debate about buying a resale over a new launch.
But from many past case studies, new launches tend to offer a higher rate of capital appreciation, especially during the early years, as illustrated in the chart above. This is despite their higher prices vis-a-vis older properties nearby at the point of launch. There are several reasons for this:
Most property buyers prefer newer properties, naturally
New properties have lower lease decay concerns
New properties can command higher rentals
Renovating old properties can be a costly, time-consuming and arduous affair
Older properties suffer from more wear and tear, leading to higher cost of maintenance
Referring to the above chart again, it can be seen that Optima @ Tanah Merah posted the most significant average price gain (+69.9%) during its initial year from September 2009 to January 2013.
But from January 2013 to October 2021, its average price has declined by 12.3%. In other words, those who bought the property later or when it becomes older, they are likely to enjoy limited capital appreciation, if any at all.
As for the Grandeur Park Residences, which is only about 5 years old, there aren't any data to evaluate its long-term performance. But like Optima @ Tanah Merah, it has performed relatively well in the initial years since launch (+18.3%). Although this pales in comparison to the former, it can largely be attributed to the series of property cooling measures since 2009 that seek to keep the rise of property prices in line with economic fundamentals and prevent property bubbles from forming.
Hence, those looking for a higher rate of capital appreciation and flip the property in 10-15 years' time, a new launch like Sceneca Residence condo could offer that opportunity.
However, those who just want a house to stay and move in fast, then Optima @ Tanah Merah and Grandeur Park Residences may offer an alternative.
Choosing one of the other may also boil down to personal preferences, which may include the design of the developments, unit layout and facilities, as well as housing need priorities. Meanwhile, you may also wish to consider another upcoming mixed-use development nearby- Sky Eden @ Bedok located 5 minutes' walk from the Bedok MRT station.
To receive the latest update on Sceneca Residence or to explore other new property launches, please Email ✉️ or WhatsApp Me .
---
Below are other property reviews that you may also be interested:
To find more details of new launches, please refer to project information.