This is a review of The Myst Condo, a 99-year leasehold development with 408 residential units of 1- to 5-bedrooms.  Located at Upper Bukit Timah Road in Singapore's District 23, it is within a 5-minute walk from the Cashew MRT station and a 9-minute walk from the Bukit Panjang Integrated Transport Hub on the Downtown Line.
CDL Aries, a unit of City Developments Limited (CDL), acquired the 16,630.30 sq mn(179,008 sq ft) site with a plot ratio of 2.1 from Tan Chong International, the distributor of Nissan vehicles locally, which used it as an auto service facility.
This review of The Myst seeks to offer an unbiased evaluation of the following to help buyers make an informed investment decision:
Nevertheless, please feel free to WhatsApp Me if you wish to:
Why Invest In The Myst Condo?
A premium product by City Developments Ltd, a highly reputable property developer in Singapore.

Wide range of luxurious facilities catering to all ages.

Pleasant location close to nature parks and Chestnut Avenue Good Class Bungalow (GCB) area.

Excellent transportation connectivity, with two MRT stations within walking distance.

Direct access to the city and Central Business District via MRT Downtown Line.

Convenient access to shopping malls and amenities.

Close to popular schools.

Proximity to major employment hubs offers promising investment potential.
The Myst Fact Sheet
| | |
| --- | --- |
| Item | Description |
| Name of Development | The Myst |
| Address | 800 / 802 Upper Bukit Timah Road |
| Developer | CDL Aries, a unit of City Developments Limited (CDL) |
| Number of Units | 408 of 1- to 5-bedroom types |
| Land Size | 16,630.30 sqm / 179,008 sqft |
| Carpark Lots | Total 330 Parking Lots, including 4 EV Lots and 4 Accessible Lots |
| Tenure | 99-year Leasehold |
| Enquiry | Click Here |
Unit Mix
The Myst offers a good selection of unit types, ranging from 1-Bedroom + Study to 5-Bedroom. This will cater to a wide range of buyers, from investors and singles to families who require more space.
The development comes with two design schemes:
Hazel (1- and 2-Bedroom types) - This is inspired by the calmness of nature. The curated selection of finishes gives the interior space a subtle warmth while creating a soft yet versatile backdrop that compensates for hectic daily activities.
Umber (3- to 5-Bedroom types) - It showcases a combination of materials that gives a sense of maturity and balance. The interior space provides a solid base and timeless foundation for activities to evolve over the years.
Unit Type
No. of Units
Typical Units Size (sq ft) 
PES Units Size (sq ft)
1-Bedroom + Study
48
517
517
2-Bedroom
97
678
678 - 732
2-Bedroom + Study
48
700
700
3-Bedroom
23 / 24
850 / 915
915
3-Bedroom Premium
48
1,033
1,033
3-Bedroom Premium + Study
48
1,163
1,163
4-Bedroom
49
1,518
1,453 - 1,518
5-Bedroom
23
1,690
-
Total
408
Click on the link to receive The Myst Floor Plans.
The Myst Virtual Tours
Who is the Developer of The Myst Condo?
The developer for The Myst Condo is CDL Aries Pte Ltd, a subsidiary of City Developments Limited (CDL). CDL is a leading and trusted real estate developer in Singapore.
The company has a global network spanning 143 locations in 28 countries and a diverse portfolio of income-stable assets, including residences, offices, hotels, retail malls, and integrated developments.
CDL has a proven track record of 60 years in real estate development, investment, and management. With its commitment towards sustainable development, it has been recognised with numerous building industry awards and a portfolio of 120 BCA Green Mark certifications.
To further its sustainability efforts, it aims to achieve Super Low Energy Buildings for 80% of its owned and managed buildings by 2030.
Some of its recent residential projects in Singapore include Tembusu Grand, Piccadilly Grand, Canninghill Piers, and Irwell Hill Residences.
What are the Prices for The Myst Condo?
At the launch sale of The Myst on 9 July 2023, 110 out of a total of 408 units (27%) were sold at an average price of $2,057 psf. Around 99% of the buyers are Singaporeans, while Permanent Residents from China make up the remaining 1%.
The most popular are the 1- and 2-bedders due to their more affordable price quantum. The average price is slightly lower than the $2.070 psf achieved by Botany At Dairy Farm nearby, which was launched on 4 March 2023.
Meanwhile, below are the indicative launch prices of The Myst:
1-Bedroom + Study (517sq ft): from $998,000 ($1,930 psf).
2-Bedroom + 2 Bath (678 sq ft): from $1,330,000 ($1,962 psf).
2-Bedroom + Study (700 sq ft): from $1,398,000 ($1,997 psf).
3-Bedroom (850 sq ft): from $1,708,000 ($2,009 psf).
3-Bedroom (915 sq ft): from $1,768,000 ($1,932 psf).
3-Bedroom Premium (1,033 sq ft): from $1,960,000 ($1,897 psf).
3-Bedroom + Study (1,163 sq ft): from $2,172,000 ($1,868 psf).
4-Bedroom (1,518 sq ft): from $2,826,000 ($1,862 psf).
5-Bedroom (1,690 sq ft): from $3,180,000 ($1,882 psf).
Please WhatsApp Me for the show flat viewing and the latest pricing.
Where is The Myst Located?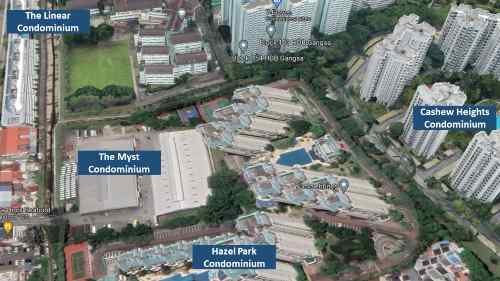 The Myst is situated within a serene neighbourhood in Singapore's District 23 along Upper Bukit Timah Road. The condominium lies next to the Hazel Park Condo to the South and the Chestnut Avenue Good Class Bungalow (GCB) area to the Southeast a little further away.
Good Class Bungalows (GCBs) are the most exclusive and prestigious form of landed property in Singapore. There are only 39 such gazetted areas.
To qualify as GCBs, they must meet certain criteria. For example, they must have a minimum land plot size of 1,400 sq m (15,070 sq ft), a maximum building height of 2 storeys, and the building cannot occupy more than 40% of the plot size.
As such, residents of The Myst can look forward to a relatively low-density living environment.
At the same time, with the Hillion Mall at Bukit Panjang just a 9-minute walk from the development, residents will enjoy convenient access to a wide range of amenities.
Living Close to Nature
One of the appeals of living at The Myst is its proximity to several nature parks, which are just 5-10 minutes drive away. These include Chestnut Nature Park, Dairy Farm Nature Park, Hindhede Nature Park, and Bukit Timah Nature Reserve.
These nature parks offer residents a unique and enriching living experience and provide a much-needed escape from the hustle and bustle of city life while offering a variety of outdoor activities.
Chestnut Nature Park - It is the largest nature park in Singapore, spanning 81 hectares. It offers a variety of activities such as hiking, biking, and birdwatching.
Dairy Farm Nature Park - Located next to Bukit Timah Nature Reserve, it is a great place for picnics, leisure strolls, and exploring its diverse flora and fauna.
Hindhede Nature Park - Also situated near Bukit Timah Nature Reserve, its picturesque lake and a playground for children make it an interesting day out for the whole family.
Bukit Timah Nature Reserve – It is one of the few remaining primary rainforests in Singapore and is home to a vast array of flora and fauna, including the endangered Raffles' banded langur.
Living close to these parks can have a positive impact on residents' physical and mental health. They can help to reduce stress levels and improve overall well-being. Additionally, these parks provide an opportunity for families and friends to bond over outdoor activities and create cherished memories.
Excellent Transportation Network
The Myst Condo is ideally located between two MRT stations on the Downtown Line. The Cashew (DT 1) and Bukit Panjang (DT 2) MRT stations are only a 5-9 minutes walk away, respectively.
They will provide residents with easy access to a wide range of amenities and shopping malls at Bukit Panjang and Beauty World. Additionally, the Downtown Line offers residents a direct route to the city such as Bugis, Marina Bay, and Raffles Place, as well as many sought-after schools along Bukit Timah/Dunearn Road belt.
By the mid-2030s, the Downtown Line will be extended to the new Sungei Kadut Interchange station, which is just one stop from The Myst Condo. The new MRT station will serve the upcoming industrial developments in Sungei Kadut by JTC Corporation and the 18ha Agri-Food Innovation Park, bringing jobs close to where people live.
Amenities and Shopping Malls Near The Myst Condo
With the Hillion Mall at Bukit Panjang merely a 9-minute walk from The Myst, residents will have convenient access to a plethora of amenities such as supermarkets, eateries and restaurants, clinics, children's tuition centres and music schools, etc.
Other than Hillion Mall, the other shopping centres nearby are Bukit Panjang Plaza and Junction 10. Each of these malls provides a unique shopping experience, with an array of options to choose from. Visitors can shop for clothing, accessories, electronics, groceries, and much more.
The malls also have a variety of restaurants and cafes, providing a wide selection of food and beverage to spend time with friends and family.
In the opposite direction and one stop away is the Hillview MRT station. Within a 5-7 minute walk from it are the HillV2 and Rail Mall. At HillV2, there are a number of F&B outlets, lifestyle shops, supermarket, and a pet centre.
The quirky Rail Mall offers an eclectic mix of businesses ranging from a teak furniture shop, wine shop, clinic, and various food outlets.
Despite their relatively small sizes, both HillV2 and Rail Mall offer a refreshing alternative to the usual large shopping centres. They provide a great opportunity for a casual outing with friends and family, away from the hustle and bustle of the city.
For those seeking more shopping opportunities can visit Beauty World just three stations from The Myst.
Beauty World - A Shopping And Food Haven
Beauty World, a bustling neighbourhood located just three train stations from The Myst Condo, offers an array of shopping malls and scrumptious food options. The area is a magnet for both locals and expatriates, thanks to its old-world charm and vibrant atmosphere.
Home to several shopping malls such as Bukit Timah Shopping Centre, Bukit Timah Plaza, Beauty World Centre, and Beauty World Plaza, shopaholics will be spoiled for choice with a variety of shops selling fashion, beauty products, electronics, household items, and fresh produce.
There are also children's tuition and enrichment centres that cater to families in the surrounding housing estates.
In addition, more shopping options will be available when The Reserve Residences is expected to be completed by 2028. The Reserve Residences is an integrated development with more than 200,000 sq ft of shopping spaces across four levels linked to the Beauty MRT station and bus interchange.
But what makes Beauty World truly stand out is the variety of food options that can be found in the area.
Located along Cheong Chin Nam Street and Chun Tin Road are numerous eateries and restaurants offering local, Asian, and international cuisines.
For affordable fare, the popular Bukit Timah Hawker Centre is just a short walk away.
One establishment that has stood the test of time is Ng Kim Lee Confectionery, an old-school bakery that has been in business for over 60 years. The bakery is renowned for its Teochew-style pastries and Western cakes, such as pandan cake, cheesecake, egg tart, muffin, and zebra cake, among many others.
In short, Beauty World offers a refreshing change from the hustle and bustle of Orchard Road.
Its distinctive allure, characterised by the presence of traditional jewellers, tailors, and barbershops, offers residents of The Myst a captivating living experience that seamlessly blends the past and present.
Schools Near The Myst Condo
Residents of The Myst Condo are presented with a variety of reputable schools to consider for their children's education. Among these are the highly-regarded Zhenghua, Bukit Panjang, and St. Anthony's Primary Schools.
Moreover, given the proximity of these primary schools within a 1-2 km radius of the development, children registering for Primary 1 admission will receive priority. This is in line with the Ministry of Education's distance-based allocation system.
In addition to the convenience of living close to schools, research conducted by the NUS Institute of Real Estate Studies has found that properties located in close proximity to schools command a premium compared to those located further away.
Hence, not only will residents of The Myst Condo have access to an excellent choice of educational opportunities, but also the potential to reap long-term financial benefits due to the property's favourable location.
The following are primary schools located within a 2 km radius of The Myst Condo:
Primary Schools Within a 1-km Radius
Bukit Panjang Primary School.
CHIJ Our Lady Queen of Peace.
Zhenghua Primary School.
Primary Schools Between a 1-2 km Radius
Beacon Primary School.
Greenridge Primary School.
St. Anthony's Primary School.
Teck Whye Primary School.
West Spring Primary School.
West View Primary School.
As for secondary schools, there are also many to choose from. These include the following:
Assumption English School.
Fajar Secondary School.
Choa Chu Kang Secondary School.
Teck Whye Secondary School.
Greenridge Secondary School.
Regent Secondary School.
West Spring Secondary School.
Zhenghua Secondary School.
Bukit Panjang Government High School.
Although most of the above-mentioned are not so-called "branded" schools, many highly sought-after secondary and post-secondary educational institutions can be found along Bukit Timah/Dunearn Road.
They can be directly reached within six MRT stations from The Myst along the Downtown Line. Some of these schools include the following:
Methodist Girls' School.
Chinese High School.
Nanyang Girls' High School.
Singapore Chinese Girls' School.
Hwa Chong Institution.
National Junior College.
Ngee Ann Polytechnic.
International Schools Near The Myst Condo
There are several international schools situated within a 5-15 minutes drive from The Myst Condo. Hence, those looking to purchase a unit in the development for investment will have a prospective pool of expatriate tenants.
Some of these international schools are:
German European School Singapore.
Dimension International College (Bukit Timah Campus).
Hollandse School.
Swiss School.
Singapore Korean International School.
Proximity to Major Employment Hub to Boost The Myst Investment Potential
The Sungei Kadut Eco-District is set to become one of Singapore's major employment hubs. This will benefit a development like The Myst Condo due to its proximity.
Although currently, there is no direct train route to Sungei Kadut, this is set to change.
When the Sungei Kadut MRT interchange is completed by the mid-2030s, it will only be one stop from the Bukit Panjang MRT interchange, which is located merely 9 minutes walk from The Myst. By bringing jobs closer to where people live, it will naturally spur demand for housing.
About Sungei Kadut Eco-District
Sungei Kadut was one of Singapore's first industrial estates and played a major role in its early development by attracting investments and providing jobs. However, it will be undergoing a fascinating makeover.
The new Sungei Kadut Eco-District will comprise four distinct precincts - agri-food technology, waste management and recycling, metal, timber and furniture industries. These clusters will replace the haphazardly constructed factories of the past.
All of them will boast of state-of-the-art industries that promote synergy among businesses.
However, it is not all work and no play. There will be plenty of greenery and lifestyle amenities, thanks to a highly connected network of nature trails and activity corridors.
Overall, this will greatly enhance the living standards of those living in the northwestern region of Singapore. This will include residents of The Myst, especially when the MRT extension from Bukit Panjang to Sungei Kadut is completed.
Review Conclusion – An Investment Perspective
The Myst Condo will appeal to those looking for convenience – near MRT stations, amenities, shopping malls, and schools.
The quiet environment near the prestigious Cashew Avenue Good Class Bungalow (GCB) area and proximity to nature parks will further boost its appeal.
Such attributes will attract a wide segment of buyers, especially HDB upgraders from the surrounding housing estates.
But what investment potential can it offer? To answer this question, let's analyse how three condominiums located a short distance from The Myst have performed over time. They are:
Cashew Heights condominium (completed in 1992).
Hazel Park condominium (completed in 2000).
The Linear condominium (completed in 2006).
[Note: Although all three are 999-year leasehold condos compared to The Myst which is a 99-year leasehold, they should still offer us a good indication of the investment potential of properties in the area].
From the chart above, we can see that their average price appreciation is as follows:
Cashew Heights: +151.31% (or 4.88% pro-rated annually).
Hazel Park: +137.05% (or 5.96% pro-rated annually).
The Linear: 115.30% (or 6.78% pro-rated annually).
Considering that all three condos have gone through one or more financial crises such as the Asian financial crisis (1998), Dot.com crisis (2000), and Lehman Brothers sub-prime crisis (2008), as well as a series of property cooling measures, their performances are commendable.
Despite the information presented in the chart, it is worth noting that the rate of capital appreciation tends to decelerate as properties age. To enhance one's assets, it may be beneficial to consider transitioning to a newer property that offers greater investment potential.
By doing so, individuals can avoid the burden of bearing high maintenance costs associated with the upkeep of an ageing property.
If you wish to receive the latest update on The Myst Condo or have a chat about property investment in Singapore, please feel free to WhatsApp or Email Me.
---
Other Property Reviews
Besides The Myst Condo, the following are some other property reviews that may interest you:
For more details on new launches, you can find them in project information.