Preview: Early 2024
This is a review of Sora, a 99-year leasehold condominium development at Yuan Ching Road in Singapore's District 22.
Located within the exciting Jurong Lake District and overlooking the Jurong Lake Gardens, it will be redeveloped from the former Park View Mansions that was sold en bloc to a consortium comprising of CEL Development (40%), Sing-Haiyi Pearl (30%) and TK 189 Development (30%), an associated company of KSH Holdings.
The 191,974 sq ft site with a plot ratio of 2.2 is expected to yield about 440 residential units and it is located beside the Lakegarden Residences that was launched on 5-6 August 2023.
This property review of Sora seeks to offer an unbiased evaluation of the following:
Nevertheless, to attend Sora's public preview and learn more about the development, please WhatsApp Me.
Why Invest in Sora Condominium?
Developed jointly by three reputable and well-known developers - CEL Development, Sing-Haiyi, and KSH Holdings

Enjoys unobstructed scenic views of the Jurong Lake Gardens and Japanese Garden

Jurong Lake Gardens offers a plethora of outdoor fun and leisure activities for residents of all ages to enjoy

Located within the vibrant Jurong Lake District (JLD), Singapore's largest business district outside the city

Exciting developments in JLD offer residents an exciting place to live, work, play, and study, as well as offering potential for future growth

Situated just 3 bus stops from Lakeside MRT station, providing convenient access to a burgeoning MRT network that will consist of 4 MRT lines covering the area

Convenient public transportation provides residents easy access to a plethora of amenities like shopping malls, eateries, and medical facilities

Near schools and tertiary institutions

Proximity to major employment hubs such as Internal Business Park, Jurong Innovation District (JID) and Tuas mega port offers promising investment potential
Who are the Developers for Sora Condo?
Sora Condo will be jointly developed by CEL Development, Sing-Haiyi Pearl and TK 189 Development. CEL Development will have a 40% stake in the development while Sing-Haiyi and TK 189 Development will each take 30%.
Sing-Haiyi Pearl is equally owned by SingHaiyi Group and Haiyi Holdings, which are controlled by Singaporeans Gordon Tang and Celine Tang. Both of them are also Chip Eng Seng controlling shareholders.
Meanwhile, TK 189 Development is 66.67% owned by KSH, a unit of Kim Seng Heng Realty, while Ho Lee Group holds the remaining 33.3%.
All three developers have forged close working relationships through past and ongoing development projects. They have partnered in a number of high-profile deals that include the $650 million collective purchase of Peace Centre/Peace Mansion. Other partners in the deal include Ho Lee Group.
What are the Prices for Sora Condo?
The prices for Sora Condo are not available yet.
However, based on the en bloc sale price of $260 million paid for the 191,974 sq ft site, it translates to a land rate of $1,023 per square foot per plot ratio (psf ppr), including the estimated differential premium and lease top-up to a fresh 99 years.
This is lower than the estimated $1,250 psf to $1,260 psf land rate for Lakegarden Residences next to it. During Lakegarden Residences' launch on 5-6 August 2023, units were sold at an average price of $2,120 psf.
However, given Sora's lower land rate, the developers will be able to launch the project more competitively, to the benefit of potential property buyers. For the latest pricing updates, please WhatsApp me.
Where is Sora Located?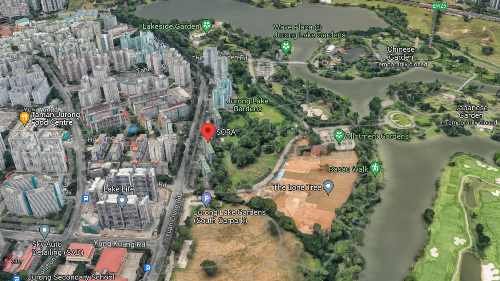 Sora Condo is located at Yuan Ching Road facing the Jurong Lake Gardens, and lies within the Jurong Lake District (JLD). This is perfect for home buyers looking for unblocked views of the lake and greenery. In addition, they can look forward to a plethora of leisure and outdoor recreation, including water sports.
Next to it is Lakegarden Residences, another en bloc redevelopment, and it is currently under construction.
The Lakeside MRT station (East-West Line) is two bus stops from Sora. This offers a convenient commute to the vibrant Jurong Gateway, the commercial hub of JLD, which is just two MRT stations away.
Jurong Gateway is home to several large shopping malls such as JEM, Westgate, and IMM, making it a sought-after destination for shoppers. It is also home to the Ng Teng Fong General Hospital and Jurong Community Hospital.
The JLD is currently undergoing a major transformation, with billions of dollars being invested in new infrastructure and development projects. This includes the construction of new office buildings, residential towers, retail malls, and public spaces.
When completed, the Jurong Lake District will be a vibrant and cosmopolitan hub for businesses and residents alike. Hence, it will offer prospective property buyers the first-mover advantage as real estate values in the district can be expected to rise when major developments come on stream (more on this below).
About Jurong Lake District (JLD)
Jurong Lake District is being developed into Singapore's second central business district, the largest outside the city. Under the URA master plan, the district will be transformed into a world-class hub for business, innovation, and lifestyle.
According to National Development Minister Desmond Lee, he said:
"We have high ambitions for the JLD to be a demonstrative site for sustainable living, mixed-use including residential. This being the second CBD in Singapore, it is a very important demonstrative site for us".
One of the key drivers of growth in Jurong Lake District is the development of the Jurong Innovation District (JID), an advanced manufacturing hub that is home to a wide range of businesses and research institutions. These include A*Star, National Metrology Centre, Nanyang Technological University, Hyundai Motor Group, Siemens, Bosch Rexroth Bosch and many established global companies.
Together, they will bring quality jobs to the western part of Singapore.
As more businesses and people move to Jurong Lake District, the demand for housing will naturally increase. This will drive up demand for housing, underpinning property values in the process.
Jurong Lake Gardens
The Jurong Lake Gardens is the first national garden to be situated in the heartlands of Singapore. Comprising the Lakeside Gardens, Chinese Garden, and Japanese Garden, the 90-ha green oasis is specially designed to recreate the natural landscape and restore the area's natural ecosystem.
In addition, it offers a variety of recreational and leisure activities for residents and visitors alike. For example, they can explore nature and go birdwatching, participate in water sports, cycle or jog, have a meal at one of its many F&B outlets, or simply relax and enjoy the scenic views.
Some of the interesting places to visit include:
Rasau Walk, which is located in front of Sora Condo
Skate Park, Singapore's largest for skateboarders
Forest Ramble, a children's playground inspired by animals found in Jurong Lake Gardens
Clusia Clove, a water playground that mimics tidal patterns
The Jurong Lake Gardens is a vital feature of the Jurong Lake District due to the Singapore government's vision to create a "district of gardens and water". In doing so, it will help to provide residents and workers with a sustainable, green, and quality living environment with a plethora of amenities.
Sora Condo to Benefit from Upcoming Developments in JLD
The Jurong Lake District (JLD) is currently undergoing a major transformation. When completed, they will make it an exciting and vibrant place to live. Some of these developments are:
Jurong East Integrated Transport Hub (ITH): The current Jurong East MRT station will be redeveloped into an integrated transport hub. Slated for completion in 2027, it will consist of an air-conditioned bus interchange and an MRT station, with commercial developments such as shopping malls connected to them. This will provide seamless connectivity for residents and commuters.
New MRT Stations and Enhanced Train Network: The current Jurong East MRT station, which is an interchange for the East-West and North-South Lines, will be joined by the Jurong Regional Line (JRL) and Cross Island Line (CRL) in the future. The JRL and CRL are expected to be operational by 2028 and 2032, with the former providing a direct link to the Nanyang Technological University (NTU).
These MRT lines will provide greater accessibility and convenience for commuters and greatly enhance the region's connectivity. These developments underscore the government's great efforts to create an environment to live, work, play, and study.
New Jurong Regional Library: Expected to open in 2028, it will be relocated to the upcoming Jurong East Integrated Transport Hub. The integrated hub will also house a community club, a sports centre, offices and retail spaces.
New Science Centre: Located beside the Chinese Garden and set to open in 2027, it aims to be a one-stop destination for the public to access science, technology, engineering, and mathematics (STEM) education. The facility will include an observatory for astronomy enthusiasts and a digital fabrication lab to support incubator programmes.
In addition, there will be programmes and workshops to meet the interests of students, which will include modern themes such as food security and sustainability.
New Commercial and Residential Developments: In June this year, the URA released a 6.6 ha White site to kick-start the development of the largest commercial district outside Singapore's city centre.
Spanning 365,000 square metres (sq m), the site will comprise at least 146,000 sq m (about 1.57 million sq ft) for offices, up to 166,000 sq m (yielding about 1,700 residential units), and 73,000 sq m of space for complementary use that may include shopping and F&B businesses.
Integrated Tourism Development: Located adjacent to the new Science Centre and the Jurong Lake Gardens, it is envisioned to be a key lifestyle and tourism hub. Being a unique and first-of-its-kind development in Singapore, there will be a mix of offerings with attractions. These will include a hotel, retail, F&B, and public spaces that will appeal to international tourists, business travellers, and locals.
In line with the vision of Jurong Lake District, there will be a focus on technology, "edutainment," and sustainability. When realised, it has the potential to transform Singapore into a leading global tourism destination.
Public Transportation
Although Sora Condo is not located within walking distance of an MRT station, the nearest MRT station - Lakeside - is just three bus stops away from the development. From there, residents can take a connecting train to Jurong East MRT station, which is only 2 stops away.
In the near future, more MRT lines will be servicing JLD - Jurong Regional Line (JRL) and Cross Island Line (CRL). They will add to the existing East-West Line (EWL) and North-South Line (NSL), which will greatly enhance connectivity to the surrounding areas and the whole of Singapore.
As mentioned earlier, the Jurong MRT station is linked to several shopping malls via J-Walk such as JEM, Westgate, and IMM, as well as key amenities such as Ng Teng Fong General Hospital, Devan Nair Institute, and the upcoming Jurong East Integrated Transport Hub.
J-Walk is a vital feature of Jurong Lake District's infrastructure as it provides a seamless and convenient way for people to move around without having to cross busy roads or deal with traffic congestion. This is especially important for people with disabilities, the elderly, and families with young children.
Although Sora Condo is not within walking distance of an MRT station, property investors and homebuyers may be attracted to its beautiful and unobstructed views of Jurong Lake Gardens and competitive pricing, as compared to J'Den located at the busy commercial centre of Jurong Lake District.
Expressways Near Sora Condo
The nearest expressways near Sora Condo are Ayer Rajah Expressway (AYE) and Pan Island Expressway (PIE).
For residents with personal transport, they will help to significantly cut down travelling time to the city and major employment hubs. For example, a trip to One-North, Woodlands Regional Centre, and the Central Business District will only take 17-23 minutes.
Shopping Malls Near Sora Condo
The shopping mall nearest to Sora Condo is Taman Jurong Shopping Centre, a surprisingly large neighbourhood mall.
Just 7 minutes walk from the development, it offers a wide variety of essential goods and services to serve the daily needs of residents. These include two food courts (Koufu and Yung Sheng), a 24-hour FairPrice supermarket, ABC Bargain Centre, Prima Deli Bakery, Subway, and many more.
With the extensive cycling network in Jurong town, unsurprisingly it has become a favourite hang-out spot for cyclists and residents to chill and rest after visiting the scenic Lakeside Garden and Jurong Lake.
Next to it is the Taman Jurong Market & Food Centre which offers a good variety of local delights at affordable prices.
A Shopping Haven at Jurong Gateway
If you prefer shopping at more prominent shopping centres, consider a visit to Jurong Gateway - the commercial hub of Jurong Lake District. There, you will find three major malls: JEM, Westgate, and IMM.
There are also several big furniture malls in the area.
For Sora residents, these malls are just a short journey away and can be easily reached by public transportation. Begin by taking a public bus to Lakeside MRT station, which is only three stops from Sora. From Lakeside, transfer to a train and travel two stops and you will reach Jurong East MRT station.
Schools and Educational Institutions Near Sora Condo
For residents with school-going children, several primary schools are located within a 2km radius of Sora Condo. Hence, children enrolling for Primary 1 will be granted priority admission under the Ministry of Education's distance-based allocation system. These primary schools are:
Lakeside Primary School
Shuqun Primary School
Fuhua Primary School
Rulang Primary School
As for secondary schools, the nearest are:
Yuan Ching Secondary School
Jurong Secondary School
Fuhua Secondary School
Nanyang Technological University (NTU)
For tertiary education, the Nanyang Technological University is located about 50 minutes from Sora by public transportation currently. However, the commuting time will be shortened considerably when Stage 3 of the Jurong Regional Line (JRL) starts operation in 2029. This is because JRL, connected to the East-West Line, will provide direct access to NTU.
Nanyang Technological University is a research-intensive university established in 1991 and it is currently ranked number 26 globally and number 4 in Asia by QS World University Ranking (2024).
International Schools 
There are several international schools located near Sora Condo, which will potentially attract rental demand from expatriate families with school-going children.
These international schools will cater to a growing demand from expatriate families seeking high-quality education for their children, especially those working in the surrounding employment hubs. These international schools provide a wide range of curricula, including International Baccalaureate (IB), Cambridge, and American curricula.
As Jurong Lake District grows to become the second-largest business district outside the city, housing demand can be expected to grow as well. Hence, a development like Sora may offer promising investment potential.
Some of these international schools include the following:
Canadian International School
Yuvabharathi International School
One World International School
Spring College International
Dulwich College
Trinity International College
Proximity to Major Employment Hubs Offers Promising Investment Potential
Sora Condo offers a promising investment opportunity owing to its advantageous location in close proximity to several prominent employment hubs, with the burgeoning Jurong Lake District (JLD) at the forefront.
As these employment centres continue to expand and attract a diverse workforce, demand for quality housing will rise in tandem. This includes rental demand from expatriates seeking convenient accommodation near their workplaces.
The recent significant hike in the additional buyer's stamp duty (ABSD) in April 2023, set at 60% for properties purchased by foreigners, has forced expatriate workers towards the rental market. Consequently, a well-positioned condominium such as Sora is perfectly positioned to reap the rewards of this market shift.
This is especially so given Sora's proximity to several major employment hubs, which include the following:
International Business Park: Located within JLD, The International Business Park (IBP) is a 37-ha business park that is home to a wide range of multinational corporations, including Microsoft, Hewlett-Packard, and Procter & Gamble. IBP provides a diverse range of jobs for JLD residents, including opportunities in technology, finance, and professional services.
Jurong Innovation District: A 600-ha district next to JLD, it is being developed as a global hub for advanced manufacturing. Home to a growing ecosystem of R&D centres, technology partners, training providers, and "Factories of the Future", they are equipped with the latest technologies and a supportive environment to develop and test new products and processes.
Some of the universities and research institutions in JID include Nanyang Technological University (NTU), Singapore University of Technology and Design (SUTD), and Singapore Institute of Manufacturing Technology (SIMTech). These institutions are working with industry partners to develop the next generation of manufacturing skills and technologies.
Tuas Mega Port: The 2,000-ha development, which will become the world's largest container port, is expected to create tens of thousands of jobs in the maritime and logistics sectors. It will provide JLD residents with access to a global network of trade and commerce. At the same time, it will stimulate economic activity and trade-related businesses in Jurong Lake District which will ultimately benefit residents in the western region.
CleanTech Park: The 50-ha park, located next to the Nanyang Technological University, is Singapore's first eco-business park. It offers research and development (R&D) and test-bedding for the early adoption of sustainable technology and solutions.
Situated within Jurong Innovation District, it is part of a growing ecosystem that is set to bring Singapore's advanced manufacturing sector to new heights.
Nanyang Technological University (NTU): A leading research university in Singapore, it is ranked Number 4 in Asia. Besides providing JLD residents with access to world-class education and research, it also offers job opportunities for research, innovation, and entrepreneurship.
These major employment hubs will help to enhance Jurong Lake District's overall vibrancy and liveability as it draws a diverse and talented workforce to the area. In turn, this will cultivate a dynamic and thriving environment as more services and amenities will be developed to support its growth.
Consequently, it provides a compelling investment opportunity for property investors. Hence, a quality development like Sora Condo will offer a first-mover advantage in harnessing this investment potential, capitalising on the growth of this dynamic district.
Review Conclusion
Nestled amidst next to the tranquil Jurong Lake Gardens, Sora Condo beckons homeowners and property investors seeking a serene and quality living environment.
While the MRT station isn't within walking distance, seamless public transportation will connect Sora residents to the Lakeside station. Nevertheless, those prioritising transport convenience may find this a slight drawback.
Sora's allure also extends to families with school-going children, as it is conveniently located near several educational institutions. The completion of the Jurong Regional Line in 2028 will offer effortless access to the Nanyang Technological University (NTU) - be they students or staff working in the world-renowned university.
With several major employment hubs and business centres in close proximity, property values in Jurong Lake District could witness significant growth as developments gradually unfold over the next 10-20 years.
Sora, therefore, presents an investment opportunity for astute property investors seeking a harmonious blend of tranquillity, convenience, and long-term capital appreciation.
Meanwhile, let's examine how some condominiums located near Sora and the Lakeside MRT station have performed since their launch.
Sora Investment Prospects
To evaluate the investment prospect of Sora condo, we will examine how three condos situated near Sora have performed since their launch:
Caspian (launched in February 2009)
The Lakeshore (launched in January 2004)
Lakeholmz (launched in March 2003)
Below is a chart of their average price performances since their launch.
As can be seen in Chart 1, their prices have appreciated substantially since their launch.
Caspian: 140.10%
The Lakeshore: +180.94%
Lakeholmz: +137.58%
This underscores the investment potential of properties in Jurong Lake District ever since former Minister of National Development Mah Bow Tan first revealed their plans in April 2008.
With the government committing huge resources to its development and making it a model district for the rest of Singapore to follow, Sora can offer astute property investors an attractive investment opportunity.
Average Price Trend Comparison Versus J Gateway
Next, let us compare how Caspian, The Lakeshore, and Lakehomlz have performed versus J Gateway since its launch in June 2013. J Gateway is located just 3 minutes walk from Jurong East MRT station and in the heart of the Jurong Lake District.
J-Gateway: +29.36%
Caspian: +28.10%
The Lakeshore: +16.85%
Lakeholmz: +18.82%
From Chart 2, J-Gateway has appreciated by 29.36%, outperforming the other three condos. However, it has to be noted that it is a much newer development. Taking a closer look, Caspian, which was launched in February 2009, has seen an average price appreciation of 29.10%. This is not far from J Gateway despite being 4 years older.
Unsurprisingly, The Lakeshore and Lakeholmz have appreciated less than both Caspian and J Gateway as they were launched 9 years (January 2004) and 10 years (March 2003) earlier, respectively. This indicates the good investment prospects of properties in Jurong Lake District even though they may not be located near Jurong East MRT station and Jurong Gateway - the commercial hub of JLD.
Hence, those who may have missed booking a unit at J'Den may wish to consider Sora or Lakegarden Residences which are located next to the Jurong Lake Gardens, but are priced significantly lower.
J'Den, during its launch sales on November 11, sold 88% of its 368 units at an average price of $2,451 psf.
Recent Government Land Sale Prices
Meanwhile, during the recent government land sale (GLS) tenders on 7 November 2023, land prices have remained firm despite the ongoing economic uncertainties. This points to the resiliency of the Singapore property market, with Sora Condo offering a promising investment opportunity which we will elaborate further below.
The following are the details of the land tenders:
| | | | | |
| --- | --- | --- | --- | --- |
| Government Land Sale (GLS) | Region | Tenure | Awarded to | Land Price  |
| Clementi Avenue 1 | RCR (city fringe) | 99-year | A joint between CSC Land Group and MCL Land | $1,250 psf ppr |
| Lorong 1 Toa Payoh | RCR (city fringe) | 99-year | A joint venture between City Developments Ltd (CDL), Frasers Property, and Sekisui House | $1,360 psf ppr |
| Pine Grove (Parcel B) | RCR (city fringe) | 99-year | Sinarmas Land and MCL Land | $1,233 psf ppr |
These land prices suggest that new developments in the RCR region (city fringe) are likely to be sold at average prices of between $2,400 psf to $2,500 psf. Furthermore, given the elevated inflationary pressures that have driven up labour, construction, and material costs, there will be little leeway for developers to undercut each other.
In contrast, Sora Condo is likely to be selling at lower average prices of between $2,100 psf to $2,200 psf. This makes it an attractive alternative for astute property investors who are looking to ride on the exciting growth of Jurong Lake District (JLD), which is slated to become Singapore's second CBD.
Although Sora Condo is located in the OCR (suburbs), it will benefit from the government's effort to decentralize economic activities away from the central region. This decentralisation will create a vibrant and dynamic economic node with excellent job opportunities, amenities, and connectivity.
WhatsApp me today to learn more about Sora Condo and the property investment opportunities in Jurong Lake District (JLD).
---
Other New Property Launches
Below are other new property launches that may interest you:
For more details on new launches, you can find them in project information.