Singapore is a popular destination for property investment for the following factors:
Resilient economy
Political stability and a well-functioning government
Safe-haven status due to its geo-political neutrality
Pro-business environment with a well-developed infrastructure
An international financial centre with a robust legal system that is transparent
Property investment in Singapore is broadly divided into three main regions - Core Central Region (CCR), Rest of Central Region (RCR), and Outside Central Region (OCR).
This article will focus on the Woodlands Regional Centre, located at the north region in OCR, and why it has become increasingly popular for real estate investment.
About the North Region & Woodlands Regional Centre
The north region is home to many Housing & Development Board (HDB) flats, which offer a more affordable option for those looking to enter the property market.
They are especially popular among first-time homebuyers and young families, as they provide a more affordable option on the back of the steep increase of property prices in Singapore.
However in recent years, more private properties have been built as the transformation of the north region and development of Woodlands Regional Centre gather pace. They have become increasingly popular as their prices tend to be lower amongst properties in the Outside Central Region (OCR).
Commercial & Residential Developments in the North Region
The Woodlands Regional Centre will consist of two main business nodes: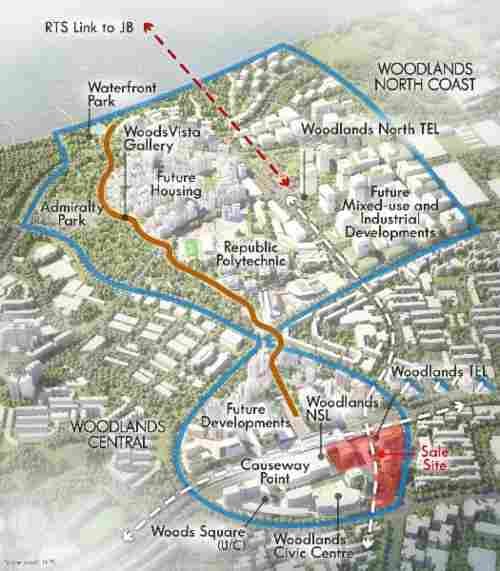 Woodlands North Coast: A new waterfront precinct that will include residential homes, recreational spaces, lush greenery, and various business spaces.
Covering a total area of about 70 ha, it will be a well-connected mixed-use business and lifestyle precinct featuring versatile work spaces that foster experimentation and innovation, which will support the needs of both small and medium enterprises (SMEs) and multinational corporations (MNCs) alike.
Woodlands Central: A key regional hub featuring a diverse array of offices, retail, residential, entertainment, F&B, and other complementary uses.
These developments will transform Woodlands Central into a major commercial node that will solidifying its position as the main regional centre in the north. Additionally, some 10,000 new homes will be built across these two precincts. With Republic Polytechnic located nearby, this will transform the area into a dynamic live-work-learn-play environment.
WoodsVista Gallery: Running through the heart of the precinct, it is a community link with designated cycling and walking paths to provide seamless access between the Woodlands MRT Interchange Station and the Woodlands North Coast precinct.
Surrounding it will be low-rise commercial developments with activities and community events, which will create an intimate and vibrant street atmosphere. Moving around around Woodlands Central will be effortless, thanks to its network of covered pedestrian walkways and dedicated cycling paths throughout the precinct.
Redevelopment of Sembawang Shipyard
Plans are afoot to redevelop Sembawang Shipyard into a new waterfront mixed-use and lifestyle precinct. The shipyard, which was originally established in the 1930s had played a key role in Singapore's maritime industry, is expected to cease operation by 2024 and relocates its operation to Tuas.
The redevelopment plans include the construction of new homes, offices, shops, and other amenities, as well as the creation of new parks and public spaces. There are also plans to restore the shipyard's historic buildings and artifacts to preserve its maritime heritage.
Shopping Malls and Nature Parks
There are several major shopping malls in the north region, namely Causeway Point, Northpoint City, and Canberra Plaza. There are several smaller ones, such as Sun Plaza, and Sembawang Shopping Centre. Together, they offer a retail eco-system without the need to travel far.
The region is also home to a number of parks and nature reserves, such as Lower and Upper Seletar Reservoir Park, Khatib Bongsu Nature Park, Sembawang Hot Springs Park, Mandai Wildlife Reserve, and Rail Corridor.
These parks and nature reserves will provide residents with plenty of outdoor recreational options., making the north region a fascinating place to live.
Improving Transportation Infrastructure
One major advantage of investing in the north region is its improving transportation infrastructure, with the construction of the Thomson-East Coast Line (TEL), which will stretch from Woodlands North to Changi Airport eventually.
Construction of the Thomson-East Coast Line consists of five stages. Currently, the first three stages have been completed, running from Woodlands North to Gardens By the Bay.
The north region is well-connected to the rest of Singapore via several major expressways. These include the Kranji Expressway (KJE), Central Expressway (CTE) and the Seletar Expressway (SLE).
By 2028, when the North-South Corridor (NSC) is expected to be completed, it will connect the north region to the city centre and east coast parkway. It will be Singapore's longest Transit Priority Corridor spanning 21.5 km. Featuring dedicated bus lanes, cycling trunk routes and pedestrian paths, residents of the north region will enjoy faster, smoother, and more convenient commute.
Johor Bahru-Singapore Rapid Transit System (RTS)
Currently under construction, it is slated to commence passenger service by end-2026, forming a vital link with Malaysia.
Stretching from the Woodlands North Station in Singapore to Bukit Chagar Station in Johor Bahru via a 25m-high bridge, the new rail system will help to ease Causeway congestion.
In addition, the RTS will help to foster strong relationships, as well as enhancing economic and social benefits between both countries.
It will also be a boon for Singaporeans travelling to Malaysia for leisure and shopping.
Major Employment Hubs In the North Region
Singapore's north region is home to several industrial and commercial parks, which provide a wide range of job opportunities for residents. As they are being developed, jobs will be created close to where people live. These include the following:
Woodlands Regional Centre: Comprising 100 ha of land, there will be two distinct and complementary precincts - Woodlands Central and Woodlands North Coast – where the latter will serve as a vital link with Malaysia.
The two precincts will be well-connected to each other via green, pleasant cycling and walking paths, including two pedestrian thoroughfares.
Being the "Star Destination of the North," it is envisaged to be the largest economic centre in the north. A vibrant hub for businesses, there will be an integration of new commercial and residential developments to provide a live-work-play habitat.
North Coast Innovation Corridor (NCIC): It will span from Woodlands Regional Centre, Sembawang, the future Seletar Regional Centre to the learning corridor and creative cluster at Punggol. Forming a belt of key economic hubs across Singapore's north and north-eastern areas, they will bring more jobs closer to homes.
The NCIC will integrate the future Agri-Food Innovation Park and Woodlands Regional Centre with synergistic elements of the ecosystem in the north that includes farms, Republic Polytechnic, and the Senoko Food Zone.
This will create a strategic mix of commercial and industrial spaces across the corridor, which will house companies invloved in research and development (R&D) and innovation.
Sungei-Kadut Eco-District: As one of Singapore's first industrial estates, existing businesses such as lumber, furniture, construction, and waste management will be transformed into new economic growth sectors. Harnessing green, environmental, and agricultural technologies, they will spearhead the next phase of Singapore's manufacturing growth.
This will generate new jobs such as systems engineers, plant scientists, aquaculture nutritionists, and environmental technologists.
Besides being a workplace, the Sungei Kadut Eco-District will be similar to next-generation industrial estates like Jurong Innovation District and Punggol Digital District. New retail and recreational options will be developed to serve the wider community.
In addition, there will be a green network connecting waterfront parks and park connectors to nature reserves such as the Rail Corridor, the Round Island Route, and Sungei Buloh Wetland Reserve.
Conclusion - North Region & Woodlands Regional Centre Outlook 
The development of the north region, in particularly Woodlands Regional Centre, is expected to bring significant economic and social benefits to the area.
Under the URA master plan, the development of a mix of residential, commercial, industrial, and recreational spaces, will create new employment opportunities and improve the overall quality of life for residents.
Additionally, the integration of transportation infrastructure and green spaces will enhance connectivity and accessibility within the region. These developments can be expected to lift property values in time to come.
As the north region has yet to be fully developed, it will offer property investment opportunities. Moreover, property prices there have generally lagged other parts of Singapore, providing investors an attractive entry point and first-mover advantage (refer below).
Property Price Trends Comparison
Below is a 20-year average price trend comparison between District 25 (Woodlands, north region), District 22 (Jurong, west region), and District 18 (Tampines, east region).
These three regions were first identified for development as the three main regional centres under the URA's 1991 Concept Plan for the decentralisation of economic activities away from the city centre.
But how have property prices performed so far?
From the chart above, it can be seen that District 22 (+237.57%) is the best performing, followed by District 18 (+194.01%) and District 25 (+130.20%).
This is unsurprising though, as both Jurong and Tampines have undergone more rapid economic development and transformation than Woodlands. For example, the Jurong East and Tampines MRT stations started operation in 1988 and 1989 respectively, while the Woodlands MRT station only began in 1996.
The chart also shows that property prices in the north region are also more affordable. But given the rapid development taking place, as highlighted earlier in this article, this can offer property investors first-mover advantage and potentially higher capital gains.
Hence, it is unsurprising that the recent launch of Lentor Modern in September 2022 has been very well-received where 84% of total units sold on the first day.
Those who have missed the opportunity to book a unit may wish to consider Lentor Hills Residences, which is likely to be priced lower due to its lower land cost - $1,060 psf ppr versus $1,204.50 psf ppr for Lentor Modern.
Lentor Hills Residences is located very close to Lentor Modern and the Lentor MRT station and is expected to be launched in February. Please WhatsApp Me for the latest updates and launch preview.
---
Other New Property Launches
Besides the above new property launches, you may wish to check out the following:
Click on the link for more project information.