This is a review of Lentor Modern condo, a 99-year leasehold mixed-use development at Lentor Central in Singapore's District 26. Developed by well-known developer GuocoLand, it will be integrated with the Lentor MRT station along the Thomson-East Coast Line (TE5).
The development will consist of three 25-storey blocks with 605 residential units of 1- to 4-bedrooms. Each block will come with a double-volume sky terrace. The commercial podium will have 96,000 sq ft of businesses, F&B and retail spaces, including a supermarket and more than 10,000 sq ft childcare facilities.
This property review of Lentor Modern seeks to provide an unbiased evaluation of the following to help you make an informed decision on whether this is the right property to invest in:
Please WhatsApp us for the latest update or if you have any queries about the property market. To learn more about Lentor Modern, please click on the links in the Table of Contents below.
Why Invest in Lentor Modern?
Below are 10 reasons to invest in Lentor Modern:
Reputable Developer with an excellent track record of transforming neighbourhood
Limited new condo launches in the precinct
Situated within a tranquil neighbourhood of mostly private landed and low-rise housing
Excellent transport connectivity
Surrounding nature reserves and parks offer great views
Near popular schools
Convenient access to many shopping malls
Close to many unique lifestyle and recreational amenities
Transformation of North Region offers promising investment potential
Exciting redevelopment of Sembawang Shipyard nearby into a waterfront district
Who is the Developer of Lentor Modern?
The developer for Lentor Modern condo is GuocoLand.
GuocoLand has been listed on the Singapore Exchange since 1978 and is a premier regional property company with operations in Singapore, Malaysia, Vietnam and China. In the latter, it has developed a sizeable portfolio of properties across major cities in Beijing, Shanghai, Nanjing and Tianjin.
And since 2017, it has ventured into new market in the United Kingdom and Australia through a strategic partnership with the Eco World Development Group Berhad.
Its principal business activities are property development, property investment, hotel operations and property management. The Group's portfolio comprises of residential, hospitality, commercial, retail and integrated developments spanning across the region.
In Singapore, GuocoLand has successfully developed many upscale residential and commercial projects. These include the Wallich Residence, Guoco Midtown, its flagship Guoco Tower and the 5-star business hotel Sofitel Singapore City Centre.
In Lentor Modern, it will bring its signature expertise in transit-oriented mixed-use developments from Singapore's city centre to the Thomson area. According to its CEO Cheng Hsing Yao:
"We are known to transform neighbourhoods, as can be seen in Tanjong Pagar and the upcoming Midtown area at Bugis-Beach Road. We see immense potential for this project to redefine the Lentor Hills area as an exciting residential and lifestyle destination."
What are the Prices of Lentor Modern Condo?
At the launch of Lentor Modern on 17 September 2022, GuocoLand sold 508 out of a total of 605 units, translating to a take-up rate of 84%. Prices were transacted between $1,856 psf to $2,538 psf.
All 63 one-bedroom units and 231 two-bedroom units were fully sold. In addition, 182 (73.4%) of the 248 three-bedroom units, and over 50% of the 63 four-bedders were snapped up.
According to GuocoLand, 92% of the total buyers are Singaporeans and the remaining 8% are permanent residents and foreigners. Most of them bought it for own stay, with upgraders constituting the majority,
As can be seen, buyers have come to accept prices above $2,000 psf for Outside Central Region (OCR) projects. As mentioned, HDB upgraders made up the majority of buyers, fueled by the continued rise in HDB resale prices and the recognition that private properties, besides offering a higher standard of living, they also provide an enhanced investment opportunity.
Please WhatsApp me to learn more about our 7-Step Framework to Identify Low Risk, High Profit Potential Properties.
Where is Lentor Modern Located?
Lentor Modern condo is located at Lentor Central and it will be linked directly to the Lentor MRT station on the Thomson-East Coast Line (TEL). With a sizeable site area of 17,279.9 sq m (186,000 sq ft) and a rectangular plot, it will allow the developer to maximise land use.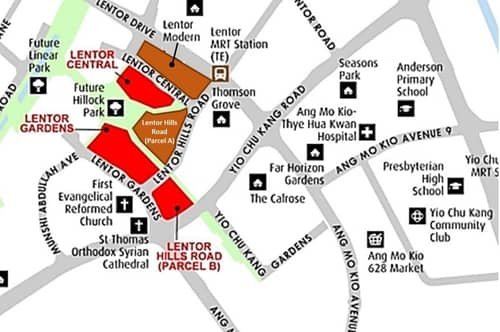 The area consists of mostly low-density and landed private housing and is known for its quiet ambience. Hence, future residents can look forward to mostly unblock views and a tranquil living environment.
This site will be the first of five potential new Lentor residential projects to be developed.
The Lentor Hills Road (Parcel A) has already been sold at the government land tender in January 2022. Two other parcels - Lentor Hills Road (Parcel B) and Lentor Central - will likely be tendered soon as they are in the URA's "confirmed" list while the Lentor Gardens site has just been transferred from the "reserve" list to "confirmed" list.
Lentor Hills Road (Parcel A) was sold to a consortium comprising Hong Leong Holdings, GuocoLand and TID and it is expected to yield about 595 units. Together with the Lentor Hills Road (Parcel B), Lentor Central and Lentor Gardens sites, they are expected to yield an additional 1,860 units (estimated).
Lentor Modern will be planned around an existing hillock, which will feature new parks, seamless pedestrian and cycling connectivity between Teachers Estate and Lentor MRT station, as well as commercial amenities to serve the community.
Currently, there are only two condos nearby – Thomson Grove and The Calrose. Completed in 1984 and 2007 respectively, they are approximately 230-270m from Lentor Modern.
Lentor Modern Fact Sheet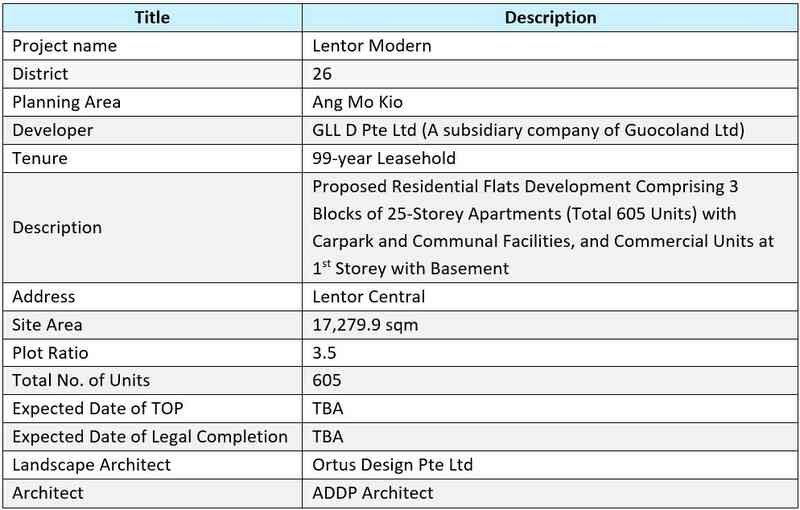 Lentor Modern Unit Mix And Floor Plans
Lentor Modern offers a selection of floor plans ranging from 1- to 4-bedrooms. This will cater to various family sizes, including multi-generational.
All the layouts are efficiently designed, with the 2-bedrooms having a dumbell layout.
The 4-bedrooms come with a junior master-bedroom with its own attached bathroom, offering added convenience for extended families. It will also be ideal for those looking to rent out their spare room while enjoying a little more privacy. Additionally, there will be a wet/dry kitchen, household shelter and yard.
Below is a brief summary of the key design features for the different unit types:
All master bedrooms with a width of 2.8m can accomodate a king-size bed
Jumbo size master bedroom for selected units (A1S, C4, C5, C6, D1) - @4m x 2.8m
All common bedroom with a width of 2.6m can accomodate a queen-size bed
All 2-Bedrooms will have an efficient dumbbell design
Flexible room layouts for all 2-4 bedroom units
 All flex rooms can accommodate a single bed
 Flex rooms with doors for 3-4 bedroom units, no doors for 2 bedroom units
Specially designed vertical storage at kitchen (for most units)
Lentor Modern Virtual Tours
Interior Virtual Tour:
Facilities Virtual Tour:
Design Concepts

Lentor Moderns consists of three residential tower blocks situated atop a 3-storey commercial podium, which will include a 12,000 sq ft supermarket on Level 1 and a 10,000 sq ft childcare on Level 2. The development utilises a dark pallet natural colour scheme to mimick its surroundings.
There will be three landscape levels - 1st (Remembrance), 4th (Respite) and 14th (Rejuvenate).
Lentor Modern's landscape design is centred around the concept of wellness with nature, which plays a substantial role in the entire development, and also offers tailored spaces for enjoyment, relaxation, and wellness.
Level 1 Landscaping - To recreate the secondary forest environment where a freshwater stream used to exist. Lush greenery of tree groves mimicking the native forest will be planted on the ground level. In addition, the use of giant tree species at the public plaza will seek to preserve its ambience while providing everyone with shades and comfort.
Level 4 Landscaping - A 200m-long water body is designed to mimick the Lentor stream that once flowed through the site. Resting terraces, pool alcoves, gardens, and pavilions are strategically positioned along the "stream", which will include recreation pools and ponds. At the same time, tailored spaces beside the "stream" will offer residents with therapeutic, relaxation, and recreational activities, such mediation, exercise, glamping, social interactions and entertainment.
Level 14 Sky Terrace - Each of the three residential tower blocks will have access to the sky terrace. As they are located high up and away from the communal landscape deck, these sky terraces will offer small alcoves and corners that will provide residents personal spaces for solo or group working. At the same time, they will offer relaxing views of the surrounding nature reserves.
Site Plans And Facilities
Lentor Modern offers residents of all ages a full suite of facilities. These include the following:
Grand Clubhouse
Arrival Lounge
Dining Lounge
Business Lounge
Dance Studio
Games Room
50m Lap Pool
25m Lap Pool
Leisure Pool
Spa Pool
Poolside Lounge
Poolside Terrace
Sun Deck
Jacuzzi Alcove
Stream Pavilion
Tea Pavilion
Harvest Pavilion
Water Cascades
Poolside Promenade
Glamping Terrace
Meadow Garden
Spice Garden
Orchard Garden
Allotment Garden
Herb Garden
Spring Grove
Mini Golf
Outdoor Gym
Indoor Gym
Tennis Court
Play Garden
Grand Lawn
Play Lawn
Excellent Transport Connectivity
Lentor Modern will be directly linked to the Lentor MRT on the Thomson-East Coast Line (TEL) that was opened in August 2021. The TEL is being constructed in five phases, with the Lentor station in Phase 2 together with five other stations - Springleaf, Mayflower, Bright Hill, Upper Thomson and Caldecott.
Towards the north of Lentor Modern and three stops from it is the Woodlands interchange - the largest integrated transport hub in Singapore. Near the transport hub are amenities like the Causeway Point Shopping Mall, Woods Square, Woodlands Civic Centre, and Woodlands Regional Library.
One station from Woodlands is Woodlands North, which will be integrated with the Rail Transit System (RTS) that provides a direct link between Singapore and Johor. The RTS is expected to be completed in end-2026 and is part of the exciting transformation of the North Region (more on this below).
Two stops southward from Lentor MRT station is Bright Hill Station. It will be a future interchange with the Cross-Island Line (CRL) that will stretch from Changi Airport to Gul Circle.
Four stops from Lentor Modern is the Caldecott MRT station, an interchange with the Circle Line. And one further stop away is Stevens Station on the Downtown Line which traverses the entire Bukit Timah Road where many sought-after schools are located (more on this later).
When the TEL is fully operational, it will offer residents direct access to places such as Orchard Road, Great World City, Shenton Way, Gardens by the Bay, Tanjong Katong, and all the way to Changi Airport.
The following is the timeline for the construction of the Thomson-East Coast Line.
Proximity to Major Expressways
For those who drive, the Lentor Modern condo enjoys convenient access to many arterial roads and expressways such as the Seletar (SLE) and Central (CTE) Expressways, as well as the North-South Corridor (NSC). All of them are merely 3-5 minutes' drive from the condo development.
The NSC will be Singapore's longest Transit Priority Corridor spanning 21.5 km and when completed in 2027, it will connect the northern region to the city and East Coast Parkway, traversing areas such as Ang Mo Kio, Bishan and Toa Payoh.
The NSC is expected to alleviate the heavy traffic on the CTE during the peak hours by 10-15% and reduce travelling time by 30%.
Hence, a trip to the city will be a breeze and only take about 10 minutes by car.
This new corridor will also feature dedicated bus lanes, cycling trunk routes and pedestrian paths to serve the general public at large.
Hence, it will provide smoother, faster and more pleasant journeys for everyone.
Nature Reserves and Parks Near Lentor Modern Condo
Lentor Modern will enjoy vast tracts of greenery with the future development of Hillock Park and Linear Park just a stone's throw away. This will provide residents with a green and tranquil living environment.
In addition, there are many nature reserves and parks around it that can be reached within a 12 minutes' drive. These include the Thomson Nature Park, Lower Pierce Reservoir Park, Bishan Park, Lower & Upper Seletar Reservoir Park, Windsor Nature Park, Springleaf Nature Park and MacRitchie Reservoir Park.
The nearest is the Thomson Nature Park, which is just 4 minutes' drive away. Located to the east of the Central Catchment Nature Reserve (CCNR), the 50ha park is unique for its rich cultural heritage as the site of a former Hainan Village. It is also home to a diverse range of fauna, including the critically endangered Raffles' Banded Langur (Presbytis femoralis femoralis).
With growing interests living close to nature and away from the hustle and bustle of modern living, this will be an added attraction to buyers.
Convenient Access to Popular Schools
Properties near popular schools are highly sought after by both investors and parents. In order to secure a place in these schools, some parents have even resorted to renting or paying top dollar for properties located near them.
And due to the changes in the Primary 1 Registration framework to help more children secure a place in a school near their homes, this will further fuel the demand for properties near popular schools.
For perspective, resale private properties within 1km of St Hilda's Primary School in Tampines is about 11-12% higher than the district's average price.
Similarly, resale private properties within 1km of Anglo-Chinese School (Primary) in Barker Road is about 19% higher.
For Lentor Modern, there are two popular schools within a 1km radius - CHIJ St Nicholas Girls' School and Anderson Primary School. Another school within 1km is Mayflower Primary School.
When it comes to secondary schools, the Raffles Girls' Secondary School and Raffles Institution are less than 20 minutes' drive away. There are also many sought-after schools along Bukit Timah Road and they can be easily reached by changing train at Stevens MRT station, which is an interchange between the Thomson-East Coast and Downtown Line. Some of these schools include the following:
Methodist Girls' School
Singapore Chinese Girls' School
Nanyang Girls' High School
Chinese High School
Hwa Chong Institution
National Junior College
International Schools
There are several international schools about 13-19 minutes' drive from Lentor Modern. Their proximity will potentially attract housing demand from expatriates with school-going children working in the North Region. These include the Gems World Academy, Sir Manasseh Meyer International School and Singapore American School.
With Woodlands set to become Singapore's largest regional centre in the not-too-distant future, it will provide a good catchment of tenants. Hence, a development like Lentor Modern could provide first-mover advantage and promising investment potential.
Shopping and Interesting Amenities in the North Region
Lentor Modern, being a mixed-use development, will offer some F&B and retail choices, as well as a supermarket and childcare facilities. Besides these, there isn't any shopping centres in the immediate vicinity of Lentor Modern condo.
The nearest shopping malls are Thomson Plaza and Northpoint City. Both are three stops from Lentor MRT station in opposite directions. Northpoint City is the second largest shopping centre in Woodlands after Causeway Point, and together with many other shopping malls in the north such as Canberra Plaza, Sembawang Shopping Centre and Sun Plaza, they offer a retail ecosystem where residents can indulge in a diverse range of leisure, recreation, entertainment and dining experiences.
Wholesale Outlets
However, what sets the North Region apart from the rest of Singapore is the concentration of factory outlets that sell a variety of food items at wholesale prices. These outlets are especially popular during major festivals such as Chinese New Year.
Some of them are located at Woodlands Terrace about 20 minutes' drive from Lentor Modern condo. Some of the products they sell include seafood, poultry, BBQ roast meats, cured meat, pastry, cakes and many more.
The other interesting places include the Senoko Food Hub and Senoko Fishery Port. At the former, visitors can find an array of cooked and frozen food, vegetables, food seasoning and beverages among many others. At Senoko fishery Port, visitors can choose from a dizzying selection of fishes and seafood at wholesale prices.
Unique Lifestyle and Recreational Amenities
Another fascinating feature of living in the North Region is its wide range of unique lifestyle and recreational offerings that include the following:
Sembawang Hot Spring Park - A unique landmark in Canberra, it was opened in early 2020. The geothermally heated water comes out from underground at 70 degrees Celsius and it is believed to have curative and medicinal qualities. One of its most popular activities is the communal foot bath.
Kayaking at Khatib Bongsu - The mangroves and flatlands of Khatib Bongsu are home to one of Singapore's last un-dammed rivers, attracting birdwatchers, cyclists, joggers, environment lovers, and fishing enthusiasts. It is also a popular place for kayaking.
Water Venture (Sembawang) – It provides a range of outdoor activities such as kayaking, sea-rafting, nature exploration, camping and outdoor cooking. It also conducts team-building programmes through obstacle courses.
Paintball Battle – Engage in tactical battle with friends with paintball. This exhilarating activity teaches participants the crucial skills of teamwork and communication.
Wake Pirates Wakeboarding – With a fleet of competitive towboats from the best wakeboarding boat-makers in the world to churn out killer waves, participants will be guided from the very basic to executing their first spin and invert.
Udder's Ice-Cream Making Workshop – It offers children the experience of churning out unique ice-cream flavours such as bandung, popcorn and chili-chocolate. At the end of the session, they will be treated to a 50-minute all-you-can-eat ice-cream buffet!
Goats at Hay Dairies – Besides learning about goats and experience feeding them, visitors can also learn how to milk the goats. They can also buy the fresh milk available in original and chocolate flavours.
Transformation of the North Region
The Woodlands Regional Centre is set to become the largest in Singapore. With 100 ha of land, it will be a vibrant new hub for businesses that will integrate new commercial and residential developments to bring jobs closer to homes in the North Region. Comprising the Woodlands Central and Woodlands North Coast, the latter will serve as a vital link with Malaysia.
Over the next 10-15 years, Woodlands Regional Centre will have new spaces for industry, research and development, learning and innovation. According to the government, the development of Woodlands Regional Centre alone is expected to generate an estimated 100,000 jobs.
North Coast Innovation Corridor (NCIC)
The North Coast Innovation Corridor (NCIC) is another significant development. It will consist of a belt of significant economic centres spanning Singapore's north and north-eastern districts, stretching from the Woodlands Regional Centre and Sembawang Shipyard to the upcoming Seletar Regional Centre and Punggol Digital District.
These business hubs are envisaged to attract industrialists and enterprises, especially those with business connections to Malaysia.
The NCIC will connect the future Agri-Food Innovation Park and Woodlands Regional Centre to the North's ecosystem, which includes farms, Republic Polytechnic, and the Senoko Food Zone. Across the corridor will be a diverse mix of office, retail, business parks, and industrial spaces.
As a result, a broad range of jobs will be brought closer to residents. At the same time, accompanying facilities and amenities will be constructed to support and improve the quality of life.
Rail Transport System (RTS)
The Johor Bahru–Singapore Rapid Transit System (RTS) is a new 4km-long cross-border rail project that will connect Malaysia and Singapore. Expected to be completed by end-2026, it will improve connectivity, people-to-people relations, and also boost economic growth in both nations.
The Singapore terminus will be located at Woodlands North and adjacent to the Thomson-East Coast Line (TEL) station. On the Malaysian side, its terminus will be at Bukit Chagar near JB Sentral, a popular shopping destination for many Singaporeans.
According to Singapore's then Transport Minister Ong Ye Kung, there would eventually be a transport hub connected to the RTS Link and TEL stations. He added:
"Taken together, these transport connections will support and enhance the larger development plans to transform Woodlands into a key growth hub and thriving employment gateway for the North Region, just like Jurong and Tampines".
Given the many exciting developments in the North Region, it can only bode well for those looking for property investment, especially when many of them are still at their nascent stages.
Redevelopment of Sembawang Shipyard
Lentor Modern is about 20 minutes' drive from the Sembawang Shipyard, which will have its operations moved to Tuas by 2024.
The shipyard's unique coastal profile presents opportunities to redevelop the vacated site into a mixed-use waterfront lifestyle precinct that will take into consideration its rich maritime history. This will bring more vibrancy to a once mundane area.
Selected buildings with historical value will be re-purposed for suitable uses to help rejuvenate the precinct. At the same time, new housing and amenities will be developed. This will further enhance living standards and the desirability of setting up a home in the North Region.
Review Conclusion - Is Lentor Modern Worth Investing In?
With a land rate of $1,204 psf ppr, Lentor Modern condo is expected to set a new benchmark in District 26 with an expected average launch price of $2,2xx psf. But at the same time, the land parcel (known as Lentor Hills Parcel A for now) just opposite it was sold at a lower $1,060 psf ppr, which would translate to an expected launch price around $2,xxx psf. This could pose competition to Lentor Modern, and despite it being a purely residential development, it is a short walk from the MRT station.
Interestingly, GuocoLand has a stake in both projects. Hence, their pricing will be closely scrutinised.
Moreover, two other new land parcels - Lentor Hills Road (Parcel B) and Lentor Central - will likely be put up for tender this year and they can yield about 735 residential units combined. In addition, the Lentor Gardens site, which can yield about 530 units, has just been transferred to the "confirmed" list. Together with the Lentor Hills (Parcel A) site that will offer 595 units, they are expected to add another 1,860 units (estimated) to the area.
Given the increase in supply within such close proximity of each other, housing developers would likely be more cautious during the land tenders. With potentially lower land prices and hence, lower launch prices, these upcoming developments could pose more competition to Lentor Modern. This is especially so when all the four developments are located 350m or less from the Lentor MRT station. This can only benefit homebuyers who have witnessed escalating land prices in the last two years.
Nevertheless, Lentor Modern is a mixed-use development consisting of a childcare centre, supermarket and commercial establishments at first storey, whilst the others are pure residential developments. It will also be directly linked to the Lentor MRT station.
As such, some homebuyers may be willing to pay a premium for a mixed-use development due to the convenience it offers. Meanwhile, below is a price comparison of integrated versus non-integrated developments.
As can be seen, buyers are not resistant to paying a premium for integrated developments.
In terms of pricing, paying around $2,xxx psf or higher for new launches in the OCR (Outside Central Region) may seem steep, especially when considering there are post-launched developments selling below $2,xxx psf, including some in RCR (Rest of Central Region).
But many developers have since raised their prices. If you need more information on such developments, please WhatsApp us.
Although these post-launched developments may be attractive alternatives, the inventory of unsold units is extremely low. In fact, it is at a multi-year low. Moreover, most of the choice units would have already been snapped up.
Once these unsold stocks have been depleted, the price of new property launches in the future will see a paradigm shift higher, as with the case of Lentor Modern. This can be attributed to the significant rise in land prices and sharp increases in construction cost due to logistical disruption from the covid-19 pandemic and Russia-Ukraine war, which have worsened inflationary pressures globally.
Meanwhile, let's have a recap on recent land tenders. Prior to the sale of the Lentor Modern site, a parcel at Tanah Merah Kechil was sold at $930 psf ppr in November 2020. Thereafter, the Ang Mo Kio Avenue 1 GLS was sold at S$1,052 psf ppr in June 2021. This was followed by the Diary Farm Walk site that was sold at $980 psf ppr in March this year.
All these sites are also in the Outside Central Region (OCR). At such land rates, they are likely to be launched upward of $1,8xx psf minimally, which would become the new normal. Hence, Lentor Modern's pricing from $2,2xx psf is something potential property investors or buyers will have to come to terms with.
Although the latest release of new land parcels under the GLS could temper the rise in land prices, potential property investors and homebuyers should be cognizant of the low inventory of unsold units in the market currently. Moreover, there will be fewer supply of new housing units compared to last year. These factors, plus developers looking to replenish their depleting land banks, would likely keep land prices firm.
This can be seen from the recent land tenders for the Dunman Road and Pine Grove (Parcel A) sites that were sold at $1,350 psf ppr and $1,318 psf ppr respectively. Located in the Rest of Central Region (RCR), such land rates would translate to an average lauch price around $2,4xx psf.
With land prices at the recent government land sales (GLS) staying firm, it is difficult to see property prices falling, barring a collapse of the economy.
Property Price Trend Analysis Between 2 Developments
Meanwhile, let's analyse the price performances of two mixed-use developments in nearby Yishun (District 27) - Nine Residences and North Park Residences. Like Lentor Modern, both have commercial units on the first storey.
Nine Residences is a 186-unit development about 12 minutes' walk from the Yishun MRT station, whereas North Park Residences is 920-unit development next to the Yishun MRT station and bus interchange.
As can be seen, Nine Residences, which was launched in 2014 at an average price of $1,096 psf has appreciated 4% since. However, North Park Residences which was launched in April 2015 at an average price of $1,353 psf has appreciated by 21%!
This clearly illustrates that developments near or are integrated with MRT stations, like Lentor Modern, potentially offer a higher rate of capital appreciation.
Sales On Integrated Developments
To further illustrate the popularity of integrated developments, let's look at how some of the recent projects have performed:
Woodleigh Residences (fully sold)
Sengkang Grand (99.85% sold)
Pasir Ris 8 (90.76% sold)
Midtown Modern (79.71% sold)
Canninghill Piers (95.11% sold)
According to a recent survey by Edgeprop, many property buyers are willing to pay more for connectivity and conveniences, such as near an MRT station, supermarket and food choices. This is unsurprising amid the high prices of Certificate of Entitlement (COE) for cars which have exceeded $100,000.
Property Price Trend Analysis Between Districts
Next, let's compare the property price trends (condo/apartment) between District 18 (Tampines & Pasir Ris), District 20 (Bishan & Ang Mo Kio) and District 26 (Upper Thomson & Springleaf) over the past 20 years.
As can be seen in District 26 where Lentor Modern is located has underperformed. Over the past 20 years, prices have appreciated 134.1% compared to 169.6% and 172.6% for District 18 and District 20 respectively (see chart below).
Does this mean that properties in District 26 have less capital appreciation potential? On the contrary, District 26 could potentially offer a higher rate of capital appreciation as it is less "developed", which will provide it with more room to play catch up with the other two districts. For example, housing estates in Tampines and Ang Mo Kio were built in the 1970s and Bishan in the 1980s, while their respective MRT stations started operation in the late 1980s which helped ignite their rapid development.
Compared to District 26 (Upper Thomson/Springleaf), it has remained a rather "sleepy" housing estate and the Thomson-East Coast Line (TEL), which comprises of five stages, only started construction in 2014. So far, only Stage 1 and 2 stretching from Woodlands North to Caldecott have started operation in January and August 2021 respectively.
But when all five stages are completed by 2025, they will help to spur the development of the North Region, with Woodlands set to overtake Tampines as Singapore's largest regional centre. The development of TEL will also improve accessibility and bring more vibrancy to the area. Ultimately, this will drive up demand for housing, which will boost property prices in the process.
Moreover, there has been limited new housing supply in District 26 so far, especially around Lentor, which augurs well for property buyers. Although there will be more private condos coming up (Lentor Hills Parcel A & Parcel B, Lentor Central, and Lentor Gardens), they won't fully mitigate the supply crunch the property market is currently experiencing.
Moreover, these land parcels are all within a short walking distance to the Lentor MRT. Their favourable locations are likely to attract strong interest from developers, which will underpin property prices.
Interestingly, another plot of land beside them (circled in red) is currently listed as "subject to detailed planning". In URA lingo, this means the land use and plot ratio are still being assessed, which is something to watch out for.
Nevertheless, with Lentor Modern likely to set a new benchmark in OCR, potential homebuyers and property investors may assess the pricing of competing developments coming up nearby. But, as mentioned earlier, those looking for a sharp correction in property prices will likely be disappointed.
For an update on Lentor Modern condo or the other developments, please feel free to WhatsApp Us.
Meanwhile, you may be interested in two upcoming new launches in OCR - Amo Residence at Ang Mo Kio, Sky Eden at Bedok, and Sceneca Residence at Tanah Merah.
---
Other Property Reviews
Below are other new property launches you may be interested in:
To find out details of new launches, please refer to project information.