This is a condo review of Sky Eden @ Bedok, a 99-year leasehold mixed-use development in Singapore's District 16. With a site area of 44,526 sqft (4,136.6 sqm) and a plot ratio of 3.5, it will comprise one 17-storey block offering 158 residential units of 2- to 4-bedrooms and 12 commercial outlets at ground floor.
It will be developed by Frasers Property on the site formerly occupied by the Bedok Point shopping mall. It is just 4 minutes' walk to the Bedok Integrated Transport Hub (MRT station + Bus Interchange) and located within the vibrant Bedok Town Centre near Heartbeat @ Bedok.
This property review of Sky Eden seeks to provide an unbiased evaluation of the following to help you make an informed decision on whether this is the right property to invest in:
To receive the latest updates or to book a showflat preview, please WhatsApp Us. To learn more about Sky Eden, please click on the links in the Table of Contents below:
Sky Eden @ Bedok Unique Selling Point
Excellent transport connectivity - 4 minutes' walk to Bedok MRT station and bus interchange (integrated transport hub)
Direct access to Downtown Singapore and Central Business District via MRT East-West Line
Located within the vibrant Bedok Town Centre and very near Heartbeat @ Bedok
4 minutes' walk to Bedok Mall and many other popular shopping destinations
Near many interesting food places
Family-friendly location, with many popular schools and tertiary institutions nearby
Short drive or 10 minutes' cycle to leisure destinations such as East Coast Park and Bedok Reservoir Park
Proximity to major employment hubs offers promising investment potential
Where is Sky Eden @ Bedok Condo Located?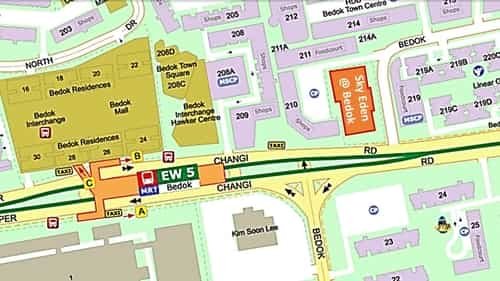 Sky Eden @ Bedok condo is located at the town centre of Bedok, which is one of the largest residential estates in Singapore by population. The area is well-served by public transport, with the Bedok MRT station and bus interchange just 3 minutes' walk away.
There are also many amenities nearby, such as shopping malls, eateries, polyclinic, public library, supermarkets, childcare centres, schools, and sport centres. Being a self-contained housing estate, it offers an ideal location to raise a family.
Who is the Developer of Sky Eden?
The developer for Sky Eden @ Bedok condo is Frasers Property, a trusted and well-known multinational real estate and property management company that develops, owns, and manages a diverse, integrated portfolio of properties.
Listed on the Main Board of the Singapore Exchange (SGX) and headquartered in Singapore, the Group has total assets of $40.7 billion as of 31 March 2022.
Its assets range from residential, retail, commercial & business parks, to industrial & logistics in Southeast Asia, Australia, Europe, and China.
Some of its private residential developments in Singapore include Seaside Residences, Riviere, 8@Mount Sophia, and North Park Residence, with the latter conferred World Gold Winner at the FIABCI World Prix d'Excellence Awards 2022.
What are the Prices of Sky Eden @ Bedok?
At the sales launch of Sky Eden on 7 September 2022, almost 75% or 118 out of 158 residential units were snapped up at an average price of S$2,100 per square foot (psf). All 2-bedroom units, which made up 40% of the development, were fully sold.
Two-bedroom units with sizes of 657 sq ft to 743 sq ft were priced from $1.31 million ($1,994 psf). The remaining units are the 3-bedroom premium units of 1,087 sq ft, which start from over $2 million, and 4-bedders of 1,302 sq ft, which are priced upward of $2.6 million.
The strong demand is not unexpected, with Singaporeans and HDB upgraders making up the majority of the buyers. Given the continued rise in HDB resale flat prices, it provides an opportunity to switch to a private property offers a higher standard of living. In addition, there is an increasing realisation that private properties offer more promising investment potential.
Please WhatsApp me to learn more about our 7-Step Framework to Identify Low Risk, High Profit Potential Properties.
Sky Eden @ Bedok Unit Mix
Sky Eden seeks to be a "green focal point in the vicinity" where there is an emphasis on biophilic design and green features. These include landscaped sky bridges on every level, an environmental deck, and an eco-pond.
Sky Eden @ Bedok offers a choice of 2- to 4-bedroom units. This will cater to a wide range of buyers, including singles, families with children and investors.
Layouts
All the units come with a dumb-bell layout to maximise the use of space. Master-bedroom for every unit type can accomodate a king-size bed. Below is a brief summary of the features for each unit type.
2-Bedders: A choice of 1 or 2 bathrooms, with B1 (Deluxe) Type only have a shared bathroom. U-shape kitchen. B2 & B3 (Premium) come with full-height glass panel between kitchen and dining room.
3-Bedders: Enclosable kitchen with natural ventilation and a yard. C2 & C3 (Premium) comes with a home shelter.
4-Bedder: Enclosable kitchen with natural ventilation. Comes with a wet/dry kitchen with yard, home shelter, and a Junior Master bedroom.
Unit Provisions
Living/Dining/Balcony Finishes - porcelin tiles flooring, dark laminate door/door frames.
Kitchen Finishes - porcelin tiles flooring, counter top & backsplash, integrated stainless steel kitchen sink, cutlery tray, corner swivel basket for B2 & B3 unit types only.
Bedroom Finishes - vinyl flooring, laminate for wardrobe door (external), melamine for wardrobe (internal).
Bathroom Finishes - porcelin tiles flooring, compressed quartz vanity top, laminate (external) & melamine (internal) for cabinet doors.
Kitchen Fittings (Bosch) - hood, induction hob, washer cum dryer, freestanding fridge.
Common Bath Fittings (Gerberit & Hangrohe) - wall-hung WC with concealed cistern flush, shower set, basin mixer, shower mixer, undercounter basin,
For more information, please view floor plans and unit provisions.
Excellent Transport Connectivity
Sky Eden @ Bedok condo enjoys excellent transport connectivity as the Bedok integrated transport hub (ITH) is just 4 minutes' walk away. ITHs are fully air-conditioned bus interchanges integrated with MRT stations and linked to commercial developments such as shopping malls.
Hence, residents living near them will have easy access to a plethora of transport options.
In addition, many MRT interchanges are near Sky Eden @ Bedok, allowing for more efficient and faster commutes. The following are some of the MRT interchanges:
Tampines MRT Interchange (East-West/Downtown Line) - 3 stops away
Paya Lebar MRT Interchange (East-West/Circle Line) – 3 stops away
Pasir Ris MRT Interchange (East-West/future Cross Island Line) – 4 stops away
Bugis MRT Interchange (East-West/Downtown Line) – 7 stops away
City Hall Interchange (East-West/North-South Line) – 8 stops away
For perspective, a trip to the Central Business District (CBD), Orchard Road, and Marina Bay merely takes 25, 32 and 35 minutes, respectively.
Major Expressways Near Sky Eden
Two major expressways are less than 6 minutes' drive from Sky Eden @ Bedok – Pan Island Expressway (PIE) and East Coast Parkway (ECP). They will help to shorten travelling time for those who drive. Below is the estimated driving time to major employment hubs:
Tampines Regional Centre - 8 minutes
Paya Lebar sub-Regional Centre - 11 minutes
Changi Business Park – 12 minutes
Changi Airport - 19 minutes
Shopping Malls Near Sky Eden @ Bedok
Being a mixed-use development, residents of Sky Eden @ Bedok will have convenient access to retail and dining services at the first floor.
But many more shopping malls can be found nearby, and they include the following:
Bedok Mall – 4 minutes' walk away
DjitSun Mall - 5 minutes' walk away
Singapore Expo and Changi City Point – 2 MRT stations away
Eastpoint Mall (Simei) – 2 MRT stations away
Jewel @ Changi – 3 MRT stations away
Tampines Mall, Century Square, Tampines One, and Our Tampines Hub – 3 MRT stations away
PLQ Mall, Paya Lebar Square, Singpost, City Plaza, Kinex, Joo Chiat Complex) – 3 MRT stations away
Together, these shopping malls provide residents a plethora of retail, entertainment, and leisure options, saving them the trouble of travelling all the way to the city.
In addition, you can find supermarkets, children's enrichment centres, medical, banking and many other essential services in these shopping malls
Other Amenities
Being located within the Bedok Town Centre, Sky Eden @ Bedok is just minutes' walk to the market, food centres, and Heartbeat @ Bedok.
Heartbeat @ Bedok is a town-level community avenue catering to the changing lifestyle needs of Bedok residents. It comprises of food and beverage outlets, childcare and enrichment centres, retail outlets, Kampong Chai Chee Community Club, Bedok Polyclinic, Bedok Public Library, NTUC Silver Circle - Senior Care Centre, and ActiveSG Bedok Sport Centre.
The sports centre offers facilities such as swimming pool, sports hall, badminton courts, tennis courts, gymnasium, and Active Health Lab.
Interesting Food Places And Foodie Havens
There are several interesting food places around Sky Eden @ Bedok. Some of these include the Bedok Interchange Food Centre, Bedok Market & Food Centre, Bedok South Market & Food Centre, Simpang Bedok, and Fengshan Market & Food Centre. Together they offer residents a plethora of affordable local favourites and more.
There are also a couple of foodie havens a short drive away at East Coast Road, Joo Chiat, and Katong. Together, they offer an intriguing mix of artisan cafes, bars, and hip restaurants operating alongside traditional eateries. Some of them open till late at night and they have become favourite haunts for those looking for a supper fix.
Proximity to Popular Schools
Buying a property near popular schools has always been an important criterion, especially for those with school-going children. This is due to the Ministry of Education's distance-based allocation system for children registering for Primary 1 admission as those living within a 2km radius will be granted priority.
In addition, homes near popular schools have been seen to command a premium, which will provide an investment opportunity. Some of the popular primary schools near Sky Eden @ Bedok includes Red Swastika, Yu Neng and Temasek.
List of Primary Schools
Below is a list of primary schools within a 2km radius of Sky Eden.
Within 1km of Sky Eden
Bedok Green Primary and Secondary
Fengshan Primary School
Opera Estate Primary School
Red Swastika School
Yu Neng Primary School
Between 1-2km of Sky Eden
Damai Primary School
Anthony's Canossian Primary School
Stephen's School
Temasek Primary School
List of Secondary Schools
Below is a list of secondary schools within a short drive of Sky Eden @ Bedok:
Bedok South Secondary School
Bedok Green Secondary School
Bedok View Secondary
Changkat Changi Secondary
CHIJ Katong Convent
Anglican High School
Anthony's Canossian Secondary School
Hilda's Secondary School
Temasek Secondary School
Victoria School
When it comes to post-secondary and tertiary education, the Temasek Junior College and Singapore University of Technology and Design (SUTD) are 6- and 9-minutes' drive away, respectively.
International Schools
For buyers of Sky Eden @ Bedok for investment, they may potentially attract expatriate tenants as there are three international schools within a 11-16 minutes' drive. They are:
United World College Southeast Asia (East Campus) at Tampines
Nexus International School at Aljunied
Stamford American International School at Woodleigh.
Popular Leisure Destinations Near Sky Eden @ Bedok
There are two popular leisure destinations 5-7 minutes' drive from Sky Eden @ Bedok. They are:
Bedok Reservoir Park – Once a quarry, it has been transformed into an 88-hectare reservoir and park that offer a plethora of outdoor activities. These include fishing, birdwatching, and taking part in various water sports.
It is also very popular with joggers, leisure strollers, and fitness enthusiasts as there are exercise areas and a serene 4.3-kilometer track surrounding the reservoir. In addition, there are several children's playgrounds that will provide families with young children many hours of outdoor fun.
For the more adventurous, the Forest Adventure located within Bedok Reservoir Park offers obstacle courses and unforgettable outdoor adventure for children of all ages. The highlight is the Big Zip where adventurers glide 300m over the Bedok Reservoir.
For those who prefer a more sedate lifestyle, they can simply take a leisure stroll amidst the quiet surrounding and take in the beautiful sight during sunrise and sunset.
East Coast Park – It is one of Singapore's most popular urban getaways and it offers a plethora of recreational, sporting, and dining options. Many people visit the place for picnics, BBQs, and camping by the seaside.
There are also various children's playgrounds, which include the newly revamped Coastal PlayGrove that offers a vertical net climbing area and long metallic tube slides that will keep the little ones engaged for hours.
For the more active, they can go for jogging, cycling, have a game of beach volleyball, or take part in cable skiing and other water sports. Those looking for an adrenaline rush can try the Xtreme SkatePark.
For food, there is the ever-popular East Coast Lagoon Food Village and East Coast Seafood Centre, plus many food outlets along the entire stretch of East Coast Park.
Besides Bedok Reservoir Park and East Coast Park, there are also several nature parks in Tampines just three MRT stations away.
Major Employment Hubs Near Sky Eden @ Bedok
According to the Changi Region Master Plan, it will be transformed into a thriving economic hub with the development of the Changi Terminal 5, Changi East Industrial Zone, Changi East Urban District, and Changi Aviation Park. They are part of the major transformation in the East Region.
The mega Changi Terminal 5, which is the size of Terminal 1,2 and 3 combined, is expected to be completed by mid-2030 after construction was being delayed by the covid-19 pandemic.
These major hubs are envisaged to boost Singapore's aviation and freight transportation industries. This will result in bringing more jobs to homes in the East Region, which will in turn spur demand for housing.
With Sky Eden @ Bedok condo having direct access to the Changi Airport and it is just three MRT stations away, this will give homebuyers and property investors the first-mover advantage.
Meanwhile, there are already several major employment hubs nearby - Tampines Regional Centre, Pasir Ris Wafer Fabrication Park, and Loyang Data Centre. As they can be easily reached by public transport, they offer a good catchment of potential tenants for those looking for investment.
Conclusion – Is Sky Eden A Viable Property Investment?
If buying for own stay, Sky Eden @ Bedok offers many living conveniences. They include the following:
4 minutes' walk to the Bedok MRT station and bus interchange, providing easy access to many parts of Singapore
Located within Bedok Central, offering residents a plethora of amenities
Close to many shopping malls and interesting food places
Convenient access to many popular schools
Near Bedok Reservoir Park and East Coast Park
Work near major employment hubs
However, like any property investment, the entry price will be one of the major considerations.
With Sceneca Residence likely to be launched before the year-end, it would offer an alternative to Sky Eden @ Bedok, which can only benefit property buyers or investors as there will be competition between developers.
However, Sceneca Residence, which is also a mixed-use development and just one train stop away, will be directly linked to the Tanah Merah MRT station. On the other hand, Sky Eden @ Bedok is 4 minutes' walk to the Bedok MRT station, but has the advantage being located within the Bedok Town Centre and enjoys easy access to a plethora of amenities.
Although the pricing for both projects have not been released yet, the Sceneca Residence is estimated to be launched from $1,8xx psf on average (based on its land rate of $930 psf ppr). Hence, Sky Eden @ Bedok could be launched around similar levels.
Should it be launched at a lower price, it would offer a great buy since other upcoming new launches in the Outside Central Region (OCR) will be selling higher due to the escalation of land prices in the last 1-2 years.
To recap, the following are the recent land prices:
Ang Mo Kio Avenue 1 - $1,118 psf ppr (estimated launch price around $2,1xx psf)
Lentor Central – $1,204 psf ppr (estimated launch price around $2,2xx psf)
Lentor Hills Road (Parcel A) – $1,060 psf ppr (estimated launch price around $2,xxx psf)
Dairy Farm Walk – $980 psf ppr (estimated launch around $1,9xx psf)
Bedok Property Price Trend
The last new launch in Bedok is Grandeur Park Residences about 5 years ago, a purely residential development. Hence, some pent-up demand could be seen. To examine how properties in Bedok have performed, let's examine how it has performed together with Bedok Residences, an integrated development.
For Grandeur Park Residences, which was launched in November 2017 at an average price of $1,394 psf, it has appreciated by 16.14%.
As for Bedok Residences, which was launched in November 2011 at an average price $1,346 psf, it has appreciated by 17.09%.
Despite being an older development, Bedok Residences has outperformed, attesting to the allure of an integrated development and the convenience it offers.
However, Sky Eden @ Bedok is neither an integrated nor purely residential development, but a mixed-use development with some commercial outlets at its first floor.
Nevertheless, properties in Bedok have performed quite well overall, as can be seen from the above chart. If Sky Eden @ Bedok is priced right, it could certainly offer an attractive investment option.
In terms rental, Bedok Residences and Grandeur Park Residences have achieved average rental yields of 3.3% and 3.7% respectively. These are very decent levels and are comparable or even higher than most properties in prime District 9.
Please WhatsApp or Email us for pricing and project updates.
---
Other Property Reviews
You may also be interested in the following property reviews. More details on new launches can be found in project information.
For more details on new launches, you can find them in project information.