This is a review of North Gaia, an executive condo (EC) at Yishun Close in Singapore's District 27 by well-known local developer Sing Holdings Ltd.
To be completed in 2025, the 99-year leasehold development has a site area of 21,514 sqm (231,575 sqft). There will be 11 blocks of 14-storey residential towers (total 616 units) with 2 levels of basement carpark, tennis court, swimming pool, landscape deck, clubhouse & many other communal facilities.
As this is the first EC in the area since 2014, strong pent-up demand can be expected. This is one of the largest executive condo sites since the sale of the Tampines Avenue 10 land plot in 2018 where Parc Central Residences is being built.
This property review of North Gaia seeks to provide an unbiased examination of the following to help you make an informed decision on whether this is the right property to invest in:
Investment potential (an analysis of price trends and a case study)
Nevertheless, please feel free to WhatsApp or Email Me if you wish to:
Receive the latest updates about the development.
Visit the showflat to have a more thorough understanding of the development.
Gain a deeper insight into its investment potential and get an update on Singapore's property market.
To learn more about North Gaia EC, please click on the links in the Table of Contents below:
Key Attributes of North Gaia EC
Located next to the scenic Khatib Bongsu nature park and overlook Sungei Khatib and Johor straits
A green and serene living environment near several nature parks
3 bus stops to Yishun MRT station and Integrated Transport Hub
6 minutes' walk to Junction Nine, plus many other shopping malls within easy access
An abundance of lifestyle amenities - SAFRA Yishun Country Club, Orchid Country Club and many other interesting recreational options
Close proximity to many schools
5 minutes' drive to Khoo Teck Puat Hospital
Transformation of North Region provides promising property investment potential
Near new Rapid Transit System (RTS) that links directly to Johor
Attractive entry price due to relatively low land cost as compared to recent record land sale prices
Property Fact Sheet
Item
Description
Developer:
Sing Holdings (Yishun) Pte Ltd.
Type:
Executive Condominium
Total Units:
616 (Eleven 14-storey blocks)
Site Area:
21,514 m² (231,576 sq ft)
Gross Floor Area:
60,239.2 m² (648,414 sq ft)
Plot Ratio:
2.8
Expcted TOP:
Address:
25 Yishun Close Singapore 769341
27 Yishun Close Singapore 769342
29 Yishun Close Singapore 769343
31 Yishun Close Singapore 769344
33 Yishun Close Singapore 769345
35 Yishun Close Singapore 769299
37 Yishun Close Singapore 769300
39 Yishun Close Singapore 769301
41 Yishun Close Singapore 769302
43 Yishun Close Singapore 769303
45 Yishun Close Singapore 769294
District:
D27 - Sembawang / Yishun
Tenure:
99 Years
Carpark:
616 carpark lots + 11 accessible lots + 103 bicycle spaces
Who is the Developer of North Gaia EC?
The developer of North Gaia EC at Yishun Avenue 9 is Sing Holdings Limited, a property development and investment holding firm established in Singapore. Founded in 1964, it is listed on the Mainboard of the Singapore Exchange.
The Company is involved in a wide range of property development, ranging from landed houses, apartments, condominiums, offices and industrial buildings, factories to warehouses. Some of the residential projects it has developed include BelleRive in the Bukit Timah neighbourhood, The Laurels at Cairnhill, Waterwoods in Punggol, and Robin Residences at Robin Drive.
The Company's projects have won several awards such as the prestigious FIABCI Singapore Property Award and the BCA Green Mark Award (Gold Plus).
What are the Prices for North Gaia Executive Condo?
On launch day, units at North Gaia EC were sold at an average price of $1,302 psf (refer to launch day price list). The cheapest is a 3-bedder starting from $1,140,000 ($1,177 psf).
To receive the latest pricing, please Email or WhatsApp Me.
Sing Holdings clinched the Yishun Avenue 9 site after the government launched the land tender on 30 April 2020. It beats six other competitors by paying $373,500,000 for the 21,514 sqm (231,575 sqft) land parcel. With a maximum Gross Floor Area (GFA) of 60,240 sqm (648,418 sqft), this translates to a land rate of $576 psf ppr.
The selling prices of North Gaia are quite similar to Parc Central Residences executive condo located at Tampines. Launched for sale in January 2020, it has a marginally higher land rate of $578 psf ppr.
And over at Canberra Crescent, Provence Residence was the last EC to be launched in the north during May last year. It has a lower land price of $566 psf ppr and has been selling between S$1,022 psf to $1,304 psf.
Given that the latest EC land tender for Bukit Batok Avenue 8 hitting a new record of $662 psf ppr, beating the previous record of $603 psf ppr for the Tengah Garden Walk EC site in June last year, North Gaia will present a not-to-be-missed opportunity to secure a property that will be selling at an attractive entry price due to its lower land rate.
Where is North Gaia EC Located?
North Gaia EC is located next to the 40-hectare Khatib Bongsu Nature Park, bounded by Yishun Avenue 8 and Avenue 9.
It enjoys a commanding view of the rich mangrove and mudflat habitat on the north-eastern coast of Singapore, as well as open fields and unobstructed views beyond it towards the southeast.
It is about 1.6km from the Yishun integrated transport hub (ITH). ITHs are fully air-conditioned bus interchanges that are seamlessly linked to MRT stations and adjoining commercial developments such as shopping malls.
Northpoint City, which is the largest shopping mall in the north, is connected to the integrated transport hub just 3 bus-stops away.
North Gaia's Thoughtful Design Features
The following are some of the thoughtful design features incorporated in the development of North Gaia EC.
All blocks are tilted in 22.5 degrees north-south orientation towards west to avoid direct fronting of Symphony Suites at the southwest
Location of the blocks is planned with larger landscape space between them to avoid overlooking issues and to face away from industrial buildings in the north-west
Towers situated along Yishun Avenue 8 have an additional setback of 15m to mitigate traffic noise
Dis-amenities such as tennis court will be sunken at basement level to reduce noise impact while pavilions are also placed away from residential tower blocks along Yishun Avenue 8.
The architectural façade design of the blocks is inspired by the mangrove plants found at the nearby Khatib Bongsu Nature Park
The vehicular entrance access to the development is via Yishun Close, a quieter cul-de-sac away from the main roads
The entrance driveway will lead to the main drop-off for the development, continuing down into the basement carpark
Various amenities and facilities are strategically planned for convenient access by residents
The clubhouses are designed with functional spaces to host family events, co-working environment, games and play activities, and other uses
The clubhouse's architecture form is designed to blend in with the blocks' design, with a simple and timeless façade treatment and interior finishes
The development's resort-style amenities are seamlessly fused together with the landscape
The seamless integration between facilities and landscape offers various connections and experiences with nature – an amalgamation of nature and the urban city lifestyle
Site and Facilities Layout Plan
There are 60 facilities in North Gaia EC catering to residents of all ages. They are divided into five zones:
Verdant Atrium (grand entrance with water features)
Rainbow Trail (games area)
Arcadian Creek (communal zone)
Elysian Sanctuary (relaxation zone)
Mangrove Quest (nature retreat)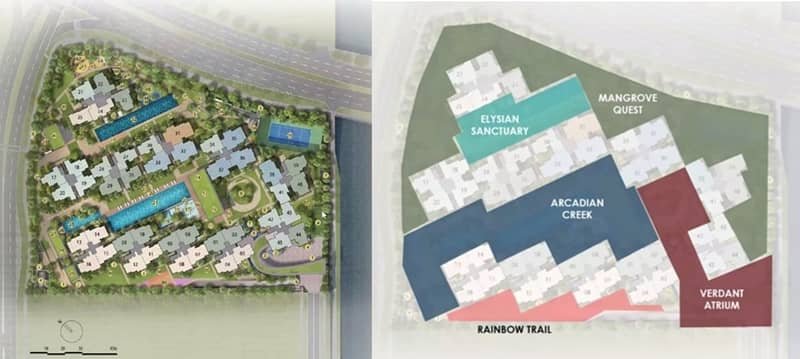 Some of the facilities offered in North Gaia include the following:
2 nos. of 50M Swimming Pool
Co-Working Space
Meeting Room
Tennis Court
Putting Green
EV Charging Station
Smart Locker
4 nos. of BBQ Pits
2 nos. of Function Room/Party Room
Dining Room
Heron Water Play & Splash
Kids Dancing Fountain
Kids Adventure Playground and Mini Flying Fox
Mini Rock-Climbing Wall
Trampoline Garden
Whimsical Play Garden
Maze Garden
Firefly Garden
Gym (Indoor, Outdoor & Aqua)
North Gaia Unit Mix
North Gaia EC offers a mix of 3- to 5-bedroom units with various attributes catering to the following:
Young couples (work-from-home, privacy, future-ready)
Young family (nurturing environment, communal spaces, family-oriented facilities)
Multi-generational family (co-living layout, accessibility, active lifestyle)
. The 3-bedders make up 85% of the entire development of 616 units. The following is a breakdown of the unit types:
Flexible/Optional Configuration
Selected 3 bedroom+yard+study unit types offer a flexible/optional configuration that can be transformed into a guest room, a hobby space or a study room with dual access. However, should residents wish to reconfigure their units, they have to bear the cost. Selected units will also come with high ceiling for the living/dining area.
The development offers two themes - "Cool Breeze" for 3-bedrooms and "Earthly Lux" for 4- and 5-bedrooms.
All units are supplied with branded kitchen appliances, sanitary fittings and wares. For example, gas hob, cooker hood and built-in oven are from Brandt and kitchen sink from Franke, while kitchen mixer, basin mixer, shower mixer and concealed cistern are from Grohe.
For more details, please refer to North Gaia EC factsheet and Floor Plans.
North Gaia Interior Provisions
North Gaia EC offers branded kitchen appliances, sanitary ware and fittings.
Kitchen comes with Brandt cooker hood, hob and oven.
Luxurious bathroom sanitary wares and fittings from brands such as Grohe & American Standard.
Wardrobe accessories cabinet provision in all 4-bedroom and 5-bedroom master bedrooms.
Solid Surface kitchen countertop provision.
Kitchen counter provided in all dry kitchen for 4-bedroom and 5-bedroom units.
Master & Common Bathroom comes with angle valve for possible future bidet spray provision.
Living Close to Nature
North Gaia executive condo is located just across the Khatib Bongsu nature reserve and Sungei Khatib.
The 40ha nature reserve, which used to consist of mangroves and mudflats, is expected to be completed in 2024. When ready, members of the public will be able to explore its rich flora and fauna, as well as go kayaking through the dense network of mangrove waterways.
Besides Khatib Bongsu nature reserve, there are several other parks nearby which include the following:
Yishun Nature Park @ Yishun Greenwalk – Completed in 2016, it is located along Yishun Ring Road and is just 10 minutes' walk from North Gaia EC. It is a place for the community of all ages to explore and learn about the native flora in Singapore. There are signboards that help visitors navigate the park and nature trails. There are also sheltered resting huts and children's playground, making it a fun destination for families.
Yishun Pond Park – A 6 minutes' drive from North Gaia EC, it is a haven of tranquillity that features a pond surrounded by colourful plants and a variety of trees, shrubs and marshland plants. Nature lovers can spot several bird species in the park and learn about the flora and fauna from information boards. There is also a spiral tower where visitors can enjoy a bird's eye view of the surrounding areas. Alternatively, they can just sit and relax at the benches and enjoy the tranquillity and beauty of the water promenade.
Yishun Park – It is a 14-hectare park with natural greenery and a variety of tropical fruit trees such as durian, rambutan, jackfruit, star fruit, coconut, and bread fruit trees, among other tropical fruits. Developed from an old rubber estate, it offers a variety of facilities such as children's playgrounds, fitness zones, an amphitheatre, and multi-purpose courts. The playgrounds will keep kids entertained for hours, while the multi-purpose courts are ideal for family gatherings and activities. Alternatively, visitors can utilise the amenities at the SAFRA clubhouse on the park's grounds.
Lower Seletar Reservoir Park – Just 8 minutes' drive from North Gaia EC, its calm waters, balmy breezes and peaceful surrounding provides a pleasant place for leisure activities, both on land and in water. Featuring a Family Bay with a new performance stage, a water play area, a bioswale rain garden, as well as a Heritage Bridge, it provides a wide spectrum of activities for everyone to enjoy. It is also a popular place for fitness enthusiasts embarking on leisurely strolls or jogs, while the jetty provides an ideal place for avid anglers to reel in their next big catch.
Sembawang Beach Park - It is one of the last few natural beaches in Singapore and is very popular with anglers, bird-watchers and water sports enthusiasts.
Sembawang Hot Spring Park – About 6 minutes' drive North Gaia EC, the geothermally heated water is believed to have curative and medicinal qualities that can help to cure ailments like rheumatism, arthritis and even skin problems. Many people visit the place to soak their feet in the Cascading Foot Bath Pool and some even cook their eggs with the hot spring water.
Excellent Transport Connectivity
North Gaia EC is about 1.6km from the Yishun MRT station, which is not exactly near and requires an 18 minutes' walk. Given Singapore's hot climate, this is unlikely to be the preferred option.
However, there is a direct bus service to the MRT station and it is just 3 stops away. The Yishun MRT station is part of an integrated transport hub, which offers a range of bus services to the surrounding housing estates and many parts of Singapore.
4 stops from the Yishun MRT station is the Woodlands integrated transport hub, which also serves as a MRT interchange for the North-South and Thomson-East Coast Lines. These two lines bring commuters directly into the city and Central Business District (CBD). Hence, a trip to Orchard Road takes only about 35 minutes (9 minutes bus + 26 minutes train ride).
In addition, the Yishun MRT station on the North-South Line is connected to the following MRT interchanges:
Ang Mo Kio – Just 3 stops away, an interchange between the North-South and future Cross-Island Line which will connect Changi in the east to Tuas in the west.
Bishan – 4 stops away, an interchange between the North-South and Circle Line, providing easy access to the National University of Singapore (NUS), Greater Southern Waterfront and Marina Bay.
For those who drive, North Gaia enjoys convenient access three expressways - Seletar Expressway (SLE), Tampines Expressway (TPE) and Central Expressway (CTE). A trip down to Orchard Road will take just 26 minutes. But come 2026 when the North-South Highway is completed, it will help to ease traffic conditions in the North Region and CTE, thereby offering a smoother and faster ride to the city.
Convenient Access to Amenities
North Gaia EC is only 6 minutes' walk to Junction Nine, a neighbourhood shopping mall. It comprises of 2 levels that houses 146 commercial units offering families and shoppers an excellent array of retail stores to meet their daily needs.
It also offers various eateries and a food court, as well as several children's enrichment centres such as Berries World and Kumon. For groceries and fresh produce, a Sheng Shiong supermarket is located on Level 2.
About 700m from Junction Nine is Yishun Ten and Northpoint City.
Yishun Ten houses a Golden Village cinema and several retail outlets. It is connected to Northpoint City, the largest shopping mall in the North. Besides offering a plethora of retail, lifestyle, recreation and F&B choices. Northpoint City is also home to the Nee Soon Central Community Club, Yishun Public Library and a town plaza the size of 10 basketball courts, providing residents of North Gaia EC all the necessary modern lifestyle conveniences.
Besides Junction Nine and Northpoint City, several more shopping malls can be found around the Yishun housing estate. Just 1-4 stops from the Yishun MRT station, they include Canberra Plaza, Sembawang Shopping Centre, Sun Plaza and Causeway Point. Together, they provide residents in the North a large retail eco-system that will satisfy most of their daily essential needs, and more.
Interesting Activities Near North Gaia EC
Yishun used to be a sleepy and "ulu" (remote) nighbourhood at a far-flung corner of Singapore. But in the last two decades or so, and with the opening of the Yishun MRT station in December 1998, it has been transformed into one of Singapore's most interesting suburban housing estates.
Other than retaining its distinctive kampung feel and an old-world charm of Singapore in the 1960s and 1970s, many fun and fascinating recreational activities can be found scattered around the precinct, offering residents of North Gaia EC a unique living experience. Some of these include the following:
SAFRA Yishun – It offers a host of indoor and outdoor activities for the whole family. Some of the more interesting ones include Canopy Walk (a rope course where climbers are hoisted 15-18m off the ground), Rock Climbing & Abseiling, Cosmic Bowling (glow-in-the-dark bowling), Paintball and Laser Tag, among many others.
ORTO Prawning And Fishing – Being the largest prawning and fishing facility in Singapore, it provides the unique experience where the seafood being caught can be grilled on the spot for consumption.
ORTO Maximum Drift Karting Arena - Singapore's first and only Drift-Karting Arena, it is Go-Karting with a special "Drifting" element. The vehicles will be forced to slide sideways when the drivers go around a bend, testing their ability to maintain control when the tires lose their grip.
Diggersite – It offers a unique experience for families and kids where they can operate small scale construction machinery. The recreational and educational digger rides will help children develop skills such as hand-eye coordination and promotes fine motor activities.
Goats at Hay Dairies – Besides learning about goats, visitors can also experience feeding and milking them, providing a fun day out for the whole family. The fresh milk can be bought and they are available in original and chocolate flavours.
Water Venture (Sembawang) – It conducts various outdoor activities such as kayaking, sea-rafting, nature exploration, camping and outdoor cooking. They also offer team-building obstacle courses akin to OBS with dazzling views of the Straits of Johor.
Schools Near North Gaia Executive Condo
There are many schools near North Gaia. For families with children registering for Primary 1 admission, there is a wide range of schools within 2km. Due to the Ministry of Education's distance-based admission criteria, they will be given priority admission. These primary schools include the following:
Within 1km
Chongfu School
Huamin Primary School
Northview Primary School
Xishan Primary School
Between 1-2km
Ahmad Ibrahim Primary School
Jiemin Primary School
Northland Primary School
Yishun Primary School
When it comes to secondary schools, there is also many to choose from and they include:
Admiralty Secondary school
Ahmad Ibrahim Secondary School
Canberra Secondary School
Chung Cheng High School (Yishun)
Naval Base Secondary School
Northbrooks Secondary School
Northland Secondary School
Orchid Park Secondary School
Sembawang Secondary School
Spectra Secondary School
Woodlands Ring Secondary School
Yishun Secondary School
Yishun Town Secondary School
The nearest post-secondary education institution is Yishun Innova Junior College, which is approximately 6 minutes' drive from North Gaia EC.
International Schools
When it comes to international schools, there are a couple within a short drive from North Gaia EC. This could potentially attract housing demand from expatriate families who work in the northern region of Singapore. Some of these international schools are:
GEMS World Academy
Heritage Academy Singapore
Singapore American School
The Grange Institution and International Preschool
Sir Manasseh Meyer International School (SMMIS)
Khoo Teck Puat Hospital (KTPH)
The Khoo Teck Puat is only 5 minutes' drive from North Gaia EC, providing quick and easy access to key medical facilities for residents staying in the North. In addition, it can potentially provide a large catchment of tenants working in the medical and healthcare sector.
KTPH is part of Yishun Health, a network of medical institutions and health facilities under the National Healthcare Group in the north of Singapore, which also includes Admiralty Medical Centre, Yishun Community Hospital and extensions such as Wellness Kampung.
Khoo Teck Puat Hospital (KTPH) is a 795-bed general and acute care hospital that opened in June 2010. It combines medical expertise with high standards of personalised care, set within a healing environment.
North Region Transformation - A New Property Hotspot?
When it comes to land use planning in Singapore, the government take a long-term strategy, aiming to achieve a balance between social, economic, and environmental concerns.
Singapore's future will rely on technology to accelerate economic growth, add more green spaces, and create vibrant housing estates that combine employment, education, and recreation.
One of the "property hotspot" is the North Region, which is on track to become one of Singapore's largest economic hubs. As many of the developments are still at their early stages, a development such as North Gaia EC will provide property investors the first-mover advantage.
Over the next 15 years, new facilities for business, industry, research and development, as well as learning and innovation will be introduced to the Woodlands Regional Centre, which is just 4 stations from Yishun MRT. Moreover, it will be in the heart of the Northern Agri-Tech and Food Corridor, which also includes the Sungei Kadut Eco-District and the future Agri-Food Innovation Park in Kranji.
And in Woodlands Central, new mixed-use complexes with residential, office, and retail components will be built. It will be connected to the Woodlands MRT station on the Thomson-East Coast Line.
In addition, the waterfront precinct of Woodlands North Coast will feature new homes while new job opportunities will be created.
The North Coast Innovation Corridor (NCIC)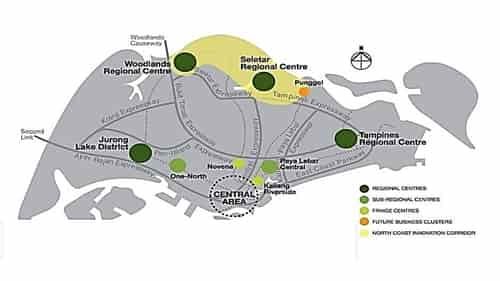 One of the most exciting developments in the north is the North Coast Innovation Corridor (NCIC).  Stretching across the Woodlands Regional Centre and Sembawang Shipyard to the future Seletar Regional Centre and Punggol Digital District, it will form a belt of key economic hubs across Singapore's north and north-eastern areas. The aim is to bring more jobs closer to homes.
These business hubs are envisaged to attract industrialists and enterprises, especially those with business connections to Malaysia.
The NCIC will integrate the future Agri-Food Innovation Park and Woodlands Regional Centre with synergistic elements of the ecosystem in the North that includes farms, Republic Polytechnic and the Senoko Food Zone. This will bring about a diverse palette of office, retail, business parks and industrial spaces across the corridor.
With such major developments taking place, the North Region is expected to become another property hotspot in the coming years.
Development of New Rapid Transit System (RTS)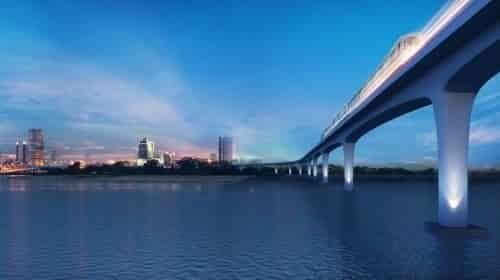 Another excitement development in the North Region is the Johor Bahru–Singapore Rapid Transit System (RTS), a new 4km-long cross-border rail project that will connect Malaysia and Singapore.
Development of the RTS will begin in the first quarter of 2021 and is expected to be completed by 2026.
The RTS aims to improve connectivity, interpersonal relations, and boost economic growth in both countries. It will be capable of handling about 10,000 passengers per hour in each direction, which will reduce congestion along the Johor Causeway.
The Singapore terminus of the RTS will be located at Woodlands North and adjacent to the Thomson-East Coast Line (TEL) station. On the Malaysian side, its terminus will be at Bukit Chagar near JB Sentral, a popular shopping destination for many Singaporeans.
According to Singapore's former Transport Minister Ong Ye Kung, there will eventually be a transport hub connected to the RTS Link and TEL stations adding:
"Taken together, these transport connections will support and enhance the larger development plans to transform Woodlands into a key growth hub and thriving employment gateway for the North Region, just like Jurong and Tampines".
His comments clearly show the ambitious plans of the Singapore government to make the northern region an important economic zone.
North Gaia EC - An Investment Perspective
As have been highlighted, North Gaia EC enjoys quite a number of attractive attributes. These include a pleasant living environment close to nature parks, convenient access to essential amenities like shopping centres, supermarkets, schools and medical services, as well a unique range of recreational, entertainment and lifestyle facilities.
Also, Woodlands is set to become the largest regional centre in the North Region. This will spur the creation of high-value jobs, which will ultimately boost housing demand and underpin property values.
One "drawback" to some though, may be the lack of a MRT station within walking distance. Although it is not exactly that far and is only 3 bus stops away, walking under the hot sun can certainly be off-putting. But, to what extent will this affect North Gaia EC's investment potential?
To answer this question, let's examine the following research data:
Yishun's 10-year average price growth rate versus other major housing estates (2011-2021)
The price growth rate of ECs collectively in Yishun
A case study of the Lilydale EC located at Yishun Ave 6, which is 5 minutes' drive from the Yishun MRT station.
10-Year Average Price Growth Rate (%) of Housing Estates
Below are the 10-year average price growth rate of resale private non-landed homes and executive condos in some of Singapore's major housing estates:
Pasir Ris and Bukit Batok are highlighted vis-a-vis Yishun because these three housing estates were developed around the same time in the 1980s. As for Tampines, it is the first regional centre that was built in Singapore, which began slightly earlier in the late 1970s.
The following is the comparison of the 10-year average price growth rate between several major suburban housing estates in Singapore:
Jurong East +59%
Ang Mo Kio +48%
Toa Payoh +47%
Yishun +46%
Sengkang +39%
Hougang +37%
Bukit Batok +35%
Pasir Ris +32%
Tampines +27%
As can be seen, Yishun has performed really well and is only behind Jurong East, Ang Mo Kio and Toa Payoh. This is unsurprising as these three housing estates were developed earlier and are among the most established in Singapore. They are also located nearer to the city.
What is most surprising is that Yishun (+46%) outperformed Tampines (+27%) and the other housing estates, attesting to its growth potential. Moreover, Tampines is the first regional centre to be developed in Singapore.
However, it should be noted that in the preceding 10-year period (2001-2011), Tampines had registered an impressive average price growth rate of 51%! (refer to chart)
One explanation is that the transformation of Tampines has reached a more mature state. Henceforth, the pace of rising housing prices has tapered off somewhat after climbing rapidly during its earlier stages of development.
But for properties in Yishun such as North Gaia EC, they have yet to fully factor in the exciting transformation planned for the North Region where many of its developments are still at their nascent stage. Therefore, this will provide promising price growth potential and first-mover advantage, with a comparatively lower entry price to boot.
Performance of Executive Condos In Yishun
Collectively, executive condos (ECs) in Yishun in the resale market have performed very well over a 10-year timeframe (2011-2021). As can be seen from the chart, the yearly average price growth has appreciated by 41%, which is very impressive.
This further proves that executive condominiums offer a viable property investment option vis-a-vis mass market suburban private condos. Moreover, eligible buyers can receive up to $30,000 Family Grant depending on the level of their monthly household income at the time when the applied for their new ECs. (Note: Buyers of resale ECs are not eligible to receive CPF Housing Grants as they are considered private properties).
Case Study of Lilydale Executive Condo (EC)
As executive condos will only be semi-privatized after their 5-year Minimum Occupation Period (MOP) and fully privatized after 10 years, a proper analysis will require a development with a long enough timeframe to provide the necessary data.
This is because the initial number of buyers is limited but will expand over time, enabling a better evaluation of its price performance. Hence, the Lilydale EC, which was launched in December 2001 and completed in 2003 (TOP), will provide a good case study. It is also located in Yishun and is about 2km from North Gaia EC. It is also not near a MRT station.
As can be seen from the price chart below, Lilydale EC was launched at an average price of $353 psf in December 2001. When it reached the 5-year MOP mark in 2008, its average price increased to $409 psf (+15.9%). And after 10 years from completion or TOP (Temporary Occupation Period), its price increased further to $774 psf (+119.3%).
Price Trend Comparison - Lilydale EC versus Yishun Emerald Condo
Next, let's compare the price trend of Lilydale EC versus Yishun Emerald, a private condo launched at an average price of $462 psf in October 2000, about a year earlier. As can be seen from the chart below, Yishun Emerald's average price has appreciated by 77.6% since its launch. But it pales considerably in comparison to Lilydale EC, which has appreciated by 107.7%.
It is also worth noting that when Lilydale EC was launched, its average price was 24.7% below Yishun Emerald's. However, the price difference has narrowed to 13.6% to date. This demonstrates that ECs' prices not only converge towards private condos over time, they also potentially offer a more attractive rate of capital appreciation.
Conclusion - An Investment Perspective of North Gaia EC
Judging from the performance of Lilydale EC, North Gaia could similarly provide an attractive investment opportunity despite not being within walking distance of a MRT station. In fact, many new EC launches such as Parc Greenwich in Fernvale Lane and Parc Central Residences in Tampines Avenue 10 which are also not near a MRT station, have enjoyed strong demand. In fact, they are more than 93% and 100% sold respectively.
As ECs are a hybrid between public and private condo, they are subjected to certain HDB regulations. Some of these include:
Application must have a Singapore Citizen
A household income ceiling not exceeding $16,000 per month
Must not own other property overseas or locally, or have not disposed of any within the last 30 months
Housing loan subjected to Mortgage Servicing Ratio (MSR)
More information can also found in executive condo FAQ.
Due to the above-mentioned restrictions, they are priced lower compared to similar private mass market condos. ECs also enjoy a lower land cost compared to private properties. In addition, buyers may enjoy some government grants, thus offering an attractive option.
Another important thing to note is that once new ECs reached their 5-year MOP, resale buyers will be subjected to the less stringent TDSR rule for their housing loan instead of MSR. In other words, they will be able to get more loan financing, thereby making them more affordable to a wider spectrum of buyers. In turn, this will underpin their prices.
For MSR, buyers can only use 30% of their monthly income to service the mortgage. But for TDSR, the total debt repayments – which include car loans, credit cards, renovation and study loans, etc – is capped at 55% of their monthly income. For more information about MSR and TDSR, please refer to this article.
Meanwhile, it is worth noting that North Gaia EC could face competition from a number of executive condos in the surrounding housing estates in the north. These include the following:
Provence Residence (estimated TOP 2026)
Parc Canberra (estimated TOP 2023)
The Criterion (completed in 2018)
The Visionaire (completed in 2018)
Signature At Yishun (completed in 2017)
The Brownstone (completed in 2017)
One Canberra (completed in 2015)
However, the large number of HDB upgraders in the North Region should help to negate any over-supply concerns. In Yishun alone, there will be 5,1074 units completing their MOP between 2022-2025. Nevertheless, it would be prudent to enter the property market with an exit strategy in mind to maximise profit. To find out more about property investment and asset progression, as well as the impact of the latest property cooling measures, please feel free to Email or WhatsApp Mefor an obligation-free information-sharing session.
Meanwhile, more analysis on ECs can be found at: Executive Condo Review - Is It A Good Investment Property
---
Other Property Reviews
You may also wish to check out the following new property launches:
Core Central Region
Rest Central Region
Outside Central Region
To find out details of new launches, please refer to project information.