This is a review of Atlassia, a rare freehold mixed-use development comprising a row of conserved shophouses that will be reimagined into 31 condo apartments, 6 boutique shops and 2 restaurants.
Located at the nostalgic Joo Chiat Place in Singapore's District 15, the original 2-storey art-deco conservation shophouses from the 1930s and condo is situated within a predominantly low-rise landed area with a quiet old-world charm.
Developed by K16 Place Pte Ltd, the review will seek to provide an unbiased analysis of the following:
To navigate directly to each section of the review, please click on the link in the Table of Contents below:
Why Invest in Atlassia?
Below are 10 reasons to invest in Atlassia:
A rare freehold mix-used development in Joo Chiat, a heritage estate with a unique old-world charm
A good mix of residential units ranging from 1-bedroom to 5-bedroom with high ceiling (approximately 3.2m for typical units), and in move-in conditions
Incorporated with 6 commercial shops and 2 restaurants in a row of conserved 2-storey shophouses
Unique jack roof features that allows natural light and ventilation in the mezzanine area
Attractive prices from $1.xxx million for residential units
A myriad of recreational activities nearby
Short walk to many amenities like wet market, food centres and shopping malls, which include the vibrant Paya Lebar sub-regional hub
Lies within the popular food haven of Joo Chiat
Ideal choice for families with many reputable schools nearby
Well-connected to major expressways and 12 to 15 minutes' walk to the Eunos and Paya Lebar MRT stations
What is Atlassia's Address?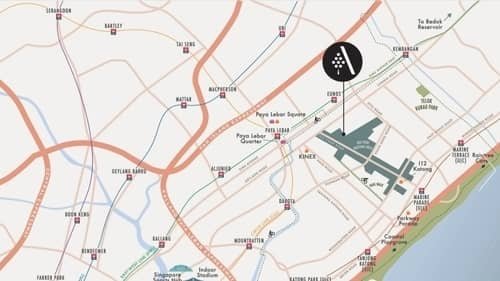 Atlassia's address is 40 Joo Chiat Place, Singapore 427764.
A bustling neighbourhood steeped in history, it is characterised with colourful and quaint conserved shophouses, rich heritage, and dizzying array of delightful local food.
Just 6 to 15 minutes' walk to the Dunman Food Centre, Geylang Serai Market and Haig Road Market & Food Centre, as well as a plethora of shopping malls such as Kinex, PLQ Mall and Paya Lebar Square, future residents will enjoy convenient access to a wide range of essential amenities, food choices and lifestyle options.
It is also 12 minutes' walk to the Eunos MRT station on the East-West Line and 15 minutes' walk to the Paya Lebar MRT Station, an interchange between the East-West and Circle Lines.
Learn more about the development and its surrounding in this 360-degree virtual tour.
About Joo Chiat
Joo Chiat is located at the eastern side of Singapore, and it is known as one of the island's earliest heritage towns. It is an area that has traditionally been associated with Peranakan culture (Straits-born people of Chinese and Malay or Indonesian ancestry).
But today, Joo Chiat is a blend of old and new. A journey down the street will reveal its rich past and modern influences, from old heritage shophouses to hipster bars, eateries and an eclectic mix of businesses.
Hence, future residents of Atlassia can look forward to a fascinating way of life.
Who is the Developer of Atlassia?
The developer for Atlassia is K16 Place Pte Ltd. A privately-owned boutique property developer founded in the late 2000s, they have an excellent track record of building landed homes and bungalows.
One of their latest developments is the 34 units Olloi. Located at Joo Chiat, it has been fully sold.
What are the Prices for Atlassia Condo?
The following are the special launch prices for Atlassis condo, which are very attractive for a freehold development in the popular District 15:
1 Bedroom from $1,099,500 ($2,173 psf)
2 Bedroom from $1,220,900 ($2,043psf)
2+1 Bedroom from $2,395,800 ($1,919psf)
3+1 Bedroom from $1,936,000 ($1,983psf)
4 Bedroom Penthouse from $2,258,000 ($1,992psf)
5+1+1 Bedroom from $4,794,400 ($1,568psf)
Please WhatsApp Us for more information and show flat preview.
Atlassia Fact Sheet
Atlassia Condo Unit Mix
The two-storey conserved shophouses was built in 1935 in Art Deco style. The first floor of the shophouses has been zoned for commercial use, where six of them will be converted into shops and another two as F&B outlets.
The first floor of the corner shophouse at Joo Chiat Place will be converted into the main entrance hallway leading to the apartments above and a new residential block at the rear.
Atlassia condo offers a total of 31 residential units ranging from 1- to 5-bedrooms, including a 3-bedroom dual key. Hence, it will appeal to different segments of property buyers, from singles to newly married couples and families with children.
All the units are efficiently designed to maximise space, like having dumbbell layouts.
All the Art Novel Types come with at least one home shelter, which could be converted into a study, storeroom or even a domestic helper's room.
The loft style apartments on the second level of the conserved shophouses comes with ceiling height of up to 4.5m and a mezzanine floor. There are nine loft-style apartments - six 2-bedders and two 3-bedders. The ninth unit, which is the largest at 2,690 sq ft, is a 5-bedder with a study. As it is a corner unit, it will also have its own private courtyard and balcony.
As for the new five-storey rear block, it will have a total of 22 units. Below is a breakdown of the unit types:
For a unique living experience, check out Atlassia fascinating floor plans, site plans and schematic chart.
Unit Provisions
Atlassia offers a host of quality provisions to provide a high level of quality living. These include the following:
Smart storage - modular wardrobes that maximise space all the way to the ceiling, with plentiful drawers in kitchens
Smart, clean use of space - multi function kitchen equipment (combination microwave oven) & integrated washer/dryer
Selected units include a pull-out integrated dining table to seat more guests
Bathrooms - quality TOTO wares from Japan and Germany, integrated storage and lighted mirrors
Kitchen - SMEG Italian appliances, natural quartz countertop & backsplash, integrated granite basin from Germany
Daikin wall mounted air-conditioning system
Atlassia Facilities
As a small development, there are only a few facilities provided. These include:
5m swimming pool
Jacuzzi
Accessible Washroom
Outdoor Pool Shower
Electric car charging point
However, this shouldn't diminish the development's intriguing architectural appeal, which will provide buyers an opportunity to own a piece of Singapore's history – original art deco shophouses from the 1930s in a conservation area.
Nevertheless, there is a myriad of recreational options nearby such as the Capmael Park, East Coast Park and Singapore Sports Hub.
Popular Recreational Destinations
There are many interesting recreational places around Atlassia and they provide a fun day out for everyone. They are either a short walk or drive away.
Capmael Park - Located at Ceylon Road and just 5 minutes' walk from Atlassia, the quiet neighbourhood park has a Wallhola vertical playground. It is equipped with rope bridges, a rock-climbing wall, and a fireman's pole where children can slide down.
East Coast Park – Just 5 minutes' away, it is one of Singapore's most popular places for cycling, rollerblading, jogging or just having a leisure stroll along the beach. There are also several children playgrounds such as Marine Cove Children's Playground, Raintree Cove and Coastal PlayGrove. For the more adventurous, they can try out the Xtreme SkatePark or engage in water sports such as windsurfing, canoeing and stand-up paddling offered by PA Water Venture.
Singapore Sports Hub - It offers a host of recreational activities and some of the facilities are free for the public to use. These include basketball courts, beach volleyball courts, giant outdoor chess set, and lawn bowls. There are also a kid's playground, fitness stations, indoor jogging track, skate park and more.
Kallang Riverside Park - A 7-hectare park that is very popular with water sports enthusiasts engaging in canoeing, dragon-boating, etc. The park also comes with fitness equipment as well as cycling and jogging tracks. It is also a great place for picnics.
Shopping Malls Around Atlassia
There are many shopping malls around Atlassia, providing residents with a retail ecosystem. They provide great alternatives for shopping, leisure and entertainment, as well as dining. This will save them the trouble of having to travel down all the way to the city. Some of the shopping malls nearby are:
Joo Chiat Complex
City Plaza
Kinex
PLQ Mall
Paya Lebar Square
Katong Shopping Centre
i12 Katong
Parkway Parade
Kallang Wave Mall
Supermarkets can also be found in some these shopping malls, providing convenience for families who cook. These supermarkets include Hao Mart (Kinex), NTUC Fairprice (Joo Chiat Complex), Giant (Paya Lebar Square), Fairprice Xtra (Parkway Parade & Kallang Wave Mall), and Cold Storage (Parkway Parade).
Fresh produce can also be bought from the Geylang Serai and Haig Road wet markets. They are just 8 to 10 minutes' walk from Atlassia.
A Food Haven
Joo Chiat is not just a charming neighbourhood steep in history, it is also a melting pot of culture with a heady blend of old and new where quaint shophouses sit alongside cool cafés and an eclectic mix of eateries.
Unsurprisingly, it is one of Singapore's most popular food havens. Besides local favourites like Hokkien mee, boneless chicken rice and crispy prata, a wide array of Peranakan, Vietnamese, Indian, Indonesian, Western and many other cuisines can be found in the area.
And within walking distance are three popular food centres – Dunman Road Food Centre, Haig Road Food Centre and Geylang Serai Market. Together, they boast a range of flavourful local delights and traditional offerings, which include roti john (omelette sandwich), goreng pisang (banana fritters), putu piring (steam rice flour cakes filled with palm sugar), among many others.
Reputable Schools Near Atlassia
Atlassia will be ideal for families with school-going children as it is near many reputable schools. Moreover, many primary schools are within a 2km radius, which will accord them priority admission.
Primary Schools Within 1km
Haig Girls' School
Tanjong Katong primary School
Primary Schools Between 1-2km
CHIJ (Katong)
Geylang Methodist School
Kong Hwa School
Maha Bodhi School
Ngee Ann Primary School
Stephen's School
Tao Nan School
There are also many popular secondary schools within a 2 to 10 minutes' drive from Atlassia.
Secondary Schools
Tanjong Katong Secondary School
Tanjong Katong Girls' School
Chung Cheng High School (Main)
Broadrick Secondary School
CHIJ Katong Convent
Victorial School
Bartley Secondary
Dunman High School
Damai Secondary School
When it comes to post-secondary education, two junior colleges are 7 and 11 minutes' drive away respectively.
Junior Colleges
Victoria Junior College
Temasek Junior College
There are also a few international schools within a 4-12 minutes' drive, which will attract rental demand from expatriate families. This will be ideal for those looking to purchase Atlassia for investment.
International Schools
Chatsworth International School East Campus
Canadian International School (Tanjong Katong Campus)
Stamford American International School
Nexus International School
Well-Connected By Public Transportation System
Atlassia is just 5 minutes' walk to Changi Road where Bus Number 7 and 21 provide commuters a direct route into the city.
Alternatively, they can hop onto Bus Number 24, 28, 76, 154 or 155 that takes them to the Paya Lebar MRT station (just 3 stops away). From there, they can change to a connecting train that brings them straight into the Central Business District (CBD) and Downtown Singapore.
On the opposite end, the train will travel all the way to Expo and Changi Airport.
As the Paya Lebar station is an interchange for the East-West and Circle Lines, it provides excellent convenience and connectivity for travelling around Singapore.
Atlassia also enjoys easy access to several major expressways - East Coast Parkway (ECP), Pan Island Expressway (PIE) and Kallang-Paya Lebar Expressway (KPE).
Review Conclusion & An Investment Perspective
Atlassia condo provides a unique living experience in a conservation area that offers an old-world charm. Together with Joo Chiat's fascinating built fabric where conserved art deco shophouses with intricate motifs and colourful facades are in full display, it is truly a sight to behold.
Such a blend of tradition and modernity is greatly valued, especially for those who are prepared to take a long-term investment position on such a type of property.
Hence, Atlassia will be an ideal home for those looking for:
Unique architecture with unusual, yet efficient layouts
A conservation area with a rich heritage rarely found in Singapore
A built fabric with charming conserved shophouses
A quiet neighbourhood with an old-world charm
Convenient access to a wide range of amenities, recreation facilities and schools
Surrounded by a myriad of fabulous food choices
However, it would probably not appeal to those looking for:
A typical condo development with a full range of facilities
A home with facilities to hold large parties or social gatherings
More spaces within the development, like landscaped gardens and recreational areas
High floors with panoramic views
Aside from the pros and cons of Atlassia, what investment potential can it offer?
To answer this question, let's have a look at how the freehold Sandalwood (a shophouse and condo development) and The Geranium (a typical condo) have performed.
The Sandalwood, which was completed in 2005, is located only about 400m from Atlassia at Tembeling Road. It comprises a row of 12 two-storey conservation shophouses that have been retrofitted with a new five-storey annex with 16 apartments.
Since its launch at an average price of $587 psf, it was last transacted at $1,577 psf in April this year. This is an impressive 168.7% price appreciation!
Now, let's compare with The Geranium, a 62-unit condominium development at Mangis Road just 400m from Atlassia. Launched a tad later in 2005 and coincidentally at the same average price of $587 psf, it was recently transacted at $1,212 psf, a 106.5% price appreciation.
As can be seen, the Sandalwood has outperformed considerably versus a typical condo development in the same area. This attests to the strong interests in such shophouse cum residential developments due to their historical value, which is greatly prized by heritage lovers.
Additionally, there have been rising interest in such assets due to their rarity and strong preservation of capital value. The gentrification around Joo Chia, such as the Paya Lebar sub-regional centre, will further add to the appeal of Atlassia.
Please feel free to Email or WhatsApps Us for the latest information about the development, or to explore other property investment options.
---
More Property Reviews
You can find more property reviews below. Additional details on new property launches can be found in project information.