This is a review of The Atelier, an upcoming freehold condo at Makeway Avenue in Singapore's prime District 9. Located in the coveted Newton/Novena enclave and at the fringe of Orchard Road, it is expected to be well-received by both locals and foreign investors. In this review, I will seek to provide an unbiased examination of its key attributes and investment potential.
Nevertheless, if you require more information about the development or wish to arrange for a show flat viewing, or if you have any queries about property investment and the real estate market in Singapore, please feel free to Contact Me. Alternatively, you may WhatsApp Me for an information-sharing session, obligation-free.
To navigate directly to each section of the review, please click on the links in the Table of Contents below.
Key Attributes of The Atelier
7-minute walk to the famous Newton Food Centre
10-minute walk to the Newton MRT station, an interchange between the North-South and Downtown Lines
A short drive to two major expressway - Central Expressway (CTE) and Pan Island Expressway (PIE)
One MRT station to Orchard Road
One station or 10-minute walk to Novena shopping malls
Enjoys a wide array of shopping, leisure and entertainment options
Family-friendly location
Convenient access to popular schools and education institutions
A wide choice of childcare centres and preschools within a short walking distance
Exciting development under the upcoming Health City Novena Master Plan
The Atelier Design Features And Fittings
Below are some key design and high-end features of The Atelier:
Site Layout: With a site area of 41,582 sq ft and plot ratio of 2.8, it could potentially be re developed into a 22-storey residential block with a total of 154 units. However, the developer will only build 120 units, translating to a more spacious living environment. All units are also built with almost a North-South orientation, which shield them from direct morning/afternoon sun.
Unit Sizes: 1 to 4 bedrooms units are configured with spaces layered and interspersed with indoor and outdoor zones designed to give exclusive private living experiences. Those on the upper floors will mostly have unblocked view of the city as the area comprises mostly low-rise housing. Most of the unit sizes are bigger than comparable properties on average, which make for a more comfortable living experience.
Facilities: Full lifestyle facilities across 3 landscaped decks (see list below).
Kitchen Design: A combination of unparalleled aesthetics and functionalism where functional spaces are complemented with high-quality cabinetry works and French appliances from De Dietrich.
Sanitary Fittings: Fitted with matt black sanitary fittings by renowned Italian brand - GESSI, which will complement premium quality German wares from Villeroy & Bosch, elevating its level of sophistication.
Smart Home System (Home Automation)
Every unit will be fitted with Home Automation System such as:
Digital Lock Set (fingerprint, pin code, mobile app and physical key)
Air-Conditioner Control (living, master bedroom and all common bedrooms)
Lighting Control (living, dining and master bedroom)
Smoke Detector (living room)
Water Heater Control (master and common bath).
Smart Community Living @ The Atelier
Facility Booking (via mobile app)
Visitor Invite (via QR code or one-day pin)
Smart Parcel Box
Car Plate Recognition
Mobile Access (via smartphone)
Smart Letterbox (via smartphone or access card)
Concierge @ The Atelier
Concierge Greetings
Porter Service
Umbrella Rental
Lounge Service & Refreshment
Transportation Arrangements*
Parcel & Postal Service*
E-Bicycle Rental*
Other than the above concierge services, the following may also be provided for a fee:
Restaurant and Café reservations
Party and Event Planning
Gourmet Chef for parties or events
Spa, Beauty and Wellness services
Laundry Services and Housekeeping
Handyman services and Air-con servicing
Mover services
Pet Care services
Car grooming and servicing
Personal fitness trainer and a variety of lifestyle classes
Landscaped Decks
Lush greenery is scrupulously incorporated into the whole development to provide functional and relaxation spaces across the 3 landscaped decks. Each deck will have their own identity, providing residents a complete lifestyle to live, work, study, play and socialise.
Each landscaped deck will offer the following:
Idulge @ 1st Storey
Arrival Piazza
Secret Garden Trial
Garden Courtyard
Aura Lap Pool
Garden Light
Reflective Pool
Poolside Cabana
Rainfall Shower
Art Sculpture
Steam Room
Concierge @ Atelier
Immerse @ 6th Storey
Sensory Pool
Epicure Dining
Bistro Dining
Sun Deck
Kids Splash
Tree Top Adventure
Kids Play
English Tea Pod
Inspire @ 18th Storey
Giant English Chess
Study Pods
City Sky Deck
The Chillout
The Billiard
The Hideout
Atelier Clubhouse
Serenity Fitness
The Atelier Site Plan
Below is the site plan for The Atelier and location of its facilities on the 3 landscaped decks which are named as:
Indulge @ 1st Storey
Immerse @ 6th Storey
Inspire @ 18th Storey
The Atelier's Greenmark Features
Green Transport:
Electric Car charging station
Multi-storey Parking
Proximity to MRT Station
Bicycle parking lots
Integrated Landscape & Waterscape:
Greenery provisions:
Native plants adopted throughout
Tropical Façade performance:
Goldplus Standard
High performance Glass
Internal Organization:
Naturally ventilated Lift lobbies and Corridors
Effective building layout Design:
Morning & Evening sun orientation
Dwelling unit design; Cross ventilation
---
Water Efficiency measures:
Most water fittings are 3 ticks certified
Water Usage monitoring:
Provision of private water meters for common features usage (e.g. water features and swimming pools) and irrigation
Sustainable Construction:
Conservation and resource recovery
Sustainable Products:
Timber floors
Internal paints
Tile adhesives
Operational Waste Management:
Provision of recycling facilities in common areas
---
Contaminants:
More stringent limits for interior fittings and finishes
Refuse chute screened
Natural ventilation and daylighting in wet areas
Lighting:
Daylighting in common areas
Well being:
Water features, Lush landscaping, gym in common areas
Demand Control:
Bi-level Motion sensors for Artificial lighting in common toilets
---
The Atelier Project Information
Below are some project information of The Atelier condo. Please click on the [+]  sign to access each section.
The Atelier offers a total of 120 residential units consisting of 1 to 4-Bedrooms. Below is the breakdown of the unit mix.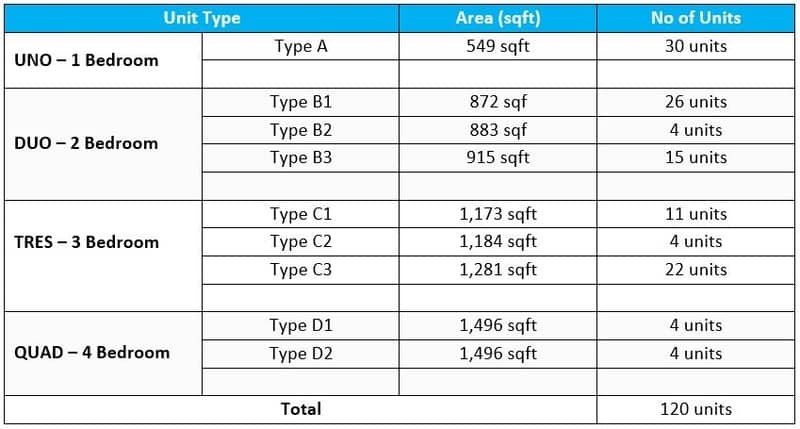 Click on the link for The Atelier Floor Plans.
Unit Provisions
Electrical Appliances
Brand
1 & 2 Bedroom
- Induction Hob with Hood
- Integrated Fridge
- Washer cum Dryer
- Microwave Oven
De Dietrich
3 Bedroom
- Gas Hob with Hood
- Integrated Fridge
- Washer
- Dryer
- Convection Oven
De Dietrich
4 Bedroom
- Gas Hob with Hood
- Integrated Fridge
- Washer
- Dryer
- Convection Oven
- Steam Oven
- Dish Washer
- Wine Chiller
De Dietrich
All Unit Types
- Concealed ducted fan coil unit for all Living & Dining.
- Wall-mounted fan coil unit for all Bedrooms.
Daikin
Sanitary Provision
Brand
All Unit Types
- Wash Basin
- Wall-hung WC
- Wall-hung Washlet (3 & 4 Master Bath Only)
Villeroy & Boch
All Unit Types
- Lever Basin Mixer
- Shower Fittings with Overhead Shower
(Type A, B, C1 & C2 Master Bath and all Common Bath)
- "His" & "Hers" Shower Fittings with Overhead Shower (Type C3, D1 & D2 Master Bath Only)
Gessi (Matt black Series)
Maintenance Fees
Unit Type
Estimated Monthly Maintenance Fees
UNO – 1 Bedroom Suite
Type A
$492
DUO – 2 Bedroom Compact
Type B1
$492
Type B2
$492
Type B3
$492
TRES – 3 Bedroom
Type C1
$574
Type C2
$574
Type C3
$574
Quad – 4 Bedroom
Type D1
$574
Type D2
$574
The Atelier Fact Sheet
Description
Details
Developer
Bukit Sembawang Land Pte Ltd (ROC 201808588E)
Developer
Bukit Sembawang Land Pte Ltd (ROC 201808588E)
District
9
Address
2 Makeway Avenue Singapore 228599
Site Area
2 Makeway Avenue Singapore 228599
No. of Units
120
No. of carpark lots
123 car park lots (including 3 handicap car park lots)
Tenure
Estate in Fee Simple (Freehold)
Land lot
Lot 00792X if TS28
Project Account No
BSLPL Project ACC Atelier
TT Details
Account Name
BSLPL PROJECT ACC ATELIER
Account Number
713378677001
Beneficiary Bank
Oversea-Chinese Banking Corporation Limited
Bank Address
65 Chulia Street OCBC Centre Singapore 049513
Swift Code
OCBCSGSG
Bank Code
7339
Building Plan No.
A2266-04107-2018-BP01 dated 11 Feb 2020
A2266-04107-2018-BP02 dated 20 Jul 2020
A2266-04107-2018-BP03 dated 29 Jan 2021
Expected Date of Vacant Possession
01 March 2024
Expected Legal Completion
01 March 2027
Consultant List
Architect
Ong & Ong Pte Ltd
Landscape Consultant
Ecoplan Asia Pte Ltd
Main Contractor
Ecoplan Asia Pte Ltd
M&E consultant
t WSP Consultancy Pte Ltd
Structural Consultant
ECAS Consultants Pte Ltd
The Atelier Pricing
Makeway View located on Makeway Avenue, off Kampong Java Road in prime District 9 was sold en bloc for $168 million to Singapore-listed property group Bukit Sembawang Estate. The purchase price translates to a land rate of $1,626 psf per plot ratio (ppr), including a development charge of $21.26 million. The breakeven is estimated to be around $2,230 psf
Located in prime District 9, Makeway View sits on a 41,582 sq ft, freehold site zoned for residential use under the 2014 Master Plan. The site has a gross plot ratio of 2.8.
The indicative selling prices for The Atelier are:
1-Bedroom from $1.51 million
2-Bedroom from $2.39 million
3-Bedroom from $3.40 million
4-Bedroom from $4.39 million
For the latest prices and showflat viewing, please WhatsApp Us.
Locational Attributes
The Atelier is located at the heart of Singapore and a stone's throw from Orchard Road and Novena. Hence, it is blessed with a wide range of essential, entertainment and lifestyle amenities. Furthermore, it is close to many popular schools and children learning hub in Novena, which makes it a truly family-friendly development (more on this below).
Located at 2 Makeway Avenue, which is bounded by Bukit Timah Road and Kampong Java Road, it is in an exclusive private residential enclave. Beside it is the Kopar At Newton, a 99-year leasehold condo development that was launched in March 2020. To date, it is more than 50% sold at prices around $2,4xx to $2,8xx psf.
Across The Atelier on the opposite side of Makeway Avenue are mostly low-rise residential housing. Hence, it will enjoy a great deal of unobstructed city views. In addition, it is tucked away from the busy Bukit Road, which will accord it with a more tranquil living environment.
For those working in the Central Business District (CBD), it is just a 10-minute drive or 5-6 MRT stations away from The Atelier. Hence, this will appeal to the large expatriate community working in Singapore's Downtown and financial district.
Excellent Transport Network
The Atelier is well-served by public transportation. Beside the many buses plying the area, the Newton MRT station is just a 10-minute walk from the condo.
As the Newton station is an interchange for the North-South and Downtown Lines, it provides residents great convenience when travelling around Singapore, be it for work or leisure. As mentioned earlier, these two MRT lines take commuters straight into Singapore's Downtown areas and the financial district.
It is also one station from Orchard Road and Novena shopping belt. For families with school-going children, they will be glad to know that the Downtown Line runs parallel through the entire stretch of  Bukit Timah Road/Dunearn Road where many of Singapore's sought-after schools are located. These include schools such as Hwa Chong Institution, Methodist Girls' School and Singapore Chinese Girls' School, to name a few.
For those who drive, it takes less than 10 minutes to reach Singapore's Central Business District (CBD). Hence, The Atelier condo will offer property investors an opportunity to capitalise on its central location and the large catchment of existing tenants.
The Atelier condo is also well-served by two major expressways - the Central Expressway (CTE) and Pan-Island Expressway (PIE) - which can be reached within 1-2 minutes. These two major expressways will help to cut down the travelling time for those working outside of Singapore's city areas.
North South Corridor (NSC) To Alleviate Traffic, Improve Transport Network
The North South Corridor (NSC) will be Singapore's longest Transit Priority Corridor. Targeted to be completed by 2026, it will span 21.5km from the northern region such as Yishun, Sembawang and Woodlands to the city centre and East Coast Parkway. This will help to alleviate the heavy traffic flow in the Central Expressway (CTE) and major arterial roads such as Thomson, Marymount Road and Newton, especially during the morning and evening peak hours.
The Land Transport Authority (LTA) has estimated that when the North-South Corridor (NSC) is completed, it would reduce CTE traffic by 10-15% and travelling time by 30%. This will improve the living environment around The Atelier due to the reduced traffic, as well as noise and air pollution.
Easy Access to Orchard Road, Novena And Other Shopping Malls
The Atelier condo enjoys easy access to a plethora of shopping malls in Orchard Road and Novena which provides it with a wide range of dining, entertainment and leisure options. Both areas are just one MRT station away, with the latter also within a 8-minute walk (or 800m) to the United Square Shopping Mall. As can be seen from the map, it can be reached by crossing the Kampong Java and Keng Lee Road and then heading straight up towards Khiang Guan Avenue.
Novena Shopping Malls
Besides the United Square, which is known as a children learning hub (see below), the other popular shopping malls in Novena include Velocity @ Novena Square, Square 2 and Royal Square At Novena.
Velocity @ Novena - A sports-themed shopping mall selling merchandise from popular sports brands such as Adidas, New Balance, Reebok, Asics, etc. It also regularly organizes sporting events and basketball competitions at its outdoor basketball court while large TV screens broadcast sporting events and football matches.
Square 2 -  It is part of the Novena Lifestyle and Medical Hub that houses about 200 speciality shops and food outlets. Better known as Singapore's first Korean-themed shopping mall, it offers a range of fashion, beauty products & services, household goods and delightful Korean cuisines.
Royal Square At Novena - It is a mixed-use development made up of a 2-storey shopping mall comprising 25 units of shops and 24 units of restaurants along with medical suites and the Courtyard by Marriot Hotel. It is also a flagship development by well-known Singapore property developer Hoi Hup Realty Pte Ltd.
Together, these Novena shopping malls offer great conveniences for residents living nearby. Besides shopping and dining, there are three supermarkets - NTUC Fairprice at Square 2 and Cold Storage at United Square and Velocity@Novena Square. Hence, families who prefer home-cooked meals can easily get their fresh produce and groceries conveniently from these places without having to stock up.
Orchard Road, Singapore's Premier Shopping Belt
Orchard Road is Singapore's premier shopping belt where many upscale merchandise from famous international brands can be found. These include Louis Vuitton, Giorgio Armani, Cartier, and many more. There are also a plethora of large shopping malls such as ION, Wisma Atria, Ngee Ann City, Hereen, Centrepoint, 313 Sommerset, Orchard Gateway and Plaza Singapura.
Beside shopping, Orchard Road is also a well-known gourmet paradise where a large variety of restaurants and eateries ranging from affordable fast food outlets and foodcourts to mid- and high-end restaurants serving various international cuisines can be found. Residents of The Atelier will be spoilt for choice if they prefer to eat out or are too tired to cook after a hard day's work.
Other Shopping Destinations
Besides Novena and Orchard Road, the other major shopping destinations near The Atelier are Bugis Junction, Suntec City, Raffles City and Marina Square. They are all within a 10-minute drive away. For those taking public transport, there are direct buses and MRT trains into these areas.
With so many shopping malls and amenities within convenient access, they truly help to elevate the standards of living and the appeal of a development like The Atelier.
The Atelier Enjoys Convenient Access to Popular Schools
The Atelier enjoys convenient access to many popular schools in Singapore. These include those in the Bukit Timah/Dunearn Road belt which can be easily reached via the Downtown MRT Line and within four stations or fewer. Some of these schools are:
Singapore Chinese Girls School (Dunearn Road)
Nanyang Girl High School (Linden Drive)
Methodist Girls School (Blackmore Drive)
Catholic Junior College (Whitley Road)
National Junior College (Hillcrest Raod)
Hwa Chong Institution (Bukit Timah Road)
Besides the above, the other schools that can found near The Atelier condo include:
Anglo Chinese School (Junior) (Winstedt Road) ~ 8-minute walk
Saint Joseph's Institution Junior (Essex Road) ~ 2-minute drive
School of the Arts (SOTA) (Bras Basah Road) ~ 5-minute drive
Saint Margaret's Primary School (Wilkie Road) ~ 4-minute drive
As it is a well-known fact that properties near good schools are in great demand, The Atelier's favourable location will further enhance its desirability. Moreover, with primary schools such as ACS (Junior), SJI (Junior), Singapore Chinese Girls' School and St Margaret's all within 1-2 km, parents registering their children for Primary 1 admission will be accorded priority status under the MOE's rules.
International Schools
For those looking for investment will be delighted to know that there are also many international schools near The Atelier condo. And many of these schools can be easily reached via public buses and MRT trains. This will greatly appeal to expatriate families with school-going children, especially those working in Singapore's Central Business District (CBD) where many global MNCs are located. With the CBD just a 10-minute drive away, properties in the Newton/Novena area is known to attract strong rental demand. Below are some of the international schools close to The Atelier condo:
Hwa Chong International School (HCI) - Situated in Bukit Timah Road, HCI is one of Singapore's top school. It offers an integrated curriculum that leads to IGCSE or IB Diploma.
Chinese International School - Situated along Dunearn Road approximately 2 km from The Atelier, it offers various Kindergarten, Primary, Middle & High School programmes that lead to the IB Diploma.
Saint Joseph's Institution International - Situated at Thomson Road and a 2-minute drive away, it offers Elementary to High School programmes that lead to the IGCSE or the IB Diploma.
Global Indian International School Singapore - Situated at Balestier Road and just a 7-minute drive away, it offers Kindergarten to High School programmes that lead to the IB Diploma.
International School Singapore (ISS) - Located at Paterson Road 3 km away, it offers Elementary to High School programmes.
Overseas Family School (OFS) - Also located at Paterson Road, it offers Kindergarten to High School programmes.
Higher Education Institutions
There are also several higher education institutions near The Atelier condo and they are found in areas around City Hall. These include:
Singapore Management University (SMU)
Kaplan City Campus
Glion Institute of Higher Education
University of Newcastle
LaSalle College of the Arts
In fact, there is another LaSalle campus just 5 minutes walk from The Atelier at Winstedt Road.
Childcare Centres And Preschools
For families with young children, they will be glad to know that there are many childcare centres and preschools within 500m of The Atelier condo. This will be a boon for busy parents juggling between careers and parenthood as they can easily drop their children off before work and pick them up after work. Some of the childcare centres and preschools nearby are:
Pat's Schoolhouse (Buckley Road)
Kiddiwinkie Place (Clemenceau Avenue)
Mulberry @ Cairnhill (Anthony Road)
St James' Church Kindergarten (Gilstead Road)
Camberley International Pre-school (Bukit Timah)
Wee Care Early Learning Centre (Windstedt Road)
Etonhouse Preschool (Newton)
A Children Learning Hub Near The Atelier Condo
Novena is well-known for being a children learning hub, with many tuition and enrichment centres located at United Square shopping mall and Goldhill Plaza. Both of them are a mere 10-minute walk from The Atelier condo.
The United Square shopping mall, in particularly, is a very popular destination for families after positioning itself as a family-oriented mall offering many children-friendly features. These include luxurious nursing rooms, colour-themed shopping floors, spacious walkways, play features and even animal-shaped bins for your rubbish!
In addition, there is a state-of-the-art al fresco forecourt with F&B outlets for the whole family to enjoy a nice meal together. The mall is also home to many well-known tuition and enrichment centres and these include:
Lorna Whiston Speech & Drama Centre, and School
I Can Read
Kindermusik With Love Studios
Aspire Hub Education
Hua Language Centre
Smart Science Lab
Beside the United Square Shopping Mall, more tuition and children enrichment centres are found in Goldhill Plaza beside it. Some of these are:
Tony Buzan Learning Centre
Math Monkey
VisibleMath Academy
My English School
AT.Space Student Care & Enrichment
With so many family-friendly amenities within easy reach, it is certainly an ideal location to set up home.
Famous Newton Food Centre - A Stone's Throw From The Atelier
The famous Newton Food Centre is just across Bukit Timah Road and a short 6-minute walk from The Atelier condo. It offers an array of local delights that are popular with both locals and tourists from all over the world.
In the past, the Newton Food Centre had a notorious reputation due to some unscrupulous vendors fleecing tourists with inflated food bills. However, after the bad press, most have cleaned up their acts and the food centre now provides an eclectic mix of cultures and delicious hawker food. These include popular fares like fish ball kway teow mee (noodles), minced meat noodles, Teochew fish porridge, oyster omelette, satay (grilled meat on wooden skewers) and local cold/hot desserts.
The Newton Food Centre is also known for its seafood delicacies, such as grilled sambal stingray, barbeque squid and prawns, chilli crab and more. Be prepared to pay more though.
In 2013, it was chosen for the SingTel Hawker Heroes Challenge where Michelin-star chef Gordon Ramsay battled three popular Singapore hawkers in a much-anticipated Singapore versus Ramsay cook-off. For the competition, Ramsey learned how to cook three local dishes – laksa (a popular local noodles in curry gravy), chicken rice and chilli crab and faced off with his "Masters". Although he lost to all three of them, he must be given credit due to the limited time he was given to master the dishes.
The Newton Food Centre was also the location for the filming of the Hollywood hit 'Crazy Rich Asians' in 2018. The film is about super-wealthy Chinese Singaporeans and their ultra-lavish lifestyles.
Health City Novena - An Upcoming Integrated Medical Hub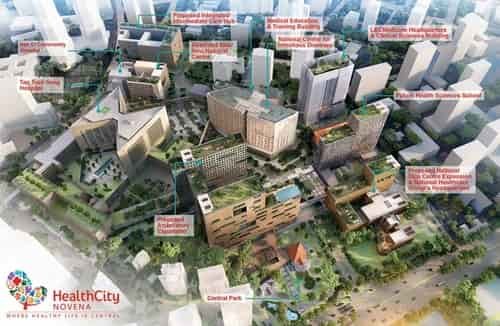 Novena is known for its cluster of medical centres, facilities and hospitals. Under the Novena Master Plan, an integrated medical hub known as Health City Novena will be built by 2030. The 17ha integrated development will incorporate 10 buildings, including Tan Tock Seng Hospital and 5 new healthcare facilities, connected via a network of MRT, pedestrian walkways and shuttle bus services.
The complex will extend beyond healthcare. It will encompass a complete and holistic eco-system that includes health services, research and education, commercial, leisure and public spaces. There are four key elements to the master plan - Care, Continuous Learning & Innovation, Community and Connectivity.
In addition to the existing medical centres, healthcare professionals can easily benefit from seamless coordination with clinical expertise, technologies and facilities nearby. The congregation of medical specialists will create an internationally renowned medical brand in the Novena area.
This will draw medical tourists and business travellers from across the region. With a growing population of well-heeled city residents in proximity, surrounded by supporting offices, medical facilities, schools and hotels, the Newton/Novena area will grow in stature as a coveted address.
In addition, when the Health City Novena is completed, employment opportunities will grow, resulting in an increased demand for housing. This can only benefit a development like The Atelier due to its close proximity.
The Developer of The Atelier
Bukit Sembawang Estates Limited (BSEL) is a leading and experienced property developer that is committed to designing and building fine quality homes that satisfy the aspirations and lifestyles of their clients.
From their humble beginnings as a leading rubber company in 1911, they have diversified into the development of landed property in the '50s. Bukit Sembawang Estates Limited was incorporated in Singapore in 1967 and they are listed on the Singapore Exchange. Currently, their focus is on property development, investment and other property-related activities.
For more than 50 years, they have built some of Singapore's most well-known residential developments. These include the more than 4,600 landed homes in Seletar Hills, Sembawang Hills, Luxus Hills and more than 1,800 condominium units in Singapore's prime location such as District 9 and 10. As one of Singapore's pioneers in residential property development, they have established a reputation as a trusted developer of fine quality homes with great value. Due to their unwavering commitment towards setting high standards, they have won numerous Accolades and Awards through the years.
With such exacting standards, they have delivered not just houses but distinctive lifestyle homes where lives revolve memorably around them. Their homes are characterized by thoughtful planning, outstanding design, fine detailing and quality finishing – often surpassing the expectations of discerning homebuyers.
The have prided themselves on the fact that thousands of families now call their quality developments – Home. And they expect to develop many more in the years to come. Bukit Sembawang Estates Limited is awarded the ISO 14001:2015 certification for "Provision of Property Development and Management Services", which is a testament to their promise of delivering the highest standards of quality and satisfaction to their customers. They value every customer and is dedicated to creating quality homes that property owners will love, cherish and appreciate come for generations to come. .
Below are a sample of their widely acclaimed portfolios of high-end private condominiums and apartments. These include the following:
Parc Mondrian
Verdure
Paterson Suites
The Vermont on Cairnhill
Skyline Residences
Paterson Collection
Watercove
Nim Collection Phase 1 & 2
Luxus Hills Phase 1 to 7
Luxus Hills Signature and Contemporary Collection
Conclusion - Review of The Atelier Investment Potential
Being in District 9 where many luxury condos and landed homes are found, The Atelier will offer investors great investment potential due to the great appeal of its prime location.
According to the Oxford Dictionary, Luxury is defined as "a state of great comfort or elegance". In land-scarce metropolises like Singapore, owning an upscale residential property with an alluring address is held in esteem and is a symbol of status. As such, it is no wonder why the well-heeled, as well as the rich and famous, are drawn into this particular area. As have been reported, Asia's ultra-rich have ranked Singapore as region's top choice for luxury homes.
This segment of Singapore's property market is expected to continue its strong recovery from the covid-19 pandemic, especially when the global vaccine rollout expands. Therefore, The Atelier will present an investment opportunity before the current rebound in property prices gather further pace.
Besides being a "favourite" of foreign investors, it is also popular among expatriates in Singapore, especially those working in the city centre and Singapore's financial district nearby, and for good reasons - easy access to a plethora of amenities like shopping malls, entertainment facilities, eateries, schools and many other essential services.
Hence, those looking for investment in a property like The Atelier will not face a shortage of rental demand. Moreover, a mid-size development like The Atelier condo with just 120 units will offer better exclusivity. For those looking to sell in the future could also command higher prices as they will face less competition, as compared to a development with several hundreds of units (Refer to: Buying A Property In Singapore: Factors to Consider).
The Atelier's freehold status will also make it a more attractive investment in land scarce Singapore. At the same time, it helps to negate any fears of lease decay. As we know, the Singapore government will only sell land with leases up to 99-years while some developers who bought freehold land via collective sales are only selling their properties with 99-year leases. In other words, the properties will revert to them once the leases expire. Hence, freehold land will become increasingly rare and this is a good opportunity to snare a freehold property in a prime district.
For more information about the development or property investment, please Email or WhatsApp Us.
---
More Reviews of New Property Launches
Below are more property reviews that may interest you. For details on new launches, please refer to project information.