The Kopar At Newton condominium is an exclusive development in Singapore's prime District 9 near the Newton Circus. It is just opposite the famous Newton Food Centre and about 5 minutes walk to the Newton MRT station. Surrounding it are mostly high-end residential properties, hotels and commercial buildings.
Pronounced as "Copper", it occupies a site area of 11,643.2 sqm with two 23-storey towers comprising 378 unts. The developer is CELH Development, a unit of Singapore-listed property developer Chip Eng Seng Corporation. Over the years, it has established itself as one of the industry's fastest rising star, developing many residential projects from the mid- to high-end market. Some of their projects include Grange Infinite, The Suites At Central and Ventuno Balmoral.
But what makes Kopar At Newton stands out from other recent property launches and how attractive is it as an investment? To find out more, please click on the links in the Table of Contents below.
Kopar At Newton Is Close to Orchard Road & Novena
The Kopar At Newton condo is very close to Orchard Road, Singapore's premier shopping district. In fact, it is less than 5 minutes drive away and just one stop from the Newton MRT station. Given its close proximity to Orchard Road, shopping, dining, entertainment and other leisure pursuits are just at your doorstep. Such convenience will surely appeal to prospective tenants.
However, should you decide to take a leisurely stroll, there are several Novena shopping malls near Kopar At Newton. These include the United Square Shopping Mall and Velocity@Novena and they are less than 10 minutes walk from development. You can reach them through a short cut by crossing Kampong Java Road and Keng Lee Road, then head straight up to Lincoln Road till you reach Khiang Guan Avenue.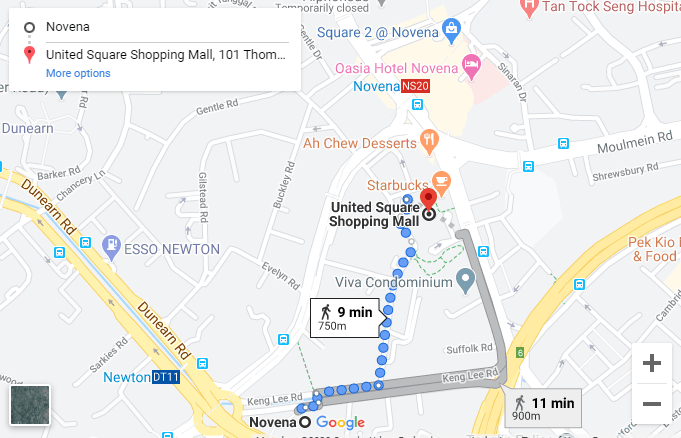 The United Square Shopping Centre and Velocity@Novena are popular leisure and lifestyle destinations for families as they provide a wide variety of activities for both adults and children. Besides shopping, there are also many dining outlets, supermarkets and children enrichment and tuition centres. Near them is the Novena medical hub where the Mount Elizebeth Hospital, Novena Medical Centre, Tan Tock Seng Hospital, Ren Ci Community Hospital and many more medical facilities can be found.
Close Proximity To Childcare Centres, Preschools And Schools
There is no shortage of childcare centres and preschools around Kopar At Newton, and many are within a 1KM radius. Hence, its location is likely to appeal to many young families. This will be a boon for those juggling between work and parenting. Some of these include the following:
Newton Kindergarten
Etonhouse Preschool (Newton)
Pat's Schoolhouse
James' Church Kindergarten
Kiddiwinkie Place
Mulberry @ Cairnhill
Camberley International Pre-school
There are also many sought-after primary, secondary and Junior Colleges near Kopar At Newton as well. Some of these are:
Anglo Chinese School (Junior)
Singapore Chinese Girls School
Catholic Junior College
National Junior College
Hwa Chong Institution
Kopar At Newton - A Short Walk to Novena's Children Learning Hub
The Kopar At Newton is just a 8-minute walk (approximately 650m) to the United Square Shopping Mall, a popular children learning hub. The mall has many fun features catering to family with young children. These include luxurious nursing room, colour-coded shopping floors, spacious walkways and play features. There are even even animal-shaped bins to discard your rubbish!
In addition, there is  a state-of-the-art al fresco forecourt with F&B outlets for the whole family.
Many tuition and enrichment centres can also be found in the shopping mall and some of these are:
Lorna Whiston Speech & Drama Centre, and School
Smart Science Lab
I Can Read
Aspire Hub Education
Kindermusik With Love Studios
Hua Language Centre
Beside the United Square Shopping Mall is the Goldhill Plaza, another popular destination for young families. Many tuition and children enrichment centres can also be found there, such as:
Tony Buzan Learning Centre
VisibleMath Academy
Math Monkey
AT.Space Student Care & Enrichment
My English School
Kopar At Newton's Excellent Transportation Links
Kopar At Newton is well-served by public transportation. Beside the many buses plying the area, the Newton MRT station is just 5 minutes walk from the condo. With the Newton station being an interchange for the North-South and Downtown Lines, it provides residents great convenience when travelling around Singapore, be it for work or leisure.
In fact, both MRT lines bring commuters straight into the Marina Bay area and Singapore's financial centre in Raffle Place. And if you are driving, it takes less than 15 minutes to reach Singapore's Central Business District (CBD).
The Kopar At Newton is also close to two major expressways - the Central Expressway (CTE) and Pan-Island Expressway (PIE). Given its closeness to two major expressways, it will cut down travelling time for those driving to work outside the central area of Singapore.
New North South Corridor (NSC) To Further Improve Transportation Links
The North South Corridor (NSC) will be Singapore's longest Transit Priority Corridor. Targeted to be completed by 2026, it will span 21.5 from the northern region such as Yishun, Sembawang and Woodlands to the city centre and East Coast Parkway. This new corridor will feature dedicated bus lanes, cycling trunk routes and pedestrian paths, to serve public bus commuters, active mobility users and pedestrians.
When completed, it will provide smoother and faster journeys for everyone, whether you are driving or taking public transport. It will also help to alleviate the congestion on the Central Expressway (CTE) and major arterial roads such as Thomson, Marymount Road and Newton. Inadvertently, this will improve the living environment for residents of Kopar At Newton due to the reduced noise and air pollution, while helping Singapore to achieve its car-lite vision.
Kopar At Newton To Benefit From The Novena Master Plan
Health City NovenaThe Kopar At Newton condo is well-served by many first-class medical facilities nearby in Orchard Road and Novena. These include the following:
Mount Elizabeth Medical Centre and Hospital
Paragon Medical Centre
Mount Elizabeth Novena Hospital
Novena Medical Centre
Tan Tock Seng Hospital
Thomson Medical Centre
However, it will get a further boost from the development of an integrated medical hub by 2030 under the Novena Master Plan. Called Health City Novena and a short distance from Kopar At Newton, it will extend beyond healthcare. Besides health services, research and education, there will also be commercial, leisure and public spaces for people to enjoy.
Once Health City Novena is completed, demand for properties around Kopar At Newton is expected to increase due to the inflow of healthcare professionals and personnel from supporting services working there. This will underpin property values in the area.
Kopar At Newton Offers Luxurious Facilities
Kopar At Newton offers an impressive range of luxurious facilities which are divided into 3 special zones - Vita (Life), Aura (Wellness) and Stella (Social). This sets the standard for the discerning and those seeking the finest things in life!
Below is the list of excellent facilities provided.
| | | | |
| --- | --- | --- | --- |
| The Connoisseur | Hot spa pool | Sun deck | Parcel station |
| Theatrette | Cold spa pool | Water deck | Play pavilion |
| Restroom | Meditation lawn | Reflective pool | Vita gourmet pavilion |
| The Courtyard | Steam room | Picnic lawn | Garden cabin |
| Cocktail lounge | Massage room | Kid's pool | Garden alcove |
| Gymnasium | Relaxation pool | Playground | Bicycle park |
---
Kopar At Newton - An Investment Overview
Below is an investment overview of Kopar At Newton.
After examining the factors above, there is no doubt that Kopar At Newton's central and strategic location will be one of its major selling points. As the saying goes, the location creates desirability, desirability creates demand, and demand raises real estate values.
Given its upscale location in District 9 and so close to the Newton MRT station, it is a natural draw for potential tenants. In fact, there is already a strong catchment of tenants around the area and the development of Health City Novena will substantially increase the demand for housing in time to come.
Strong Rental Demand
The Newton/Novena areas have traditionally been popular neighbourhoods. They have attracted strong rental demand due to their central location and easy access to a wide range of amenities. As can be seen, by the Urban Development Authority (URA) rental data below, there has been a healthy number of leases being signed.
Return On Investment (ROI)
Of course, rental demand is just one key aspect of property investment. What is even more important perhaps, is the rental yield or return on investment (ROI). But how does Kopar At Newton fare in this regard?
Chip Eng Seng's winning bid of 1,192 psf/pr (per sq feet per plot ratio) for this prime piece of real estate at the Government Land Sale (GLS) is relatively low. This compared very favourably to Allgreen's winning bid for the Fourth Avenue site at Bukit Timah at $1,540 psf/pr and Frasers Property's bid for the Jiak Kim Street site off Kim Seng Road at $1,733 psf/pr
Kopar At Newton's land price is also considerably lower than Chancery Court's en-bloc sale of $1,610 psf/pr, a 99-year leasehold site, to Far East.
Below is a sample of transacted prices for Allgreen's Fourth Avenue Residences and Frasers Property's Riviere gathered from the URA.
Therefore, with Kopar At Newton priced at an average of 2,350 psf in such a plump location, it is very competitive vis-a-vis other new property launches recently. For example, One Holland V, Martin Modern and Fourth Avenue have been priced from $2,300 to $3,000 psf. And closer to Kopar At Newton, the Pullman Residences nearby is selling close to $3,000 psf.  Although the Pullman Residences is on freehold land compared to Kopar At Newton's 99-year leasehold, the premium for a freehold property over a 99-year leasehold usually ranges from 15% to 25%. In this regards, Kopar At Newton's pricing is very attractive.
With Kopar At Newton's lower prices, rental yields will be higher as tenants pay the same rent regardless of land tenure. In other words, the Kopar At Newton will give astute investors a comparative price and yield advantage. In addition, there is a misconception among many property buyers that a freehold property is a better investment than a leasehold property. This is not always the case, which is highlighted in the article: Singapore Property Investment - 7 Key Factors.
Besides Kopar At Newton, you may also be interested in the following property reviews:
Core Central Region (CCR)
Rest of Central Region (RCR)
Outside Central Region (OCR)
Besides the above, more information of new property launches can also be found here.
---
Kopar At Newton Project Factsheet
Name
Kopar At Newton
Location
6 Makeway Avenue S(228606)
8 Makeway Avenue S(228607)
District
9
Status
Status
Tenure
99 years starting from 22nd April 2019
Approx Site Area
11,643.2 sqm
Plot Area
2.8
Gross Floor Area (GFA)
32,601 sqm
Lot/Plot/Mukim No.
Lot 01355T - TS 28
Expected Date of Vacant Possession (T.O.P.)
31st December 2023
Expected Date of Legal Completion
31st December 2026
Developer
CEL Newton Pte Ltd
Payment Scheme
Progressive Payment Scheme
Project Account
OCBC Bank for Project Account No. 713-285567-001 of CEL Newton Pte Ltd
Number of Storeys
23
Number of Towers
2
Car Park Lots
378 lots (excluding 4 handicap lots)
Total No. of units
378 Units
---
Kopar At Newton Floor Plans
Kopar At Newton offers unit sizes ranging from 1 to 5 bedroom and penthouses to cater to different segments of investors. In total, there are 10 configurations. Please contact us to request for the floor plans to be emailed to you.
---
Kopar At Newton Site Plan
The site area for Kopar At Newton is 11,643.2 sqm. With a plot ratio of 2.8, it is able to accommodate two 23-storey towers comprising a total of 378 units. Given its relatively good land size, it is also able to offer a good range of communal facilities such as swimming pools, gymnasium, massage room, cocktail lounge and even a theatrette.
The site is rather triangular in shape and is bounded by Bukit Timah Road, Kampong Java Road and Makeway Avenue, where the main entrance is located. Surrounding it is mostly private residential housing. Just across the development is the famous Newton Food Centre while the Newton MRT station is located diagonally across it.
---
Property Financing
Below are the stages of payment for the purchase of your property. This follows the normal progressive payment scheme for new launches.
*The 15% payment is to be paid in the following manner:
2% of the Purchase Price to the Developer; and
13% of the Purchase Price to the Singapore Academy of Law as stakeholder whereby 8% to be paid to the Developer upon the issue of the Certificate of Statutory Completion (CSC) and 5% upon expiry of the 12-month Defect Liability Period.
If you have any queries about the development or property investment, please WhatsApp or Email us.
---
The Developer of Kopar At Newton
The developer of Kopar At Newton is CELH Development Pte Ltd. It is a wholly owned subsidiary of Chip Eng Seng Corporation Ltd, a publicly listed corporation in Singapore since 1999.
CELH Development is its property development and investment arm of its parent company. Over the years, it has established itself as one of the industry's fastest rising star, winning many industry awards. It prides itself as a dynamic organisation that creates quality homes, offers outstanding build quality and provides sustainable value to their shareholders and customers.
Besides Singapore, it has also undertaken many construction projects in Australia and Vietnam.
Some of CELH Development's projects in Singapore include Ventuno Balmoral, Park Colonial, Grange Infinite, The Suites At Central, Fulcrum @ Ford Road and many more.
---
A Brief History of Newton Circus
The Kopar At Newton is locate beside the Newton Circus, which was originally known as Syed Ali Road. But it was renamed in 1914 after assistant municipal engineer Howard Newton (1877–18964). This is to prevent confusion with Syed Alwi Road in Little India where the popular Mustafa Shopping Centre is located.
The Newton Circus was constructed in 1933 with eight converging roads - Bukit Timah Road, Dunearn Road, Newton Road, Keng Lee Road, Kampong Java Road, Bukit Timah Road, Clemenceau Avenue and Scotts Road. Due to the heavy traffic, traffic lights were installed on 6 May 1987 after the "give way to the right" traffic principle was no longer able to manage traffic congestion effectively. They were originally operational only during the rush-hour periods, but were subsequently adjusted to work 24 hours on March 2011 as traffic conditions become increasingly heavy.
Back in the early 1900s, Newton Circus used to be the site of a railway station which was owned by the Malaysian government. Opened in 1903, the railway track stretched from Tank Road (near Clemenceau Avenue) and passed by several places that included Orchard Road and Newton Circus, before ending in Kranji. However, the railway lines in town were removed in the 1930s to make way for new roads in the area.
Fast forward to today, the Newton Circus is a prime location where many high-end landed condos are located. Being close to Orchard Road, properties in the area are very sought-after, whether for investment or own stay.