This is a review of Midtown Modern, an exclusive integrated development to be built atop the Bugis MRT interchange station and along Tan Quee Lan Street which features a row of conserved shophouses. Situated just across Bugis Junction, it enjoys a plethora of retail, dining, entertainment and leisure choices.
In this review, we seek to provide an unbiased examination of its design, locational attributes and investment potential.
For a deeper insight of the development or to visit the show gallery for an information-sharing session, please contact the developer sales representative. Alternatively, you may WhatsApp Us.
To navigate directly to each section of the review, please click on the links in the Table of Contents below.
Midtown Modern Condo is the residential component of Guoco Midtown II, a new mixed-use development by well-known property developers GuocoLand and Hong Leong Holdings. Consisting of 558 residential units with commercial at first storey, it will be built on top of the Bugis MRT station, which is an interchange between the East-West and Downtown Lines. This will provide future residents great transport connectivity.
Guoco Midtown II will be an extension of GuocoLand's Guoco Midtown, another mixed-use development located opposite it on Beach Road. The two sites will be linked with an underpass, resulting in a a mega development with an enlarged footprint of 3.2ha and maximum gross floor area of 1.5 million sq ft.
The development will also be linked to Bugis Junction and Duo via underground walkways, providing seamless connections to nearby amenities.
This $2.4 billion mixed development will comprise retail and Grade A office spaces with large public squares that will integrate with Midtown Bay - the 219-unit residential component of Midtown. The entire development will be a short walk to Singapore's Formula 1 Marina Bay Street Circuit - the one and only night race in the annual F1 calendar that has wowed audiences all over the world with its spectacular sight.
Midtown Modern will showcase GuocoLand's strong efforts towards sustainable development. These will include water and energy conservation, as well as immersive urban greenery and landscaping. Hence, it is expected to meet the criteria for the Green Mark Gold Plus Certification by the Building and Construction Authority (BCA).
With GuocoLand and Hong Leong Holdings (joint developers) fully invested in the development of a mid-town (a city within a city), they have a stake in maintaining the high standards they have set themselves. Hence, future residents can be assured of its upkeep to maintain its prestige, which will help to underpin the value of their properties in the long-term.
Unique Design Features of Midtown Modern Condo
The apartments at Midtown Modern condo are designed with adaptable spaces to meet changing lifestyle needs. It will also be a sustainable development incorporating energy and water conservation as well as the adoption of urban greenery and landscaping. Some of its unique features will include the following:
Parents working from home with children on home-based learning would have spaces that are convertible between sleeping and working.
Power points and wi-fi hotspots will be integrated with living/working spaces for convenient access and connection to work devices such as laptops and other mobile devices.
Lots of greenery to provide a garden-like setting to unwind from the modern hectic lifestyle. There will also be recreational facilities for residents to relax after work.
Three low-rise retail and F&B clusters at Guoco Midtown and Midtown II fronting a public space. Two of the retail clusters are at Guoco Midtown: Midtown Garden along Beach Road, and Midtown Market directly behind the conserved Old Beach Road Police Station building. The third retail cluster is Midtown Square at Midtown II and is located above the Bugis MRT interchange station and fronting Tan Quee Lan Street.
Each cluster will have a different character and atmosphere, with distinctive retail and F&B offerings. The public areas will be naturally ventilated,
20 thematic gardens and landscaped public spaces spread across Guoco Midtown and Midtown II. They cover the ground floor, various podium levels and even the rooftops of the towers that add up to 3.8 ha, which is bigger than the combined footprint of the site. These gardens seek to provide a sense of living and working in nature that promotes the well-being of inhabitants.
Dedicated facilities for residential and office towers. For instance, the office tower has its own gardens on Level seven and 30, a 40m lap pool, a 100m jogging track, an event plaza and party pavilions on the rooftop of the tower, with views of Marina Bay and Kallang Basin. Even entrances are separate for each of the different components. There are also multiple drop-off points.
Incorporates features such as contactless lifts, turnstiles and fittings. Its HVAC (Heating, Ventilation and Air-Conditioning) system prevents cross-contamination between floors. The HVAC system comes with carbon dioxide sensors to manage fresh air intake. Its MERV 14 (Minimum Efficiency Reporting Value) high performance filters with dust spot efficiency up to 95% is able to carry out UVGI (Ultraviolet Germicidal Irradiation) that can remove more than 90% of pathogens, including viruses.
Offers a Network Hub - a members-only business and social club that caters to both office tenants and residents. The five-storey network hub has 80,000 sq ft of space including members' lounges, meeting rooms equipped with virtual-technology, private dining rooms with kitchens and travellers' lounges for busy executives to freshen up when they arrive from the airport. The Network Hub is also directly connected to the 30-storey office tower.
Midtown Modern's Impressive External Features
Below are just some of the many impressive external features that future residents of Midtown Modern can look forward to. Much thought and work have gone into the concept to create a unique living experience that will be the envy of others.
Concierge - The impressive concierge will greet visitors when they arrive, giving them a sense of splendour not unlike what can be expected of a 5-star hotel.
Estuary Pool - The 50m estuary pool is unlike what you mostly find in other condo developments. Instead of being straight and rectangular, it is purposely built to meander through luxurious landscape with overhanding trees to mimic a natural estuary.
Rooftop Garden - The rooftop garden is designed to recreate the experience of looking down from a high-point in a mountain, with textured grounds for a more authentic "top-of-the-world" feeling.
Lush Landscaping - The whole Midtown development will be covered lushly with various species of indigenous and heritage flowering plants and trees. Instead of being too manicured, the gardens will be created with "wilderness" in mind. This is to ensure a more natural feel, as well as to attract fauna such as birds, butterflies and dragonflies to the development to enhance the living experience. Surrounding the entire development are various themed gardens.
A Full Range of Facilities Offered By Midtown Modern
Below is the impressive range of facilities offered by Midtown Modern:
Clubhouse
Gymnasium
50m Lap Pool
Aqua Barre
Estuary Pool
Leisure Pool
Jacuzzi
Hot Spring
Summer Court with Garden Lounge
Sun Deck
Grand Lawn
Adventure Play
Recreational Tennis Court
Pavilion 1 (Play Pavilion)
Pavilion 2 (Lawn Pavilion)
Pavilion 3 (Tea House) with Lily Pond
Rain Garden
Water Gardens (2nos)
Forest Walk
Garden Woods as follows:
Spring Wood
Spring Creek
Summer Wood
Summer Swale
Autumn Wood
Autumn Creek
Hillock Grove
Estuary Wood
Riparian Grove
Evergreen hedgerow
North Tower Roof Garden
Pavilion N1 (Peak View Pavilion)
Pavilion N2 (City View Pavilion)
Karstic Peak Gardens
South Tower Roof Garden
Pavilion S1 (Peak View Pavilion)
Pavilion S2 (City View Pavilion)
Karstic Peak Gardens
Midtown Modern Unit Types & Floor Plans
Midtown Modern offers 558 residential units consisting of 1- to 4-Bedrooms and Penthouses. Please click on the link for floor plans.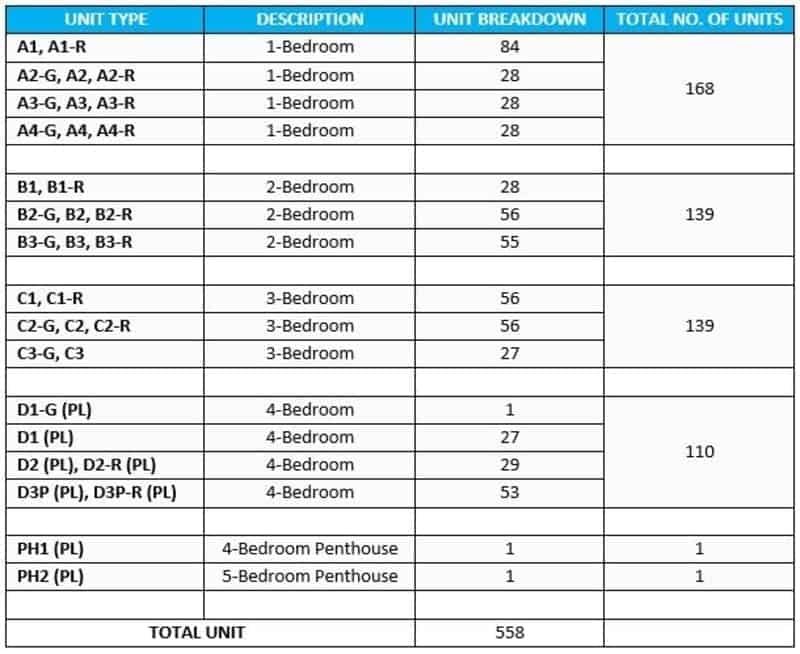 Midtown Modern Factsheet
Title
Details
Name of Development
Midtown Modern
Development Type
Integrated Mixed-use Development
Residential component within Guoco Midtown
Description
Proposed residential flats development comprising 2 blocks of 30-storey apartments (total: 558 units) with carpark and communal facilities, and commercial at 1st storey with basement
Developer
Developer Joint venture between GuocoLand, Hong Leong Holdings and Hong Realty
Address
16 Tan Quee Lan Street, Singapore 188144 (Resi South tower)
18 Tan Quee Lan Street, Singapore 188105 (Resi north tower)
20 Tan Quee Lan Street, Singapore 188107 (Commercial at 1st storey)
Directly Above Bugis MRT Interchange (East-West Line & Downtown Line)
District
7
Land Tenure
Leasehold, 99 years w.e.f. 10 Dec 2019
Plot Ratio
4.52
Site Area
11,530.8 sqm / 124,115.5 sqft
Gross Floor Area
48,430 sqm / 521,293 sqft
Total Number of Units
558
Type of Units
1-4 Bedroom & 2 Penthouses
No. of Lifts
4 common lifts and 2 private lifts per tower
No. of Storeys
30
No. of Blocks
2
Expected Date of TOP
3rd Quarter 2025
Design Architect / Project Architect
ipli Architects, ADDP Architects LL
Quantity Surveyor
Arcadis Singapore Pte Ltd
C & S Engineers
KCL Consultants Pte Ltd
Landscape Architect
Ortus Design Pte Ltd
Lighting Consultant
The Lightbox Pte Ltd
Main Contractor
Tiong Seng Contractors Pte Ltd
Structural Engineer
KCL Consultants Pte Ltd
M&E Consultants
United Project Consultants Pte Ltd
Project Account
DBS Ltd for Project A/C No. 003-700172-4 of Midtown Modern Pte Ltd
and Guoco Midtown II Pte Ltd
Midtown Modern Developers - GuocoLand And Hong Leong Holdings
GuocoLand and Hong Leong Holdings are the joint developers of Midtown Modern. Both are established property developers in Singapore with a wide range of projects under their belt.
GuocoLand
GuocoLand has been listed on the Singapore Exchange since 1978. It is a premier regional property company with operations in Singapore, China, Malaysia and Vietnam. In 2017, GuocoLand expanded beyond Asia into the new markets of the United Kingdom and Australia through a strategic partnership with the Eco World Development Group Berhad.
Headquartered in Singapore, the principal business activities of GuocoLand and its subsidiaries are property development, property investment, hotel operations and property management. The Group's portfolio comprises of residential, hospitality, commercial, retail and integrated developments spanning across the region. As at 30 June 2020, the Group's total assets amounted to approximately $11.1 billion.
In Singapore, the Group has successfully developed 36 residential projects yielding approximately 11,000 apartments and homes. GuocoLand's flagship integrated mixed-use development Guoco Tower, integrates premium Grade A offices, a dynamic lifestyle and F&B retail space, luxurious apartments at Wallich Residence, the 5-star business hotel Sofitel Singapore City Centre and a landscaped urban park.
It has also developed a sizeable portfolio of properties across major cities such as Beijing, Shanghai, Nanjing and Tianjin.
GuocLand - An Award-Winning Developer
GuocoLand has been honoured with numerous awards and accolades both locally and internationally for its quality, innovative developments and commitment to business excellence. These include environmental sustainability awards such as the Building and Construction Authority (BCA) Green Mark Awards and Leadership in Energy and Environmental Design (LEED) Pre-Certification, as well as real estate awards honouring the best property companies such as the International Property Awards, FIABCI Property Awards, BCI Asia Awards and South East Asia Property Awards.
With their phenomenal record of developing exceptional properties, buyers and investors of Midtown Modern Condo can no less, more so in such a unique and vibrant location within Singapore's core central regions (CCR).
GuocoLand's Past Projects
Below are some of GuocoLand's quality projects:
Wallich Residence
Martin Modern
Midtown Bay
Sims Urban Oasis
Meyer Mansion
Leedon Residence
Hong Leong Holdings
Hong Leong Holdings Limited was established in 1968 as the privately-held property development and investment arm of the Hong Leong Group. Being one of the pioneers in Singapore's real estate scene, Hong Leon Holdings has since emerged as a major player in the property market, making it one of the most sought-after providers of quality homes. To date, it manages 8 commercial projects and has developed close to 100 residential properties, including a range of mid to high-end residential projects in some of the country's most coveted neighbourhoods.
Going forward, it seeks to improve and expand their reach while maintaining its distinct level in design, sustainability and customer service.
Some of its past projects include:
The Avenir
One Balmoral
The Tate Residences
One Shenton
Atria
Sage
The St Regis Hotel and Residences
Grange Heights
An Investment Perspective - What Midtown Modern Condo Offers?
The appeal of Midtown Modern condo is many. These include the following:
Central and strategic location with a large catchment of existing tenants.
Excellent transport connectivity.
Proximity to education institutions.
Availability of a wide range of amenities such as shopping centres, leisure and entertainment facilities.
3-minute walk to Raffles Hospital & Medical Centre, 4 MRT stations to SGH Campus
A historical, civic, arts & cultural district with a unique charm where old buildings and monuments will be conserved for their heritage values.
Exciting transformation under the URA's Ophir-Rochor Master Plan.
Central and Strategic Location
The Central Business District (CBD) and Core Central Region (CCR) is in one of the most prestigious and sought-after areas to own a property in Singapore. This is due to its central and strategic location where many Multi-national Corporations (MNCs) are found in areas such as  Shenton Way, Raffles Place, Robinson Road and Marina Bay.
It is also home to Singapore's financial centre, the 4th largest in the world.
Hence, the large population of expatriates working in the area which will provide a large catchment of existing tenants will offer attractive investment potential for a property like Midtown Modern.
Excellent Transport Connectivity - A Key Feature of Midtown Modern
Midtown Modern condo will sit right on top of the Bugis MRT station, an interchange between the East-West and Downtown Lines. It also has easy access to three other MRT lines – North-South Line in City Hall and North-East and Circle Lines in Dhoby Ghaut. The City Hall and Dhoby Ghaut are major interchange stations which will provide Midtown Modern excellent transport connectivity.
In addition, there are many public buses plying Beach Road, North Bridge Road and Victoria Street, all of which are just a short walk from Midtown Modern.
For those who drive, it conveniently connects to four major expressways - East Coast Parkway (ECP), Marina Coastal Expressway (MCE), Central Expressway (CTE) and the future North-South Expressway (NSE).
Given such excellent connectivity, travelling around Singapore will be a breeze. This will also greatly benefit families with school-going children as this provides them alternative travelling routes that will cut down commuting time. This will result in more rest and a better quality of life for everyone.
In addition, there are plans to expand the cycling network. Currently, there are about 22km of cycling paths in the city centre, mainly within the Marina Bay area. But by 2021,  the city centre cycling path network will be further expanded by more than 5km.
There are also plans to provide cycling paths that link up MRT stations in the city centre . With cycling routes from East Coast Park, Geylang-City, Bishan-City, North-South Corridor, Queenstown-City links and Rail Corridor leading into the city centre, they will provide active and convenient commuting to and within the city.
These routes will also complement the upcoming Thomson-East Coast and Circle MRT lines to offer a wider variety of commuting options and experiences for everyone.
Proximity to Education Institutions
There are a number of education institutions near Midtown Modern Condo. In fact, the area is synonymous for its well-known Arts schools. These include the following:
School of The Arts (SOTA)
Nanyang Academy of Fine Arts (NAFA)
Lasalle College of Arts
Raffles Design Institute
Besides the Arts schools, there are quite a number of higher education institutions which will benefit families with older children. Some of these are:
Singapore Management University (SMU) at Victoria Street
Kaplan City Campus at Selegie Road
Glion Institute of Higher Education at Temasek Avenue
University of Newcastle a Temesek Boulevard
James Cook University at Sims Drive
All of them are in close proximity to Midtown Modern and easily accessed by public transpotation.
However, there are limited options for primary and secondary schools within a 2 to 3-km radius. However, this is somewhat mitigated by the excellent transportation network with the Bugis MRT station right below it. As it is an interchange station, many sought-after schools in Bukit Timah can be reached via the Downtown Line. These include:
Singapore Chinese Girls; School (~15 minute by MRT)
Anglo Chinese School, Primary (~16 minute by MRT)
Methodist Girls' School (~24 minute by MRT)
Raffles Girls' Primary School (~32 minute by MRT)
National Junior College (~20 minute by MRT)
Hwa Chong Institution (~20 minute by MRT)
For schools that are closer to Midtown Modern, the following are some of them:
Stamford Primary School (~2 minute Drive)
Farrer Park Primary School (~5 minute Drive)
Bendemeer Primary School (~9 minute Drive)
Singapore Chinese Girls' School (~10 minute Drive)
Broadrick Secondary School (~9 minute Drive)
Geylang Methodist Secondary School (~10 minute Drive)
Dunman High School (~11 minute Drive)
Insworld Institute (International school)
For families with little children, there are also a number of childcare centres, preschools and kindergartens in the surrounding areas. This makes it convenient for busy parents to drop them off and pick them up during the weekdays when they are working. Below are some of them that are within easy reach:
Ichiban Montessori Childcare Centre, Purvis Street (~5 minute Walk)
My Learning Haven, Suntec City (~6 minute Walk)
Josiah Montessori, Suntec City (~7 minute Walk)
Brightstar Child Development Centre, Suntec City (~7 minute Walk)
Viv's Schoolhouse, Queen Street (~10 minute Walk)
PCF Kampong Glam (~10 minute Walk)
Life Child Care Centre, Prinsep Street (~11 minute Walk)
My First Skool, Beach Road (~4 minute Drive)
MindChamps PreSchool @ Marina Square (~4 minute Drive)

MindChamps Chinese PreSchool @ Cecil Street (~6 minute Drive)
A Wide Range of Amenities
The Midtown Modern Condo is within walking distance to major shopping malls such as the Bugis Junction which is just across the road. It is also close to many interesting food places like those along Tan Quee Lan Street right next to it.
For families who prefer home-cooked meals, there is no lack of supermarkets. These include:
Cold Storage Bugis Junction (~2 minute walk)
Cold Storage Raffles City (~11 minute walk)
FairPrice French Road (~4 minute drive)
FairPrice Chinatown (~4 minute drive)
FairPrice Xtra Peace Centre (~3 minute drive)
FairPrice City Square Mall (~5 minute drive)
For those who live or work in the city area, it is an added convenience to be located within a five- to 10-minute walk of 7 million sq ft of offices, over 3 million sq ft of shopping and F&B spaces as well as 10 five-star hotels.
Some of these shopping and F&B places include Raffles City, Suntec Mall, Marina Square, Millenia Square, Plaza Singapura and Bugis+. In addition, the developer has planned to make Guoco Midtown and Midtown II the anchor of the area – a place to live, work and play.
Some of the prominent hotels in the area include Intercontinental, Swissotel, Fairmont, Marina Mandarin, Oriental Mandarin, Ritz Carlton Millenia, Conrad Centennial, JW Marriot and Pan Pacific.
Easy Access To Medical Facilities And Services
The Midtown Modern Condo is close to many first-class medical facilities and these include the following:
Raffles Hospital, which also operates a 24-hour Medical Centre, is located at Victoria Street just a 3-minute walk away.
SGH Campus, an upcoming medical campus at Outram is just 4 MRT stations away.
Health City Novena, an integrated medical hub in Novena, also 4 stations away.
Being so close to such medical facilities will add to the appeal of Midtown Modern. Besides providing residents with easy access to medical and healthcare services, such as world-class facilities will also appeal to foreign investors. Due to Singapore's high standards of medical treatment and care, it is a highly sought after destination for medical tourists in the region.
Raffles Hospital And Medical Centre
Raffles Hospital is a hospital built around the needs of patients. it provides specialist services combined with some of the most advanced medical technology. A tertiary care hospital, it is the flagship of the Raffles Medical Group, a leading private healthcare provider in Singapore and South East Asia.
It is also the first private hospital to partner the Ministry of Health's Emergency Care Collaboration to receive subsidised patients from the Singapore Civil Defence Force (SCDF) since 2015, Raffles Hospital has also been accredited and certified as a trauma hospital by the National Trauma Committee in June 2018.
SGH Campus
The upcoming SGH Campus will be Singapore's largest medical campus when is is completed in 2026. The development seeks to provide patients with integrated healthcare that is seamlessly connected to cutting-edge research and education, which will translate to better patient care.
Designed as a vibrant healthcare ecosystem, the SGH Campus will drive a world-class Academic Medical Centre that will define healthcare for Singapore decades to come. To achieve this, it will link all patient care, education and research facilities in an integrated healthcare ecosystem.
Besides being a place for medical treatment and healthcare, the campus is also designed with the community at its heart. Hence, it will feature easily accessible, eco- and community-friendly social and recreational amenities. There will also be quiet open spaces for patients, visitors and staff to interact, relax and enjoy the tranquility of the surroundings.
With Singapore's rapidly ageing population, the easy access to such healthcare facilities will surely be welcome feature by residents of Midtown Modern.
4 Historical Districts Near Midtown Modern Condo
The Midtown Modern Condo is also close to four of Singapore's historical districts, which gives the area a unique charisma not found anywhere else in Singapore. They are Boat Quay, Chinatown, Little India and Kampong Glam. They are characterised by predominantly two- and three-storey shophouses, ranging from the Early Shophouse Style to the Art Deco Shophouse Style.
These buildings are subjected to the strictest form of building conservation guidelines to preserve their diverse facades, rich ornamentation and distinctive architectural styles. Hence, they will provide a fascinating living experience to those living close by, such as the Midtown Modern.
Boat Quay
Boat Quay is bounded by South Bridge Road, Circular Road, Lorong Telok and North Canal Road. It was traditionally the centre of trading activities along the Singapore River. Located next to the Downtown Core, its shophouses and warehouses, which lined the river, give it a distinctive charm and character. Today, it is an area with predominantly commercial premises of retail and eating establishments. It is a very popular place for those working in the Raffle Place financial centre and the surrounding areas, either to chill out after a hard day's work or to entertain clients.
Chinatown
Chinatown is located south of the Singapore River. It is the original settlement of the Chinese community in Singapore. It is a largely intact area of shophouses with original texture and fabric, depicting the simple lifestyles of the early immigrant community. The Chinatown of today is much-beloved for its blend of old and new, with historic temples and traditional medicinal halls sitting alongside bold new bars and trendy lifestyle shops.
The District comprises 4 sub-districts, each with a distinctive character. They are: Kreta Ayer, Telok Ayer, Bukit Pasoh and Tanjong Pagar.
Little India
Little India is bounded by Serangoon Road, Sungei Road and Jalan Besar. It is recognised as the hub of Indian community life in Singapore. It is well patronised by local Indians and people of other ethnic origins, and Indians from abroad. The place was once used for agriculture and later for cattle trade. The District's historical value lies in its rich variety of buildings, streetscape and urban texture of its main streets, side roads, backlanes and open spaces. Most of its built fabric of the late 19th century or early 20th century is still largely intact.
The Abdul Gaffoor Mosque, a national monument, is located within the Little India Historic District.
Kampong Glam
Kampong Glam is bounded by Ophir Road, Victoria Street, Jalan Sultan and Beach Road. It was traditionally a Malay residential area with ethnic-based activities at the periphery and along Arab Street. Its unique characteristic lies in the contrast between its streetscape, with its low and uniform scale, and the large open spaces of the palace grounds. It is largely an area of shophouses with original texture and fabric. The presence and influence of the Arabs in the early 1910s were registered by the names allocated to its streets.
The Sultan Mosque and the Istana Kampong Glam, both national monuments, are located within the Kampong Glam Historic District.
Singapore's Civic District
Midtown Modern Condo is situated within the Civic District, which is the birthplace of Singapore. It lies at the very heart of the nation and is well-known for its key government buildings, museums, protected parks and memorial spaces. There are plans for a new park at Armenian Street and greenery enhancements along Coleman Street to provide pleasant stroll between Civic District and Fort Canning Park.
Comprising of only a few square kilometres, it is easily accessible from the City Hall MRT station. It is also a short walk from Bugis to the north and Singapore River to the South, with Marina Bay right beside it. The Civic District is packed full of some of the most enchanting historical buildings and attractions in central Singapore. Some of these include:
Raffles Hotel
The National Museum Singapore
St Andrews Cathedral
Fort Canning Park
Central Fire Station & Civil Defence Heritage Gallery
Asian Civilisations Museum
Singapore Art Museum
National Gallery
Chijmes
Parliament House
Formula 1 Marina Bay Street Circuit
Singapore's Civic District is also home to the Marina Bay Street Circuit, which is within a short walk from Midtown Modern Condo. The Marina Bay Street Circuit hosted its inaugural night race in 2008 - the one and only night race in the annual F1 calendar. The demanding street circuit quickly established itself as a premier race venue amidst the city's spectacular and glittering skyline as its backdrop.
As one of the most-watched annual sporting events globally, Singapore's blend of glamour, spectacle and entertainment plus its standing as a major global business hub, has made the Singapore Grand Prix the jewel in F1's crown. With the event beamed onto television sets of hundreds of millions of viewers worldwide, it has helped to showcase Singapore as a beautiful, vibrant and attractive destination to a global audience. This has further boosted Singapore's reputation as a place to live-work-play.
Hence, a development like Midtown Modern located right at the city centre where all the "action" is, will provide great investment potential as it will attract well-heeled property investors from Singapore and overseas.
Singapore's Art District
The Bras Basah and Bugis precinct is the arts and heritage district in Singapore's civic centre, and where several museums and monuments can be found.
It is an area full of energy and buzz, which adds to the appeal of a development like Midtown Modern Condo. It is home to museums such as the National Museum, National Gallery and Peranakan Museum, and national monuments like the Armenian Church and Central Fire Station - Singapore's oldest fire station.
The School of the Arts, Singapore Management University, Nanyang Academy of Fine Arts and Lasalle College of the Arts can be found in the area too. Visitors should not miss the latter to admire its distinctive architecture and soak in the creative vibes.
The grand National Museum is also known for its annual Night Festival where the facades of the historical building come to life with interactive light installations and aerial performances.
Parks And Nature Attractions Near Midtown Modern Condo
The Midtown Modern Condo is blessed with easy access to several parks and nature attractions such as the Kallang Riverside Park, Gardens By the Bay, Marina Barrage and Fort Canning Hill. These places can be conveniently reached via public transport. For example, the Kallang Riverside Park is just one MRT station away (via East-West Line) while the Gardens By The Bay and Fort Canning Park are two and six stations away respectively (via Downtown Line).
Kallang Riverside Park
The Kallang Riverside Park is built on both sides of the Kallang River and is a haven for water sports enthusiasts. Often, you can catch them practicing with their dragon boats, canoes and water-skis.   For those not into water sports, the park is lined with fitness equipment and jogging cum cycling tracks which come with distance markers.
There are also designated fishing zones to allow anglers to cast their rods to hook their next big catch.
Nature lovers can also marvel at the various species of birds in the area, especially in the migratory season from September to March, where you may catch sight of little egrets and grey herons. The park is also a great place to get away from the hustle and bustle of city life and have a little picnic while enjoying the tranquility of the reservoir.
Gardens By The Bay
From the Kallang Riverside Park, the Kallang Park Connector provides a green network that connects residents to the dynamic downtown at Marina Promenade near the Singapore Flyer. Then it continues all the way through the Gardens By The Bay before ending at Marina Barrage.
Gardens By The Bay is one of Singapore's national gardens and famed for its iconic Supertrees as well as Flower Dome and Cloud Forest. It is a showpiece of horticulture and garden artistry that presents the plant kingdom in a whole new way, entertaining while educating visitors with plants seldom seen in this part of the world. They range from species in cool, temperate climates to tropical forests and habitats. There are different themes and plant display over the course of the year.
Marina Barrage
Further down from the Gardens By The Bay is the Marina Barrage. It was built across the mouth of Marina Channel and is Singapore's 15th reservoir, but the first in the heart of the city.
With a catchment area of 10,000 hectares, the Marina Barrage is the island's largest and most urbanised catchment. It brings about three benefits: a source of water supply, flood control and a venue for lifestyle attraction.
Unaffected by tides, water level in Marina Reservoir is kept constant all year round. This is ideal for all kinds of recreational activities such as boating, kayaking and dragon-boating. In addition, it provides a breathtaking view of the city's skyline along the Greater Southern Waterfront.
Fort Canning Park
Fort Canning Park is only 1.8km from Midtown Modern Condo. It was a landmark with many interesting historical moments. It was once the site of palaces of 14th century kings and served as the Headquarters of the Far East Command Centre and British Army Barracks. The decision to surrender Singapore to the Japanese during the second World War on 15 February 1942 was also made on the hill. The signing took place in the Underground Far East Command Centre, which is commonly known as the Battle Box.
Today, Fort Canning Park features nine historical gardens - the Pancur Larangan, Artisan's Garden, Sang Nila Utama Garden, Jubilee Park, Raffles Garden, First Botanic Garden, Farquhar Garden, Spice Garden and Armenian Street Park. Accompanying these gardens are trail guides to help visitors navigate the terrain, which stretches 2.5km long.
A Brief History of Bugis
Bugis had a colourful past. It was renowned internationally from the 1950s to the 1980s for its nightly gathering of transvestites and transsexuals, a phenomenon that made it one of Singapore's most notable destinations for foreign visitors during that period.
They are drawn by the glitz and the glamour, with nightly parades and impromptu risqué rooftop shows and performances. It was also a place to savour local food and get drunk while the transvestites would tease, cajole, and sit on visitors' laps or pose for photographs for a fee. Others would sashay up and down the street looking to hook half-drunk sailors, American GIs, and other foreigners for an hour of profitable intimacy and sex.
This gave birth to the once-famous (or rather infamous) Bugis Street.
However, the Singapore government got increasingly concerned about the shady activities and by the mid-1980s, Bugis Street underwent a major urban redevelopment. It was replaced by modern shopping malls, restaurants and nightspots mixed with regulated back-alley roadside vendors.
Underground digging to construct the Bugis MRT station added to the upheaval and termination of the nightly transgender sex bazaar culture, marking the end of a colourful and unique era in Singapore's history.
Today, Bugis is a bustling place with many modern shopping malls and gleaming skyscrapers amidst enthralling conservation buildings that give the area a charming character. The current Bugis Street in now an open-air bazaar selling an eclectic mix of merchandise under canvas roof. However, more exciting developments await under the URA Master Plans which should excite astute property investors.
Midtown Modern to Benefit From URA's Ophir-Rochor Master Plan
The Central Area, where Midtown Modern is located, is close to the arts, cultural and heritage areas. It is also the home to Singapore's global business and financial hub, and a vibrant 24/7 lifestyle destination.
Under the Ophir-Rochor Master Plan, the area will continue to grow and become even more vibrant, by accommodating a wider diversity of uses and offering more jobs and business opportunities for the future economy. More city living options nearer to amenities are planned too, with delightful streets and public spaces that celebrate its rich cultural, heritage and green assets. This is to enable more people to live near workplaces and amenities such as child care centres, affordable food, as well as pedestrian-friendly streets to create delightful mixed-use neighbourhoods that foster a strong sense of community. This will include the development of open courtyards and plazas as well as a unique mix of high and low-rise developments within a park-like setting.
In addition, the arts, cultural, and heritage precinct comprising the Civic District, Bras Basah, Bugis, and Fort Canning will be expanded and enhanced with improvements to the public spaces. This is to make the place even more vibrant.
As for the Central Business District (CBD), the vision is to continue to transform it into a well-connected and vibrant mixed-use district offering a dynamic and innovative business environment.
Kampong Bugis Master Plan
Midtown Modern Condo is also expected to reap the benefits from the URA Master Plan for Kampong Bugis, which is just 1.9km away, or a short walk from the Lavendar MRT station (one stop from Bugis).
Kampong Bugis has been identified as one of the Urban Transformation projects, which are "key growth areas that will encourage economic growth, and bring jobs and amenities closer to residents." Spanning an area of around 8.29 ha, it is strategically located at the mouth of Kallang River with a 1.1km of water frontage. It is envisioned by the government to be an attractive residential and recreational precinct that supports active mobility, environmental sustainability, and fosters community interaction.
To provide a pedestrian-friendly environment, the precinct will include a comprehensive network of pedestrian and cycling paths that will connect seamlessly to key public transport nodes.
The Kallang Riverside Park will also be given a new lease of life as a vibrant waterfront park for the community where cyclists and joggers can stop for a rest under the lush shady trees. To keep waters clean, the development will have a network of greenery and water sensitive features that will store and cleanse rainwater before it is discharged into the Kallang Basin.
All these exciting developments are part of the rejuvenation and transformation of the precinct which can only enhance its desirability as a place to live. Hence, the long-term prospect for the the area looks promising, which is expected to underpin property values.
Midtown Modern Review Conclusion
As Bugis lies either within or close to Singapore's Civic, Arts, Entertainment and Historical Districts, the area possesses a unique and interesting character. From the colonial-era architecture to conserved shophouses, street art, heritage sites and a plethora of lifestyle and entertainment options, it oozes an eclectic mix of vitality that is not found elsewhere in Singapore.
This would appeal to those who love the best of city life and all the conveniences it offers.
Bugis' vibrant streetscape and close proximity to Singapore's financial centre, the fourth largest globally, will surely attract strong housing demand from those working in many of the Fortune-500 multinational corporations in the city centre.
Meanwhile, Bugis is undergoing a rejuvenation under the URA Master Plan. For example, new A-Grade office spaces and high-end residential developments such as the South Beach and the DUO have been completed in recent years. Both are integrated developments have helped to create a more dynamic environment.
Things are not standing though, as more new developments are coming up fast. These include another two mixed-use developments in The M and Guoco Midtown, while the nearby Shaw Towers is being redeveloped into a new 35-storey office tower.
To sum up, the Midtown Modern Condo in Bugis is ideal for the following segments of property investors:
Those who love the vibrancy of city life with all the conveniences at their doorstep.
People who prefer the dynamic vibes offered by of an integrated development as compared to standalone residential developments.
Those looking for flexible and convertible living/working spaces amid the change in work practices brought about by the covid-19 pandemic.
Buyers looking for a unique living experience close to historical districts and conservation areas such as Boat Quay, Chinatown, Little India and Kampong Glam.
Working professionals who want to live close to the Central Business District (CBD).
Empty nesters or active seniors looking for a more vibrant environment to live in.
Investors looking for good rental returns with an existing large catchment of tenants.
Investors looking for long-term capital appreciation amid the exciting URA transformation of Bugis and the surrounding areas.
Last but not least, foreigners looking for properties in Singapore tend to focus on those in the Core Central Region (CCR) for good reasons – strong rental demand and attractive long-term capital appreciation due to their excellent locational attributes. With the transformation taking place under the Ophir-Rochor and Kampong Bugis master plans, Bugis has been seen as the next up-and-coming luxury home spot. Hence, it is unsurprising that foreign investors have increasingly been drawn to the area.
Thrown into the equation the great city views and being clos to water bodies (besides the wide choices of amenities and excellent transport network), it is not difficult to envisage the attraction of the area. Furthermore, a development like Midtown Modern provides investors an exciting live-work-play concept by incorporating a wide range of facilities within the development. In other words, it is a "city within a city" where commercial and residential spaces are carefully integrated and yet, separated to provide a unique living environment.
For more information about the development, or to explore your property investment options, plese Email or  WhatsApp Us.
---
Besides Midtown Modern, below are some property reviews that may interest you. For details on new property launches, please refer to project information.