This is a review of One Bernam condo, a mixed-use development in Tanjong Pagar in Singapore's District 2. It will consist of a 35-storey development comprising of a 2-storey commercial podium, 1-storey service apartments (13 units) and 32-storey residential tower (351 units) that comes with a swimming pool and communal facilities. There will also be a separate basement and multi-storey car park for visitors and residents respectively.
In this review, I will seek to provide an unbiased evaluation of its locational attributes, design and layouts, as well as investment potential by analysing statistics on how similar properties in the area have performed.
Nevertheless, if you require more information about the development or wish to arrange for a show flat viewing, or if you have any queries about property investment and the real estate market in Singapore, please feel free to Contact Me. Alternatively, you may WhatsApp Me for an information-sharing session, obligation-free.
To navigate directly to each section of the review, please click on the links in the Table of Contents below.
Key Attributes of One Bernam Condo
Below are the key attributes of One Bernam Condo that will appeal to homeowners and property investors.
Situated in the prime Central Business District (CBD) and at the heart of Singapore's financial district, the 4th largest globally
Strong rental demand from expatriates working in MNCs within the CBD and Downtown Singapore
Easy access to a wide range of amenities such as shopping malls, supermarkets and eateries
Convenient access to educational institutions
Excellent public transport network with two MRT stations nearby
Short drive to two major expressways – Marina Coastal Expressway (MCE) and Ayer Rajah Expressway (AYE)
Close proximity to Singapore's Historical, Civic and Art Districts
One station to the upcoming SGH Medical Campus
Good investment potential amid the exciting transformation of Downtown Singapore, Greater Southern Waterfront and Rail Corridor
One Bernam Condo's Site Location
One Bernam condo is bounded by Bernam Street, Tanjong Pagar Road and Enggor Street and lies within Singapore's prime Central Business District (CBD), which is part of the Core Central Region (CCR) and Downtown Planning Region.
Its strategic location close to the Raffles Place and Marina Bay financial district, as well as in the City Centre, where many Fortune 500 banks and companies have set up their operations and Regional Headquarters will ensure strong demand for housing.
Being at the heart of Tanjong Pagar with Grade A offices like Guoco Tower, Frasers Tower and Capital Tower, One Bernam condo will enjoy a strong catchment of high-earning tenants working in the area.
Hence, it is unsurprising that rental yields for properties in the district are around 3.5%, a very favourable level compared to about 2.5% for residential properties in Orchard Road.
Although the area may look a little "sterile" surrounded by modern skyscrapers and shiny office buildings, it is not devoid of life though. Scattered all over the CBD are restaurants, cafes, hawker centres, food courts, sundry shops and a whole lot of amenities. There are also many places of interest nearby, such as the Buddha Tooth Relic Temple, Sri Mariamman Temple and Sang Cho Keong Temple.
However, being located in the financial district, residents must be prepared to bear with the office crowd, noise and heavier traffic during the day.
One Bernam's Unit Mix
One Bernam provides a total of 351 units ranging from 1- to 3-Bedrooms and Penthouses, with the majority with north-south facing. The building was designed to create a distinctive image for the city with Signature screen along the façade and a sky terrace with views of the Great Southern Waterfront and the City.
The following is a breakdown of the number of units and types (layouts).
1-Bedroom - 87 units (3 types)
2-Bedroom - 116 units (4 types)
2-Bedroom + Study - 116 units (4 types)
3-Bedroom - 29 units ( 1 type)
Penthouses - 2 units of 3-Bedroom + 1 unit of 5-Bedroom (1 type each)
Unit Mix
No. of Bedroom
Unit Type
No. of Unit
% By Unit
Sqm
Sqft
1-Bedroom
Type A1
29
24.79%
42
452
Type A2
29
41
441
Type A3
29
43
463
2-Bedroom
Type B1
29
33.05%
68
732
Type B2
29
68
732
Type B3
29
65
700
Type B4
29
65
700
2-Bedroom + Study
Type BS1
29
33.05%
77
829
Type BS2
29
77
829
Type BS3
29
75
807
Type BS4
29
81
872
3-Bedroom
Type C1
29
8.26%
132
1,421
Penthouse
Type E1
1
0.85%
400
4,306
Type E2
1
181
1,948
Type E3
1
162
1,744
Total
351
100%
As can be seen, there is quite a good selection of 1- and 2-bedders. It seems that the developer is targeting investors, which is unsurprising given its prime location at the heart of the Central Business District (CBD) where rental demand is expected to be strong. Those looking for bigger units have a limited choice though, as there is only 29 units of 3-bedder with the same layout. But, they are quite large at 1,421 sqft and will comfortably accommodate larger families. There are also limited choices for the penthouses, with only 1 unit of each type. For more information about the unit mix, please refer to the table below.
Nevertheless, given Singapore's small family sizes nowadays, the 2-bedders may suffice as the smallest starts from 700 sqft. This is quite decent by today's standards when compared to some recent new property launches. For those looking for more space, a good alternative would be the 2-Bedroom+Study where sizes range from 807 sqft to 872 sqft. The study could be converted into an extra bedroom or be used as a working space in the current covid-19 world.
The units are also built with adaptability in mind. For example, the kitchen cabinet has a flip-down table that can double up as as a working desk.
The layouts are functional, with most having a dumbbell configuration which optimises the use of space. However, the ceiling height for the living/dining area is not the most generous, especially for the 1- and 2-bedders, as can be seen below:
1 and 2-Bedroom - 2.765m
3-Bedroom - 2.875m
Penthouses -  3.50m
A nice provision from the developer is the Haiku ceiling fan that will be installed in the living room for all units. This will help to improve air circulation while keeping the house cool. All units will be also be supplied with branded fittings from Gessi, bathroom/sanitary ware from Carera and Laufen, as well as home appliances from V-Zug. Wardrobes will be from Hafele.
When it comes to finishing, the following will be provided:
Living / Dining / Study / Kitchen Hermes - Grey Marble
Bedrooms - Engineered timber flooring with skirting
Bathrooms - Porcelain Tile
WC & bathroom - Porcelain Tile
Balcony - Porcelain Tile
Household Shelter - Porcelain tile
Please click on One Bernam Floor Plans to view the full list.
One Bernam Pricing (PSF)
Based on Hao Yuan's land bid price of $1.463 psf ppr, its breakeven is estimated to be around $2,200. At the launch in early May 2021, the average selling price of the units sold was about $2,650 psf.
The following are the indicative prices of units available (Note: prices & availability are subject to change without prior notice). For the latest update, please WhatsApps Us. Alternatively, you may email us here.
One Bernam Facilities
One Bernam offers 35 facilities over two Sky Terraces on the 4th and 34th floor. The facilities are zoned according to the following:
Wellness and Lifestyle
The Botanic Collection
Active Lifestyle
The Tatami Garden
The Sky Lounge
The Sky Hammock Garden
The Sky Fitness Club
The number of facilities offered is not the most generous vis-a-vis other new developments, constrained by its relatively small plot size. For example, the lap pool is only 36m long compared to most new developments nowadays where 50m is quite the norm. Nevertheless, there are some nice features, such as its various themed gardens and relaxation spaces.
LEVEL 4 SKY TERRACE
Wellness Lifestyle
1. Garden Walk
2. Leisure Deck
3. Chill Out Deck
4. Yoga Deck
The Botanic Collection
5. Fragrant Garden
6. Shaded Garden
7. Palm Garden
8. Garden Bridge
9. Path Over Reflective Water
10. Waterwall
11. Alocasia Walk
Active Lifestyle
12. Viewing Deck
13. Garden Dining Pavilion
14. Gourmet Function Room
15. Club House
16. Swimming Pool
17. Spa Pool
18. Lounge Deck
19. Pool Pavilion I
20. Pool Pavilion II
LEVEL 34 SKY TERRACE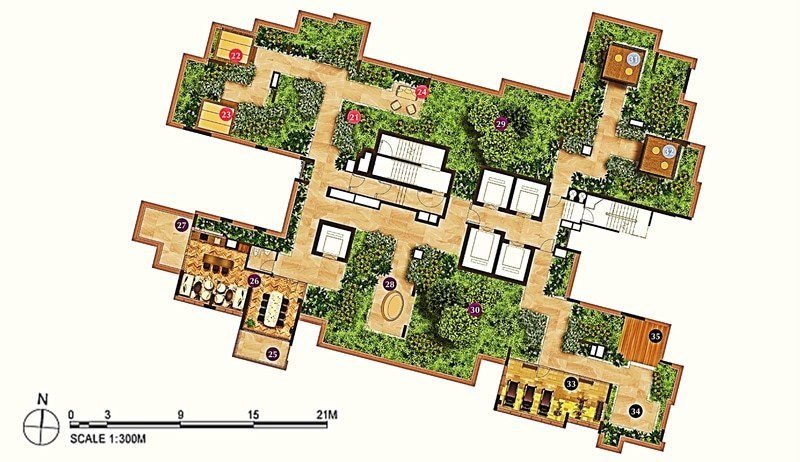 The Tatami Garden
21. Kokedama Garden
22. Tatami Deck I
23. Tatami Deck II
24. Relaxation Corner
The Sky Lounge
25. Outdoor Terrace
26. Sky Dining Function Room
27. Roof Terrace
28. Sky Garden Pavilion
29. North Sky Garden
30. South Sky Garden
The Sky Hammock Garden
31. Sky Hammock I
32. Sky Hammock II
The Sky Fitness Club
33. Sky Gym
34. Active Deck
35. Fitness Deck
One Bernam Smart Home System
Every unit in One Bernam comes w
ith a Smart Home System. These include the following:
To complement the beautiful facilities provided, One Bernam will also come with the following Smart Home System to enhance the quality of living:
Smart Home gateway
Digital lockset
Air-conditioning with smart home interfacing at Living/Dining
Smart video doorbell (designed to capture what traditional video can't. Get notified when motion is detected and receive a call on your phone when your doorbell is pressed. It even has night vision capability).
Smart Mirror (Penthouses E1, E2, E3)
Green Mark Certification
One Bernam has been awarded the BCA Green Mark (Platinum) for sustainable development. The following are some of the features being incorporated into the building:
Good building orientation to allow natural ventilation
Energy Efficient lighting design using LED and provision of motion sensors ( escape staircases )
Energy Efficient lifts with sleep mode function
Energy efficient 5 Ticks air-con units
Provision of fans for good thermal comfort
Water efficient fittings of 2 ticks and above WELS rating in all residential units
Use of low VOC paint for all internal walls
Provision of Bicycle parking lots to promote green transport and a healthy lifestyle
Easy Access to A Wide Range of Amenities
A mixed-use development like One Bernam condo will offer a more dynamic living environment. Integrated with commercial businesses such as F&B and retail establishments, they will enliven the place. Moreover, the 100 AM and Icon Village shopping malls are just a 1 to 2-minute walk away. Together, they offer a wide array of essential services, cafes, restaurants, home products, beauty and wellness, and many more.
There is also a Cold Storage supermarket at Icon Village and Fairprice Finest at 100 AM. Another Fairprice supermarket can also be found at Tanjong Pagar Plaza, which is located diagonally across One Bernam condo.
The Tanjong Pagar Plaza has about 130 shops that cater to the needs of the HDB residents as well as office workers nearby. They include traditional retail shops offering a wide variety of goods and services such as Chinese medicinal products, clothing, textiles, cosmetics, electronics and beauty parlours. There are also various shops selling handicrafts and artisan items, plus several popular eateries.
The Tanjong Pagar Plaza also includes a food centre and wet market. Other than providing affordable food choices, One Bernam residents can also shop for groceries and fresh produce if they prefer home-cooked meals. Such easy availability means there is no need to stock up on food items.
The Developer of One Bernam Condo
The developer for One Bernam is Hao Yuan Investments. Originally from China, it has more than 10 years of property development in Singapore. In partnership with MCC Land, they have undertaken projects such as Alps Residences, Northwave Executive Condo and most recently, the 736-unit Queens Peak on land purchased in a Government Land Sales (GLS) tender in June 2015.
For the Bernam Street site, it's bid of $440.9 million topped three other bidders during the GLS in September 2019. The second highest bid came from Hongkong Land and MCL Land, followed by Far East Organization and Chinese developer CSC Land and partners.
The bid of $440.9 million will translate into a land cost of $1,463 psf per plot ratio (psf ppr). With a maximum gross floor area (GFA) of 301,403 sq ft, One Bernam condo could yield some 325 residential units with commercial space on the first storey.
Shopping Malls Near One Bernam Condo
Besides Icon Village, 100 AM and Tanjong Pagar Plaza, One Bernam condo also has easy access to a plethora of shopping malls in City Hall, Bugis, Orchard Road, Novena, Harbourfront, Chinatown and Tiong Bahru. All of them can be easily reached via the two MRT stations located nearby.
In fact, City Hall, Harbourfront and Chinatown are just two stops away. Given their proximity, residents will be spoilt for choice when it comes to shopping, dining, entertainment and leisure activities.
Interesting Dining Places Near One Bernam
Other than those mentioned above, there are some really interesting dining places near One Bernam condo. The more interesting ones include Duxton Hill, Maxwell Food Centre and Lau Pa Sat.
Duxton Hill – It is a little further down from Tanjong Pagar Plaza. The area consists of many conserved shophouses that have been repurposed for a variety of businesses such as wedding boutiques, clothing stores, indie bookshops and boutique hotels. However, the quaint neighbourhood is better known for its eclectic mix of eateries, pubs, bars and lounges. Offering a wide range of cuisines from Chinese, Japanese, Korean, Mexican and many more, the area truly comes alive at night when workers in the CBD gather for food and drink, as well as karaoke sessions. Feeling a little tipsy after a drink too many? Fret not! One Bernam is just a 6-minute walk away.
Maxwell Food Centre – It is home to a plethora of local food stalls where some of the best in Singapore are found. These include the Tian Tian Hainanese Chicken Rice, Xing Xing Ondeh-Ondeh and Tapioca Cake, China Street Fritters and Hoe Kee Pau, among many others. The food centre is not only popular with locals and the office crowds, it is also famous with tourists. In fact, it was visited by celebrity chef Gordon Ramsey before the Singtel's Hawker Heroes Challenge in 2013 to "steal" tips for making chicken rice, one of the three dishes in the cook-off competition.
Lau Pat Sat - Also known as Telok Ayer Market, Lau Pa Sat blends history, striking architecture and scrumptious local food into one heady experience. Built in the 19th century, it was gazetted as a national monument in 1973. Situated in the heart of the financial district, the market's distinctive octagonal shape and ornamental columns now houses Food Folks, a locally-focused food concept that houses 10 F&B brands and a retail area that sells more than 800 food-related items from over 120 brands. Beside it is Boon Tat Street, which will be transformed into Satay Street at night. Helmed by vendors from the former Satay Club at Elizabeth Walk, Lau Pat Sat is a 15-minute walk or four bus stops from One Bernam.
Convenient Access to Education Institutions
There is a lack of schools around Tanjong Pagar where One Bernam condo is located. The nearest is Cantonment Primary School, which is just a 9-minute walk away.
However, this is largely mitigated by the excellent MRT transport network that provides convenient access to schools outside the CBD. In fact, most of these schools and education institutions can be reached within 15-30 minutes. The following are some of the schools that are just 2-8 MRT stations away:
Stamford Primary School
ZhangDe Primary School
Gan Eng Seng Secondary School
School of the Arts (SOTA)
Fairfield Methodist School (Primary)
Fairfield Methodist School (Secondary)
School of Science and Technology
Anglo-Chinese Junior College
Anglo-Chinese School (Independent)
Singapore Polytechnic
Duke-NUS Graduate Medical School
Singapore Management University City Campus
National University of Singapore (NUS)
Childcare Centres And Preschools Near One Bernam
For families with young kids, there is no shortage of childcare, infant care and preschools near One Bernam Condo. Given the wide choices, they will provide great convenience for busy working parents who can easily drop their children off before going to work and pick them up at the end of the working day. Some of the childcare centres and preschools that can be found nearby are:
Mulberry Learning Centre @ Tanjong Pagar
My First Skool at Blk 2 Tanjong Pagar Plaza
MindChamps Chinese PreSchool @ Cecil Street
KidsCampus Infant Care & Childcare Centre at Pinnacle
Modern Montessori Pre School @ Pinnacle
Modern Montessori Pinnacle – MMI
PCF Sparkletots Preschool at Pinnacle
Kidspace Learning Place Cantonment
Trehaus @ Funan Mall
Superland Pre-School at Chinatown Complex
International Schools to Attract Expatriate Housing Demand
For those looking for investment, there are a number of international schools that are easily accessible via the MRT and public transport network. This will appeal to expatriate families working in the Central Business District (CBD) and City area. Some of these international schools include the following:
International Baccalaureate Organization
Shelton College International
Ascensia International School
North London Collegiate School
ISS International School
Tanglin Trust
Dover Court International School
United College of South East Asia Dover Campus
One Bernam Condo Blessed With An Excellent MRT Network
As highlighted earlier, One Bernam condo is served by an excellent MRT network. The Tanjong Pagar station is less than 5-minute walk away. One station from it is the Raffles Place and Outram Park MRT stations respectively. Raffles Place is an interchange station for the East-West/North-South Lines while Outram is an interchange for the East-West/North-East Lines.
More MRT interchange stations can be found at Dhoby Ghaut (North-South/North-East/Circle Lines) and Chinatown (North-East/Downtown Lines). Together, this expansive train network will provide residents of One Bernam condo convenient inter-modal transportation to almost every part of Singapore, as well as a more pleasant commuting experience.
And by 2025 when the Circle Line "closes" its loop with the construction of three new stations – Prince Edward, Cantonment and Keppel (refer to MRT map below) – it will further improve connectivity. The Prince Edward station is just a 5-minute walk from One Bernam and it will provide more commuting options. On one end, it will connect directly to Harbourfront where VivoCity, Singapore's largest lifestyle mall, is located. On the opposite direction, it brings residents straight into Marina Bay, an interchange station for the Circle, North-South and the future Thomson-East Coast Lines.
Besides the MRT, the CBD areas is also well-served by public buses. Basically, there is simply little need to own a car, which is in line with the Singapore government's effort to create a "car-lite" society for a greener and cleaner environment.
Nevertheless, for those who drive to work outside the CBD, they are blessed with easy access to several expressways. Almost at the doorstep of One Bernam condo is the Marina Coastal Expressway (MCE) which will linked up to the East Coast Expressway (ECP) and Kallang-Payar Lebar (KPE) further up. On the opposite end towards the West is the Ayer Rajah Expressway (AYE) which will easily take them to One-North Eden (aka Singapore's Silicon Valley) and the upcoming Jurong Lake District.
For those heading up North to the Woodlands Regional Centre, the Central Expressway is just a 4-minute drive away.
Proximity to Singapore's Historical, Civic and Art Districts
Currently, the Central Business District is not exactly blessed with many interesting things to do or places to visit, especially during the weekend when it practically turns into a "ghost town". However, this is set to change in the not-too-distant future due to the URA Master Plans to transform Downtown Singapore, the Greater Southern Waterfront and Sentosa.
However, being quiet during the weekend may not be a bad thing though, especially for those who wish to spend some quiet time away from maddening crowd. Neverheless, should they wish to venture out for some interesting activities, One Bernam condo is just a short distance from Singapore's Historical, Civic and Art Districts.
4 Historical Districts Near One Bernam Condo
One Bernam condo is also close to four of Singapore's historical districts, namely Boat Quay, Chinatown, Little India and Kampong Glam. They are characterised by predominantly two- and three-storey conserved shophouses dating as far back as pre-second World War.
Subjected to the strictest form of building guidelines, the old buildings are conserved and restored to maintain their distinctive characters and charm. Their diverse facades, rich ornamentation and distinctive architectural styles provides a stark contrast to the modern buildings surrounding them. Hence, these places will provide a truly fascinating alternatives for a fun day out while having a glimpse of old Singapore and its rich cultural heritage.
Boat Quay -Boat Quay is situated along the Singapore River near the Raffles Place, and is just one MRT station from One Bernam condo. Bounded by South Bridge Road, Circular Road, Lorong Telok and North Canal Road, it was traditionally the centre of trading activities from around the region. However, the warehouses and shophouse have since been conserved and are now mostly repurposed for commercial uses.
Today, the area is well-known for its predominantly F&B establishments, bars and pubs. It is a very popular destination for those working in Raffle Place and the surrounding financial district to chill out after a hard day's work or to entertain clients. On the opposite river bank are colonial buildings that have been restored and refurbished for different uses. For example, some have been converted to become the Victoria Theatre & Concert Hall, Asian Civilisation Museum and Parliament House.
Chinatown - Chinatown is located south of the Singapore River and can be reached via a 9-minute train ride, or just two stations from One Bernam condo. It is the original settlement of the Chinese community in Singapore. Many of the shophouses with their original architecture designs and motifs are largely intact, depicting the rich heritage and lifestyles of the early immigrant community.
However, the Chinatown of today is an eclectic mix of old and new, with historic temples, traditional medicinal halls and shops selling Chinese artefacts sitting alongside bold new bars, restaurants offering different cuisines from all over the world and trendy lifestyle shops. It is also home to one of the largest temple in Singapore. The District comprises 4 sub-districts, each with a distinctive character. They are: Kreta Ayer, Telok Ayer, Bukit Pasoh and Tanjong Pagar.
Kampong Glam - Kampong Glam is near Bugis, which is just three MRT stations from One Bernam. It is bounded by Ophir Road, Victoria Street, Jalan Sultan and Beach Road. Historically one of  Singapore's oldest urban quarters, Kampong Gelam is a neighbourhood where age-old traditions and trendy lifestyles come together in a heady blend. The district has a history that dates back to Singapore's colonial era when Sir Stamford Raffles allocated the area to the Malay, Arab and Bugis communities. However, it has since evolved into a haunt for hip travellers and connoisseurs of culture alike.
Its unique characteristic lies in the colourful streetscape where many of the shophouses are splashed with colourful artwork. In all likelihood, it is the most artistic and colourful of Singapore's historical districts. Kampong Glam is also home of the majestic Sultan Mosque that was built in 1824 and the Istana Kampong Glam. Both have been gazetted as national monuments.
Little India - Of the four historical districts, Little India is a little farther away, but can still be easily reached via the MRT network, with the Little India station just a 15-minute ride from One Bernam condo. Bounded by Serangoon Road, Sungei Road and Jalan Besar, it was once recognised as the hub of Indian community life in Singapore. Despite the name, it is well patronised by not only by local Indians, but also those from abroad and people of other ethnic origins in Singapore.
In the past, it was a place for agriculture and later for cattle trade. The District's historical value lies in its rich variety of buildings, interesting streetscape and urban texture of its main streets, side roads, backlanes and open spaces. Today, it remains a bustling area and a bit rough around the edges, but colourful. This makes it everything the rest of Singapore isn't! Most of its buildings and shophouses built in the late 19th century or early 20th century are still largely intact, blending in somewhat oddly with many new developments that have sprouted up around it.
Civic District -The Civic District is the birthplace of Singapore and it was started as a master plan in 1822 by founder of Singapore, Sir Stamford Raffles. Not a very large district and comprising of only a few square kilometres, it is easily accessible from City Hall MRT, which is just two MRT stations from One Bernam condo. The Civic District lies at the very heart of Singapore where key government buildings, museums, protected parks and memorial spaces can be found.
Under the Downtown Master Plan, there are plans for a new park at Armenian Street and greenery enhancements along Coleman Street to provide pleasant stroll between Civic District and Fort Canning Park. This is to complement the district's enchanting historical buildings where some of them have been restored and given a new lease of life. These include:
Raffles Hotel
The National Museum Singapore
St Andrews Cathedral
Fort Canning Park
Central Fire Station & Civil Defence Heritage Gallery
Asian Civilisations Museum
Singapore Art Museum
National Gallery
Chijmes
Parliament House
Singapore's Art District - Singapore's Arts District is located at the Bras Basah and Bugis precinct, which is just three stations from One Bernam condo. It is an area full of energy and buzz, and is home to the National Museum of Singapore, Singapore At Museum, National Gallery and Peranakan Museum, as well as national monuments such as the Armenian Church and Central Fire Station, which is Singapore's oldest fire station.
The grand National Museum and Art Museum is known for its annual Night Festival where interactive light installations turn their façades into ephemeral works of wonder., accompanied by performances by world-renowned artistes.
The School of the Arts (SOTA), Singapore Management University, Nanyang Academy of Fine Arts and Lasalle College of the Arts located in the area too. Visitors to the latter will surely be impressed by its distinctive architecture while soaking in the creative vibes.
SGH Campus Master Plan
One Bernam is very close to the Singapore General Hospital (SGH) medical cluster that is located near the Outram Park MRT station. Being just a stop away, it provides residents easy access to a wide range of first-class medical and healthcare services.
Under the SGH Campus Master Plan, it will be developed into Singapore's largest medical campus when completed in 2026. The SGH Campus seeks to provide patients with healthcare that is easily accessible and seamlessly integrated with cutting-edge research and education, with the aim of translating them into better healthcare for patients.
Designed to deliver a seamless continuum of care with a vibrant healthcare ecosystem, it will drive a world-class Academic Medical Centre that will define healthcare for Singapore for decades to come. This will be achieved by linking all patient care, education and research facilities as an interconnected healthcare ecosystem.
In addition, the campus is designed to place the community at its heart, featuring easily accessible, eco- and community-friendly social and recreational amenities. There will also be quiet open spaces to provide an oasis for patients, visitors and staff to interact, relax and enjoy the tranquility of the surroundings.
Due to Singapore's rapidly ageing population, the proximity to such first-class healthcare facilities will surely enhance the values of properties nearby, which will include a new development like One Bernam condo.
Downtown Master Plan To Boost One Bernam's Appeal
Downtown Singapore has always been the financial and commercial centre of Singapore. However, to attract talent, the Downtown Master Plan seeks to create more attractive places to cater to the varied needs of modern lifestyles. Hence, plans are afoot to transform it from predominantly offices to one which is more mixed-use and lively after office hours.
This will make Downtown Singapore not only an attractive place for work, but also a vibrant place to live and play in. Taking advantage of the excellent transport network, more residences, hotels, hip restaurants and many other exciting developments will be introduced, transforming it into a lively urban neighbourhood that support the best of city living.
For example, areas such as Anson and Tanjong Pagar are set to become a new urban neighbourhood with a series of attractive streets and cosy squares. Shops, eateries and amenities will front these key streets. There will also be more greenery that will link to the Rail Corridor and the entire CBD area.
The Downtown Master Plan also seeks to creat a car-lite society by having more cycling paths and wider pedestrian walkways. This will include Robinson Road, which straddles between Tanjong Pagar and Raffles Place. The government seeks to achieve this by enhancing the MRT network with the upcoming Maxwell and Shenton Way stations on the Thomson-East Coast Line, and Prince Edward and Cantonment stations on the Circle Line. With these additions, all developments in Downtown will be within a 10-minute walk of an MRT station!
At the same time, the government has introduced the CBD Strategic Development Incentive Schemes which will incentivise existing property owners to convert their older office buildings into mixed-use developments that will help to rejuvenate the area.
With better connectivity, an enhanced public realm, and rejuvenation of older buildings, this will transform Downtown Singapore into a dynamic 24/7 global financial hub with a quality living environment. Hence, this will provide great investment potential for a property development like One Bernam.
The Greater Southern Waterfront
One Bernam is a short walking distance to the Greater Southern Waterfront.
The Greater Southern Waterfront was first announced by Prime Minister Lee Hsien Loong in 2013 during his National Day Rally speech. Comprising 30km of coastline stretching from Gardens by the Bay East all the way to Pasir Panjang, the 2,000ha of land is twice the size of Punggol, six times the size of Marina Bay and approximately the area of 465 Padangs (fields).
When completed, it is poised to become the most sought-after location to live, work and play. This will be achieved by the government through the following:
Development of more leisure, recreational and entertainment amenities for residents
More private and public housing options with waterfront promenades and green corridors
Job creation under its live-work-play initiative
Development will take place in phases, starting with the former Pasir Panjang Power District, Keppel Club, Mount Faber and Pasir Panjang Linear Park in the next few year.
Pasir Panjang Power District - Built in the 1950s and 60s, the two former power station buildings, along with the surrounding disused industrial structures will be conserved and repurposed into lifestyle and recreational facilities. Some ideas include turning them into hotels and exhibition spaces together with water features, parks and F&B offerings. There will also be a continuous waterfront promenade that will seamlessly connect to various places of interest.
Green Corridors – A continuous waterfront promenade will seamlessly connect various places of interest and green corridors along the Greater Southern Waterfront in future. This will include the new Pasir Panjang Linear Park that stretches from West Coast Park to Labrador Nature Reserve which will offer park users a glimpse of Pasir Panjang's working container port and Power District up close. Besides the Pasir Panjang Linear Park, places of interest along the waterfront will also link to the hilltops such as Mount Faber and Telok Blangah Hill for visitors to enjoy a distinctive recreational experience.
Keppel Club - As part of the Greater Southern Waterfront project, the government will allocate space for 9,000 private and public housing units on the site of Keppel Club when its lease expires in 2021. Occupying a land area of 44 hectares, there will be waterfront promenades, lush greenery and open spaces, as well as new amenities.
Job Opportunities Nearer Home – When the Tanjong Pagar container port moved out, the vacated land is likely to be used for new housing and commercial developments. As part of the government's plan to transform Downtown Singapore as an attractive place to work, live and play, there will also be exciting leisure and recreational facilities, especially given its location beside the sea. The aim is to provide opportunities for more people to work close to their homes.
The Rail Corridor - A Short Walk from One Bernam Condo
A short walk (~8 minutes) from One Bernam condo is the former Tanjong Pagar Railway station. Formerly owned by the Malaysian government, it will be conserved for its heritage value and redeveloped into a multi-functional community space as part of the Rail Corridor Master Plan.
Under the winning proposal to redevelop the former Tanjong Pagar railway station, a public park in front of it will be developed and it will be called Station Green. Integrated with the entrance of the upcoming Cantonment MRT station along the Circle Line, commuters emerging from the station will be greeted by the conserved railway tracks of old. Other facilities to be built will include an auditorium and art gallery.
The Rail Corridor is a former railway line that stretches 24km north of Singapore to the south, linking the future Woodlands North Coast and Greater Southern Waterfront. Conserved as a "green corridor", it will be transformed into a community space that will link 1 million people within 1km of it.
Expected to be completed this year, it is envisaged to spur the development of surrounding lands and rejuvenate older districts. The Rail Corridor will take visitors on a journey through a variety of nature parks, landscapes, communities and unique experiences. These will include new commercial, cultural and entertainment options where residents of One Bernam Condo can look forward to.
Sentosa-Brani Master Plan
One Bernam Condo is only 2 MRT stations away from Harbourfront, the gateway to Sentosa – Singapore's famous island resort and premier entertainment and leisure playground.
Under the Sentosa-Brani Master Plan, there will be a comprehensive redevelopment of Sentosa and Pulau Brani into a "game-changing leisure and tourism destination". As part of the transformation of the Greater Southern Waterfront, this will further boost the prestige of properties around the area.
The Sentosa-Brani Master Plan will be implemented in phases over the next 20 to 30 years. Kicking off the transformation will be the construction of a 30,000 sqm Sensoryscape. The $90 million project is expected to be completed in 2022. About bout the size of 5.5 football fields, it will connect Resorts World Sentosa in the north to Sentosa's southern beaches.
Comprising a two-tiered walkway, Sensoryscape will have features that stimulate the five senses – such as textured surfaces and plants that respond to touch, a water feature with the sound of cascading water, and visually striking giant flower stalks framing the sides of the thoroughfare.
As part of the larger master plan, the Pulau Brani container port beside Sentosa will be redeveloped into Downtown South. Downtown South will be a new leisure destination consisting of a theme park with other leisure and recreational facilities.
Together with Sentosa, the entire development will comprise five zones that will provide visitors different experiences with their unique characteristics. They are:
Vibrant Cluster - A festive and attraction zone that will span the two islands, it will have large-scale attractions and an outdoor performance space
Island Heart - Situated at the centre of the entire development, it will have both indoor and outdoor attractions, with views of Mount Serapong. There will also be hotels, conference spaces, dining and retail outlets
Waterfront - The city-facing Waterfront will feature a Discovery Park. Located closest to the main Singapore island, it will retain its port architecture to commemorate its port history and heritage
Ridgeline - For nature lovers, it will offer nature and heritage attractions connecting Mount Faber, Pulau Brani, Mount Serapong and Mount Imbiah to Fort Siloso
Beachfront - It will have water-themed attractions such as water show, fairgrounds and other attractions for families to enjoy
There will also be night attractions with customised digital exhibitions and light events that will be integrated with the five zones. To provide a more pleasurable experience, the transport network will be enhanced to ensure greater accessibility throughout the developments.
Such exciting transformation taking place in Sentosa and Pulau Brani will surely boost property values around the area and benefit a development such as One Bernam given its close proximity.
One Bernam Review Conclusion - An Investment Perspective
Starting from an attractive $2,2xx psf, One Bernam will offer investors an opportunity to own a property within the prime Central Business District (CBD) where many global MNCs operate or have set up their regional headquarters in Singapore. As such, there will be no lack of rental demand from high-earning expatriates who wish to live near where they work. This is reflected by the attractive rental yields of around 3.5% for similar residential properties in the area.
Besides rental yield, One Bernam will also benefit from the first-mover advantage compared to similarly priced resale properties in the area. For example, the Skysuites@Anson nearby that was launched in 2011 and completed in 2014 has seen prices plateaued after rising steadily in the initial 5-6 years (refer to charts below). With latest transactions for Skysuites@Anson seen changing hands at an average price of $2,352, One Bernam (being a new launch) would provide an attractive investment opportunity, especially with the exciting transformation taking place around it.
On locational attributes, although the CBD is dominated by mostly skyscrapers and glittering modern buildings, which may look "cold" and "hard", this is set to change with the Singapore government's CBD and Strategic Incentive Schemes. These two schemes are devised to encourage owners of existing commercial buildings to convert them into mixed-use developments. This will help to rejuvenate the area and make it more liveable and exciting.
These schemes will also complement the remaking of Downtown Singapore with more greenery, amenities and recreational facilities, transforming it into a global financial hub that is more dynamic as well as an attractive place to work, live and play.
Together with URA Master Plans for the Greater Southern Waterfront, Rail Corridor and Sentosa, these exciting transformations will further boost the prestige and desirability of the area, making it one of the most coveted addresses in Singapore. This will in turn underpin property values.
Nevertheless, there may be some concerns about an increase in property supply due to the redevelopment of existing commercial buildings in the CBD into mixed-use developments, which include the Fuji Xerox Building and Realty Centre next to it. However, this will likely be spread over a period of time.
Even with the increase in housing supply in the future, the CBD which lies within the Core Central Region (CCR), is not expected to relinquish its status as the most prestigious region to own a home in Singapore. This is why properties in the CCR have always commanded a premium over those in the rest of Singapore.
One Bernam's appeal also comes from its convenient access to a myriad of amenities, as well as its close proximity to Singapore's Historical, Civic and Art Districts, which truly elevates the excitement of city living.
One reason why the iconic Singapore Formula 1 Night Race has been acknowledged as the "crown" in the F1 calendar is due to the spectacular sight of skyscrapers and heritage buildings, especially at night when they are lighted up. This has wowed and amazed a worldwide audience, which is why properties in the Core Central Region (CCR) has attracted strong demand from foreign investors, especially the rich and famous.
Another investment appeal of One Bernam is its location within Singapore's financial district, the fourth largest in the world. Although the Singapore government have been decentralising some industries and jobs to suburban regional centres such as Tampines and Jurong since the 1990s, they are not expected to replace the CBD where many multinational companies have set up their regional HQs. To sum up:
Pros
Prime location within Singapore's financial centre will appeal to foreign investors
Transformation of Downtown Singapore, Greater Southern Waterfront, Rail Corridor and SGH Campus offers good investment potential
A strong catchment of existing tenants
A great transportation network
Easy access to amenities and schools
Cons
99-year leasehold
Face competition from the potential redevelopment of the Fuji Xerox Building next to it
Competition from the CBD Incentive Scheme that encourages the redevelopment of existing commercial buildings into mixed-use developments
Too built-up
Crowd, noise and heavy traffic during the day
If you require any information about the development or property investment, please feel free to WhatsApp or Email us.
---
Other Property Reviews 
Below are some other property reviews you may be interested in:
More details on new property launches can be found in project information.