The following is an in-depth review of the One-North Eden, a mixed-use development at the heart of Singapore's R&D hub. In this review, I will seek to provide an unbiased examination of its design and locational attributes.
In addition, I will evaluate its investment potential by providing some important statistics. These will include rental yields and a study of past price trends of a similar (but older) property beside it to determine whether buying a more expensive new launch property makes any sense.
For the latest update of the development, or to explore other investment options, please Email or WhatsApp Us.
To navigate directly to each section of the review, please click on the links in the Table of Contents below.
One-North Eden is a 99-year leasehold development consisting of residential with commercial at first storey. The site is sandwiched between One-North Gateway and Slim Barracks Rise in Singapore's District 5. It will occupy a land size of 62,201 sq ft that will yield 165 residential units.According to JTC Corporation (JTC) which manages one-north, the Government Land Sale (GLS) for the site is "a continued effort to inject more residential spaces in the one-north estate to meet the housing needs and enhance the area as a vibrant mixed use business park that serves as a fertile ground for research, innovation and entrepreneurship".
Key Attributes of One-North Eden
Below are some of the key attributes of One-North Eden and what investment potential they can provide for property investors.
one-north, aka Singapore's Silicon Valley, is a magnet for knowledge-intensive industries and high-net worth personnel
Inflow of China tech firms into Singapore, favoured for its neutral geo-political stance amid tensions with the United States, to boost employment opportunities
Singapore is ranked as the top alternative tech hub to Silicon Valley
Singapore to invest $25 billion - or 1% of its gross domestic product (GDP) - under its Research, Innovation and Enterprise 2025 Plan (RIE2025)
Good investment potential due to limited residential housing options within one-north
High rental demand
16ha of park land and a 50,000 knowledge workers, researchers, entrepreneurs and students
Close to major transformation of The Greater Southern Waterfront and West Region (Jurong Lake District, Jurong Innovation District and Tuas Port)
Excellent transport connectivity
Accessible to a wide range of amenities
Rail Corridor to provide exciting nature and leisure recreation
Close proximity to the "Clementi education hub"
Good selection of international schools to attract expatriate housing demand
One-North Eden Condo Site Location
The One-North Eden condo will be situated on a piece of land measuring 62,202 sq ft. Although not particularly large, it's almost rectangular shape, enabling the developer to maximise land use. It is bounded between one-north Gateway and Slim Barracks Rise. All the units are constructed to face away from each other. They will either have a South-East, North-West or South-West orientation (refer to site location below). This will ensure the avoidance of the direct morning and afternoon sun.
Being a mixed-use development with F&B outlets on Level 1, care has been taken to locate the grease trap and exhaust away from all residential units including One-North Residences.
One-North Eden is very close to the one-north Park and Nepal Park, which will provide lush greenery. It is also slightly tucked away from the main North Buona Vista Road, which will provide a more serene living environment, yet accessible to a wide range of amenities.
One of the most appealing features of living in one-north is the conserved heritage buildings around the idyllic Rochester Park and Wessex Estate. These old black and white colonial bungalows and apartments have been restored and adapted for various uses – as residential homes, restaurants, offices and even an art school.
However, buyers may wish to take note of current and future developments encompassing the One-North Eden site. Towards the southeast is One-North Residences. Three Stacks will be facing it - 08 (Type C3), 13 (Type C1 and 14 (Type B4). Although the distance between these blocks and One-North Residences is separated by a distance of about 42.7m, the view will somewhat be blocked, except for units at the top levels.
Towards the northwest in the direction of North Buona Vista Road, there is an empty plot of land right in front of it. In the future when the land is developed, views will potentially be blocked as well. The Stacks facing this direction are - 09 (Type C2), 10 (Type A2), 11 (Type B3) and 12 (Type D2).
Hence, the best views will be those facing southwest, or Gateway Avenue, where Nepal Park and ESEC Business School are located. Towards this direction are mostly low-rise buildings and conserved houses. The Stacks that overlook them are - 02 (Type D3), 03 (Type B2), 04 (Type B1) and 05 (Type A1). For a clearer picture, please refer to the site location below:
One-North Eden Project Information
For e-brochure, please contact us and it will be sent it to you.
One-North Eden provides a good mix of 1- to 4-Bedroom units with different configurations. It also offers a total of 13 units across various sizes with high voids for the living/dining area.
The unit sizes are relatively "spacious" by today's standard, with the 1-bedder starting at 517 sqft. Also, they come with a ceiling height of 2.9m, which would certainly give a more roomy feel. All units are designed with adaptability and there are USB ports in the living/Dining and Master Bedroom to cater to those working from home.
To provide greater choices for buyers, they can choose between a "cool" or "warm" scheme, and if they prefer to remove the study or bedroom wall to enlarge their living/dining space, the developer will provide the service free of charge.
As for the appliances, sanitary fittings and provisions, they are from well-known brands such as Zucchetti, Mitsubishi Electric, Daikin, Bosch and Gerberit.
Unit Layout
The design of all the units are practical and functional The 1-bedders and 2-bedders have a dumb-bell layout to maximise the use of space, while the bigger units have their living/dining room side-by-side in a rectangular shape.
For the 2-bedders, there is a choice of layouts where the two bedrooms are separated on either side of the living/dining room or have both of them on one side. For those looking to rent out, perhaps the former layout would be more ideal as the tenants would be separated further from each other for better privacy. The latter layout would likely be favoured by families with young children to enable parents to watch over them more easily, especially at night.
For the 3-bedroom type, buyers have a choice of a single kitchen or a dry & wet kitchen. As for the 4-bedders, all of them have a dry & wet kitchen.
One-North Eden Site Plan
One-North Eden Site Plan - 1st Storey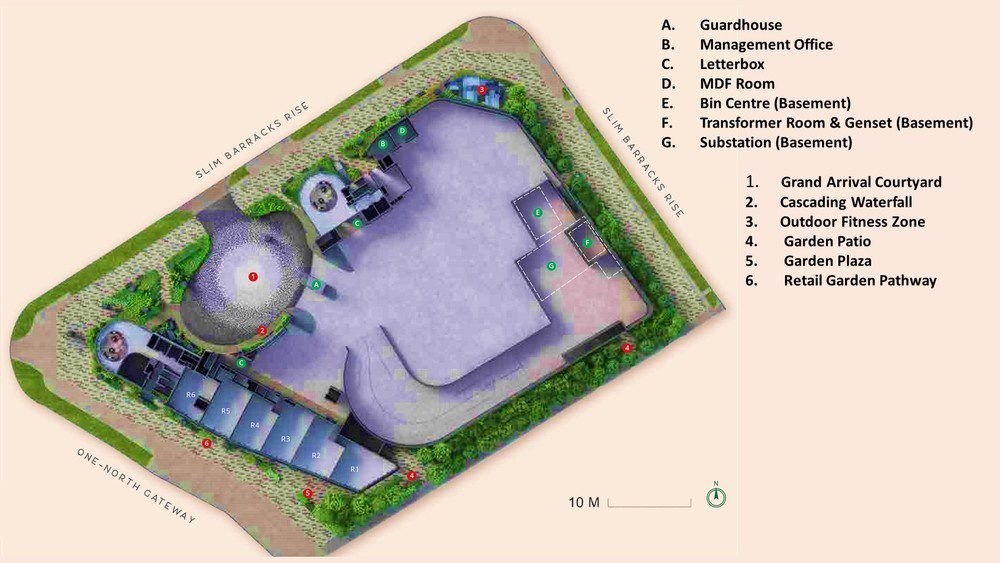 One-North Eden Site Plan - 2nd Storey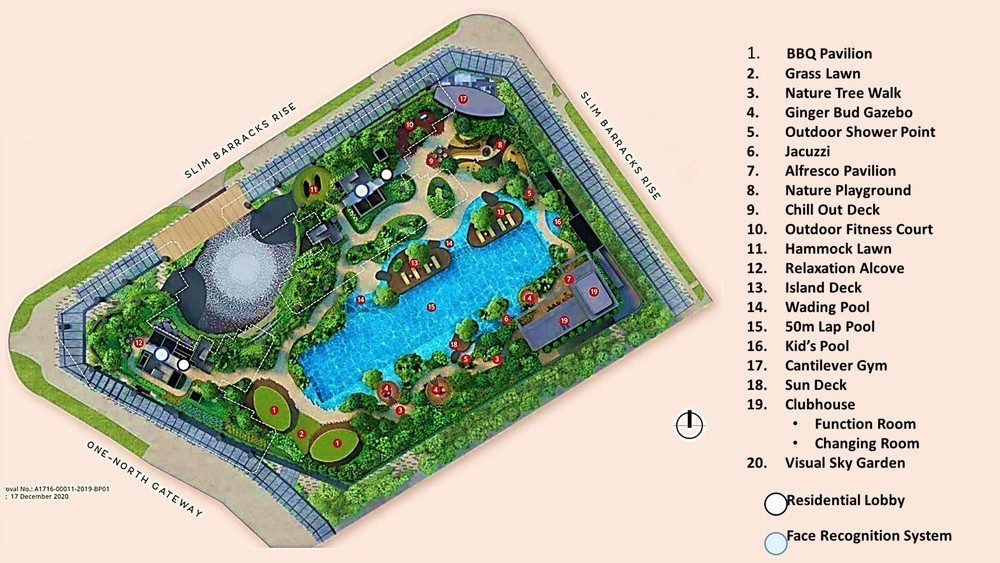 One-North Eden Site Layout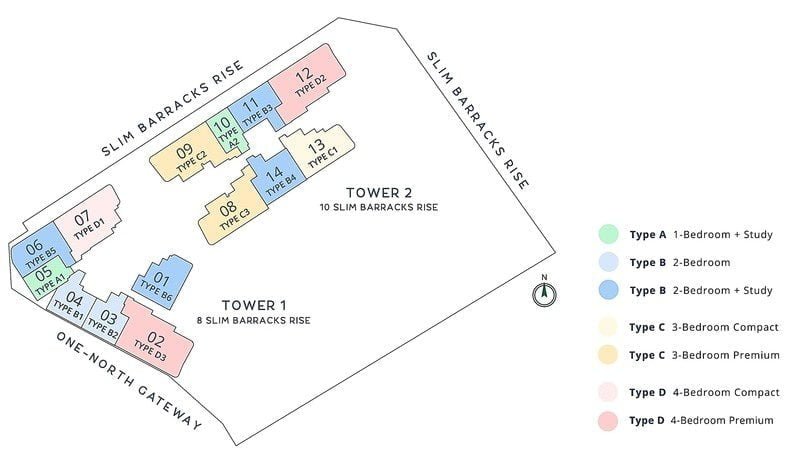 Unit Layout Plan
Unit Mix
Refer to One-North Eden Floor Plans.
Schematic Chart
One-North Eden Facilities
The number of facilities in One-North Eden is not as extensive as those in bigger developments, but is adequate. This is to be expected for a development of this size. Besides the usual 50m Lap Pool, Kid's Pool and Cantilever Gym, there are also some nice offerings like Nature Tree Walk, Nature Playground and Visual Sky Garden.
The following is the list of facilities:
BBQ Pavilion
Grass Lawn
Nature Tree Walk
Ginger Bud Gazebo
Outdoor Shower Point
Jacuzzi
Alfresco Pavilion
Nature Playground
Chill Out Deck
Outdoor Fitness Court
Hammock Lawn
Relaxation Alcove
Island Deck
Wading Pool
50m Lap Pool
Kid's Pool
Cantilever Gym
Sun Deck
Clubhouse (Function Room & Changing Room)
Visual Sky Garden
Smart Home System
To complement the beautiful facilities provided, One-North Eden will also come with the following Smart Home System to enhance the quality of living:
- Face recognition
B1, 1st and 2nd Storey Lift Lobbies
- Smart Digital Lock
Fingerprint / Keypad / Handphone access to lock or unlock
- Surveillance camera
- Smart Air-conditioner
Living / Dining / Master Bedroom
- Smart Mirror
- Smoke Detector
Smart Parcel
Located at 1st Storey Carpark area
About one-north​​​​​​​​​​​​​​​​​​
Conceptualised in 2001, one-north is a vibrant work-live-play-learn research and business park that serves as a fertile ground for collaboration, innovation and business growth.
JTC was appointed as the lead agency to undertake the master plan for the 200-hectare development. Today, one-north has grown to become an icon of Singapore's knowledge economy with a focus on key growth sectors, namely biomedical sciences, infocomm technology and media, and startups, supported by capabilities in science and engineering.
Its unique work-live-play-learn environment enables the integration of industry-centric developments with residential communities, lifestyle options and educational institutes to provide a vibrant environment for innovative minds to congregate, collaborate, and create.
Recently, it has added companies such as Grab and Razer to its list of companies that have set up their operations in one-north. The Grab facility is expected to house up to 3,000 employees and this could be a source of potential housing demand from affluent tech workers who work long hours and hence, prefer to live nearby to shorten their commute.
Other than Grab and Razer, global tech giants such as Tencent, ByteDance and Alibaba are planning to set up their regional headquarters in Singapore. This will create a substantial number of new jobs and attract talented people with high-earning power to work here. And according to the Economic Development Board, 80% of the world's top 100 tech firms have a regional headquarter in Singapore and they include Google, Amazon and Facebook, just to name a few.
In fact, Singapore has been considered as the top alternative tech hub to Silicon Valley. According to a report by KPMG, Singapore has taken top spot as a potential world-leading technology hub. Hence, it is no surprise that many Chinese tech giants are expanding their operations here and these include the following:
Sept 2020
WeChat owner Tencent Holdings confirms plans for new Singapore office in South-east Asia expansion
E-commerce giant Alibaba Group reportedly in talks to invest US$3 billion in ride-hailing operator Grab
TikTok parent ByteDance ramps up Singapore hiring; reportedly also plans to invest "several billion dollars" and set up data centre here
Aug 2020
Video-streaming platform Bigo confirms plans to move its servers from Hong Kong to Singapore
June 2020
Huawei is picked as key vendor for TPG Telecom's 5G millimetre-wave networks in Singapore
May 2020
Alibaba's Singapore subsidiary inks deal for half-stake in Grade A office building AXA Tower
Jan 2020
Known suitors for Singapore digital banking licences include ByteDance; Alibaba-backed Ant Financial; a consortium involving fintechs Yillion Group and Hande Group; another consortium featuring Xiaomi Finance; and a separate consortium led by Chinese e-commerce group Zall
And that is not all. The Singapore government is spending $25 billion in the next five years under its Research, Innovation and Enterprise (RIE) Plan, or 1% of its GDP, on R&D to build a knowledge-based and innovation-driven economy and society.
The nearby Science Park 1 & 2, and the upcoming Dover Knowledge District make up the Greater one-north. Together, they are expected to propel Singapore's future economic growth by attracting more knowledge-intensive and high-tech companies to set up their operations in the precinct.
Currently, one-north is home to more than 400 companies, 800 startups and 50,000 professionals. It has attracted over S$7 billion worth of investments in critical growth industries such as the biomedical, info-communications and media. The location is also a talent development hub, home to world-renowned business schools and corporate universities.
one-north's 9 Main Zones
one-north is made up of 9 main zones. Together with Science Park 1 & 2 and the Dover Knowledge District, they make up the Greater one-north. The following are one-north's 9 main zones:
Biopolis - It provides world-class R&D facilities for biomedical sciences. It houses public research institutes and private research organisations.
Fusionopolis - A work-live-learn-play development that supports R&D for the infocomm technology, media, physical sciences and engineering industries.
Mediapolis - A media hub involved in incubation and R&D for the infocomm, media, physical sciences and engineering sectors. It seeks to create an ecosystem for the creation of digital media content for global distribution.
Vista Exchange - A corporate and business support centre for the one-north precinct. It houses high-rise offices, business hotels, retail-cum-entertainment centres, and residential developments. This includes the Metropolis which is a pair Grade A office towers.
JTC Launchpad @ one-north - Consisting of decades-old flatted factory, they have been repurposed as a high-tech hub housing dozens of digital startups and Venture Captial funds.
Wessex Estate - An area within one-north comprising 26 blocks of walk-up apartments and 58 semi-detached houses. These colonial style buildings built in the 1940s are mostly rented out for residential living, with priority given to those working in the precinct.
Pixel - A 5,000 square metre facility, it caters primarily to the digital media sector. It serves as a resource centre and focal point for content creators, owners, and game developers to foster cross sector collaborations in content creation, delivery, and communication.
Nepal Hill - A global centre for leadership training and talent development. Currently, it comprises ESSEC Business School and Unilever Four Acres Campus. Co-living property by The Ascott Limited, lyf one-north Singapore, will also be within the location when completed this year.
Rochester Park - A heritage site located off North Buona Vista Road, it features several double-storey black-and-white colonial bungalows, a symbol of Singapore's colonial past. Some of these bungalows have been repurposed for F&B businesses.
Dover Knowledge District
The Dover Knowledge District is an extension of one-north. It will be developed to enhance the synergies between the nearby business parks, academic and research institutions. It will offer vibrant integrated spaces to create exciting new jobs and learning opportunities to support Singapore's long-term economic growth.
Together with Singapore Science Park 1 & 2, they will be part of the vibrant Greater 0ne-north community. With notable neighbours that include the National University of Singapore (NUS), National University Hospital (NUH) and many global high-tech companies such as Avaya, Thomson Reuters, AT&T, Institute of Microelectronics and Crimson Logic, it is amongst Asia's most prestigious addresses for R&D and technology development.
one-north Park
one-north Park is a 16-ha park consisting of 13 land parcels spanning across the entire length of one-north. The park is an essential element in creating a work-live-play-learn environment where it will connect key developments such as Biopolis, Fusionopolis, Mediapolis and the one-north MRT station.
Located on hilly terrain next to Biopolis, one-north Park is home to various species of majestic Ficus and Angsana trees while large areas of purple (Lorapetalum Chinense) and green (Osmoxylon Lineare) shrubs carpet its gently rolling grounds. This provides a stunning kaleidoscope of colours and a beautiful relief space for the working and living communities in one-north.
Families and friends can exercise and picnic at the spacious open lawn and plazas surrounded by peaceful greenery, and the soothing sounds coming from the waterwall. There is also a playground for children. Alternatively, they can enjoy the beauty of the park from the hilltop plaza, which is shaded by a large Ficus Benghalensis tree.
Nepal Park
Nepal Park is home to the ESSEC Business School Asian campus, Unilever Four Acres Singapore campus and a number of global MNCs. These include Google, Microsoft, Dell Technologies and Apple, just to name a few.
Quite a number of low-rise buildings and colonial bungalows dot the area, with some of them being converted into offices. Surrounded by lush greenery and parks, residents of One-North Eden will enjoy plentiful of fresh air.
At the same time, the quaint colonial houses adds to the quiet and old-world charm of the area, providing a nice place for a stroll or jog.
Close Proximity To The Greater Southern Waterfront
The Greater Southern Waterfront is just a 10-minute drive from One-North Eden.
The Greater Southern Waterfront is one of the most exciting transformation in Singapore undertaken by the government, with a high-level ministerial task force formed to look into its development. Extending from Pasir Panjang to Marina East, it will be transformed into a new major gateway and location to live, work and play along Singapore's southern coast. Comprising 30km of coastline stretching from Gardens by the Bay East all the way to Pasir Panjang, it will be twice the size of Punggol and six times the size of Marina Bay.
Development will take place in phases, starting with the former Pasir Panjang Power District, Keppel Club and Mount Faber in the next 5 to 10 years. Some of the plans will include transforming the Pasir Panjang Power District into a lifestyle and leisure destination, creating a waterfront promenade and green corridors that will link to various nature attractions, as well as the construction of the Pasir Panjang Linear Park that will stretch from Labrador Park to West Coast Park.
These exciting plans will translate into more leisure and entertainment facilities to complement new commercial developments. With the increased in employment opportunities, it will naturally spur demand for housing, which will benefit One-North Eden due to its close proximity.
Transformation of The West Region
There are three major transformation taking place in the West Region and they are the Jurong Lake District (JLD), Jurong Innovation District (JID) and Tuas Port. Together, they represent Singapore's largest manufacturing hub. JLD and JID will test-bed new urban solutions and infrastructure to create more pleasant working and living environments for all. Of the three, the Jurong Lake District (Jurong East) is closest to one-north. In fact, it is just three stops from the Buona Vista MRT station, which is a 5-minute walk from One-North Eden.
Jurong Lake District - At 360-hectare, it will be the largest mixed-use business district outside the city centre that will offer quality offices, housing, amenities and abundant green spaces. A complementary leisure and recreational cluster has also been planned around Jurong Lake to leverage on the area's unique lakeside and garden setting.
The development of JLD will revolve around 4 main themes - Hub for Future Economy, New Paradigm of Mobility, Smart Sustainable District and District of Gardens and Waters.
Jurong Innovation District - Served by 6 future Jurong Region Line stations, it will be an industrial district for advanced manufacturing, supporting an ecosystem of manufacturers, technology providers, researchers and education institutions such as the Nanyang Technological University. JID is envisioned to be a Vibrant Ecosystem for Advanced Engineering, Liveable and Sustainable Industrial Estate of the Future and Home to Thriving Industry-Academia Collaborations.
Tuas Port - By leveraging on advanced automation and more efficient processes, this next-generation port can handle 65 million TEUs when fully operational by the 2040s. This will be twice the volume handled by Singapore's ports today. The port's global reach and connectivity will also benefit factories in Tuas and Jurong with quicker production-to-market turnarounds.
Excellent Transport Connectivity
By 2035, the West Region will be served by 6 MRT lines, connecting more residents to key employment, recreation and leisure areas. With the introduction of the Jurong Region Line and Cross Island Line, this will offer residents more commuting options. The future Jurong East Integrated Transport Hub (ITH) will allow commuters to switch between transport modes more conveniently while adding more vibrancy to the area.
Currently, Jurong East is an interchange for the East-West and North-South Line. But by 2028, it will be an interchange station for the Jurong Region Line as well, envisioned to serve both existing and future development in the western part of Singapore.
This will significantly improve connectivity of the region and support the development of the entire Jurong area, which is set to be the largest commercial hub outside the Central Business District. Commuters can expect to be connected to key activity nodes in Jurong, such as the Jurong Industrial Estate, Jurong Innovation District, the Nanyang Technological University (NTU), and Tuas megaport.
Given that one-north is just three stops from the Jurong East MRT interchange station, it will benefit from the mega transformation taking place in the western region. As the developments are still at a nascent stage, a new project such as One-North Eden will offer a great investment opportunity and provide astute investors the first-mover advantage.
Meanwhile, One-North Eden is just a 5-minute and 7-minute walk from the Buona Vista and one-north stations respectively. The Buona Vista station is also an interchange station between the Circle and East-West Lines. As such, it will not only have easy access to the western region, but also to the Central Business District , the Greater Southern Waterfront and Marina Bay.
The Buona Vista station's East-West Line takes commuters straight into the Raffles Place/Shenton Way financial centre where many global MNCs are located. The train journey only takes about 15 minutes.
And along the Circle Line when three new stations are completed by 2025 to complete the loop - Keppel, Cantonment and Prince Edward (see map) - one-north will seamlessly connect to the Downtown area in Marina Bay. Currently, one end of the Circle Line ends at Harbourfront where Singapore's biggest lifestyle mall, VivoCity, is located. It is just six stations from one-north.
Hence, given the extensive MRT network, One-North Eden condo will not just appeal to those working within one-north, but also those in Singapore's western region and Downtown areas.
For those driving, the Ayer Rajah Expressway is less than 5 minutes away. This allows those working in the Central Business District in Raffles Place and Marina Bay, and International Business Park in Jurong East to reach their destinations within 10 minutes.
One-North Eden Enjoys Easy Accessibility to Amenities
One-North Eden is just a 6- to 7-minute walk to Rochester Mall and The Star Vista and Star Performing Arts Centre. The Star Vista a futuristic-looking shopping mall beside the Buona Vista MRT station. Besides offering a variety of restaurants and eateries, it also houses a Cold Storage Supermarket.
In fact, there are several supermarkets around the vicinity and these include Market Place @ one-north, Giant at Ghim Moh Road and another two more Cold Storage at Holland Village Shopping Centre and Jelita Shopping Centre. Hence, future residents of One-North Eden will have no shortage of places to shop for their groceries and home essentials.
one-north also offers a diverse array of food options, such as Timbre+ located at JTC LaunchPad @ one-north and the newly opened Deliveroo Food Market at Mediapolis, as well as food centres in the adjacent neighbourhoods of Ghim Moh, Dover, Clementi, Holland Village and Queensway.
Holland Village - A Short Drive from One-North Eden
Holland Village, or better known as 'Holland V', is a short 5-minute drive from One-North Eden. Holland V is a favourite hangout place among locals and expatriates due to its plethora of bars, cafes and restaurants. Besides a wide selection of Western and European cuisines that can be found along the shophouses at Lorong Liput and Lorong Mambong, there is also a decent hawker centre selling local favourites such as claypot rice, chicken rice, fried carrot cake, laksa, nasi lemak and many more.
Holland Road is also home to two small shopping malls - Holland Road Shopping Centre and Holland Piazza. The former has a Cold Storage supermarket on the first level while the upper floors houses an eclectic mix of busineses from beauty care, hair dressing, fashion to art pieces. There is also a MindChamps Preschool on the top level.
At the Holland Piazza, it houses mostly F&B outlets. These include Ben & Jerry's Ice-Cream, Ya Kun traditional coffee & toasts, Je De Chi Chinese Desserts, just to name a few.
Opposite the Holland Road Shopping Centre is Jalan Merah Saga where more restaurants can be found. There is also a local art gallery, butchery, bakery, and cookware shop with enough gadgets to satisfy any budding chef.
Under the Urban Redevelopment Authority's (URA) Master Plan, Holland Village will be further developed as an "identity node", which means it will not lose its charm and ambience that made it such a popular place for visitors and residents.
A new mixed-use, pedestrian-oriented development known as One Holland Village Residence behind Lorong Mambong will be developed. When completed, this will add to the vibrancy of Holland Village as there will be more public spaces as well as diverse retail and F&B offerings.
This will bring added excitement to residents in the surrounding properties such as One-North Eden.
Other Shopping Malls Near One-North Eden
Besides Holland Village, One-North Eden Condo is also close to several other shopping malls. This provides a wide array of retail, entertainment, recreational and lifestyle amenities, and they include the following:
Clementi Shopping Mall
321 Clementi
West Coast Mall
Queensway Shopping Centre
Jurong East Mall (JEM)
Westgate
Big Box
JCube
IMM
Harbourfront Centre
VivoCity
Many of these shopping malls are highly accessible by MRT. The Clementi and 321 Clementi shopping malls are just two stations from One-North Eden while the cluster of malls in Jurong East - JEM, Westgate, Big Box, JCube and IMM - are one further station up.
For the Harbourfront Centre and VivoCity, they can be easily reached via the Circle Line and are just 6 stations from the Buona Vista station.
Rail Corridor To Provide More Nature & Leisure Recreation
The Rail Corridor is a former railway line that stretches 24km north to south of Singapore, linking the future Woodlands North Coast and Greater Southern Waterfront while passing through areas such Bukit Timah, Queenstown and Buona Vista where the One-North Eden is located.
Conserved as a "green corridor", it will be transformed into a community space that links 1 million people within 1km of the Rail Corridor. When connected by 2021, it will spur the development of surrounding lands and rejuvenation of older districts. The Rail Corridor will take visitors on a journey through a variety of nature parks, landscapes, communities and unique experiences. These will include new commercial, cultural and entertainment options.
Under the URA Master Plan, the stretch running through Buona Vista near the one-north business park will be transformed into a vibrant activity space where workers and nearby residents can enjoy activities such as outdoor film screenings.
Nearby under the Queenstown viaduct, there will be a Passage of Light featuring interactive floor lighting that responds to the speed of movement. It lights up in different ways when a cyclist or pedestrian passes, for instance. There will also a firefly garden.
These exciting developments will greatly enhance the quality of living for future residents of One-North Eden Condo. And given its proximity to greenery and parks, one-north offers a big dose of nature that cannot be found in downtown Singapore.
Close Proximity to Medical Facilities
Perhaps one important attribute that is often overlooked when it comes to property purchase is the access to medical facilities. In this respect, One-North Eden has no shortage as many medical clinics can be found within one-north and the nearby housing estates such as Dover, Clementi and West Coast.
Ng Teng Fong General Hospital & Jurong Community Hospital
One-North Eden is also close to the Ng Teng Fong General Hospital (NTFGH) and Jurong Community Hospital (JCH). Located at Jurong East, it is linked to the MRT station for convenient access.
NTFGH and JCH are the first hospitals in Singapore to be designed and built together from the ground up as an integrated healthcare development. They were envisioned to transform the way healthcare is provided to the community and designed to deliver patient-centric services in a seamless and integrated manner. They complement each other for better patient care, greater efficiency and convenience.
National University Hospital (NUH) & Medical Centre
The National University Hospital (NUH) & Medical Centre is located beside the Kent Ridge MRT station, which is just one stop from one-north. Together with Ng Teng Fong General Hospital, they provide a wide range of medical treatment and care, and the availability of 24-hour medical services will come in handy for families with very young children or seniors. These facilities will provide a more family-friendly environment to live in, adding to the appeal of a development such as One-North Eden.
Education Institutions Near One-North Eden
One-North Eden is close to many higher education institutions. In fact, the area around Buona Vista and Clementi is known as an education hub. A large number of schools and tertiary institutions can be found in these areas, with Fairfield Methodist Primary School and Henry Park Primary School within a 1-2 km radius, which will accord priority admission for children entering Primary 1.
There are also two globally-recognised higher education institutions in INSEAD and ESSEC Business School, as well as three international schools nearby, which will attract housing demand from expatriate families working in the area. The following are some of the education institutions found near One-North Eden:
Tertiary Institutions
National University Singapore (NUS)
Singapore Institute of Technology Dover Campus
ESSEC Business School
INSEAD
SP Jain School of Global Management
Singapore University of Social Sciences
SIM Global Education
Singapore Polytechnic
Ngee Ann Polytechnic
Primary Schools
Fairfield Methodist School (Primary)
Henry Park Primary School
Clementi Primary School
Nan Hua Primary School
Qifa Primary School
Secondary Schools
Anglo-Chinese School (Independent)
Fairfield Methodist School (Secondary)
New Town Secondary School
School of Science & Technology
Nan Hua High School
NUS High School of Math & Science
Clementi Town Secondary School
Kent Ridge Secondary School
Pre-University/Junior Colleges
Anglo-Chinese Junior College
Anglo-Chinese School (Independent)
International Schools
Dover Court International School
United World College of South East Asia
Tanglin Trust School
Anglo-Chinese School (International)
The Japanese School
Waseda Shibuya Senior High School
Limited Housing Supply Within one-north
Currently, there are only two condo projects within one-north - the 366-unit mixed-used development The Rochester and the 405-unit One-North Residences. Both are 99-year leasehold condos.
The Rochester was launched in July 2007 and the One-North Residences three months earlier. One-North Residences was the first first condo development launched in one-north and was completed in 2009. During the launch, it generated plenty of excitement, especially among investors, and was sold out within a few months.
Residential developments in one-north are popular with expatriate tenants owing to the convenience of its location where many essential amenities can be found - shopping malls, two MRT stations and education institutions. Hence, it is unsurprising that around 40% of  residential units in the two developments are tenanted. And despite the covid-19 pandemic, a healthy number of rental and resale transactions have continued to take place, as shown by the URA data below. The URA data also shows that both The Rochester and One-North Residences have been commanding good rentals, with yields around 3.3 to 3.5%.
In fact, two older developments - Dover Parkview (TOP 2000) and Heritage View (TOP 1997) - are also able to generate good rental yields of 3.2 to 3.4% although they are located a short distance outside one-north. These yields are higher than most properties in the Orchard/Newton/Novena areas which are fetching below 3%. This goes to show the investment potential One-North Eden will provide property investors.
Nevertheless, rental yield is just one aspect of property investment. The other, which many may have overlooked, is the potential rate of capital appreciation. It has been noted that prices of older properties tend to rise slower than new properties. Some may even fall as their leases run down. Hence, one should look at property investment more holistically, such as whether a new launch property will provide the first-mover advantage and potentially a faster rate of capital appreciation although they are more expensive than a similar resale (and older) property nearby.  However, to maximise the investment potential, an exit strategy should be put in place.
To illustrate, below are the average price charts for One-North Residences that is located just beside One-North Eden. Launched in March 2007, it can be clearly seen that the rate of capital appreciation was the most rapid up to (or around) the 5-year mark. The capital appreciation rate continued to increase thereafter for the next 5 years, but at a much slower pace. It subsequently plateaued or even depreciated over time.
Hence, from an investment perspective, will One-North Residences still provide a better buy because it is cheaper at $1,4xx psf versus $1,8xx psf for One-North Eden? Based on rental yield, One-North Residences would probably be higher due to its lower price quantum, but will it be sufficient to make up for the lack of capital appreciation in the next 5-10 years when compared to a new property like One-North Eden that will also enjoy the first-mover advantage?
I hope the illustration has provided you with some food for thought. But should you require more information, please WhatsApp me and I will be happy to share more information with you.
One-North Eden Prices
During the launch on April 24-25, 140 out of a total of 165 units (about 85%) of One-North Eden were sold. Prices of units sold ranged from $1,800 psf to $2,250 psf.
More than 80% of the buyers were said to be Singaporeans, with the remaining 20% being a mix of Permanent Residents and foreigners from the UK, China, France, Malaysia, India and the US.
For those interested, below are some of the "Star Buy" units (Note: prices and availability are subject to change without prior notice). Please WhatsApp Us for the latest update.
TID Residential Pte Ltd, the developer of One-North Eden, clinched the site from eight other bidders during the Government Land Sale (GLS) in September 2019 by paying $155.7 million. This translates to a land cost of $1,001 psf per plot ratio (psf ppr) and a breakeven price of $1,500 to $1,550 psf.
Compared to the recently transacted prices of nearly $1,500 psf for the adjacent One-North Residences that was completed in 2009, the less than 30% premium that One-North Eden commands over its decade-old neighbour, and amid the current bullish market conditions, the strong take-up rate has not come as a surprise.
Review Conclusion - One North Eden's Investment Potential
Whether buying for investment or own stay, One-North Eden is certainly worthy of serious consideration. As far as investment is concerned, those renting out is unlikely to find any problems looking for tenants due to the shortage of housing within the one-north precinct. The only developments in one-north currently are The Rochester (TOP 2011) and One-North Residences (TOP 2009), while two other older developments - Heritage View (TOP 2000) and Dover Parkview (TOP 1997) - are located at the fringe of it.
With One-North Eden located at the heart of the vibrant high-tech, R&D and innovation hub where many global tech behemoths have set up their operations and regional headquarters, housing demand is expected to remain strong. Moreover, the Singapore government is investing a substantial amount of money ($25 billion) in the next five year to boost its R&D capabilities. At the same time, many foreign high-tech companies are expanding their operations here.
Coupled with its favourable location - proximity to international schools, easy access to a wide range of amenities, and an excellent public transportation network that links it directly to the Central Business District and the City Centre - it is unsurprising residential properties in one-north are fetching a healthy rental yield of 3.3% to 3.5%, higher than those in the vicinity of Orchard Road, Newton and Novena.
However, there will be competition ahead with the completion of Normanton Park in 2023, the same year when One-North Eden is expected to receive its TOP. Normanton Park is quite a large development with 1,862 units and it is located beside Science Park 1. But the fact that it is not situated within one-north, it may pose less of a direct competition. Nevertheless, this is something investors may wish to take note of.
The more direct competition for One-North Eden will come from two empty parcels of land just next to it (which we have highlighted earlier under "Site Location"). Although they are not that large and are expected to yield about 405 units altogether, they will offer some competition nevertheless.
In the longer-term investment perspective, one-north will benefit from the transformation of the Greater Southern Waterfront due to its close proximity. The Greater Southern Waterfront is expected to bring about a more exciting environment to work-live-learn-play. This will be achieved by creating more job opportunities in Singapore's southern coast supported by essential amenities and leisure facilities. Green corridors and nature parks will also be developed to enhance the quality of living.
Given that a high-level government taskforce has been formed to look into its development, the future for the area looks extremely promising. As the transformation of the Greater Southern Waterfront is still at a nascent stage, a new property such as One-North Eden will provide astute property investors the first-mover advantage.
Besides the Greater Southern Waterfront, One-North Eden will also benefit from the transformation taking place in the Jurong Lake District, Jurong Innovation District and Tuas Port. These three major developments undertaken by the Singapore government will create high-value employment together with the development of a maritime and logistical hub.
Just like the Greater Southern Waterfront, these transformations are still at an early stage. Hence, they will provide an investment opportunity as property prices have yet to factor in these exciting developments that will come on stream in the mid- to longer-term.
In addition, One-North Eden's more central location near the city adds to its investment appeal, which is reflected in its high rental yields.
When it comes to own stay, One-North Eden will enjoy excellent transport connectivity, proximity to schools and higher education institutions, and a wide range of amenities. Although it may not have the vibrancy of an integrated development such as Midtown Modern, what it offers is a green retreat away from the hustle and bustle of city life.
This will suit those looking to live near nature parks that offer an abundance of greenery and a tranquil living environment. Together with the quaint colonial bungalows and apartments dotting the estate and Rail Corridor nearby, they will provide a unique living experience that combines modernity, nature and an old-world charm.
Being a mid-size development with just 165 units, One-North Eden will enjoy a certain degree of exclusivity. Perhaps, the only gripe is that certain views will be facing directly at other developments beside it. Buyers will then have to decide whether this is critical enough to outweigh all the other positive factors.
For the latest update of the development, or to find out more information about other new property launches, please WhatsApp or Email Us.
---
Developers of One-North Eden Condo
One-North Eden will be developed by TID Residential Pte Ltd, a joint venture between Hong Leong Holdings in Singapore and Mitsui Fudosan Company in Japan. They are two well-known property developers with established track records of real estate developments in many countries.
Hong Leong Holdings
Hong Leong Holdings Limited was established in 1968 as the privately-held property development and investment arm of the Hong Leong Group. Being one of the pioneers in Singapore's real estate scene, Hong Leong Holdings has since emerged as a major player in the property market, making it one of the most sought-after providers of quality homes. To date, it manages 8 commercial projects and has developed close to 100 residential properties, including a range of mid to high-end residential projects in some of Singapore's most coveted neighbourhoods. These include the following:
The Avenir
One Balmoral
The Tate Residences
One Shenton
Atria
Sage
The St Regis Hotel and Residences
Grange Heights
Mitsui Fudosan Company
The Mitsui Fudosan Co. Ltd is a major real estate developer in Japan and is one of the core companies of the Mitsui Group. It has offices in countries such as the United States, United Kingdom and many countries in Asia, which include Singapore, China, Hong Kong, India and Indonesia.
The company also owns hotels and engages in real estate brokerage services. Mitsui Fudosan also develops luxury and lifestyle properties to match Japan's rising incomes and high street tastes.
---
More Property Reviews
More property reviews can be found below. To find out details on new property launches, please refer to project information.