This is a review of Liv @ MB, a 99-year leasehold condo at Arthur Road in Singapore's District 15. Located just off Mountbatten Road and in a highly coveted Good Class Bungalow (GCB) area, it will comprise one 20-storey and three 19-storey blocks totalling 298 units of 1- to 4-bedroom types.
The 140,758 sq ft site was formerly occupied by Katong Park Towers was sold enbloc to Bukit Sembawang Estates. It is just 200m or 3 minutes' walk to the upcoming Katong Park MRT station on the Thomson-East Coast Line.
This review will seek to provide an unbiased analysis of the following:
For the latest update of the development and Singapore's property market, please feel free to Email or WhatsApp Me.
To navigate directly to each section of the review, please click on the links in the Table of Contents below.
Key Attributes of Liv @ MB
A quality condo development by well-known Singapore property developer Bukit Sembawang Estates
Located within a highly coveted Good Class Bungalow (GCB) area, which is the most exclusive in Singapore's District 15
Expansive landscaping, with 80% of the site reserved for nature, facilities and recreation, and 20% residential
Distance between the two front-facing blocks approximately 56m wide, ensuring greater privacy and good ventilation
Nestled amongst low-rise landed housing that will offer rare, unobstructed panoramic views of the city skyline
Katong's rich heritage and conservation buildings provide an exquisite living experience
Surrounded by a wide array of shopping malls and popular food places
7 minutes' walk to East Coast Park (via underpass)
Near many leisure attractions
A good choice of sought-after schools
200m or 3 minutes' walk to Katong Park MRT station (to be completed in 2024)
Easy access to several major expressways
Short drive to the city, Singapore's financial district, Changi Airport, and other major employment hubs
URA Master Plans offer promising investment potential
Who is the Developer for Liv @ MB?
The developer for Liv @ MB is Bukit Sembawang Estates Limited (BSEL), a leading real estate company in Singapore. From their humble beginnings as a leading rubber company in 1911, they have diversified into property development, investment, and other property-related activities.
Incorporated in Singapore in 1967, it was listed on the Singapore Stock Exchange Main Board in 1968.
For more than 50 years, they have built some of Singapore's most sought-after residential developments. These include more than 4,600 landed homes in Seletar Hills, Sembawang Hills, Luxus Hills and 1,800 condominium units in Singapore's prime districts. Due to their unwavering commitment towards building excellence, they have won numerous accolades and awards through the years. Some of their highly acclaimed residential developments include the following:
The Atelier
Parc Mondrian
Verdure
Paterson Suites
The Vermont on Cairnhill
Skyline Residences
Paterson Collection
Nim Collection
Luxus Hills
What are the Indicative Prices of Liv @ MB?
Below are the indicative launch prices of Liv @ MB.
During the sales day on 21 May 2022, close to 80% of the units were sold at an average price of $2,387 psf. For the latest pricing update, please WhatsApp Me.
Bukit Sembawang Estates clinched the former 117-unit Katong Park Towers site via an enbloc sale by paying $345 million, some 20% above the reserve price of $288 million, and beating nine other bidders in the process.
All 10 bids were above the reserve price, attesting to the desirability of the land plot.
The purchase price of the land translates to $1,280 psf per plot ratio after factoring the $60 million premium to top up the lease.
Liv @ MB Development Identity
The design of Liv @ MB is Peranakan-inspired, providing a sense of place by applying traditional geometry, colours and setting into its architectural elements. Hence, it is able to establish a feeling of familiarity while at the same time creates a totally new and contemporary lifestyle setting.
The following are some of the design features:
Hexagonal fins, inspired by traditional Peranakan tiling patterns and architecture
Applies to both facades at urban scale as well as screens at the interior scale
Create a distinctive design identity and lends a sense of unity and visual coherence to the entire property
Glass curtain wall gives the development a luxurious and high-end identity
Warm tones of the fins refers to the patina of aged bronze giving it sense of the old and is paired with the deeper tones of grey glass that is modern and contemporary
The facade design is intended to create a development identity that is contemporary with a hint of the traditional
Liv @ MB Factsheet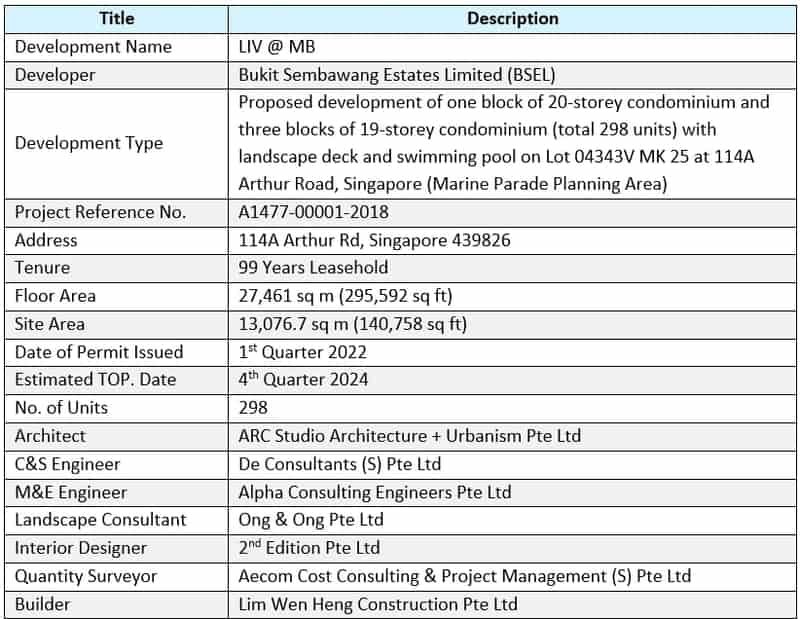 Liv @ MB Unit Types And Breakdown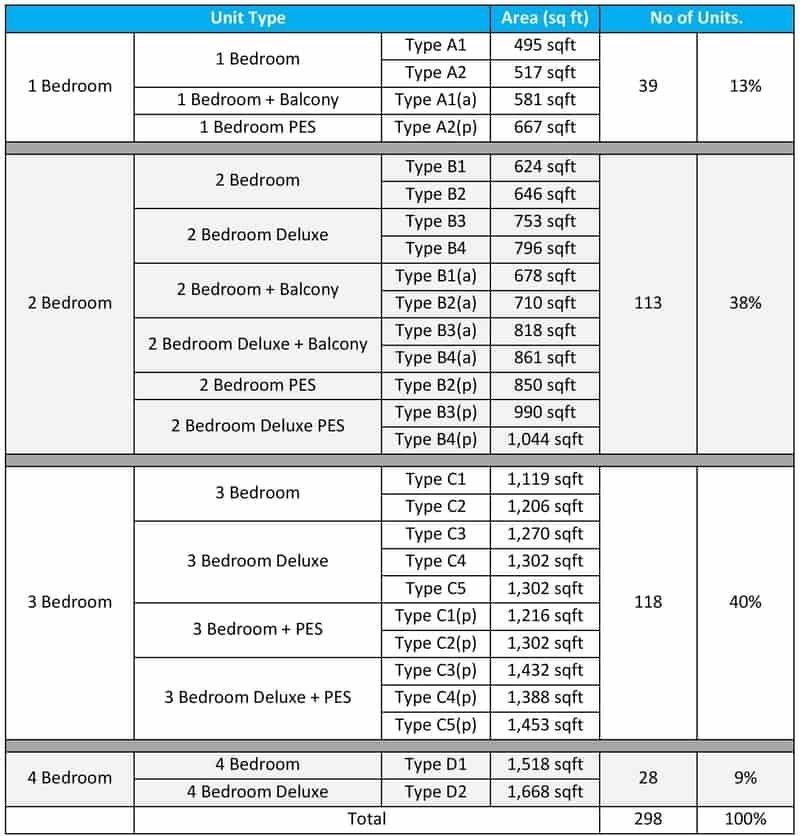 Here are the Liv @ MB Floor Plans.
Where is Liv @ MB Located?
Liv @ MB is located at Arthur Road, a prime private residential enclave just off Mountbatten Road. The area is well-known for its iconic conserved bungalows from the Art Deco to Victorian to early Modern styles, giving it a fascinating character.
It is also located in a highly coveted Good Class Bungalow (GCB) area, which is the most exclusive in the whole of District 15.
Nestled amidst the Marine Parade Planning Area, which includes Katong that is synonymous with its incredibly rich Peranakan and Eurasian heritage and architecture, it is unsurprising that the precinct has been a hotbed for property investment.
Moreover, there are many shopping malls, interesting food places, and lifestyle amenities nearby. Together, they provide residents a complete living experience without the need to travel far.
Katong's Rich Heritage Provides An Exquisite Living Environment
When one mentions the name Katong, it evokes a warm nostalgia, especially among the older generation of Singaporeans. Today, the area continues to enthral even the young due to its exquisite mix of new and old architecture. Its streetscape is also adorned with finely conserved old shophouses that showcase their incredibly rich Peranakan and Eurasian heritage.
The exquisite living environment is one reason why the area has continued to attract property investors.
Katong is also a haven for those looking for funky pieces of contemporary furniture and antiques, which often cost less than similar shops in Orchard Road.
And at the old Katong Shopping Centre, there are fabric shops, tailors and seamstresses selling genuine Nonya kebayas, handbags and beaded shoes.
Shopping Malls, Interesting Food Places and Leisure Attractions
Liv @ MB enjoys proximity to many shopping malls, offering residents a retail ecosystem and diverse leisure, recreation, and entertainment options. These include Parkway Parade, Katong Shopping Centre, Katong Plaza, Roxy Square, 112 Katong, KINEX, Kallang Leisure Mall and PLQ Mall, to name a few.
For daily necessities, there are two supermarkets at Parkway Parade – NTUC Fairprice and Cold Storage. Other supermarkets like Sheng Siong and Hao Mart can be found around the vicinity too.
Interesting Food Places Near Liv @ MB
But for those too busy to cook, there is no shortage of food option. Besides those found in shopping malls, there are also several popular food centres around Liv @ MB. These include the Marine Parade Food Centre, Dunman Food Centre, Old Airport Road Food Centre, and Geylang Serai Market & Food Centre.
In addition, many interesting eateries can be found along the shophouses at Katong, Tanjong Katong Road, East Coast Road, and Joo Chiat. They offer a wide variety of cuisines that include Peranakan, Thai, Western and local fare.
Many hipster joints and cafes have sprung up in these areas too, making them a truly bona fide foodie paradise for all ages.
For those looking for traditional treats, there is no shortage of them. Some of the popular ones include 328 Katong Laksa, Yong's Teochew Kueh, Kim Choo Kueh Chang, Dona Manis Cake Shop, and Old Bibik's Peranakan Kitchen, all within a short drive from this latest condo development in District 15..
East Coast Park And Leisure Attractions Near Liv @ MB
Liv @ MB is just a short walk or drive to several popular leisure attractions. These include:
East Coast Park – A mere 7 minutes' walk from Liv @ MB via an underpass, it is popular place for cycling, rollerblading, jogging or just having a leisure stroll along the beach. There are also camp sites and BBQ pits for outdoor gathering with friends and family.
For water sports enthusiasts, they can sign up for courses such as windsurfing, canoeing and stand up paddling offered by PA Water Venture.
For the little ones, the newly revamped Coastal PlayGrove that offers a vertical net climbing area and long metallic tube slides will surely excite them.
When it comes to food, there are many restaurants dotting the entire stretch of East Coast Park. Some of the popular places include the East Coast Lagoon Food Village and East Coast Seafood Centre.
Singapore Sports Hub – An ideal lifestyle destination for people of all ages with a wide range of entertainment, sporting, and outdoor recreational options.
It offers a wonderful day out for the whole family where they can immerse themselves in various activities such as ice skating, lawn bowling, rock climbing, Splash-N-Surf water play, kayaking, and canoeing.
For shopping, the Kallang Wave Mall is conveniently located next to it. Food-wise, there is a good choice of restaurants and a food court offering a good choice of cuisines.
Looking for groceries before heading back to Liv @ MB? A Fairprice Xtra supermarket can be found at Level 1.
Kallang Riverside Park – An ideal place for water sports aficionados to practise dragon boating, canoeing, and water-skiing due to its calm waters.
It is also a popular destination for anglers and birdwatchers where species such as the tiny egrets and grey herons can be sighted during the migratory season.
Along the banks, there are fitness equipment jogging cum cycling tracks, and a children playground. There are also open lawns under coconut trees that provide an ideal place for picnics or simply to laze around to enjoy the beautiful scenery, especially during dusk and dawn.
Marina South – The Singapore Flyer, Gardens by the Bay and Marina Barrage are some of the interesting places in Marina South for a fun day out with family and friends.
Travelling to these places from Liv @ MB will be a breeze once the Katong Park MRT station on the Thomson-East Coast Line is completed in 2024 as it brings visitors directly into the area.
The other interesting activities to do include hopping into a River Taxi and embark on a cruise around Marina Bay and the Singapore River.
To round off, enjoy the spectacular nightly water and light show presented by Marina Bay Sands after the sunset. The performance involves a symphony of dancing fountain jets, colourful visual projections, advanced lasers and mist effects — all led by an orchestral soundtrack.
Popular Schools Near Liv @ MB
For families with school-going children, there is quite a number of popular schools near Liv @ MB. Many of them are less than 8 minutes' drive away and they include the following:
Primary School: Tao Nan and Ngee Ann Primary School
Secondary School: Chung Cheng High, Tanjong Katong Girls', Dunman High, Broadrick, Saint Patrick's, CHIJ Katong Convent, Geylang Methodist Secondary School and Victoria.
Junior College: Victoria JC
International School
The international school nearest to Liv @ MB is the Canadian International School (Tanjong Katong Campus), a mere 5 minutes' drive away. Slightly further away is the Stamford American International School at Woodleigh.
The presences of these international schools will appeal to expatriate families with children. Hence, they will provide a potential source of tenants for those looking for property investment.
Excellent Transport Connectivity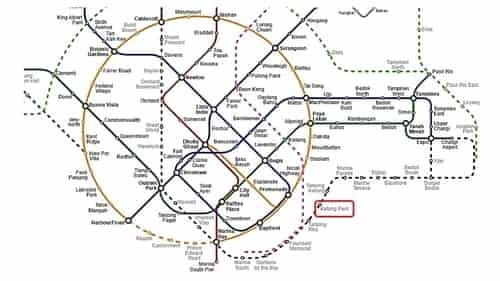 Liv @ MB is just 200m or 3 minute's walk to the upcoming Katong Park MRT station on the Thomson-East Coast Line (TEL). Scheduled to be completed by 2024, it is just five stops to the Marina Bay station, which is an interchange for the North-South and Circle Lines.
This will provide excellent connectivity to the financial district and Downtown Singapore, which includes major shopping destinations like Orchard Road, City Hall and Bugis.
And come 2025 when the final section of the Circle Line between Marina Bay and Harbourfront is completed, travelling to the Greater Southern Waterfront and Sentosa will be a breeze. The Circle Line will also bring commuters directly to the National University Hospital (NUH) and National University of Singapore (NUS).
By 2040, when the Thomson-East Coast Line is fully completed, residents of Liv @ MB will have direct access to Changi Airport which is currently under massive transformation with the construction of Terminal 5.
Proximity to Major Expressways
Liv @ MB is situated close to several expressways, which will help to reduce travelling time for those who drive. They include the East Coast Parkway (ECP), Marina Coastal Expressway (MCE) and Kallang-Paya Lebar Expressway (KPE).
For example, it only takes 11 minutes' drive to the Central Business District (CBD) and 21 minutes' drive to Changi Airport.
URA Master Plans Offer Promising Investment Potential
Liv @ MB is situated close to several areas that have been earmarked for major transformation. Hence, they will provide promising investment potential in the coming years. In line with the government's Live-Work-Play concept, they are expected to bring jobs closer to where we live and spur the development of supporting amenities, thereby improving living standards. In turn, this will drive demand for housing.
Changi Airport Terminal 5
The building of Changi Airport Terminal 5, which is the size of Terminal 1,2 and 3 combined, is part of the Changi Region transformation. In the future, the Thomson-East Coast Line will be extended to the new terminal to improve transport connectivity. In other words, Liv @ MB will be directly linked to it.
Changi Terminal 5 is scheduled to be completed by 2030 but has since been delayed by the covid-19 pandemic.
The transformation of the Changi Region will include the development of the Changi Aviation Park and Changi City. They are envisaged to support new aviation-related sectors and businesses that rely on air connectivity to the world.
At the same time, they are envisaged to create an innovative ecosystem with a live-in community that would attract businesses and institutions involved with freight transportation/aviation-related research and development, including artificial intelligence and robotics technology.
For more information, please refer to Mega Developments in the East Region.
Kallang River Master Plan
According to the URA, the Kallang River presents rejuvenation opportunities for new homes, workplaces, recreation, and community spaces. It is just eight minutes' drive from Liv @ MB.
With the river winding through the central region of Singapore, both public and private housing will be introduced in precincts along it, providing enhanced connectivity. Also, the existing Kallang Industrial Estate will be transformed in the longer term into an attractive mixed-use precinct along the waterfront.
Meanwhile, Kampong Bugis which is a stone's throw away, is envisaged to become an attractive residential and recreational precinct that supports active mobility, environmental sustainability, and fosters community interaction.
Paya Lebar Air Base
Just 12 minutes' drive from Liv @ MB, the Paya Lebar Airbase is currently occupied mostly by aeronautic and related industries. However, it will relocated from 2030 onwards.
Five times the size of Toa Payoh Town, it will be progressively transformed into a highly liveable and sustainable new town with a distinct identity anchored to its aviation history and heritage. Some of it plans will include new parks, play spaces, lifestyle amenities and a new commercial hub.
This will provide a Live-Work-Study-Play environment where future residents will have all the conveniences at their door-steps.
Founders' Memorial
The Founders' Memorial will be located at Bay East Garden. Expected to be completed in 2027, it is envisioned to be an integrated building with exhibition galleries, landscaped spaces, and art installations.
When completed, it will feature stories on values exemplified by Singapore's first generation of leaders led by the late Mr Lee Kuan Yew, as well as other key personalities who have played important roles in Singapore's path to independence and its development in the early years.
The Founders' Memorial MRT station will just be two stops from Liv @ MB along the Thomson-East Coast Line. Beside it is the Marina Bay Golf Course where its lease will expire in July 2024.
According to the latest URA Master Plan, the land has been earmarked as a reserved site, meaning its specific use has not yet been determined. Nevertheless, given its prime location, it will likely feature a mix of commercial and residential developments. This is in line with the recent government's efforts to inject more vibrancy into the Central Business District (CBD).
Liv @ MB - An Investment Perspective
In terms of location, amenities and conveniences, Liv @ MB ticks all the boxes. Moreover, with TOP expected in 2024, it will appeal to those looking for early move-in amid the construction delay in many new launches.
Meanwhile, Liv @ MB's proximity to major transformation areas will offer promising investment potential. As most of the major developments will likely be realised in the next 10-20 years at least, this will provide property investors the first-mover advantage.
In order to analyse how it would potentially fare against other developments in the area, which are predominantly freehold, lets compare the price performance of Cote D'Azur (99-year leasehold) against The Belvedere (freehold). Both condos are in District 15 and only about 2km apart.
The Cote D'Azur was launched in early-2002 and The Belvedere in late-2004, a difference of less than three years. As can be seen from the chart below, the average price of Cote D'Azur has appreciated by 153.6% since launch versus 136.8% for The Belvedere.
This shows that 99-year leasehold condos may not necessarily be inferior to their freehold counterparts in terms of capital appreciation. Nevertheless, the effect of lease decay need to be taken into consideration over the long-term as the value of freehold properties tends to hold better.
In terms of average rental yield, Cote D'Azur achieved 2.6% versus 2.1% for The Belvedere. This is unsurprising as 99-year leasehold properties are usually priced 15-20% lower than similar freehold properties in the same vicinity. Effectively, this will translate to a higher rate of investment (ROI).
As far as tenants are concerned, the land status of a property is immaterial. What is important is the quality of the development, good location and convenient access to various amenities which Liv @ MB will offer.
Competition from 2 Upcoming Condo Developments Nearby
Meanwhile, it is worth noting that Liv @MB will face competition from two upcoming condo developments that could be launched in late-2022 or early-2023. One of them is located at Jalan Tembusu and the other at Thiam Siew Avenue.
Jalan Tembusu Government Land Sale (GLS)
The 99-year leasehold Jalan Tembusu site was sold to City Developments in January this year under the government land sale (GLS) programme. Situated about 1km and 600m from the Dakota (Circle Line) and Tanjong Katong (Thomson-East Coast Line) MRT stations respectively, it could comprise of four 20 to 21-storey blocks with a total of about 640 residential units.
Paying $768 million for the 210,622 sq ft site with a plot ratio of 2.8, this translates to a land cost of $1,302 psf ppr. Hence, it is likely to be launched around $2,3xx psf.
Thiam Siew Avenue Development
Two freehold sites at Thiam Siew Avenue were sold to a JV between Hoi Hup Realty and Sunway Developments in November last year. They belonged to Wee Thiam Siew, former hotelier and chairman of Ban Leong & Co, who passed away in 1972. It was subsequently entrusted to members of his family under Thiam Siew Avenue Investments and Wee Thiam Siew & Co.
Situated about 800m to 900m of the Dakota MRT station (Circle Line) and Paya Lebar Interchange (East-West & Circle Lines) respectively, it could be developed into two luxury high rise condos with more than 800 units.
At a sale price of $815 million, with an estimated development charge of $284 million, this will translate to a land price of about $1,488 psf ppr. However, if the 7% bonus balconies with a development charge estimated at $39.3 million is included, the eventual land price would work out to be around $1,440 psf ppr. Therefore, it would likely be launched around $2,6xx psf.
Review Conclusion
Given the competition, all the three condo projects would likely be priced more sensitively. This will only benefit homebuyers and property investors.
Although all three developments are near MRT stations, Liv @ MB has the benefit of being the closest. It is just 200m from the upcoming Katong Park station and both developments are expected to be completed in 2024. It is also closest to the sea and only 7 minutes' walk to East Coast Park, offering residents nice sea-breezes. In addition, it is just two stops from the upcoming Founders' Memorial at Bayfront East, which could potentially see a major transformation once the Marina Bay Golf Course lease expires in July 2024.
Nevertheless, choosing Liv @ MB over the other two upcoming condos or vice versa would likely boil down to fine margins such as pricing, built design, unit layout and quality of facilities. It is not a bad thing though, as it will provide choices for property buyers or investors with different budgets and preferences.
For the latest update of the development, or to explore other property investment options, please Email or WhatsApp Us.
---
More Property Review of New Launches
Below are some other property reviews you may be interested in:
For more details on new launches, you can also find them in project information.