This is a review of Piccadilly Grand Condo, a 99-year leasehold mixed-use development in Singapore's District 8. Located at the fringe of the city along Northumberland Road and directly linked to the Farrer Park MRT station, it is only 6 minutes' walk to City Square Mall. It is also near the Mustafa Centre and Connexion, an integrated medical centre and hotel development.
To be developed jointly by CDL and MCL Land, the project with a site area of 8,732.9 sqm (94,000.2 sqft) will consist of three 23-storey blocks totalling 407 residential units of 1- to 5-bedrooms (including dual-keys), complemented by a comprehensive range of facilities.
Piccadilly Galleria, the commercial podium on the first floor, will have retail and F&B outlets, as well as an infant care and childcare centre.
This condo review will seek to provide an unbiased evaluation of the following:
Should you require more information on this mixed-use development or other new property launches, please Email or WhatsApp Me.
To navigate to each section of the review, please click on the links in the Table of Content below.
What are the Unique Selling Points of Piccadilly Grand?
Developed jointly by CDL and MCL Land, two well-known developers with excellent track records for building quality homes
Located next to the historical and vibrant district of Little India
Convenient access to public transportation, with the Farrer Park MRT Station along the North-East Line just 2 minutes' walk away
Easy access to several major expressways - Central Expressway (CTE), Pan Island Expressway (PIE), and Kallang-Paya Lebar Expressway (KPE)
Enjoys close proximity to a plethora of amenities such as City Square Mall and Mustafa Centre, as well as many popular eateries
A short train ride to major shopping destinations such as Orchard Road, City Hall and Chinatown
Family-friendly location with a good choice of schools
Near Farrer Park Hospital, KK Women's and Children's Hospital and Kwong Wai Shiu Hospital
What are the Indicative Prices of Piccadilly Grand?
The following are the indicative prices for the various unit sizes:
1 bedders: from $1.058 million ($2,186 psf).
2 and 3 bedders: from $1.348 million ($2,087 psf) and $1.788 million ($2,025 psf) respectively.
4 bedders dual-key: from $2.738 million ($1,942 psf).
5 bedders: above $3 million.
Maximus Residential SG and Maximus Commercial SG (a joint venture between CDL and MCL Land) were awarded the site during the government land sale in April 2021. With a top bid of $445.888 million for the 8,732.9 sqm (94,000.2 sqft) site, this works out to $1,129 per sqft per plot ratio (psf ppr).
Thus, the launch price of Piccadilly Grand condo is expected to be around $2,1xx psf on average. For updates and show flat viewing, please WhatsApp Me.
Where is Piccadilly Grand Located?
Piccadilly Grand is located along Northumberland Road, which is bounded by Race Course Road, Gloucester Road and Farrer Park Road.
The Farrer Park MRT station and City Square Mall are just 2 to 6 minutes' walk away, offering residents convenient access to a plethora of amenities and lifestyle choices.
In fact, it will be directly connected to the Farrer Park MRT station via an underground linkway, which will protect residents from rain and shine.
The area is also well served by public buses that offer direct routes to many major shopping destinations such as City Hall, Orchard Road, Bugis, Chinatown and Harbourfront.
Situated next to the vibrant historical district of Little India, homeowners will be able to immerse in its rich history and culture. The condo is also close to many popular eateries.
The Naming of Piccadilly Grand and Piccadilly Galleria
Being a mixed-use development with direct access to Farrer Park MRT station, it is envisioned to be the next transformative landmark surrounded by historical shophouses and hotels, old school, eateries and cultural monuments. It is likened to Piccadilly, an iconic district in London that is a hub of culture, tradition and modernity.
As Piccadilly is known to be a muse for artists and musicians, likewise Farrer Park is a place where one can find many quaint cafes and art galleries inspired by a creative and entrepreneurial spirit.
Many areas around Farrer Park are named after places in the UK as well. Besides Northumberland, the others include Gloucester, Dorset, Oxford and Cambridge.
Hence, the name Piccadilly Grand and Piccadilly Galleria seek to reflect and respect the onomatology of the neighbourhood while spurring the gentrification of the area with a promise of urbane pleasures to come.
Piccadilly Grand Design Concept and Features
Piccadilly Grand design concept is inspired by the area's rich built fabric that combines the new and old. Also, drawing from the area's rich heritage, the unit finishes and interior palette will reflect cultural notes in an urban context to attain cohesiveness and a sense of modernity. This is achieved through two overarching themes:
Be Beautiful: Type A, B & C (1, 2 & 3-bedroom units)
Be Bold: Type D & E (4 & 5-bedroom units)
The condo development will have three levels of activities, five curated lifestyle zones, and a total of three clubhouses to suit different lifestyle needs. The Arrival Zone is located at Level 1, and Botanical Zone at Level 3, while the rest are at Level 4. Each zone will come with the following amenities and facilities:
Arrival Zone: Arrival Clubhouse (Welcome Reception, Arrival Lobby, Arrival Lounge, Smart Parcel), Guardhouse and Residential Drop-Off
Garden (Botanical Zone): Relaxation Courtyard, Secret Garden, Botanical Deck, and Botanical Spa Pool
Spa + Garden (Tranquillity Zone): Tranquillity Spa, Tranquillity Clubhouse (Co-Working Lounge, Wellness Studio, Dining Room), Wellness Lounge, Wellness Lawn
Lap Pool (Vitality Zone): Vitality Trail, Gourmet Grill Pavilion, Pool Deck, Vitality Pool, Pool Cabana, and Chill-Out Lounge
Family Pool (Social Zone): Social Clubhouse (Gym, Changing Room, Function Room 1 & 2), Multipurpose Court, Pool Deck, Family Deck, Social Deck, Kids' Play Pool, and Pets' Play
Orientation of Residential Blocks
All the residential blocks in the condominium development are tilted in a North-South orientation to avoid direct sunlight and maximise comfort. They have a very good block distance of between 22m to 26m, which will enhance privacy. They are also staggered to maximise views.
Piccadilly Grand Unit Mix
All 1- to 5-bedroom units come with a dumb-bell layout for efficient usage of space. Below is a short overview of the various unit types:
1-Bedroom & 1-Bedroom+Study Types: All will only have one bathroom
2-Bedroom & 2-Bedroom+Study Types: All will have 2 bathrooms, and a choice of having both bedrooms on one side or separated by the living/dining room
3-Bedroom & 3-Bedroom Flexi Types: All will have 2 bathrooms and the bedrooms are on one side. Flexi types have a flexi storeroom (which can be converted into other uses), and wet/dry kitchen.
4-Bedroom Flexi Types: All will have 3 bathrooms, a wet/dry kitchen, and flexi storeroom. There is no home shelter (HS).
4-Bedroom Dual-Key Types: All will have a total of 3 bathrooms, a wet/dry kitchen and home shelter. The "separate" unit will have its own kitchen and bathroom.
5-Bedroom Types: All will have 4 bathrooms, a Master Junior bedroom, wet/dry kitchen, and home shelter.
Floor Plans and Virtual Show Units
Click on the links below for Piccadilly Grand's floor plans and virtual show units.
Below is the site map and unit distribution plan.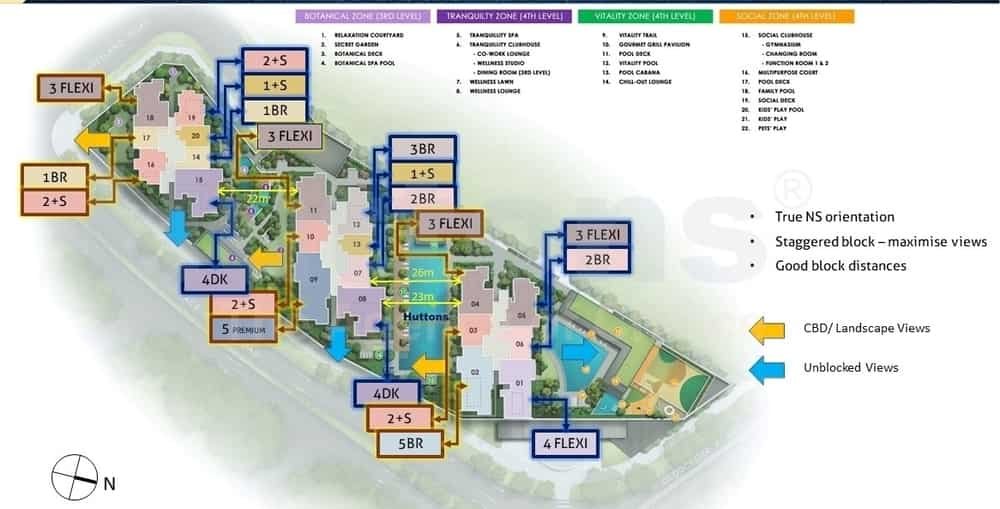 Green Features
Piccadilly Grand and Piccadilly Galleria will be built with energy and water-efficient, as well as environmental and health-protection features. For example, residential units will have deep-recessed balconies to provide shade. They will also be installed with energy efficient air-conditioners and LED lights.
For environmental protection, thematic landscape and water features will help to create a cooler and more comfortable environment. Low Volatile Organic Compounds (VOC) paint will be used for all internal walls to ensure healthy indoor air quality.
Smart Home System
All units at Piccadilly Grand will be installed with a smart home system. This will include smart home control for appliances, and a smart intercom system with video. Residents can also book facilities and lifestyle services via an app.
Project Information
Project Consultants

Who are the Developers of Piccadilly Grand?
The developers of Piccadilly Grand and Piccadilly Galleria are City Developments Limited (CDL) and MCL Land, two well-known real estate conglomerates in Singapore.
CDL is a leading global real estate company with a network spanning 106 locations in 29 countries and regions. Listed on the Singapore Exchange, the Group is one of the largest companies by market capitalisation. It has a diverse geographical portfolio comprising residences, offices, hotels, serviced apartments, shopping malls and integrated developments.
Some of its latest developments in Singapore include Canninghill Piers, Irwell Hill Residences and Boulevard 88.
MCL Land is a leading residential developer that constantly innovates in the pursuit of excellence to deliver superior customer satisfaction by providing practical and smart home solutions. It also believes in creating long-term value for homeowners through intimate connections with loved ones and the community.
Over the past 50 years, it has established a legacy of building quality homes in both Singapore and Malaysia. Many of their projects have been well-received and they include Leedon Green, Parc Esta and Margaret Ville.
Excellent Transportation Links
With the Farrer Park MRT station just 2 minutes' walk from Piccadilly Grand condo, residents will enjoy convenient access to major shopping destinations such as City Hall, Orchard Road, Chinatown and many others. It also provides convenient connections to the Central Business District (CBD) and Singapore's financial centre which is the fourth largest globally.
The Farrer Park station is one stop from Little India, an interchange for the North-East and Downtown Lines, and 2 stops from Dhoby Ghaut, an interchange for the North-East, North-South and Circle Lines.
These MRT interchanges will offer convenient access to many parts of Singapore while providing residents an improved commuting experience. Moreover, the Downtown Line travels along Bukit Timah Road where many of Singapore's most sought-after schools are located.
For those who drive, there are three major expressways near Piccadilly Grand - Central Expressway (CTE), Pan Island Expressway (PIE), and Kallang-Paya Lebar Expressway (KPE). Together, they provide excellent linkages to many parts of Singapore while cutting down travelling time.
Proximity to Amenities
Piccadilly Grand is only 6 minutes' walk to City Square Mall. With over 450,000 sq ft of net lettable space spread over five retail levels, two basements and four levels of shopping, dining and entertainment offerings, it caters to the lifestyle needs of residents in the surrounding areas.
Offering a wide array of value-for-money merchandises and services along with an excellent mix of international cuisine, it provides a miniature 'town-centre' for the community to meet, play and shop.
Another shopping mall near Piccadilly Grand condo is Mustafa Centre, which offers a unique 24-hour market style shopping experience. Known for its wide range of products that include textiles to watches, electronics and jewellery at lower prices than many places in Singapore, it is a popular shopping haunt for bargain-hunters.
Convenient Access to Major Shopping Destinations
With the Farrer Park MRT station almost at Piccadilly Grand's doorstep, many major shopping destinations in Singapore are within easy reach. These include City Hall, Marina Bay, Orchard Road and Chinatown. This is because the Dhoby Ghaut MRT station is just 2 stops away and it is a major interchange for the North-East, North-South and Circle Lines which serve many parts of Singapore's Downtown areas.
Popular Food Places Near Piccadilly Grand
When one mentions Little India, it is very likely to elicit very different opinions about the area. Some may find the place crowded and chaotic with many narrow streets and alleys. But to others, it is a buzzing historic area that showcases a unique and vibrant culture with great shopping and food thrown in.
Besides being home to a diverse range of Indian cuisines, many other establishments have also set up business in this ethnic enclave, adding to its diversity. Below are just some of the popular restaurants that can be found in Little India:
The Banana Leaf Apolo Restaurant – It is one of the most popular in the area with a menu that includes tender Chicken Masala, Garlic Naan and many other seafood and meat curry dishes.
Komala Vilas – A purely Indian vegetarian restaurant that offers generous set meals at hawker centre prices. It opens at 7am and you can get a hearty breakfast of dosai or uthappam with chutney and sambar at a reasonable price of S$2.90.
Muthu's Curry – Famous for its signature fish head curry since 1969, it has attracted a large following of locals and tourists alike. It also serves dishes like Hyderabadi Dum and Nattu Kozhi biryani – long grain Basmati rice cooked in fresh ground spices with slow cooked lamb or chicken.
For those looking for a break from Little India's curry-based cuisines, they may check out the following:
Putien – Serving Fujian cuisine, its food is characterized by light, down-to-earth and flavourful food with an emphasis on fresh ingredients. It has been accorded with the one-star Michelin award in 2016, 2017, 2018, 2019 & 2021.
Si Chuan Dou Hua Restaurant – Located at Parkroyal Hotel, it is the pioneer for authentic Sichuan cuisine in Singapore. Using the freshest produce and ingredients, it serves specialities ranging from flavourful soups, vegetarian dishes and fiery deep-fried dishes to savoury desserts.
Meatsmith - Singapore's first restaurant combining the taste of India with fixed roots in American barbecue. It offers a masterful menu combining the technique of slow cooking and barbecue using Indian spices, rubs and sauces.
Tekka Food Centre – A melting pot of culinary diversity in Singapore, it is home to a curious mix of traditional Indian, Chinese and Malay hawker stalls selling a variety of food at affordable prices.
Schools Near Piccadilly Grand
Piccadilly Grand is located in a family-friendly location close to many schools. Hence, for families with young children registering for Primary 1 admission, there are many choices within a 2km radius. And due to Ministry of Education's distance-based allocation system, they will be accorded priority admission. The following are some of the schools near the condo:
Primary Schools Within a 1km Radius
Farrer Park Primary School
Hong Wen Primary School
St. Margaret's Primary School
Primary Schools Between a 1-2km Radius
Anglo Chinese School (Junior)
Anglo Chinese School (Primary)
Bendemeer Primary School
St. Joseph's Institution (Junior)
Hong Wen School
Secondary Schools
There are also quite a number of secondary schools within a 10 minutes' drive from Piccadilly Grand. Some of these are:
Bendemeer Secondary School
Saint Andrew's Secondary School
Cedar Girls' School
CHIJ Secondary (Toa Payoh)
Besides the above, residents of Piccadilly Grand also enjoy convenient access to many sought-after schools along Bukit Timah Road where the Downtown Line operates. These schools include Nanyang Girls' High School, Singapore Chinese Girls' School, Methodist Girls' School, Chinese High School, Hwa Chong Institution and National Junior College.
International Schools
There are also a number of international schools near Piccadilly Grand condo. This would potentially attract housing demand from expatriate families. Hence, for those looking for property investment, it could offer an attractive option. Some of these international schools are:
Invictus International School
Insworld Institute
Stamford American International School
SJI International School
Nexus International School
Canadian International School
3 Hospitals Near Piccadilly Grand
Another family-friendly attribute of Piccadilly Grand is its close proximity to three hospitals - Farrer Park Hospital, KK Women's & Children's Hospital and Kwong Wai Shiu Hospital.
The Farrer Park Hospital just minutes' walk away and it sits atop the Farrer Park MRT station. It also operates a medical centre. Hence, residents will enjoy quick and easy access to a range of medical services.
Meanwhile, the KK Women's and Children's Hospital offers obstetrics, gynaecology, paediatrics and neonatology treatments while the Kwong Wai Shiu Hospital provides inpatient and rehabilitation care, as well as Traditional Chinese Medicine (TCM) services.
URA Master Plans
Piccadilly Grand will benefit from the exciting URA Master Plans for the Central Area.
Under these plans, the Singapore government is seeking to design environments that are multifaceted to appeal to people of different ages. As such, they will present new opportunities to renew core areas of activities and life.
The Master Plan's vision is to sustain the Central Area as a dynamic 24/7 city centre with diverse jobs and business opportunities, and where homes are located close to work places.
In addition, they will be supplemented by an abundance of lifestyle and recreational options. These areas include the following:
City locations such as Orchard, the Central Business District (CBD), Pearl's Hill, Marina Bay and Marina South
Cultural Precinct such as Fort Canning Park, Bras Basah. Bugis and the Civic District (Armenian, Coleman, and Waterloo Streets)
Historic Districts of Little India, Kampong Glam and Chinatown
As Piccadilly Grand is located within the Central Area, residents can look forward to an even more vibrant, colourful and fascinating living environment.
Meanwhile, a closer look at the URA Master Plan reveals that two land parcels very near Piccadilly Grand condo have been zoned for "Hotel" developments (see map).
The proximity of these commercial developments can be expected to raise the value of real estates around them in time to come as they clearly signal URA's intention to rejuvenate the area.
As such, a condo development like Piccadilly Grand stands to reap the benefit.
Conclusion – An Investment Analysis
Located at the fringe of the city with the Farrer Park MRT station practically at its doorstop, Piccadilly Grand enjoys convenient access to a wide range of amenities. These range from shopping centres, supermarkets, popular food places and schools to many lifestyle services.
Moreover, being next to the historical Little India with its unique culture and heritage, it will provide a fascinating living experience.
Piccadilly Grand will also benefit from the exciting plans for the Central Area that seek to transform it into a dynamic city that never sleep.
Nevertheless, some may find the area a little crowded and boisterous despite the condo development being situated away from the main node of activities. Whatever the impression, let's examine how have properties in District 8 have performed.
Price Trend Analysis - City Square Residences & Kerrisdale
Below is an analysis on how the freehold City Square Residences and 99-year leasehold Kerrisdale have performed since their launch. City Square Residences was launched in April 2005 at an average price of $577 psf and Kerrisdale in April 2002 at $446 psf. Both are near the Farrer Park MRT station, but City Square Residences is closer and also next to the City Square Mall.
Below are the charts of their yearly average price trend.
As can be seen, both have performed very well, with the freehold City Square Residences outperforming due to its slightly better location.
It is also observed that both developments appreciated more rapidly in the initial years till 2013, after which their prices began to plateau, as the following data revealed:
City Square Residences
2005 to 2013: +173.1%
2013 to 2021: +22.4%
2005 to 2021: +195.5% (overall)
Kerrisdale
2002 to 2013: +157.8%
2013 to 2021: +5.2%
2002 to 2021: +163% (overall)
Next, let's examine how District 8 (Farrer Park, Little India & Serangoon) has performed vis-a-vis District 7 (Golden Mile, Middle Rd, Bugis, Rochor & Beach Rd) and District 10 (Tanglin Rd, Farrer, Holland, Bukit Timah & Ardmore).
The charts showed that District 8 has outperformed both District 7 and District 10. They also revealed the following:
District 8
2001 to 2011: +230.5%
2011 to 2021: +42.9%
2001 to 2021: 273.4% (Overall)
District 7
2001 to 2011: +113.8%
2011 to 2021: +138.6%
2001 to 2021: 252.4% (overall)
District 10
2001 to 2011: +108.6%
2011 to 2021: +67.4%
2001 to 2021: +175% (overall)
Although District 8 has outperformed over a 20-year period, the rate of appreciation is slower over the last 10 years. However, this could be attributed to more new property launches in District 7 and District 10 at increasingly higher home prices which skewed the picture somewhat. Examples of recent new property launches in District 7 are Midtown Bay, The M and Midtown Modern. And in District 7, we have Park Nova, Sloane Residences and Leedon Green, just to name a few
In order to further evaluate the investment potential of a condo like Piccadilly Grand, let's analyse the Uptown @ Farrer nearby (refer to chart above). It is also a 99-year leasehold mixed-use development near the Farrer Park MRT station and comprises 116 units with commercial at first storey.
Given that it was only launched in September 2019, limited data is available. As such, the monthly average price data will be used instead to assess its performance. Launched at an average price of $1,867 sqft, it has risen to $1,967 sqft (+5.4%) thus far and is almost 94% sold.
As can be seen from the above research data, Piccadilly Grand's investment potential looks promising despite the latest property cooling measures on 16 December 2021.
For those looking for a steep correction in the market are likely to be disappointed. This is due to the dwindling unsold inventory of new private homes. With the current unsold stocks at a record low of about 4,000 units while the annual sales volume has been averging about 11,000 in the last 10-20 years, it will be depleted very soon unless the government releases more land for new developments or developers dipped into the more costly enbloc market to replenish their land bank.
Moreover, this year's supply of new launches, excluding executive condos, is expected to be less than 6,000 units.
Hence, there is little pressure for housing developers to cut prices to clear inventories. In fact, many have raised their prices recently as existing stocks are steadily being depleted.
What the latest cooling measures on 16 December 2021 are likely to achieve is moderate the pace of annual price growth to 2-3%. This is after Singapore residential prices climbed 5% in 4Q 2021, its seventh straight consecutive quarterly price increase, which pushed the overall market up a heady 10.6% for the whole of 2021.
Moreover, since 2009 there have been 11 previous property cooling measures and they have only succeeded in tempering the pace of rising real estate prices. And in the last cooling measures in 2018, property transaction volume dipped only for two quarters before rebounding (refer to chart below).
Although transaction volume subsequently dipped again from 4Q2019-2Q2021 amid the start of the covid-19 pandemic, it rebounded very strongly thereafter, with property prices trending up briskly. This only underscores the strong underlying demand for properties, especially from HDB upgraders who capitalise on the sharp rebound in HDB resale prices to switch to private properties.
Rental Yield
Lastly, for those looking for investment, below are the median rental yields of:
Uptown @ Farrer - $6.00 psf pm (4%)
City Square Residences - $3.8 psf pm (2.6%)
Kerrisdale - $3.2 psf pm (3.1%)
Unsurprisingly, Uptown @ Farrer achieved the highest rental yield as it is the newest of the three developments. Nevertheless, City Square Residences and Kerrisdale have done not too badly for their age, being completed in 2009 and 2005 respectively.
As for Piccadilly Grand, we can expect a similar or even higher rental yield than Uptown @ Farrer as it is directly linked to the Farrer Park MRT station and have more facilities, which will greatly appeal to renters.
To receive the latest information on Piccadilly Grand or other new property launches, or if you wish to find out more about Singapore's real estate market, please do not hesitate to Email or WhatsApp Us.
---
Other Property Reviews
Below are some other property reviews you may be interested in:
More details on new launches can be found in project information.