This is a review of The Watergardens At Canberra, an award-winning development in Singapore's District 27 by United Venture Development Pte Ltd - a collaboration between the UOL Group, Singapore Land Group (formerly UIC) and Kheng Leong Company.
The Watergardens At Canberra is a 5-storey resort-style condo comprising 16 blocks with a total of 448 units of 2- to 4-bedroom units located at Canberra Drive. A a childcare centre will be built within the development, which will provide great convenience for working couples with young children.
The review will seek to provide an unbiased evaluation of its design features and locational attributes, as well as its investment potential vis-a-vis other suburban developments. It will also analyse the exciting rejuvenation taking place in the North Region and its impact on the property market.
UOL's developments have usually received strong interest. This can be attributed to their competitive pricing and reputation for building quality homes. Their developments are also known for their functional layouts and attention to detail, achieved through many years of experience in the real estate business.
To find out more about this award-winning development, please WhatsApp Me or arrange for a viewing at the show gallery. Should you have any queries about property investment or the state of Singapore's real estate market, feel free to contact me for an obligation-free information-sharing session.
Watergarden's Unique Selling Points
The Watergardens At Canberra is another "Masterpiece" development by UOL, a highly reputable property developer
A highly-acclaimed development, winning the Asia-Pacific award for "Architecture Multiple Residence Singapore"
A rare low-rise and resort-like condo development with expansive landscaping and waterbodies
A childcare centre within the development to provide convenience for families with young children
Located beside an established landed residential estate
Good transportation network – about 350 km to Canberra MRT station and easy access to major expressways
Convenient access to essential amenities and schools
A green and tranquil living environment with nature parks nearby, such as Sembawang Hot Springs and Sembawang Beach Park
Redevelopment of Mandai Zoo into an integrated nature and wildlife park that promotes eco-tourism
Redevelopment of Sembawang Shipyard into a waterfront district
Transformation of North Region provides promising property investment potential
Watergardens Unit Mix
There are a total of 448 units at The Watergardens At Canberra, ranging from 2- to 4-bedrooms. They are housed within 16 five-storey blocks. The following is the breakdown of the unit mix:
2-Bedrooms - 48.9%
3-Bedrooms - 37.7%
4-Bedrooms - 13.4%
For the 2-bedders, there is a choice of 2-Bedroom, 2-Bedroom Premium and 2-Bedroom Premium+Study. Under them, there are 14 sub-types. The sizes range from 646-707 sqft, which can be considered spacious when compared to many new launches in recent times.
As for the 3-bedders, there is a choice of 3-Bedroom, 3-Bedroom+Study and 3-Bedroom Premium+Study. Under them, there are 9 sub-types. The sizes range from 904 sq ft to 1,109 sq ft.
However, there is only one choice for the 4-bedder - 4-Bedroom Premium at 1,302 sqft. Under it, there are 2 sub-types.
All the units have a dumbell layout, which helps to maximise the use of space. All unit types also come with a choice of having all bedrooms located on one side or having them separated on either side of the living/dining room. This will cater to buyers with different preferences. To view floor plans, please click here.
Judging from the unit mix, it is slightly skewed towards the smaller units to keep the absolute price quantum down. This will make it more affordable and appealing to a wider spectrum of property buyers. This will include HDB owners seeking to upgrade to private property as well as for investment.
This is unsurprising considering the huge catchment of potential buyers from the surrounding HDB housing estates such as Woodlands, Yishun, Admiralty and Lim Chu Kang. The large number of HDB flats that have completed their 5-year Minimum Occupation Period (MOP) in these areas is also expected to drive up demand.
Conspicuously missing from the unit mix are the 1-bedders, which have been offered in disproportionately high numbers in many new launches recently. This is likely due to the realisation by the developer that people nowadays require more space due to their need to work from home amid the ongoing covid-19 pandemic.
Meanwhile, the larger 3-bedders and 4-bedders which make up 51.1% of total units will seek to appeal to larger families and residents from private housing nearby. For example, the Sembawang Springs Estate beside The Watergardens At Canberra has been around since the early 1970s and this could tempt some of the residents to upgrade to a newer property.
Below is a breakdown of the unit mix for The Watergardens At Canberra: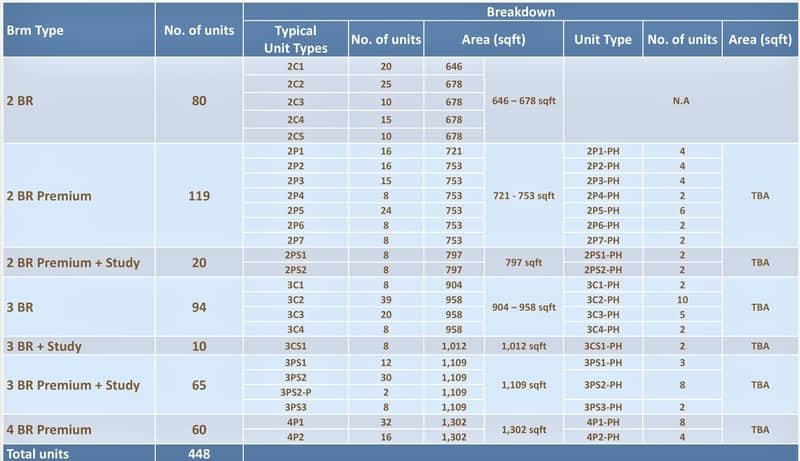 Unit Selection
From the site plan below, units at the elongated stretch facing Canberra Drive and the upcoming HDB BTO flats are likely to be priced lower than the rest of the development. Their facing (either North-East or South-West) means they will be subjected to some degree of morning or afternoon sun.
However, they are not without their merits. There will be two side gates along the stretch that provide residents direct access to a new bus stop in front of them. They will also enjoy more quiet as most of them will be situated away from the main facilities such as a swimming pool, kids' pool, function room and many other recreation areas.
The rest of the units in the development will have an ideal North-South facing. For those looking for the furthest distance between the blocks, they are Stack 34, 35, 36, 39, 41, 46, 52, 53, 57, 59, 58 and 59. One drawback is that they will be facing the main facility area. Hence, be prepared for more noise, especially during the weekend when residents host functions or when children are out playing or swimming. Nevertheless, these units will suit those who prefer a more lively atmosphere and the convenience of having the facilities right at their doorstep.
A good alternative would be stacks facing the 50m-long lap pool located next to it. Although there are a number of facilities too, it has fewer and is also away from the main children's play area. This will provide a balance between vibrancy and tranquillity. These stacks are 45, 49, 50, 51, 54, 55, 56, 60, 61, 65, 66, 67, 70, 71 and 74.
Those who wish to have the shortest route to the Canberra MRT station will be Stack 64, 65, 89 and 90 (top right corner of the site map). This is also where the Flower Garden is located. There will be a side gate leading to the Canberra MRT station after cutting through the new HDB precinct.
As for the rest of the development, they offer buyers a choice of water bodies, gardens, trails and many different features. If you require assistance in unit selection, please email us. Alternatively, you may WhatsApp Us.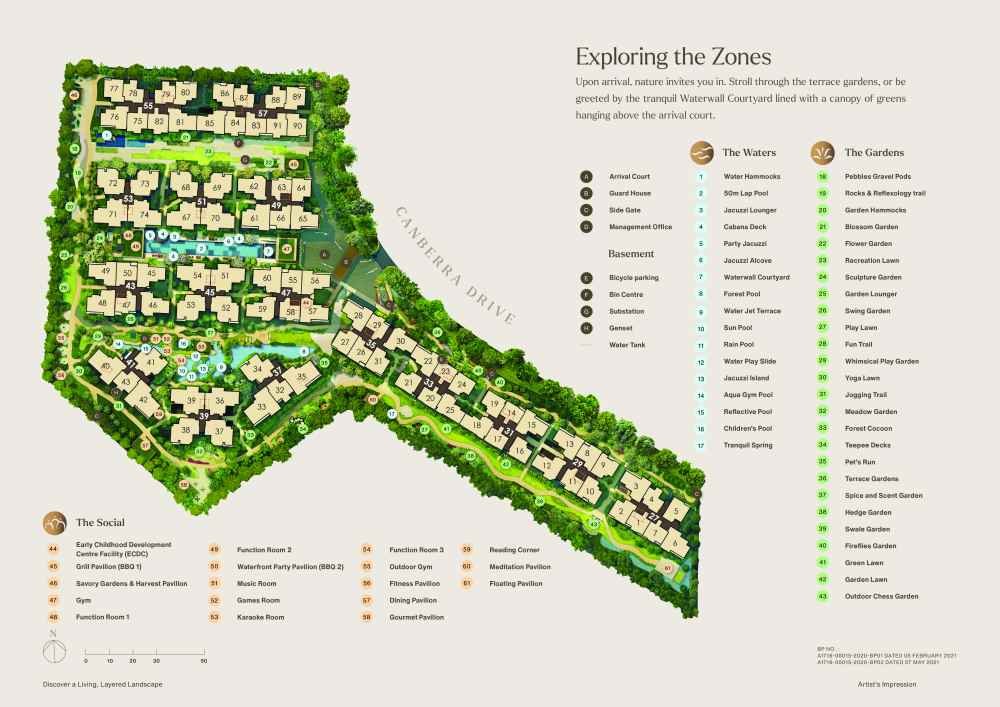 Smart Home System
All units will be installed with a smart home system. These will include the following:
Smart Home Hub - Manage all smart devices. Remote surveillance. 2-way audio communication.
Digital Door Lock Set - Unlock the door via fingerprint, PIN code, mobile app, mechanical key and access card.
Smart Aircon Control - Set on/off, temperature, fan speed, mode and time schedule from a mobile device.
Facility Booking - Book the condominium facility via the mobile app and gain access to facilities via an access card.
Visitor E-Invite - Pre-register your visitors and send them a QR code.
UV Clean Air - Air in elevator cabins will be regularly sanitised and purified for health safety.
Rent & Ride a Bike - Instant booking and ride.
Factsheet - The Watergardens At Canberra Factsheet
Pricing - The Watergardens At Canberra
Since its launch on 29 August 2021, units at The Watergardens At Canberra have been sold between a range of $1,232 - 1,593 psf.
This is a very attractive entry price for development just 4 minutes' walk to the Canberra MRT station and Canberra Plaza.
Moreover, upcoming developments such as Amo Residence at Ang Mo Kio Avenue and Lentor Modern at Lentor Central are likely to be priced from $2,xxx psf upwards due to their significantly higher land cost. For the latest pricing please WhatsApp or Email Us.
Government Land Sales - The Watergardens
During the government land sale (GLS) in March 2020, United Venture Development clinched the Canberra site by submitting a bid of $270.2 million, or $650 psf ppr. With a land size of 27,566.1 sqm and a Gross Floor Area (GFA) of 38,593 sqm, it will yield 448 units.
As such, the breakeven cost for The Watergardens At Canberra condo is estimated at $1,140 psf and a selling price in the range of $1,500 psf to $1,600 psf after taking into consideration the developer's profit margin. Hence, with units starting from $1,382 psf, it offers a very attractive proposition, especially given the exciting transformation taking place in the North Region (more on this below).
During the GLS, the site attracted a total of 4 bids. The second-highest bid of $257.9 million was from a collaboration between MCC Land (Singapore) & Greatview Group, followed by CEL Development & Unique Residence at $252.6 million. The lowest bid of $240 million came from CSC Land Group (Singapore).
Developers - The Watergardens At Canberra
The Watergardens At Canberra will be developed by United Venture Development Pte Ltd, a collaboration between the UOL Group, Singapore Land Group (formerly UIC) and Kheng Leong Company.
UOL Group – It is one of Singapore's leading public-listed property companies with total assets of about $20 billion. These include a diversified portfolio of development and investment properties, hotels and serviced suites in Asia, Oceania, Europe and North America.
With a track record of over 50 years, it strongly believes in delivering product excellence and quality in all their business ventures. Also, its unwavering commitment to architectural and quality excellence is reflected in the awards they have won. These include the Aga Khan Award for Architecture, the Urban Land Institute Awards for Excellence, the FIABCI Prix d'Excellence Award and the President's Design Award.
Some of its prestigious developments include Clavon, Avenue South Residence, Meyer House and many more.
Singapore Land Group - Formerly known as United Industrial Corporation (UIC) and is a 50 %-owned subsidiary of UOL Group, it is committed to leveraging on its strength to drive sustainable growth for its shareholders and stakeholders. Together with its group of companies, it is a leading real estate company that has been listed in the Singapore Exchange since 1971. Its diversified portfolio comprises commercial investment properties, residential development properties, hotels and IT services. The Company also owns several overseas investment assets in China and the United Kingdom. In Singapore, some of its residential property portfolio include Tre Ver, Clementi Canopy and V on Shenton.
Kheng Leong Company - Incorporated in 1949, Kheng Leong Company began operations as an international commodity and spice trading company. Over the years, the company has kept pace with the changing business landscape and has evolved into an investment group with interests in property development and real estate investment. It operations have since expanded to major cities such as Shanghai, Hong Kong, Sydney, Los Angeles and London. In Singapore, some of the notable residential projects are Nassim Park Residences, One North Residences and The Ansley.
Site Location of The Watergardens At Canberra
The Watergardens At Canberra condo will be sited in an elongated forested area that was split into two parcels during the Government Land Sales. Occupying the larger plot, it will be flanked by Sembawang Springs Estate in the West and a small HDB precinct (Canberra Vista) in the East. Lying at its north and south are the Jalan Sendudok and Jalan Kemuning Parks respectively. For directions, please click here.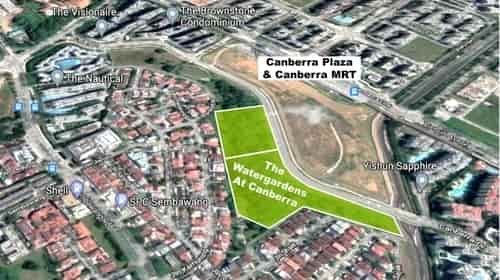 Sembawang Springs Estate is a freehold semi-detached housing development that was completed around 1970. It is part of a sprawling low-rise residential enclave beside the Sembawang Shopping Centre. Hence, The Watergardens condo will enjoy mostly unobstructed views as well as good air ventilation.
On the opposite side where Canberra Vista is located, the new HDB precinct will have fifteen 10-storey blocks consisting of 1,467 2-room flexi, 3-room, 4-room, 5-room and 3Gen flats. They were offered for sale during the BTO launch in February 2020. They are expected to be completed around 2023 but could be delayed due to the covid-19 pandemic.
Separating The Watergardens condo and Canberra Vista is Canberra Drive. The road is generally low traffic currently. However, it could get a little busier when new housing developments in the area are completed. Nevertheless, most of the major traffic will be along Canberra Link and Yishun Avenue 2 which run alongside the MRT track more than 300m away. This will ensure the immediate surrounding remains tranquil, yet not too far from amenities such as the newly opened Canberra Plaza and Bukit Canberra.
The Watergardens At Canberra will be a long-awaited addition to the area as the last private condo development was The Nautical launched in 2012. The most recent ones have all been executive condos (EC) such as One Canberra, The Brownstone and The Visionaire. They were completed in 2015, 2017 and 2018 respectively.
And most recently, another EC in the area has been launched – the 413-unit Provence Residence by MCC Land.
Hence, The Watergardens condo would attract demand from those who are ineligible to purchase an executive condo. It would also attract those looking to live near an MRT station (with the Canberra station just a 4-minute walk away) and residents in the surrounding private and public housing estates that have been 'deprived' of a new condo launch in the area for close to a decade.
Design Features of The Watergardens At Canberra
UOL has sought to create masterpieces in all their property projects. Besides providing a fine living environment, it has also placed emphasis on producing stunning architectural designs to create iconic buildings of distinction that truly cater to the homebuyers' need for a lifestyle choice.
Some of their well-received projects include Clavon in Clementi, Avenue South Residence in Silat Avenue and Meyer House in Meyer Road, just to name a few.
Hence, The Watergardens At Canberra can be expected to offer equally impressive design features that include beautifully landscaped grounds and gardens blended seamlessly with an array of facilities.
As the name of the development suggests, homebuyers can expect lots of greenery and water features. Due to its low-rise nature and situated beside a landed housing estate, it will provide future homeowners with a resort-style living environment.
Although the rather irregular and elongated land parcel would provide a challenge to the developer to maximise land use, it also presents an opportunity to design homes with unique and unparalleled features, setting The Watergardens At Canberra apart from other condo developments.
Below are some artist's impressions of the development. For updates or to receive E-Brochure and Floor Plans, please contact us.
Good Transportation Networks
Many people would associate Sembawang as being a remote and far-flung place in the northern part of Singapore. They can be forgiven for thinking so as it quite a distance from the city centre. However, living in such a suburban area means they can get away from the hustle and bustle of modern city life. With a quieter and more peaceful environment, The Watergardens At Canberra can offer an ideal retreat for those looking to recharge their mind and body.
But in actual fact, with the government expanding the MRT and road networks, Sembawang has actually become much more accessible. For example, a trip from the Canberra MRT station (a short 4-minute walk from The Watergardens At Canberra) to Orchard Road takes only 32 minutes.
For perspective, it takes 40 minutes to travel from Jurong East to Orchard Road.
The Watergardens At Canberra is also close to several MRT interchanges. They are:
Woodlands MRT Station – An interchange between the North-South Line (NSL) and Thomson-East Coast Line (TEL). It is just 3 stops from the Canberra station. The Thomson-East Coast Line is expected to be fully operational by 2024 and this will further improve the connectivity of the North Region with the rest of Singapore.
Woodlands North MRT Station - The Woodlands North Station is 4 stops from the Canberra MRT station. It is part of the Thomson-East Coast Line (TEL) that is set to be connected to the Singapore-Johor Bahru Rapid Transit System (RTS) expected to be completed in 2024. The train stations is likely to be joined by a bus interchange in the future, making it into major transport hub.
Ang Mo Kio MRT Station - An interchange between the North-South Line (NSL) and Cross Island Line (CRL). It is 4 stops from the Canberra station. Phase 1 of the Cross Island Line will comprise 12 stations from Aviation Park to Bright Hill and it is expected to be completed by 2030.
Bishan MRT Station - An interchange between the North-South Line (NSL) and Circle Line (CCL). It is 5 stops from the Canberra station.
Furthermore, The Watergdens At Canberra is close to three Bus/MRT interchanges – Sembawang, Yishun and Woodlands. The Sembawang and Yishun stations are just one stop on either direction of the Canberra station, while Woodlands is 3 stops away. The Yishun and Woodlands stations are also an integrated transport hubs that link to commercial developments such as shopping centres.
The Woodlands integrated transport hub, which opened in June 2021 is the largest in Singapore. At 41,500 sq m, it will be almost 2½ times as large as the first integrated transport hub, which opened in Toa Payoh in 2002.
Expressways And North-South Corridor (NSC)
For those who drive, The Watergardens At Canberra is conveniently connected to the Tampines Expressway (TPE), Seletar Expressway (SLE) and the Central Expressway (CTE). These expressways have helped to improve connectivity to the rest of Singapore and reduce travelling time.
Travelling experience is set to improve further with the completion of the North-South Corridor (NSC) that is expected to be ready by 2026. When operational, it will connect the northern region to the city and East Coast Parkway, passing through areas such as Ang Mo Kio, Bishan and Toa Payoh.
The NSC will be Singapore's longest Transit Priority Corridor spanning 21.5 km. Featuring dedicated bus lanes, cycling trunk routes and pedestrian paths, it will provide smoother and faster journeys for everyone. In addition, it will help to alleviate the high traffic volume on the Central Expressway (CTE) and major arterial roads such as Thomson and Marymount Road.
This will provide a faster and smoother journey for everyone, especially those travelling into the city.
Amenities Around The Watergardens At Canberra
The Watergardens At Canberra is blessed with a number of shopping centres surrounding it. These include the following:
Canberra Plaza – Completed in 2020 as part of the URA Master Plan to improve the quality living in Singapore's North Region, it is connected to the Canberra MRT station. Besides shopping and dining, it also offers pockets of gardens, trails and a water play park for community interaction and outdoor fun. There is also a NTUC FairPrice supermarket at the Basement, as well as a number of children enrichment centres such as Shichida Method, CMA Arithmetic and The Eton Academy.
Sembawang Shopping Centre – A four-storey commercial development located in Sembawang Springs Estate, it is roughly a 10-minute walk from The Watergardens At Canbera. First opened in 1986, it underwent a refurbishment in 2007 and reopened in late 2008. Other than shopping and dining, there is a water playground on the rooftop. Known as Splash Park, it offers 13 water features that include water shooters, jets and three slides catering to children between the ages of three to 12.
Sun Plaza - Located beside the Sembawang MRT station, it is just one station from The Waergardens At Canberra. A mixed-use residential and commercial development completed in 2000, it underwent a refurbishment in November 2013 and reopened in August 2015. Although that not large, it houses a NTUC FairPrice supermarket, food court and public library.
Northpoint City – Offering six retail levels of shopping (including two basement levels), it is the second largest in the north region. Some of its key tenants include Kopitiam food court, Cold Storage supermarket, Popular bookstore and several banks. Just one stop from the Canberra MRT station, it is connected to the Yishun integrated transport hub. The mall is a very popular destination for those living in the surrounding housing estates.
Causeway Point – It is the largest mall in Woodlands, which is one of Singapore's most populous residential estates. It is located next to the Woodlands regional bus interchange and the Woodlands MRT station, which is three stops from the Canberra station. Some of its anchor tenants include Cathay Cineplexes, Cold Storage, Courts, Food Republic, Kiddy Palace, Popular Bookstore and Timezone.
With so many shopping malls, future residents of The Watergardens At Canberra will have no lack of retail, leisure, entertainment and dining options. Although collectively they are still far from rivalling Orchard Road, they offer good alternatives while saving on commuting time.
However, an interesting characteristic of the North Region is the congregation of wholesale food outlets such as Fassler Gourmet, Zac Meat & Poultry, Foodedge Gourmet, CS Tay Foods among many others.
Woodlands Food Factory Outlets - The north is where many food factory outlets can be found. Selling at wholesale prices, they are especially popular during major festivals such as Chinese New Year. Located at Woodlands Terrace, they sell a wide range of products such as seafood, poultry, BBQ roast meats, cured meat, pastry, cakes and many more. They can be reached within a 8 minutes' drive from the Watergardens At Canberra.
Bukit Canberra - An Integrated Sports And Community Hub
The site of Bukit Canberra was once a British naval base and its Old Admiralty House used to be the residence of key military commanders. But in 2002, it has been gazetted as a national monument and will be converted into a visitor centre to allow people to learn about the area's history and heritage.
Bukit Canberra is an integrated sport and community hub about the size of 29 football fields, or 12 ha. Expected to be opened in phases from end-2021, it will comprise amenities such as a hawker centre, polyclinic, senior care centre, sport facilities, and green spaces for community farming.
Situated about a 15-minute walk from The Watergardens At Canberra, it will offer residents convenient access to a range of amenities set within a verdant park-like setting. These will include the following:
The largest ActiveSG gym in Singapore at 1,500 sqm
2 swimming pools – a six-lane sheltered swimming pool and an eight-lane lap pool
A 500-seater indoor sports hall
Three kilometres of outdoor running trails with varying levels of difficulty set on natural terrain
A "food forest" and "fruit orchard", featuring edible crops such as the cocoa tree and roselle plant
A community garden
A hawker centre
A polyclinic
A senior care centre
Conserved Old Admiralty House for educational purposes
To help visitors learn about the area's past, there will be heritage story boards detailing its past history as a former British naval base.
Bukit Canberra's landscaping will be shaped around its existing terrain to retain the hilly characteristics and lush vegetation. The greenery will be integrated with the various facilities to retain the rich biodiversity, thereby allowing users to enjoy the hub's features in a natural setting while bringing them closer to flora and fauna.
Sembawang Hot Springs Park
A unique landmark in Canberra is the Sembawang Hot Springs Park situated at Gambas Avenue. It was opened in early 2020 and is about a 15-minute walk from The Watergardens At Canberra.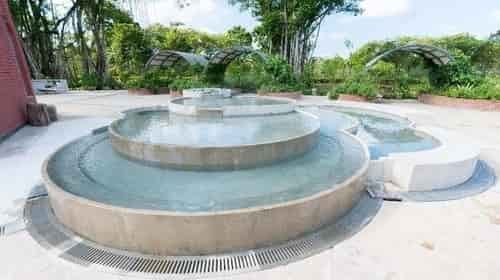 The park has quite a colourful history since its discovery in 1909. Its hot spring water was initially bottled for sale and then briefly turned into a Japanese bathhouse during World War II. The hot springs were nearly closed when the government wanted to expand the neighbouring Sembawang Air Base, but a public outcry persuaded them to leave it alone.
The geothermally heated water is hot and comes out from underground at 70 degrees Celsius. The water is believed to have curative and medicinal qualities that can help to cure ailments like rheumatism, arthritis and even skin problems like acne.
Unsurprisingly, the Cascading Foot Bath Pool has become the centrepiece of Sembawang Hot Spring Park. It is a communal foot bath where people sit around it to soak their feet.
Another popular activity is cooking eggs with the hot spring water. The park also includes lush greenery and a café, which makes for an interesting day out for residents of The Watergardens At Canberra and those in the nearby housing estates.
Other Parks Near The Watergardens At Canberra
Besides the Sembawang Hot Springs Park, there are also many other interesting parks near The Watergardens At Canberra for residents to enjoy. This is what makes the area unique, where its lush greenery and laid-back charm provide a relaxing retreat from the hectic modern lifestyle.
Canberra Park – It can be reached within a 6-minute drive from The Watergardens At Canberra. It has a large playground with a large number of swings called Swings of Differences, which cater to different age groups and abilities. There are smaller swings for toddlers and children with disabilities, which have seats with full back support and a lap bar for safety.
Apart from the playground, there is an amphitheatre, BBQ pits, bicycle and fitness stations, as well as cycling and jogging tracks.
Montreal Green Park – The newly revamped park features a Heritage Corner to educate visitors about the history of Sembawang. The other facilities include Interactive Playgrounds that stimulate children's senses, a Sculptured Garden and Butterfly Garden. There are also Fitness Corners with various equipment for residents to work out.
Sembawang Beach Park – Located at the end of Sembawang Road, the seaside park is one of the last few natural beaches in Singapore. The park is very popular with anglers, bird-watchers and water sports enthusiasts. It is also a popular place for camping, as well as for families with young children, as it boasts a large children's playground modelled after a battleship that features adventure play equipment. These include a rock climber, tunnels, suspension bridge and caged tower that leads to a spiral tube slide. Other facilities include a fitness area, petanque court and an extended beachfront promenade.
Sembawang Park Connectors – There are also various park connectors that add to the green living environment in Sembawang. Whether walking, jogging or cycling, these green corridors are a great way to explore the neighbourhood and its flora and fauna. These include the 1.6km Canberra Link-Sembawang Park Connector and Simpang Kiri Park Connector that starts at Yishun Avenue 2 and runs along Sembawang Road.
Along the Simpang Kiri Park Connector is Sungei Simpang Kiri, which is rich in natural vegetation on either side of its riverbank. The scenic and tranquil environment not only provides an ideal place to relax, it is also popular with bird-watchers where water birds like the Kingfisher, Egrets and Water Hens, as well as seasonal migratory birds such as sandpipers can be sighted
Mandai - A New Integrated Bird And Wildlife Park
By 2023, the current Mandai Zoo will be transformed into a new 126 ha eco-tourism park.
It will be home to five wildlife parks – Singapore Zoo, Night Safari, River Safari, Rainforest Park and Bird Park (which will be relocated from Jurong). When completed, visitors will be able to enjoy specially curated activities such as guided nature walks, hands-on activities that feature closer interactions with animals, and behind-the-scenes views of the zoos' operations.
There will also be nature-themed indoor attractions, green public spaces and a boardwalk along the edge of the Upper Seletar Reservoir as part of an ambitious plan to create a multi-park experience for visitors.
These parks, together with a new 338-room eco-friendly resort, will form an eco-tourism hub in Singapore which aims to attract millions of visitors a year. The resort will be operated by luxury hotel chain Banyan Tree Hotels and Resorts.
Designed by WOW Architects, the resort will not only provide guests with an immersive stay close to nature, it will also seek to promote environmental awareness, sustainable best practices and the conservation of biodiversity.
Given that nature tourism is a growing industry around the world, these new attractions in Mandai will add to the appeal of the North Region as a place to live, work and play.
A Myriad of Interesting Activities in the North
For anyone who thinks that the North Region is "ulu" and boring, they will be pleasantly surprised to find a myriad of interesting activities to do. Below is just a sample of them:
Kayaking at Khatib Bongsu - The mangroves and flatlands of Khatib Bongsu are home to one of Singapore's last un-dammed rivers, attracting birdwatchers, cyclists, joggers, environment lovers, and fishing enthusiasts. For the more adventurous, try kayaking along the tranquil waters while enjoying the many species of birds such as the Great-billed Heron amongst the wild vegetation.
Water Venture (Sembawang) - Water Venture (Sembawang) provides a range of outdoor activities. These include kayaking, sea-rafting, nature exploration, camping and outdoor cooking. They also conduct team-building programmes with obstacle courses akin to OBS. At the same time, soak in the dazzling view of the Straits of Johor.
Paintball Battle - Have a tactical battle with friends with paintball. Under the tutelage of experienced facilitators, participants will learn everything from handling paintball markers to the correct way of shooting. It also teaches them the crucial skills of teamwork and communication.
Wake Pirates Wakeboarding - Take a leap of faith and unleash the inner acrobat in you! With a team of experienced instructors, participants will be guided from the very basic to executing their first spin and invert. All the gears and equipment will be provided, including a fleet of well-maintained and competitive towboats from the best wakeboarding boat-makers in the world to churn out killer waves.
Jurong Frog Farm - Visitors can take part in frog-related educational programmes and learn how to differentiate between the males and females, and also how they camouflage themselves in their natural surroundings. Visitors can also have the chance to hand-feed the frogs. Feeling hungry? Try out their various delicacies such as Deep Fried Cajun Frog Meat and Crispy Frog Skin Chicharon, or have some nutritious Snowdrop Hashima.
Udder's Ice-Cream Making Workshop - Kids will surely enjoy this activity churning out unique ice-cream flavours such as bandung and popcorn to chili-chocolate. They will also learn about the different types of ice cream and the ice-cream making process. At the end of the session, they will be treated to a 50-minute all-you-can-eat ice-cream buffet!
Grocery Shopping at Senoko Fishery Port - Owned by AVA, the wholesale fish market offers a dizzying array of fishes and seafood. These include baraccuda, garoupa, pomfrets, squids and many more. Families will be spoilt for choice when planning their next meal. But be sure to arrive very early as it only opens from 2am to 6am.
Goats at Hay Dairies - Bring the little ones to learn about goats and experience feeding them. They can also learn and participate in milking the goats. The fresh milk can be bought and they are available in original and chocolate flavours. The creamy and nutritious milk is ideal for those who are lactose intolerant.
Sembawang Shipyard Redevelopment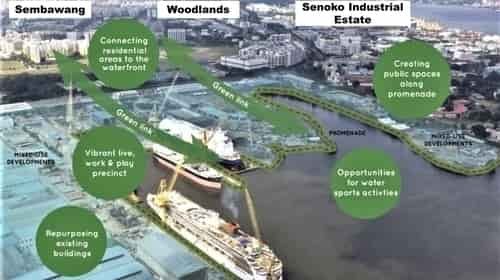 Once Sembawang Shipyard's operations ceased and moved to Tuas by 2024, the vacated site has the potential to be redeveloped into a mixed-use waterfront lifestyle precinct that will take into consideration its rich maritime history.
The shipyard's unique coastal profile will offer the government opportunities to develop new waterfront public spaces. Selected buildings with historical value will also be re-purposed for suitable uses to help rejuvenate the precinct.
As can be seen from the latest URA Master Plan zoning below, a former land plot at the Sembawang Shipyard has been re-zoned from a "Reserve" to "Residential". This clearly indicates the government's plan to create another waterfront precinct in the north, not unlike Harbourfront near Sentosa.
Given that The Watergardens At Canberra is only a 7-minute drive away, this will greatly enhance its investment potential.
The Sembawang Shipyard will be part of the development of the North Coast Innovation Corridor (more on the below), which aims to attract international research and development investors, as well as creative start-ups. They will be integrated with new housing and amenities to create a vibrant live, work and play environment.
Schools Near The Wartergardens At Canberra
When it comes to education, families with young children will have access to a number of primary schools. As they are within a 2 km-radius of The Watergardens At Canberra, they will be accorded priority admission under the Ministry of Education distance-based allocation system. These schools are:
Within 1 km
Ahmad Ibrahim Primary School
Sembawang Primary School
Yishun Primary School
With 1-2 km
Canberra Primary School
Chongfu School
Endeavour Primary School
Jieming Primary School
Wellington Primary School
Xishan Primary School
When it comes to secondary schools, there are also several to choose from, with the following within a 3 km radius of The Watergardens:
Canberra Secondary School
Sembawang Secondary School
Ahmad Ibrahim Secondary School
Northland Secondary School
Yishun Town Secondary School
Yishun Secondary School
The nearest junior college and polytechnic are Yishun Innova Junior College and Republic Polytechnic. They can be reached within a 5 to 12-minute drive.
Transformation of the North Region
The transformation of the North Region includes the development of Canberra MRT station, Canberra Plaza, Bukit Canberra and Woodlands Health Campus, as well as new amenities and housing developments to provide a variety of live, work and play options.
Some of these developments have already been completed, such as the Canberra MRT station and Canberra Plaza. The following are other exciting developments that seek to enhance the region: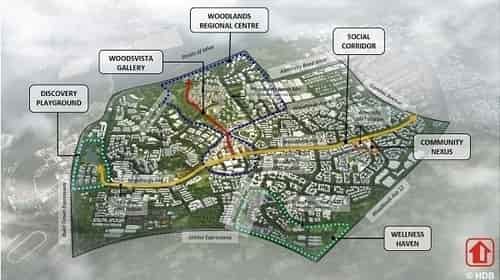 Woodlands Regional Centre - Set to be a vibrant new hub for businesses, it will integrate new commercial and residential developments. Comprising Woodlands Central and Woodlands North Coast, it will also serve as a vital link with Malaysia.
A new Town Plaza next to the Woodlands MRT station has also been planned and it will offer a convenient and vibrant public space for residents to participate in community events.
WoodsVista - A new 1.9km community link with dedicated cycling and pedestrian paths that connect Woodlands Central to the Woodlands Waterfront.
Marsiling Park – Formerly known as Woodlands Town Garden, it has reopened in 2018 after 22 months of upgrading work. Some of the new activity areas and amenities include a ribbon playscape (a distinctive feature that weaves through the landscape and doubles up as resting spaces), playground in the form of a butterfly (the only one of its kind in Singapore), musical play equipment, and 3G fitness equipment as well as a food and beverage outlet that is open round the clock.
Enhancements have also been sensitively made to the mangrove area to allow visitors to get close to nature while allowing biodiversity to thrive.
Woodlands Health Campus – Set to be opened in phases from 2022, it is an integrated healthcare complex that will include a new acute care hospital, community hospital and nursing home. This is to bring quality healthcare to residents in the North Region.
Community Nexus - A new community hub beside the Admiralty MRT station that houses facilities such as a medical centre, eldercare and childcare centres, a hawker centre, dining and retail outlets, as well as housing for the elderly.
Social Corridor – A 4.2km park connector along the North-South MRT line viaduct, it will feature lush greenery, community gardens, 3-Generation facilities, pavilions and rest points for residents to enjoy.
URA Master Plan - North Coast Innovation Corridor (NCIC)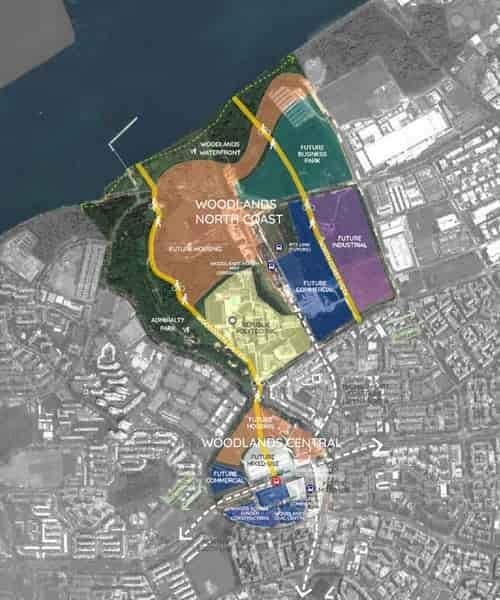 Besides the above, the URA Master Plan for Woodlands seek to turn the North Region into Singapore's biggest employment hub, which will in turn fuel demand for housing.
One of the major developments is the North Coast Innovation Corridor (NCIC). Stretching across the Woodlands Regional Centre and Sembawang Shipyard to the future Seletar Regional Centre and Punggol Digital District, it will form a belt of key economic hubs across Singapore's north and north-eastern areas, bringing more jobs closer to homes.
These business hubs are envisaged to attract industrialists and enterprises, especially those with business connections to Malaysia. According to the government, the development of Woodlands Regional Centre alone is expected to create an estimated 100,000 jobs.
The NCIC will integrate the future Agri-Food Innovation Park and Woodlands Regional Centre with synergistic elements of the ecosystem in the North that includes farms, Republic Polytechnic and the Senoko Food Zone. This will bring about a diverse palette of office, retail, business parks and industrial spaces across the corridor.
In turn, a broad range of jobs will be brought closer to residents, while supporting facilities and amenities will be built to support and enhance the quality of living. These ambitious plans will in turn boost the desirability of properties in the region.
Meanwhile, it is also worth noting that the Jurong Lake District, which has been dubbed Singapore's second Central Business District (CBD), is a direct train ride from the Canberra MRT station. As the journey to the Jurong East station only takes about 32 minutes, the Watergardens At Canberra may potentially benefit from the major transformation taking place there as well. More information can be found here.
Sungei Kadut Revamp to Support New Growth Industries
Sungei Kadut is one of Singapore's oldest industrial estates. But it will be revamped to support the transformation of traditional manufacturing industries and help to grow new sectors in agri-tech and environmental technology.
Over the next 20 to 30 years, Sungei Kadut, which houses businesses in the lumber, furniture, construction, and waste management industries, will be gradually developed into a new Sungei Kadut Eco-District. At the same time, the development of new growth industries like the Agri-Food Innovation Park will bring in higher-value, knowledge-based jobs for Singaporeans such as systems engineers, plant scientists and aquaculture nutritionists.
The first phase of Sungei Kadut's revamp, which is targeted to be completed by 2025, will include multi-user projects, as well as infrastructural work covering more than 40 acres. All these are part of the exciting transformation taking place in the North Region, which will be accompanied by new housing developments, lifestyle amenities, nature trails and activity corridors.
With Sungei Kadut just 6 stops from the Canberra MRT station, residents of the Watergardens At Canberra can to look forward to more amenities and a more exciting standard of living.
Singapore-Johor Rapid Transit System (RTS)
Johor Bahru–Singapore Rapid Transit System (RTS)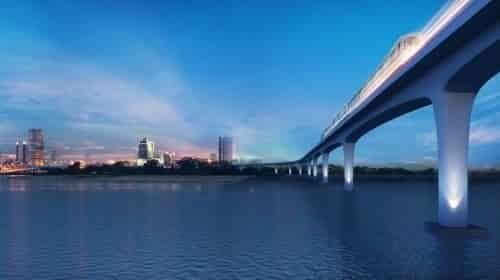 is a new 4km-long cross-border rail project that will connect Malaysia and Singapore. It is expected to be completed by end-2026. When completed, it will help to underpin the North Region as an important international business hub.
The rapid transit system aims to improve connectivity, people-to-people relations, and also boost economic growth in both nations. It will have the capacity to serve approximately 10,000 passengers an hour in each direction, thus reducing congestion along the Johor Causeway.
The Singapore terminus will be located at Woodlands North and adjacent to the Thomson-East Coast Line (TEL) station. On the Malaysian side, its terminus will be at Bukit Chagar near JB Sentral, a popular shopping destination for many Singaporeans. Both stations will have co-located customs as well as immigration and quarantine facilities to enable passengers to transit more efficiently and quickly.
According to Singapore's then Transport Minister Ong Ye Kung, there will eventually be a transport hub connected to the RTS Link and TEL stations. He added:
"Taken together, these transport connections will support and enhance the larger development plans to transform Woodlands into a key growth hub and thriving employment gateway for the North Region, just like Jurong and Tampines".
The comment clearly indicates the Singapore government's ambitious plans to turn the North Region into a major economic zone.
Review Conclusion - The Watergardens At Canberra's Investment Potential
With the URA Master Plan seeking to bring jobs closer to homes, The Watergardens At Canberra will stand to reap the benefit of the exciting developments taking place in the North Region.
The shift towards a 'live-work-play' concept, starting with the development of regional centres like Tampines and Jurong since the 1990s, have allowed many people to enjoy the ease of living near their work places, amenities and recreational spots.
With the northern part of Singapore set to grow into one of the largest integrated communities that will incorporate residential sites, commercial buildings, retail malls, business hubs, nature parks and entertainment facilities, its increasing popularity among home buyers, whether for own stay or investment, comes as no surprise. Moreover, there are many interesting activities to take part in, which are not found elsewhere in Singapore.
Over the years, it has witnessed a steady growth of private residential properties, HDB flats, executive condominiums (ECs) and landed houses. Some buyers may be attracted to the greenery, tranquility and character of the north while others are lured by the more affordable property prices. But at the same time, there will always be some who find Sembawang 'ulu' and prefer to live closer to the city.
Nevertheless, let's examine The Watergardens At Canberra condo's investment potential going forward. This is done by comparing how property prices have fared in some of the Outside Core Regions (OCR) - District 17 (Flora, Loyang & Changi), District 18 (Simei, Tampines & Pasir Ris) and District 19 (Hougang, Punggol & Sengkang) versus District 27 (Sembawang & Yishun).
The following charts are based on 99-year leasehold properties (new, sub-sale & resale) over the last 10 years. The performance of the respective regions (percentage of price appreciation) are as follows:
District 17 (Flora, Loyang & Changi) – 52%
District 18 (Simei, Tampines & Pasir Ris - 37%
District 19 (Hougang, Punggol & Sengkang) - 48%
District 27 (Sembawang & Yishun) – 23%
As can be seen, District 27 (Sembawang & Yishun) has underperformed the rest. This is unsurprising given that the other regions are more advanced in their developments. For example, Tampines is the first regional centre to be developed when the Singapore government decided to decentralise some of its economic activities away from the central region in the early 1990s. Also, the East is home to major wafer fabrication plants, aviation-related industries and Changi Business Park, which provide major employment to residents living in the surrounding housing estates
But, with the transformation of the North Region gathering pace, would housing prices play catch-up and provide property investors the first-mover advantage? And given the relatively lower entry price, would there be potential for higher capital appreciation?
Now, let's look at how some 99-year leasehold private condos in the area have performed after their launch.
The Nautical - Launched in 2012 at an average price of $844 psf, its last transacted price was around $1,011 psf (a 19.8% gain).
Eight Courtyards - Launched in 2011 at an average price of $795 psf, its last transacted price was around $1,008 psf (a 26.8% gain).
Canberra Residences - Launched in 2013 at an average price of $762 psf, its last transacted price was around $879 psf (a 15.4% gain).
As can be seen, private condos in the area have performed rather well. Hence, there are no reasons why The Watergardens At Canberra would not do well, especially given the major transformation taking place in the North Region.
Meanwhile, I would like to highlight the results of three 99-year leasehold sites sold at the government land sales (GLS). that saw prices continuing on their uptrend.
In November 2020, the Tanah Merah Kechil Link site beside the Tanah Merah MRT station was sold to MCC Land. With a land price of about $930 psf ppr, this is likely to translate to a selling price of between $1,700psf to $1,800 psf for the project.
In May this year, the site in Ang Mo Kio Avenue 1 opposite the Bishan-Ang Mo Kio Park was sold to a joint venture between the UOL Group, Singapore Land Group and Kheong Leong Company. With a land price of S$1,118 psf ppr, the estimated selling price of the project is likely to be between $1,800 psf to $1,900 psf.
And most recently, the Lentor Central site was clinched by GuocoLand. It paid S$784.1 million, or S$1,204 psf ppr, surpassing the expectations of property consultants. Hence, it is likely to be launched in the region of $2,000 psf to $2,100 psf.
Similar to The Watergardens At Canberra's site, all of them are in the Outside Central Region (OCR). But when compared to latter's lower land price of $650 psf ppr, it will potentially provide astute property investors a "bargain" entry price. Moreover, the Lentor Central site is a mere 10 minutes' drive away.
Another factor that favours The Watergardens At Canberra is the low population density in the North Region, as indicated by following figures (2020) from the Singapore Department of Statistics:
North Region – Inhabitants: 582,330; Land Area: 135 sq km (4,314 inhabitants per sq km)
East Region - Inhabitants: 685,940; Land Area: 93.1 sq km (7,368 inhabitants per sq km)
West Region – Inhabitants: 922,540; Land Area: 201 sq km (4,590 inhabitants per sq km)
Central Region – Inhabitants: 922,580; Land Area: 133 sq km (6,937 inhabitants per sq km)
As can be seen, the North Region has the lowest population density, which provides for a less crowded and more conducive living environment. But at the same time, there is great potential for major development and growth, as have been highlighted above. With the increased in employment opportunities, it will naturally spur demand for properties.
In terms of competition from other condos in the surrounding areas, there aren't that many and most have been completed quite a while ago. These include The Nautical (2016), Eight Courtyards (2014), Canberra Residences (2013), Yishun Emerald (2002) and Yishun Sapphire (2001).
Moreover, most of the more recent developments are executive condos such as The Visionaire that was completed in 2018, Brownstone in 2017, and One Canberra in 2015. There are two more executive condos that have been launched recently – Parc Canberra and Provence Residence.
Hence, the scarcity of new private condo launches in this part of Singapore, especially one with outstanding design features and award-winning architecture like The Watergardens At Canberra. Unsurprisingly, it has met with strong interests since its launch.
Meanwhile, you may wish to check out several upcoming new condo launches at Lentor. The first of which will be Lentor Modern, a mixed-use development linked directly to the Lentor MRT station.
Another upcoming condo development is Amo Residence located 5 minutes' walk from the Mayflower MRT station.
You may also be interested in Sky Eden (5 minutes's walk from the Bedok MRT station)m and Sceneca Residence (directly linked to the Tanah Merah MRT station). Both are mixed-use developments.
If you require more information about The Watergardens condo or wish to explore your property investment options, please WhatsApp or Email Us.
Other Property Reviews
You can find other property reviews below. More details on new launches can be found in project information.