The government's introduction of a new cooling measure in April 2023 has had a significant impact on 2Q 2023 Singapore luxury property market. The measure, which doubled the Additional Buyer's Stamp Duty (ABSD) on the purchase of a residential property by a foreigner to 60%, has led to a marked slowdown in transactions and a decline in prices.
In 2Q 2023 Singapore luxury property market, there were an estimated 80 non-landed luxury homes sold, a decrease of 34.4% from the previous quarter which saw 122 units transacted. The total value of non-landed luxury homes sold was $657.3 million, a decrease of 28.8% from the previous quarter.
In 1H 2023, a total of 202 luxury homes worth $1.58 billion were sold. The amount was 7.1% higher than 1H 2022.
The top foreign purchaser of luxury homes in Singapore after the cooling measures are buyers from the United States, who are accorded the same tax treatment as Singaporeans. Chinese buyers were conspicuously absent as the top purchaser.
The top three selling luxury projects in the second quarter of 2023 were Les Maisons Nassim, Klimt Cairnhill, and Nassim Park Residences. The most expensive property sold in the quarter was an 8,633 sq ft unit in Les Maisons Nassim, which was purchased by a US national for $45 million in May 2023.
Development
Price
Size (sq ft)
Price (psf)
Les Maisons Nassim
$45,000,000
8,633
$5,213
Les Maisons Nassim
$36,000,000
6,286
$5,727
Les Maisons Nassim
$32,748,700
6,179
$5,300
Les Maisons Nassim
$30,764,600
6,092
$5,050
Klimt Cairnhill
$27,500,000
5,920
$4,645
Nassim Park Residences
$22,000,000
4,822
$4,562
Nassim Park Residences
$20,500,000
4,284
$4,785
Skyline @ Orchard Boulevard
$20,234,000
3,767
$5,371
Sculptura Ardmore
$18,000,000
3,584
$5,022
Dalvey Haus
$16,280,000
4,661
$3,493

Source: URA, Huttons Data Analytics as of 21 Jul 2023
In the rental market, the average monthly rent for luxury non-landed homes also eased by 1.9% to $15,832 in the second quarter of 2023. There are early signs that rents of luxury non-landed homes may have reached their plateau, with 5-bedroom luxury non-landed homes seeing the biggest decline of 12.6% to $30,929 per month. However, due to the limited rental transactions of 5-bedroom luxury non-landed homes, it may not be representative.
Meanwhile, the rents for 4-bedroom luxury non-landed homes registered a 1.6% decline in 2Q 2023  while 3-bedroom luxury units were flat.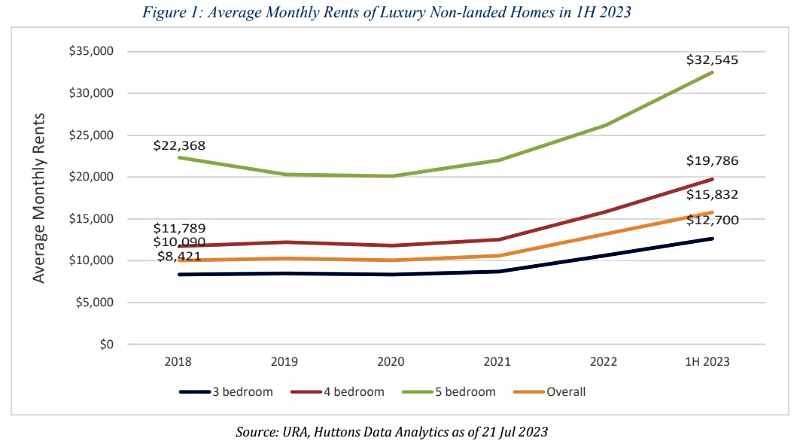 The Good Class Bungalow (GCB) market in 2Q 2023 continued to be quiet, with an estimated 7 GCBs sold. The total value of GCBs sold in the quarter was $392.3 million, a significant 19.5% increase from the previous quarter and 34.8% higher year-on-year. The sharp jump in value was contributed by 3 GCBs in the Nassim Road area.
The top five deals by quantum in the GCB area in 2Q 2023 are listed in the table below. The family behind Singapore-listed palm oil producer, First Resources reportedly bought 4 GCBs in the Nassim Road GCB area, paying $4,500 psf on land for 3 of the GCBs. This broke the previous record of $4,291 psf for a GCB in Cluny Hill in 2021.
Location
Price
Size (sq ft)
Price (psf)
42, 42A, and 42B Nassim Road*
$206.7 million
45,973
$4,500
Nassim Road*
$88 million
22,470
$3,916
6 Jalan Asuhan
$42 million
16,396
$2,562
11 Jalan Harum
$32.8 million
14,211
$2,308
8 Jalan Harum
$22.8 million
8,726
$2,613

Source: URA, Huttons Data Analytics as of 21 Jul 2023
Based on URA Realis, the highest monthly rent achieved for a GCB in 2Q 2023 is $125,000 in the Garlick Avenue GCB area. Compared to 1Q 2023, there were more GCBs rented out for $30,000 or less per month in 2Q 2023.
Singapore Luxury Property Market Outlook
The outlook for the luxury property market in Singapore is uncertain. The cooling measures have taken a toll on the market, and transaction volumes may slow further in the coming months.
However, the luxury rental market may see more demand from foreigners who are keen to stay in Singapore for the long term while awaiting their permanent residency or citizenship.
There may also be an increase in interest in the Global Investor Programme (GIP) which accords Permanent Resident status.
The Global Investor Programme is a scheme by the Singapore government to attract high-net-worth individuals and entrepreneurs to invest in Singapore. Under the scheme, eligible investors can apply for Singapore Permanent Residence (PR) if they make a substantial investment in Singapore.
Similarly, the GCB market is likely to remain quiet in the near term due to economic uncertainties. However, some hard-to-come-by GCBs in highly sought-after locations, such as Nassim and Cluny, may still attract buyers if priced reasonably.
---
Recent & Upcoming New Launches